The 7th annual Brew Ha Ha Craft Beer Festival returns to Oak Canyon Park this weekend — Saturday, September 24. This award winning craft brew festival has been around since 2010, and one of the best beer festivals you can plan on attending in Southern California. Brew Ha Ha production is no stranger to good vibes and great beer as they've produced tons of well received events throughout the years. The most recent you might remember (Brew Hee Haw) which was debuted in 2014 at the Orange County Fair. Don't miss out on all the wonderful brewers attending this years Brew Ha Ha — over 250+ craft brews and imports to choose from, and over 90 top breweries. Gourmet food trucks and restaurant vendors will also be in attendance completing the overall experience of Brew Ha Ha.
This year the iconic craft beer experience will be held the first weekend of fall, taking advantage of cooler temperatures and soft breezes at the beautiful Oak Canyon Park. Along with a later event date, the popular craft beer event is proud to announce a free shuttle service where attendees can get a ride out of the park to the Tustin Metrolink Station. With limited cell service at the semi-remote location, Brew Ha Ha encourages attendees to arrive to the event via a cab, Lyft, UBER, family, or friend and utilize the free shuttle to exit the event. The Tustin Metrolink Station is located at 2975 Edinger Ave, Tustin, CA 92780. Parking is not available at the Tustin Metrolink Station. The shuttle service is exclusively for guests who will not be driving. Donations will be accepted for the free service and 100% of the proceeds will benefit the Cystic Fibrosis Foundation.
• 250+ Craft & Import Beers
• 90+ Top Breweries
• Commemorative Festival Glass
• UNLIMITED TASTINGS
• Park Setting with Lots of Shaded Seating
• Homebrew Exhibitors
• Craft Beer Seminars by Renowned Experts
• Free soda and water
• VIP Packages Available
• Live Entertainment
• Cigar Booth and Gray Cloud Cigar Lounge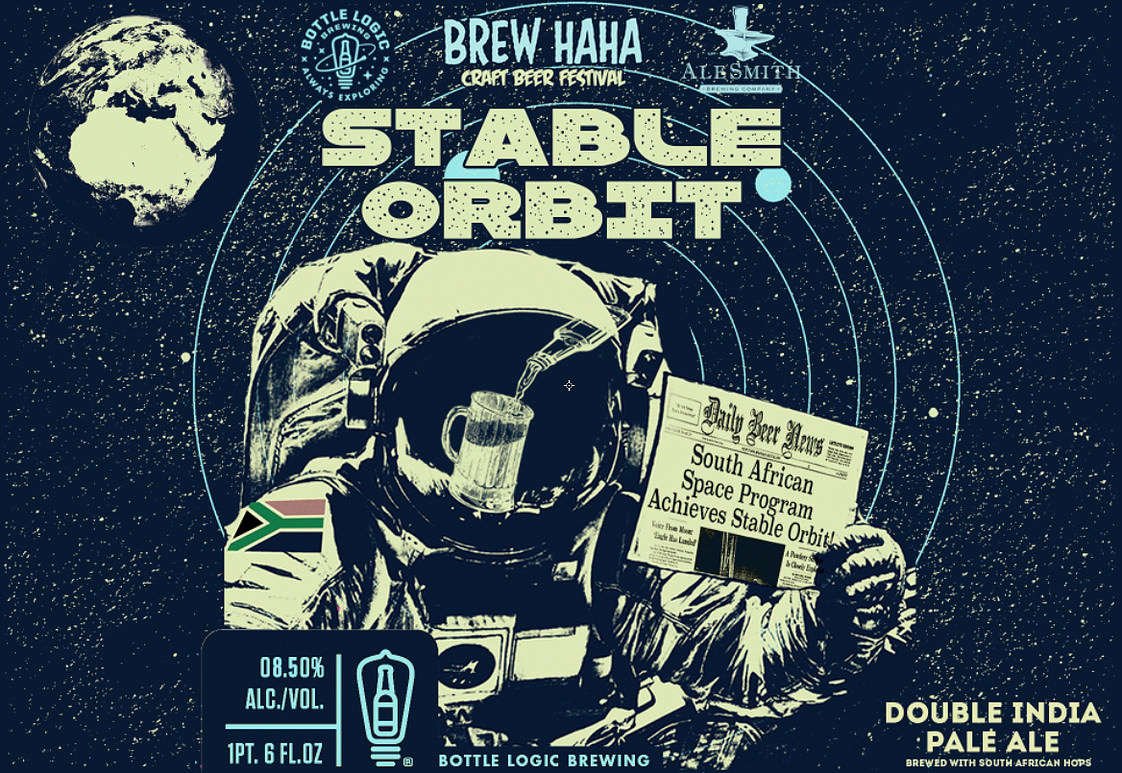 BE THE FIRST TO TRY IT
STABLE ORBIT: DOUBLE INDIA PALE ALE
Stable Orbit, the much-anticipated 2016 collaboration beer, was brewed by two of Southern California's most exciting breweries, Bottle Logic out of Orange County and AleSmith Brewing Co. of San Diego. The collaboration will be available in Southern California in both bottles and on draft. This limited edition beer has an 8.5% ABV and features South African hops: African Queen, Southern Passion, Southern Star and XJA2. Enthusiasts can sample the beer at the dedicated tasting station at the festival on September 24. Following the Brew Ha Ha Craft Beer Festival, the collaboration beer will be available on shelves and in taprooms in late September. Historically all Brew Ha Ha collaborations sell out quickly, and Stable Orbit is expected to do the same.
Comments
comments
---