"The Beach Goth party, hosted by Southern California's own favorite somber surf-rockers the Growlers, is a contender for best boutique festival of the year."
-LA Weekly
This weekend is The Growlers 5th annual Beach Goth festival, and if you haven't yet heard — they've changed locations (back). The festival will take place at The Observatory grounds located at 3503 S. Harbor Blvd., Santa Ana, CA 92704. Prior to the venue change, the festival was set to take place at Oak Canyon Park in Silverado. While I've been to Oak Canyon Park for numerous occasions, I think its safe to say I'm glad they changed venues.
The Growlers are an American band formed in Southern California who's sound has been described as a trademark style of music combining elements of country, Mexican, surf, pop, punk, psych, and rock. Known for their relentless touring schedule and DIY work ethic, the band is one of the most exciting independent success stories of recent years.
So lets talk about this Beach Goth lineup. An impressive set of artist will partake in this years gathering, and will the bill fit big names — there's no artist you don't wanna miss. The lineup insane, and thats a good thing considering we're getting towards the end of festival season. So who are we going to see? Headliners are always a must. Bon Iver, James Blake, Justice, Patti Smith, TLC, Gucci Mane, and RL Grimes — to name a few. Some of my personal favorite artist I'll also be watching include Future Islands, The Drums, XXYYXX, Albert Hammond Jr, and King Krule. Like every festival we'll keep an open mind, and discover new music. So tweet us, Instagram us, and give us your favorite artist to watch.
Past artists have included Grimes, Julian Casablancas + The Voidz, Mac DeMarco, DIIV, Die Antwoord, Parliament Funkadelic, and Sir Mix-A-Lot among others.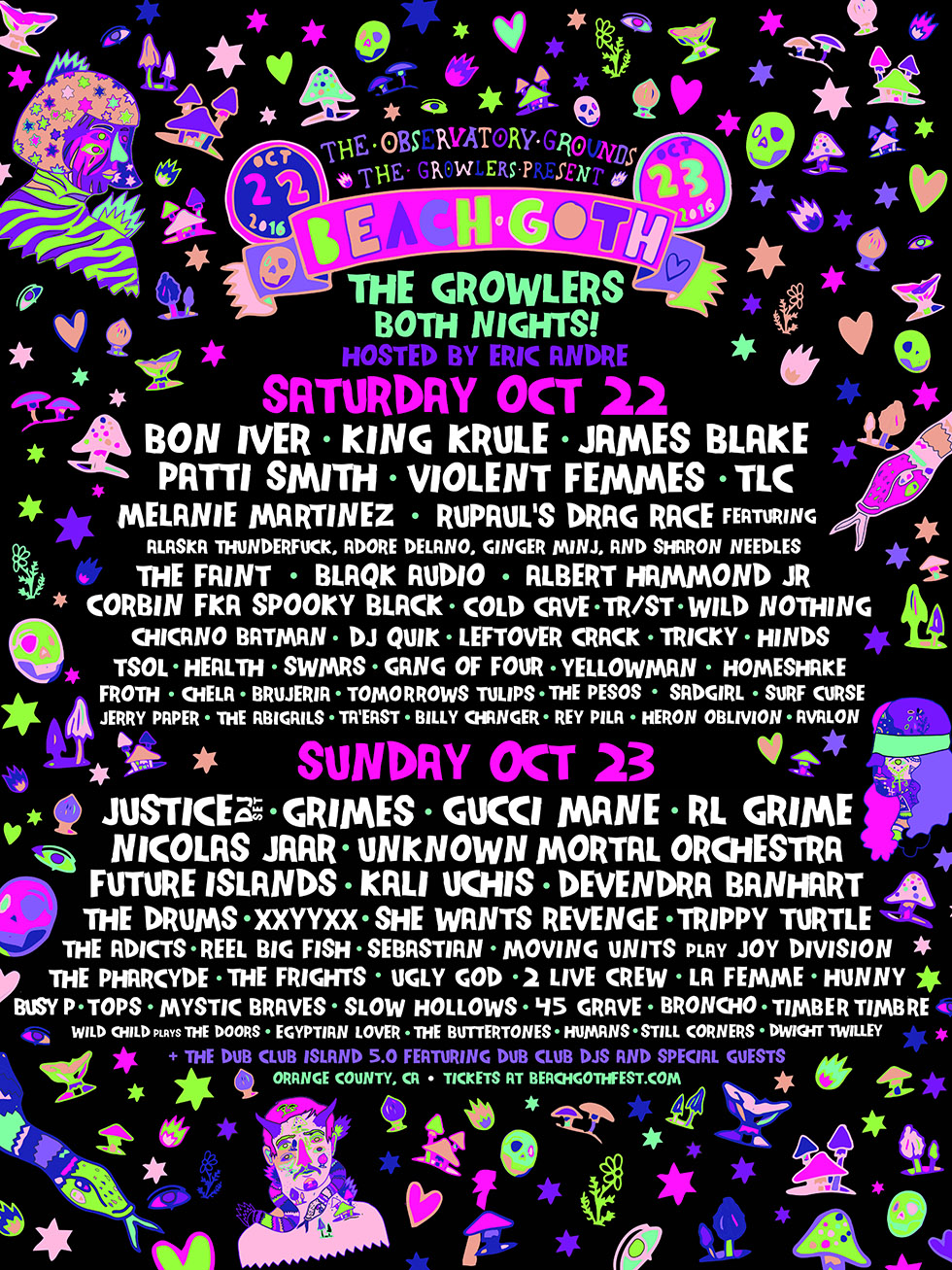 Comments
comments
---