An international eclectic curated lineup & all you can eat tacos hosted by East Los spitfire comedian Felipe Esparza.
Festivals seem to be weekly occasion in Los Angeles. So much going on, so little time, and too much to keep up with. But if you follow us, we got you covered. We publish the best, and the most intriguing festivals. So here's a festival worth sharing — Tropicália Music & Taco Festival. If theres one thing the folks in Los Angeles love, its tacos and music. I mean, I for damn sure can go for tacos and a show on any given day. Oh, and did we mentions they're all you can eat tacos ('til 4pm). The line up boasts an impressive and diverse curation of artists. Headliners include Los Tigres Del Norte, Kali Uchis, and Chicano Batman. Other notable artist to make the lineup include Goldlink, Jhene Aiko, Jorja Smith, and King Krule.
This free taco, and insane music lineup is set to take over Queen Mary Park on Saturday, November 11, 2017.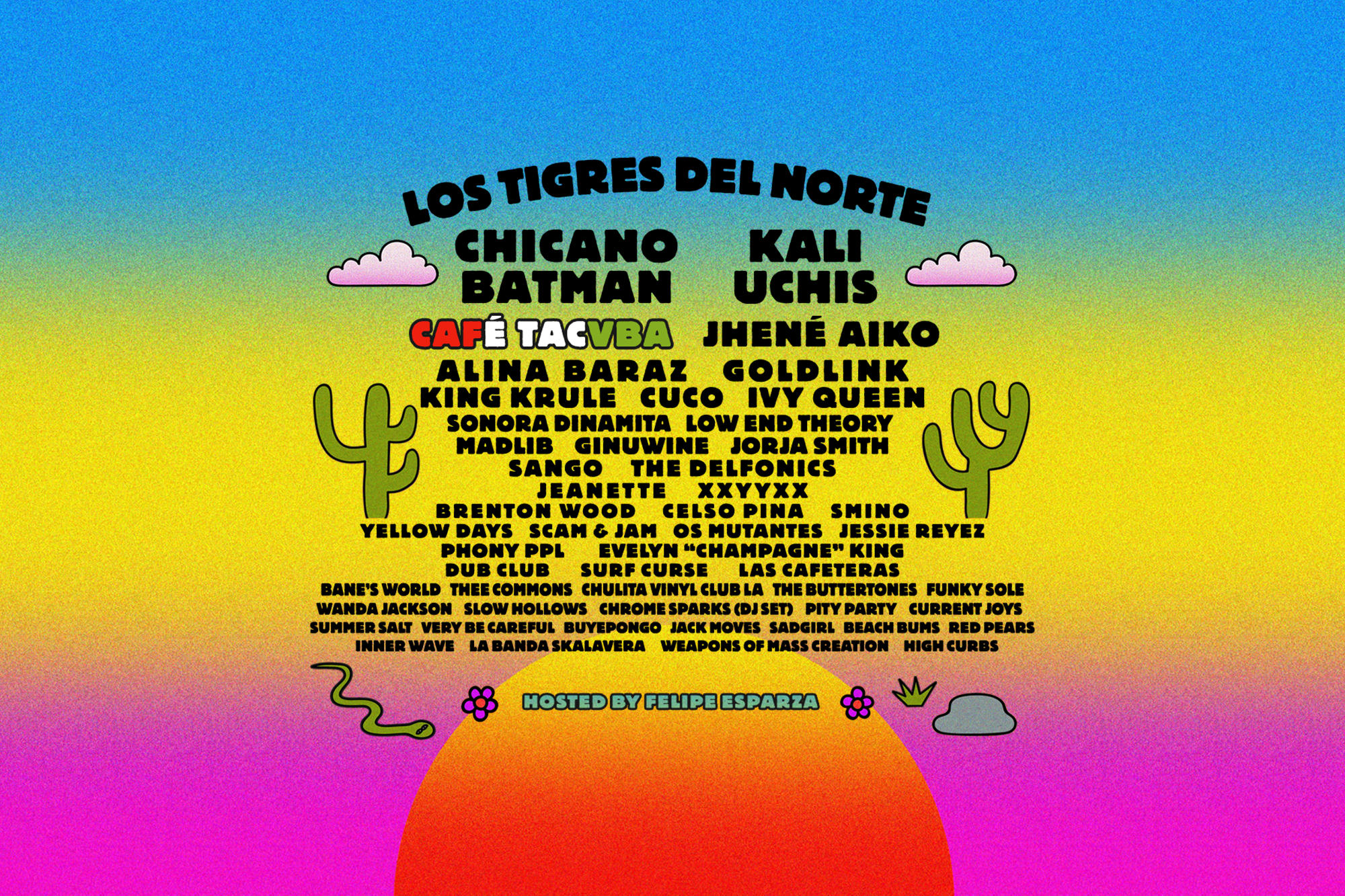 MUSIC
Once again, the organizers over at The Observatory Group have to together one of the more eclectic lineups we've seen. With other notable festivals like Day n Night, Beach Goth, and Soulquarius. If you remember, those lineups also boasted a heavy dose of 'music we love' — and here again with Tropicalia. It's truly a lineup like we've never seen before, and it starts with the headliners. While Kali Uchis will most likely setup for a wild Tigres Del Norte performance, you can also enjoy a ton of other amazing artist. Coming off a new album release, King Krule made it to the lineup. Another fan favorite to make the bill is Chicano Batman and their psychedelic funk affair. All in all, theres a little something for everyone, in any genre. To think, you can hear this Summer's anthem — Crew by Goldlink, throwback to Ginuwine, or do caballito kicks to Tigres Del Norte. Don't miss out on this much anticipated event. For complete details or to buy tickets head over to www.tropicaliafest.com.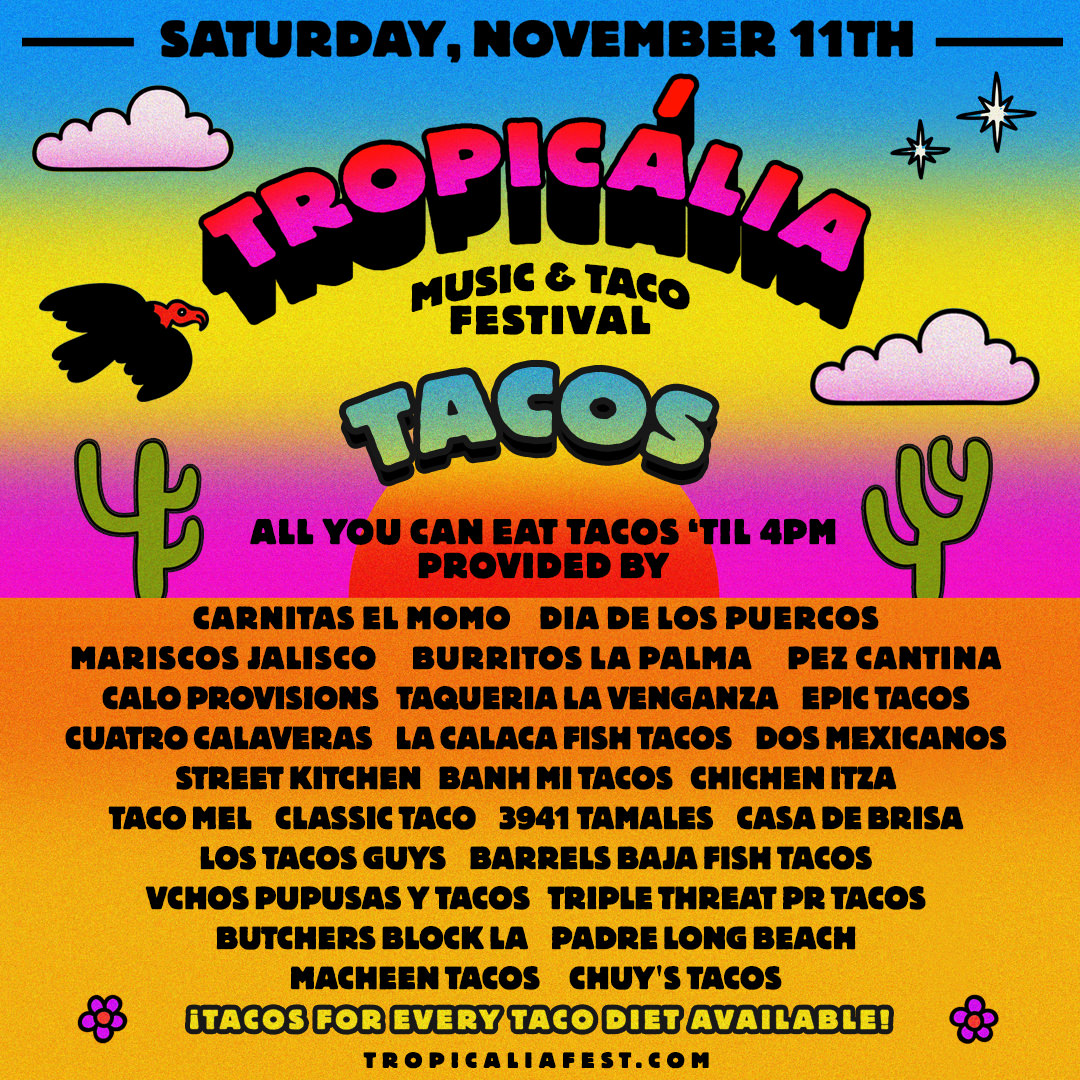 FOOD
Free tacos ('til 4pm) will attract just about anyone. Aside from Tacolandia, the taco fest that we love, there hasn't been anything like this. When I read the lineup poster for this festival, I couldn't help but look with wide-eyes. Tacos at the festival are provided by Carnitas el Momo, Dia de los Puercos, Mariscos Jalisco, Burritos La Palma, Pez Cantina, Calo Provisions, Taqueria la Venganza, and many more. While (unlimited) tacos are available 'til 4pm, we're not sure if they will sell tacos after, but it seems likely. If theres any festival you should be lured to attend this late in the year, it's this one. Music, tacos, drinks, who said summer in California is over?
Are you sold yet? Tickets for the festival are surprisingly affordable. Early bird tickets are already sold, but tier 1 and 2 are still available. General Admission tickets are currently at $85 with VIP starting at $150. If you're looking for the VIP treatment at Tropicalia, there are a ton of options. As mentioned, VIP tickets start at $150 (while supplies last) then begin to sell at $175, then $200. With VIP tickets you get access to the following:
• Main stage pit access plus lounge with private bar
• Charging stations
• VIP only restrooms
• VIP preferred entry line
• Open to all ages
If thats not VIP enough for you, other options like Rage on the Stage ($500) and VIP Legend Tables ($900, 21+) are available. Rage on the Stage provides access to the side stage viewing platform, and all VIP Lounge perks (pit access, charging stations, private restrooms, private bar). To get the most out of your experience at Tropicalia you can enjoy the Legends Table. A great way to enjoy the festival to its full potential. The Legend Table includes:
• 1 complimentary bottle
• VIP tickets for up to 4 people
• VIP preferred entry line
• On site server all day
• Lunch and Dinner meal tickets
• Merchandise package
• 21+ Only
• All VIP Lounge perks (pit access, charging stations, private restrooms, private bar).
Comments
comments
---