This passed weekend we had the wonderful pleasure to attend Tacolandia for the first time. The event is in its 3rd year and it definitely held its own when it came to drawing a crowd. It had sold out almost a week after tickets went on sale so we knew we were in for a treat, I mean that man Angelinos can't be wrong, right? LA Weekly has always raised the bar on all it's events, allowing vendors and crowd goers to unite in these special annual events. I mean what other event includes a live mariachi, cash bars and more than 80 top vendors all curated by Bill Esparza.
We got up pretty early Saturday day morning, for one – Barcelona and Juventus were playing in the Champions League final and secondly we wanted to be the first few in line. We a arrived around 1 o'clock which was I personally thought was a little late, but then I realized that we're in LA and everyone loves to be fashionably late. The lines undoubtably started forming big and bigger around 2:30 just around the time the event workers started checking ID's and scanning tickets in exchange for a wristband.
The thing I've always loved about LA Weekly's events is how carefully and precisely curated everything was assembled. Once it struck 3 o'clock we were all anxiously waiting (on an empty stomach) for gates to open. Of course if you have VIP tickets you're allowed to enter the event an hour prior to General Admission. So it's a little past 3 and the crowd starts a short admirable "we want tacos" chant, which of course as Angelinos we're accustomed to, given its the chant we all give at Lakers games. It didn't do much, but it helped give us hope that the gates were almost opening.
As soon as the gates opened, everyone rushed the security check point which was just before our gates to heaven. White topped tents, the smell of pork belly and carne asada gliding through the air, cash bars filled with booze and most of all the wonderful people of Los Angeles. It didn't take long for the crowd to flood the most popular booths, but every vendor faced a crowd regardless of popularity.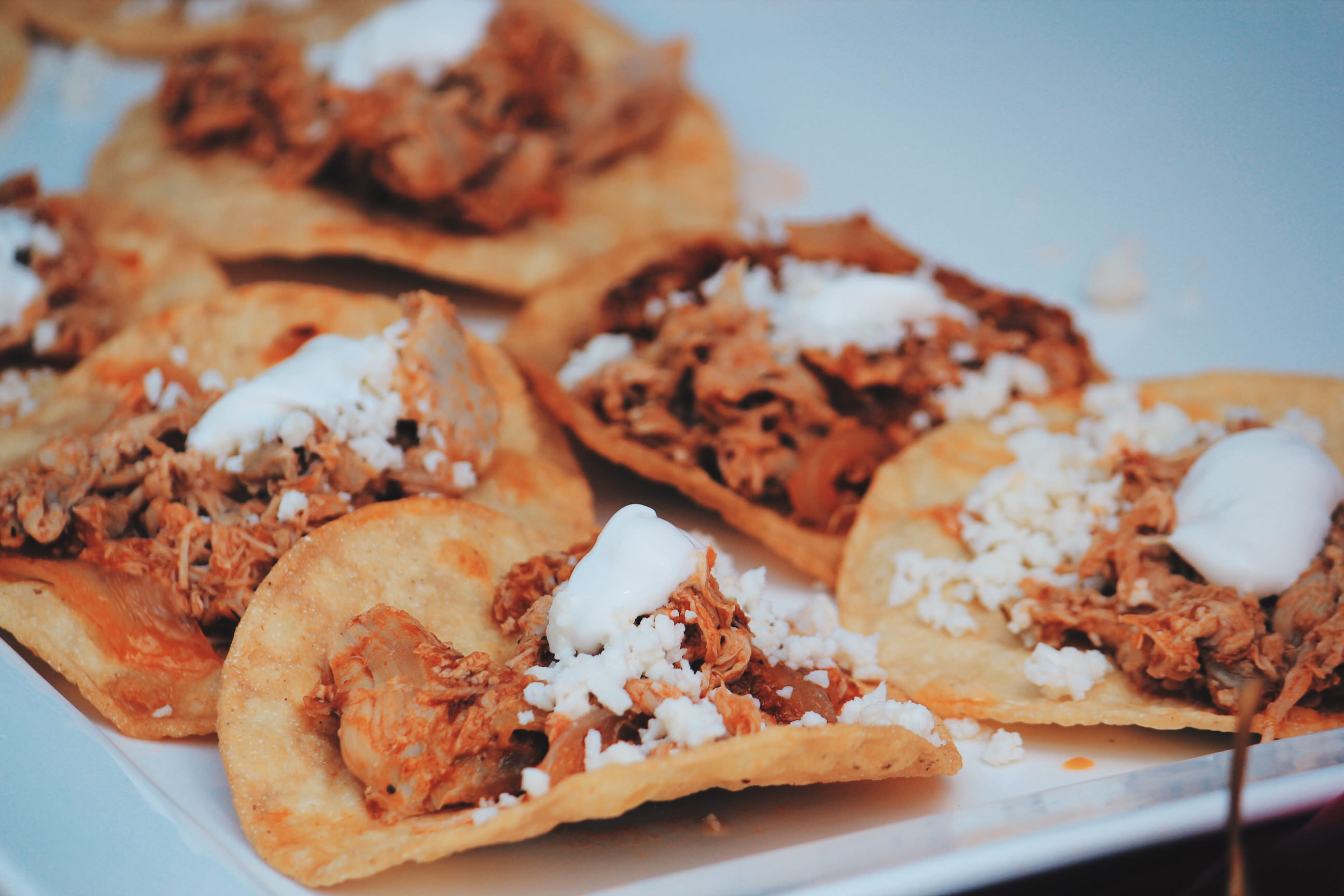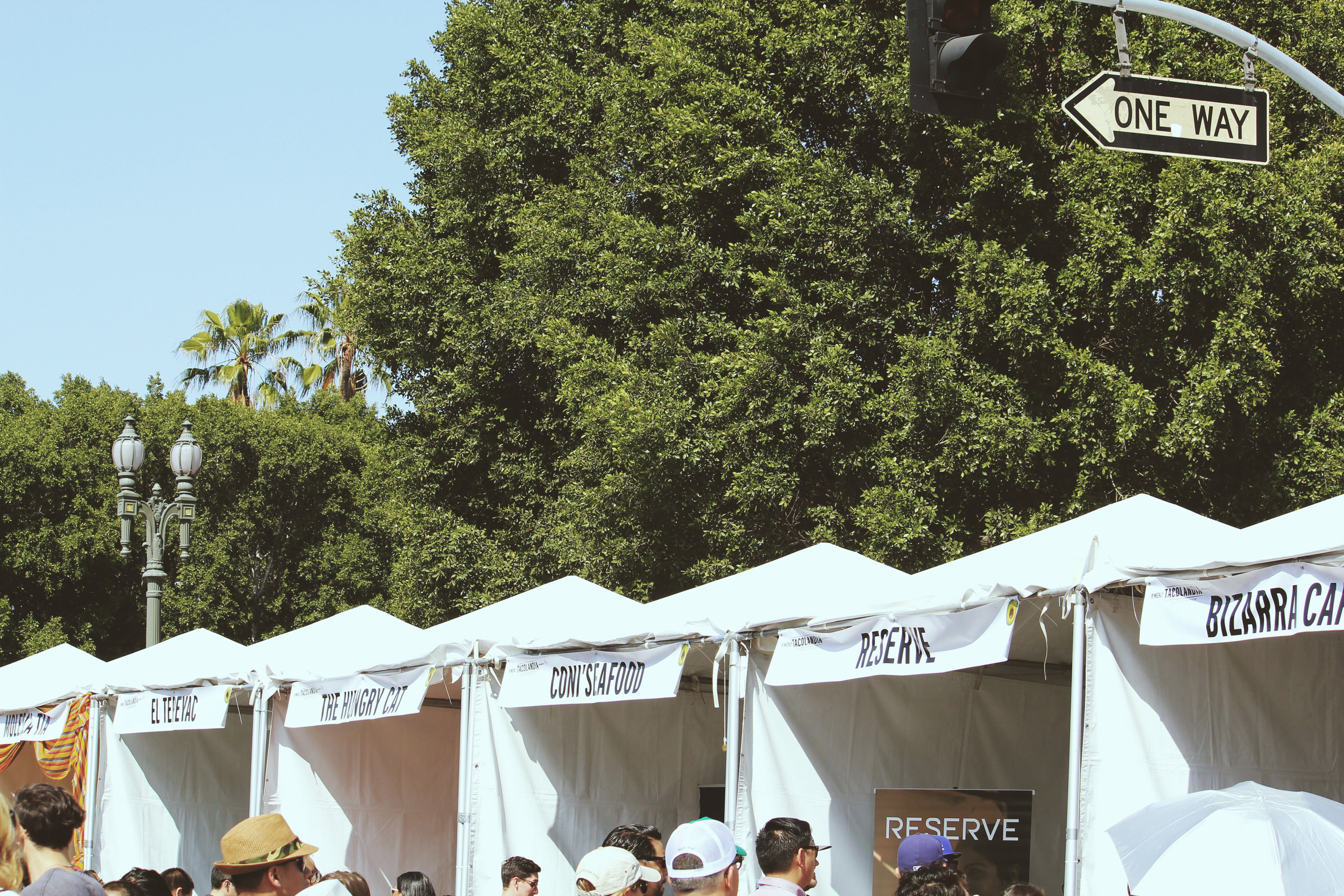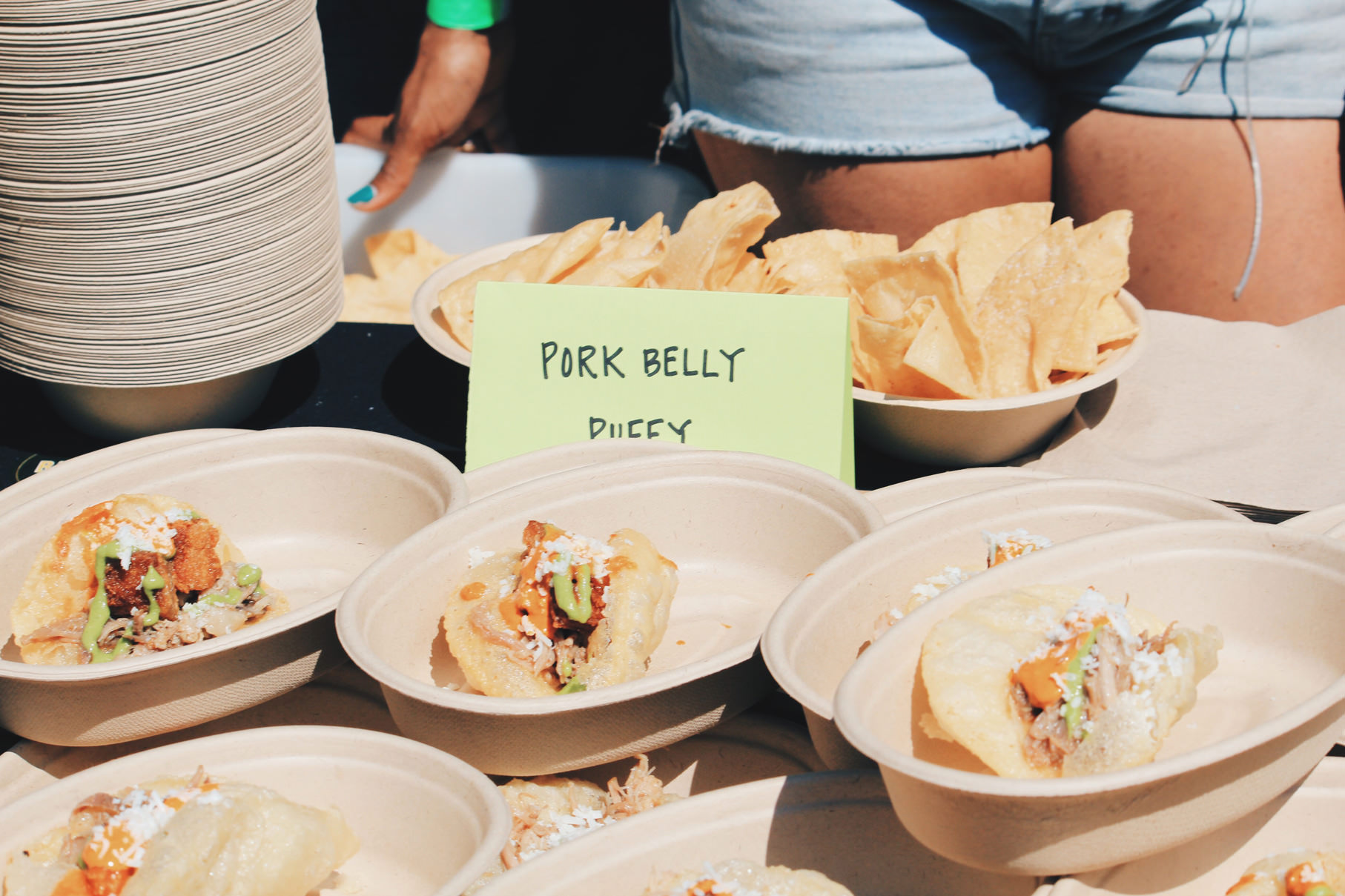 Our first stop could've easily been the last stop and I'm not exaggerating when I say that. The best taco award (for us) had to go to Bar Ama operated by chef and owner Josef Centeno. Labeled the 'pork belly puffy taco' it had everything you would want in a taco and everything you haven't had in a taco. Had a perfect amount of pork belly which also included a crunch, the shell itself wasn't as big a crunch as it would seem. It was a soft perfect replacement for the traditional tortilla.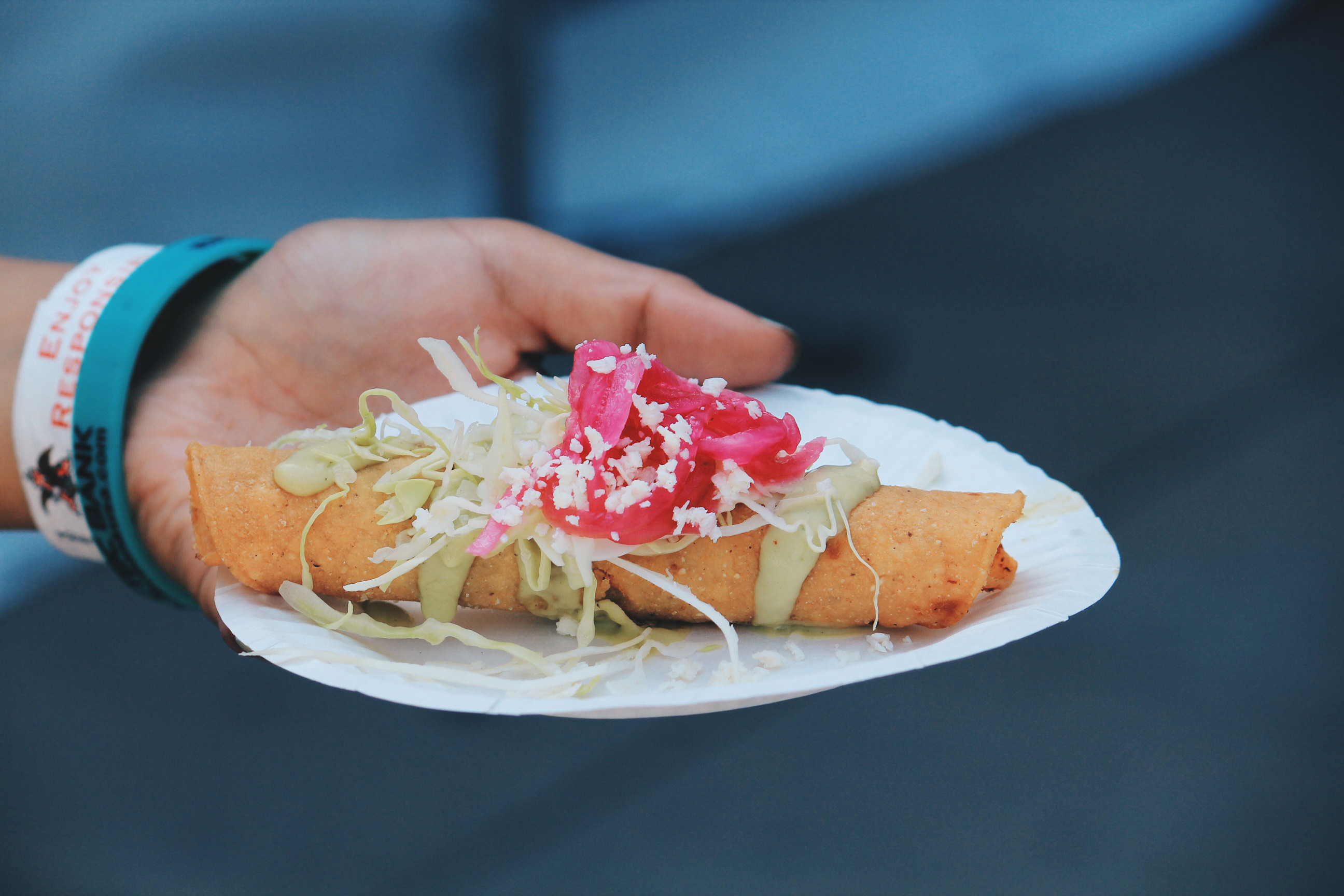 When we finally made our way to Petty Cash, one of our favorite locations, we were excited to get a break from all the meaty tacos we've had. Head chef Fabian Gallardo served up tacos dorados de papa. Drizzled with a green sauce and topped with queso fresco and pickled onions. It had a perfect crunch, but still soft texture. One of the better potato tacos we've had. Simple and light.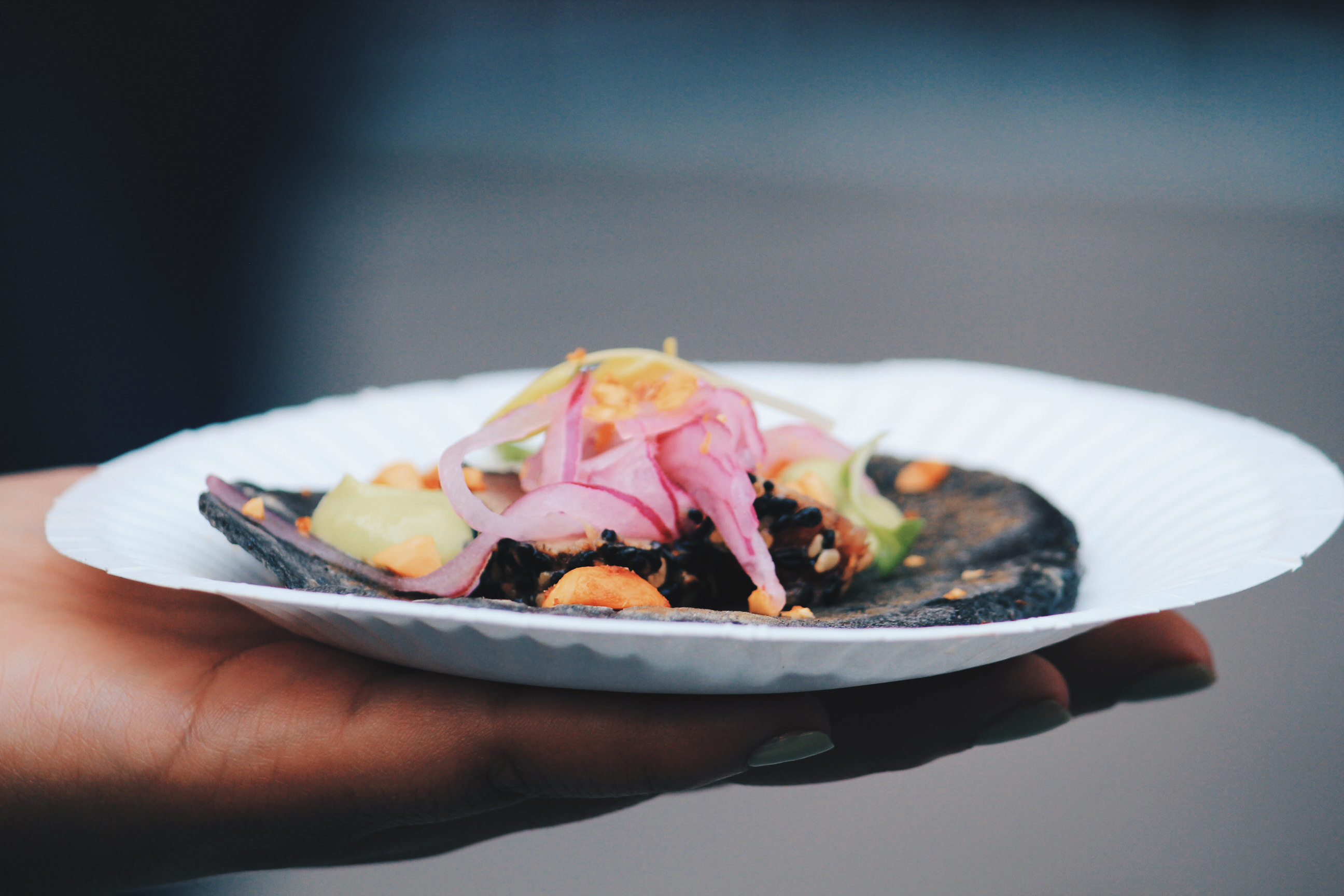 For my first time trying tuna (yes, my first time) I had to say trying this taco was another experience. I must admit, I'm not all that into seafood – especially raw fish, but this taco just made the cut for me. Made with sesame seed seared ahi tuna on top of black squid ink tortilla with sriracha peanuts, avocado mousse, micro greens, and pickled onions. It was a flavor burst no doubt, something that separated itself at Tacolandia.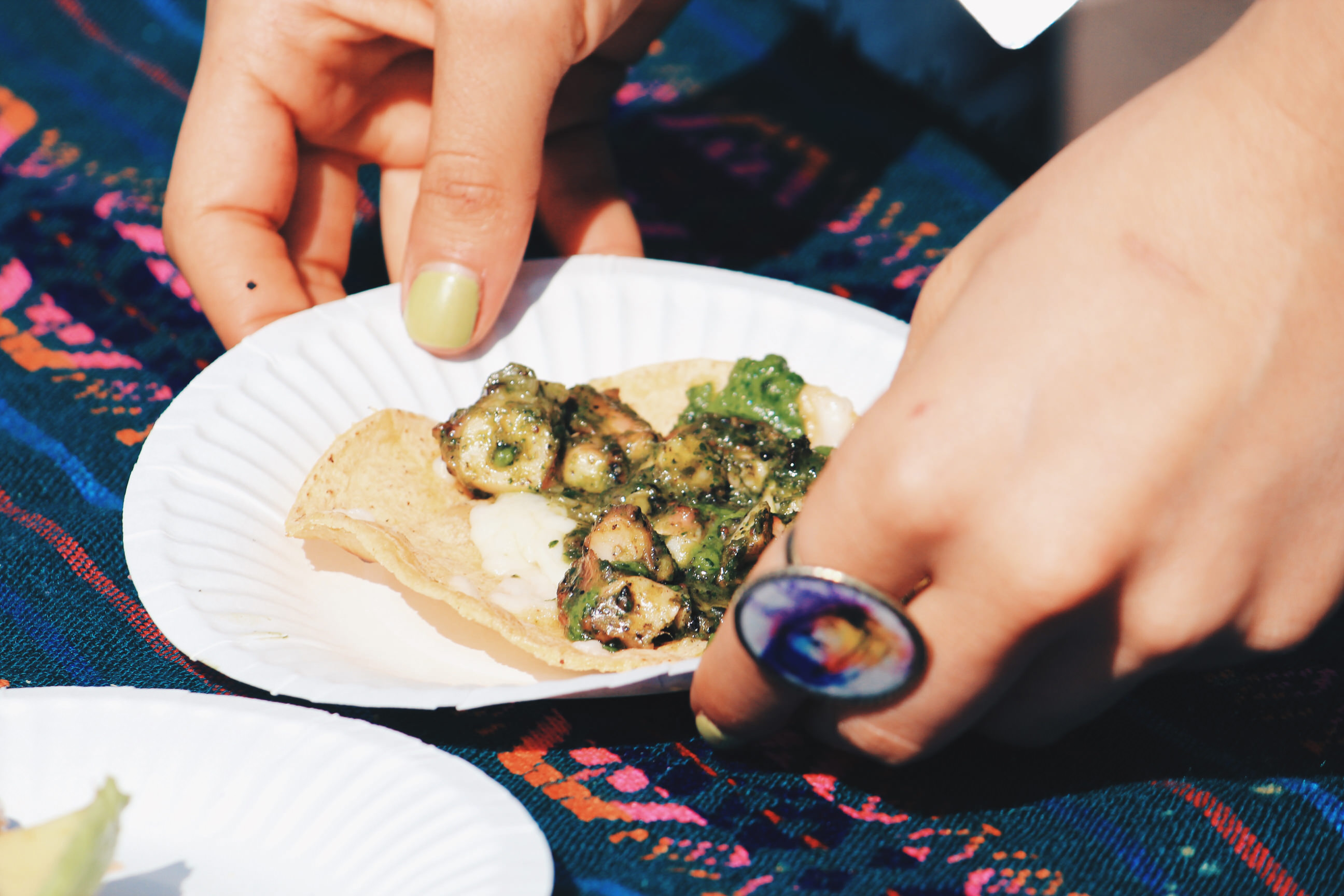 Kraken Grilled Octopus with Pesto sauce. I'll let that one sink in for a bit, as I had to do when I took a bite of this creature from the sea. There were a few places that were undoubtably there to serve some of the best seafood tacos, this one, well it was alright. The pesto sauce definitely made it worth finishing, but the overcooked octopus left me chewing endlessly as if I were chewing to kill  a live octopus.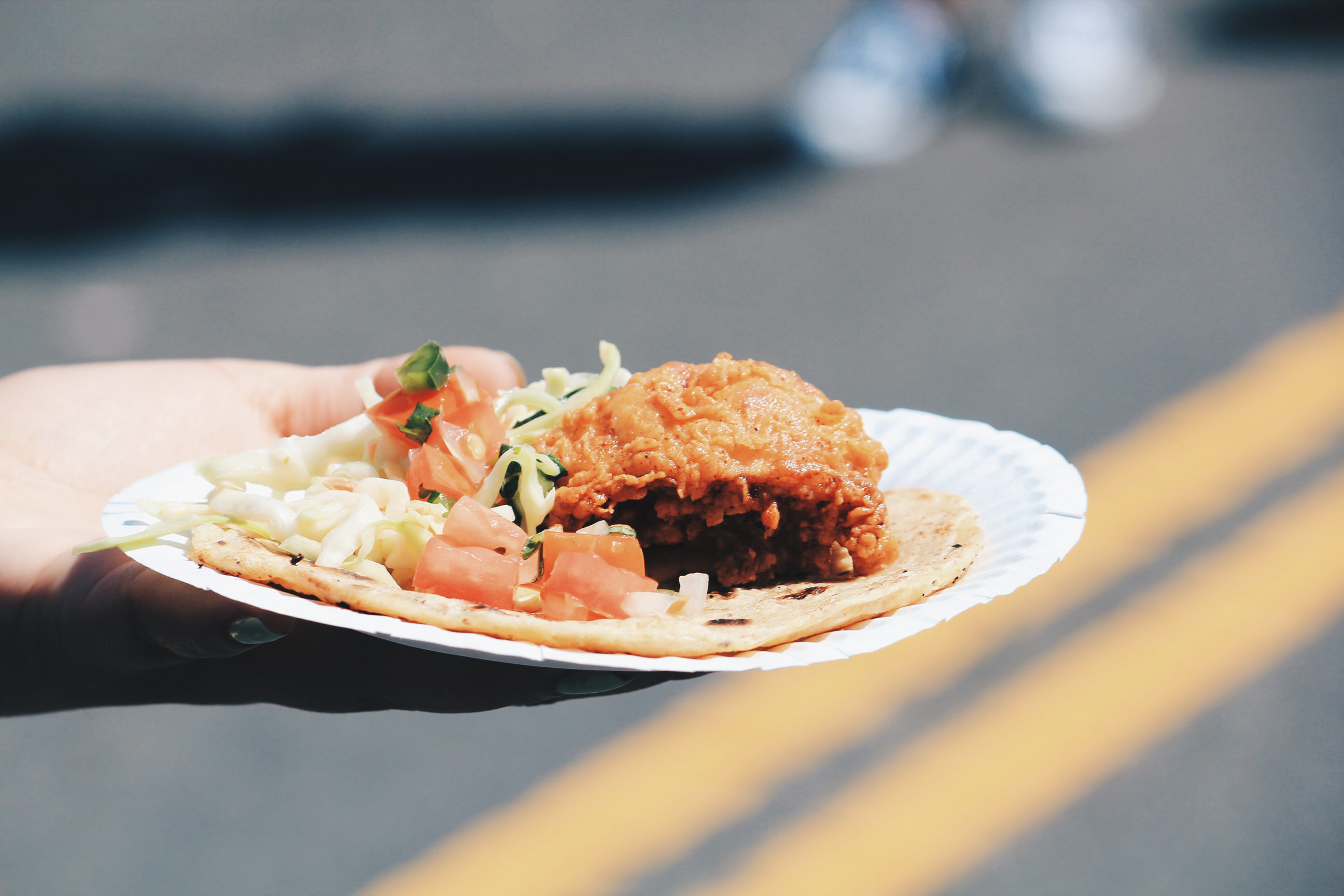 Yes, as in Danny Trejo the actor. I was honestly a bit skeptical approaching the booth, I mean an actor sought off taco master? Well that wasn't the case here. Although it was nice to see the actor actually there supporting his brand, it didn't distract from the crowd actually there to taste some of these tacos. Fried Jidori Chicken with handmade corn tortilla, chipotle crema, and pico de gallo this was on the short list of good tacos we had. It was a perfect serving and you could hardly tell at all that you just ate a fried chicken taco.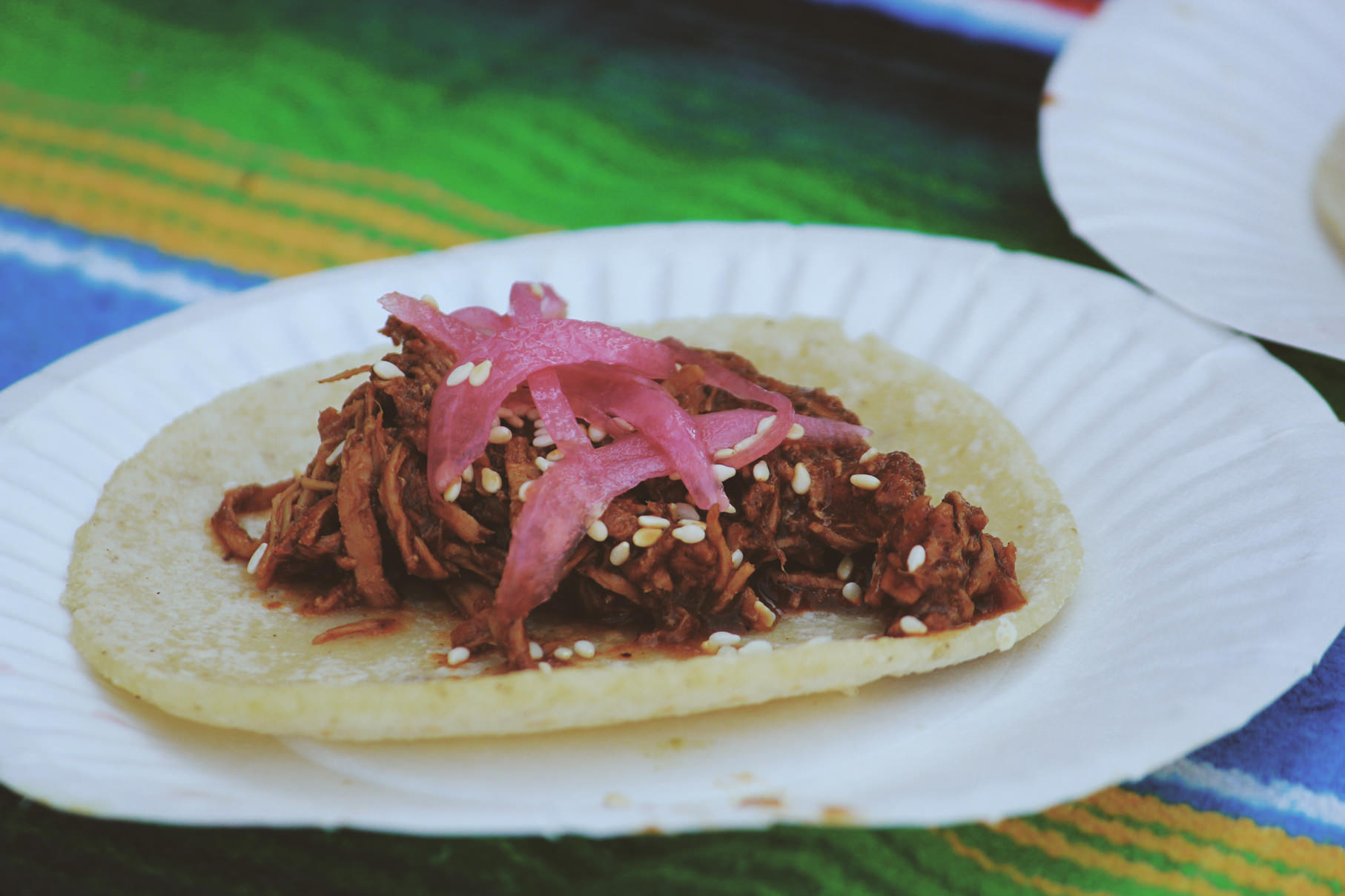 Tacos de Mole made from Chicken tinga, spicy mole, pickled onions, sesame seeds, crushed peanuts, corn tortilla. This had to have been one of the best mole tacos we had at Tacolandia. The mole itself was a taste of its own. Handmade tortillas were definitely a big theme all around Tacolandia, which gave some tacos a disadvantage, but certainly not this one.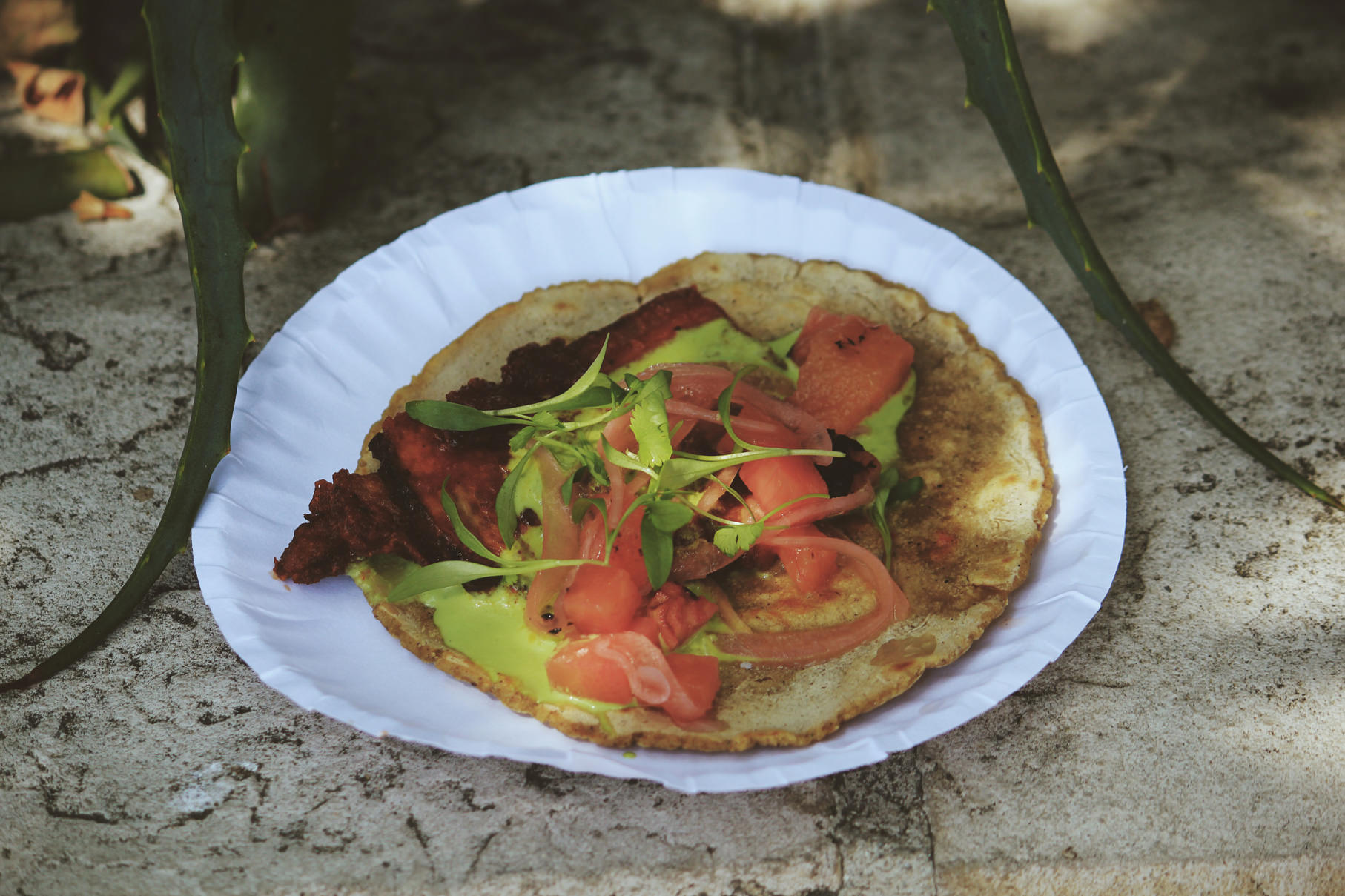 So good, we had it twice. Alongside our favorite puffy taco this delicious Pork Belly Adobo taco with pickled pineapple, radish, and micro greens also made the shortlist. It was a beautiful blend of flavors with a little sweet and spice, it was truly unexplainable. The only perfect explanation was to have it twice, as mentioned.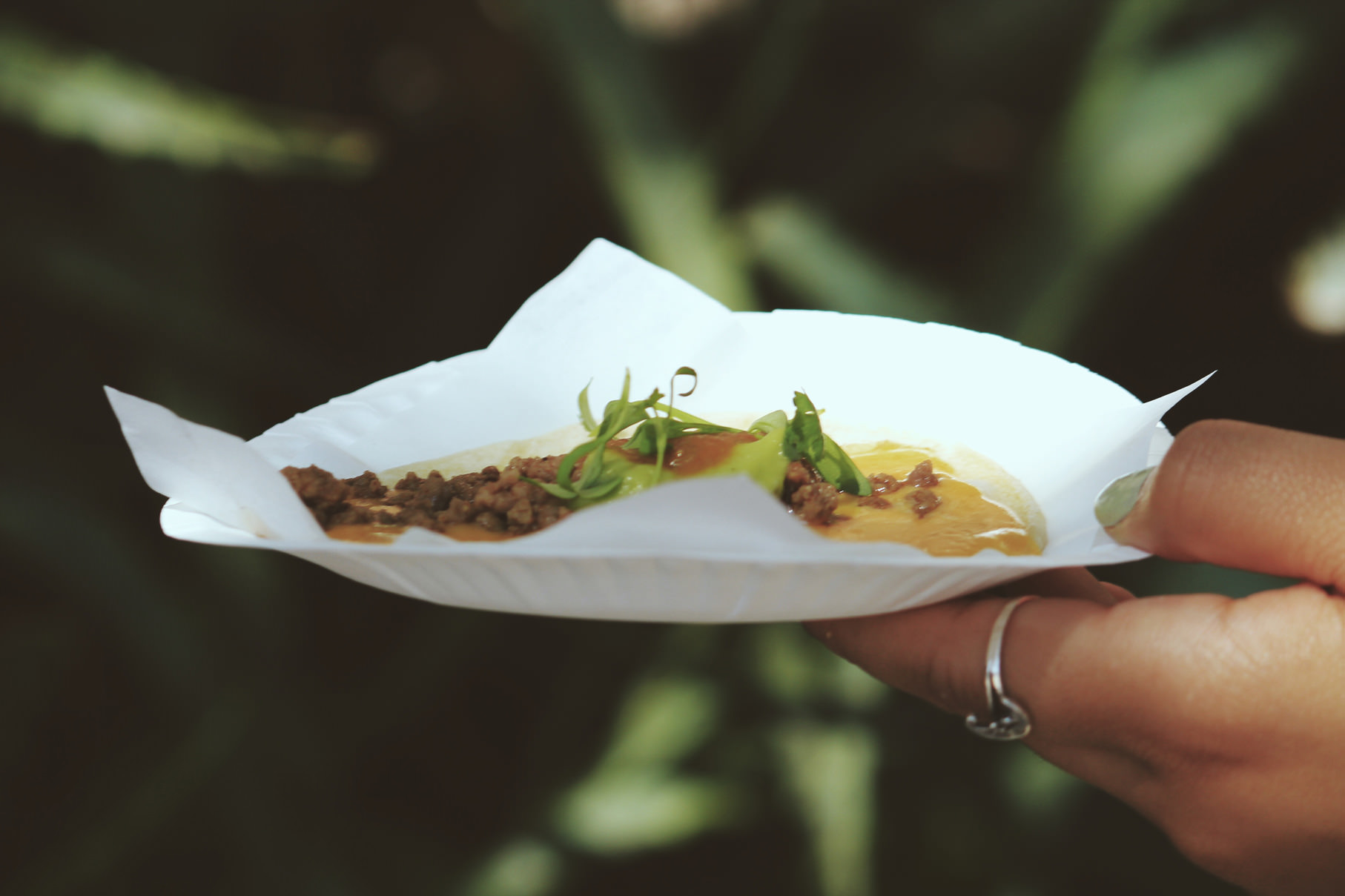 Last and almost forgotten, behold…(drum rolls playing)…The Cheese Burger Taco! Womp, womp. As excited as we were to see what Plan Check was going to serve up, the irony came as we stood outside the gate just before the event started asking each other what in the world Plan Check was doing at Tacolandia. Much to our surprise, the cheese burger taco was born. Made from ground beef, habanero salsa, americanized cheese, avocado guacamole, and cilantro. It definitely has the taste of a taco, but it wasn't all there. Maybe it was the ground beef, but then again it was a cheese burger taco. Had they made implemented some of their premium burger beef, maybe it would have stood a chance.
Comments
comments
---