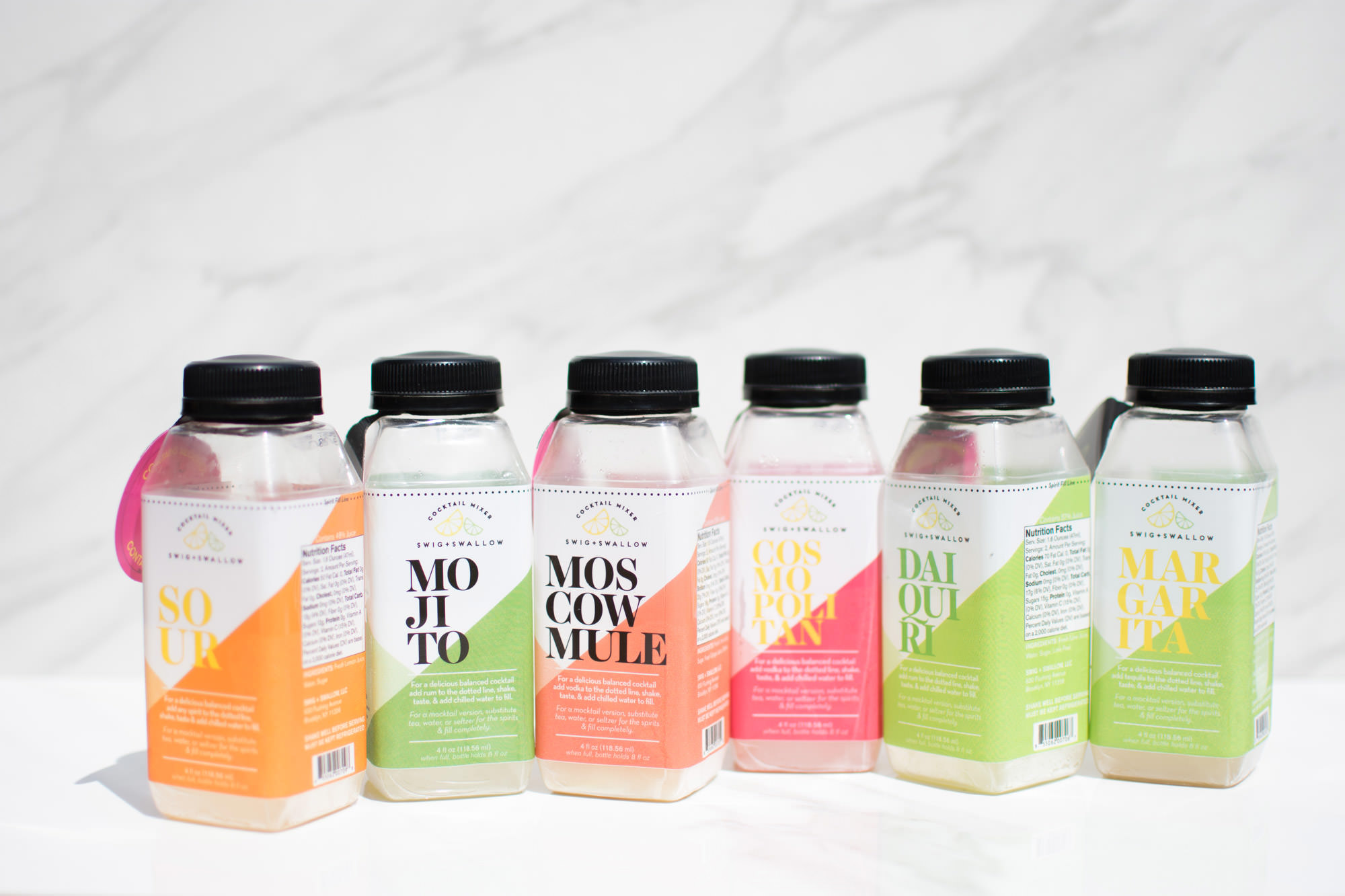 "SWIG + SWALLOW IS A BEVERAGE STARTUP, LAUNCHED IN 2016 AND BASED IN BROOKLYN, NY. THEY PRODUCE FRESH COCKTAIL MIXERS FOR ICONIC COCKTAILS. BOTTLES ARE FILLED HALF WAY, SO YOU CAN ADD SPIRITS DIRECTLY TO THE MIXER BOTTLE. WHEN FULL, EACH BOTTLE YIELDS TEN 3 OZ COCKTAILS, AND MIXERS ARE GOOD FOR 3 MONTHS IF REFRIGERATED AND UNOPENED."
When we say you HALF to try these, we really mean it. That's not a mistake by the way — Swig + Swallow was made to be half full. Or half empty, whatever floats your boat. The Brooklyn based company was started up in 2016 by Founder April Wachtel. Previously, she had served as a brand ambassador to a spirit company — which led her to this. A brand of mixers, designed to essentially provide you with a high quality craft cocktail, and all you have to do is add your spirit. As a 20 year veteran in the beverage & hospitality industry, it easy to trust the quality of these mixers beforehand.
So why do you HALF to try these? If you haven't picked it up yet — these mixers are half filled. This leaves room to fill up the bottle (to the dotted line) with your own spirit, shake, taste, and add more to your liking. It's really that simple. But let me explain more. Have you ever tried making a cocktail or cocktails (in batches) and the measurements got all confusing. You end up having a cocktail thats too strong, too sweet, or too bitter. Especially when trying to make two or more. So Swig + Swallow made it easier by combining the perfect measurements using high quality ingredients.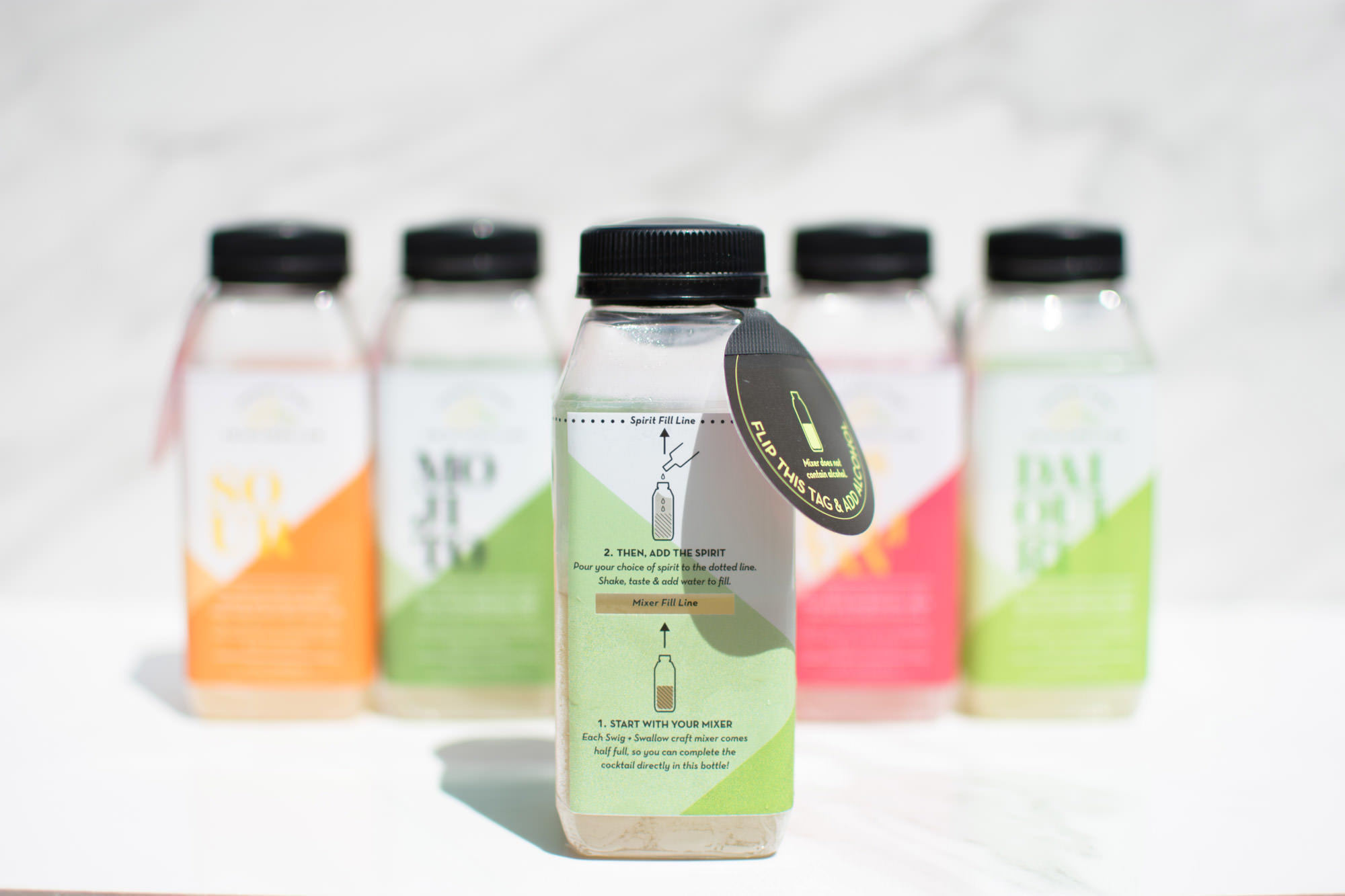 INGREDIENTS
—
Swig + Swallow uses natural fresh squeezed juices and custom syrups in their mixes. There are no added preservatives, unnatural flavors, or colors added to any of the mixes. What makes them even more great, is they have a 3 month shelf life if kept refrigerated and unopened. A special high pressure process called HPP is what maintains their fresh flavors, and keeps them stored for so long. But no doubt these won't be kept in the fridge for too long. These cocktails will wanna be made, and enjoyed as soon as they're purchased.
ICONIC COCKTAILS
—
The line of mixers Swig + Swallow has created are those of classic cocktails. Some of the most searched drinks to make, are also some of the hardest — when it comes to perfecting. It's no fluke when I say these are truly perfect cocktails. It starts with a classic margarita that is recommended to be paired with any 100% agave tequila. When made, it taste just like $15 dollar margarita you'll get at a bar. Not some margarita mixed drink, but a straight up well crafted margarita. Another classic is the Mojito, made with fresh lime juice and mint syrup. Promised to be a gentle balance of clean refreshing notes, and no bitter oils. You can also turn to drinks like the Cosmopolitan, Daiquiri, Moscow Mule, or the Sour. The sour is an interesting one, as it's essentially their most versatile mixer. There are a ton of variations to be made using the 'sour'. Some more popular ones like the Whiskey Sour or Vodka Collins. You can add almost any spirit to this mixer, and have yourself a sour. The great thing is, this mixer is made with such precision. Swig + Swallow is and should be the mixer standard in an industry of evolving products. The quality of ingredients put into every mixer can be appreciated in every sip. I can't say enough about how satisfying these were, and will continue to be.
Comments
comments
---