Launched in 2015, SŌTŌ was created through global collaboration with North American wine & spirit enthusiasts who are lovers of Japan's national beverage and wanted to take the unwavering excellence of the finest Japanese sake and make it accessible to the rest of the world.
STYLE: JUNMAI DAIGINJO SAKE / ABV: 15.5%
If you're looking for an award winning premium sake, look no further. SŌTŌ is a Super Premium Junmai Daigingo sake — the highest level of sake available. That alone should tell you everything you need to know about the brand. But it goes beyond a good looking bottle, and premium ingredients. With SŌTŌ you can actually look forward to tasting notes, and actually drinking it chilled. Usually, sake will come warm if ordered at a bar or restaurant. That's mainly because tasting notes from cheap sake can be covered up by being warmed up. If you've been drinking cheap, warm sake then it's definitely time for an upgrade.
Once you switch to SŌTŌ, you'll never wanna go back. If you're confused as to just how premium Junmai Daiginjo sake is — the rice is polished to 50% of its original mass to capture the elegant fragrance and delicate flavors. This alone makes SŌTŌ a lot more drinkable than most sake. It's meant to be chilled within a few degrees of 50°F and served in a thin glass to appreciate the delicate aromas and taste. Personally, its one of the better sake's I've ever had. Refreshing, light mouth feel that's almost silk like. Goes down smooth, but has a dry finish with a little heat on the backend. You'll find subtle hints of apple, lime zest, and even a hint of cucumber which is evident in the overall freshness of the sake. Have it straight or mix it in a cocktail.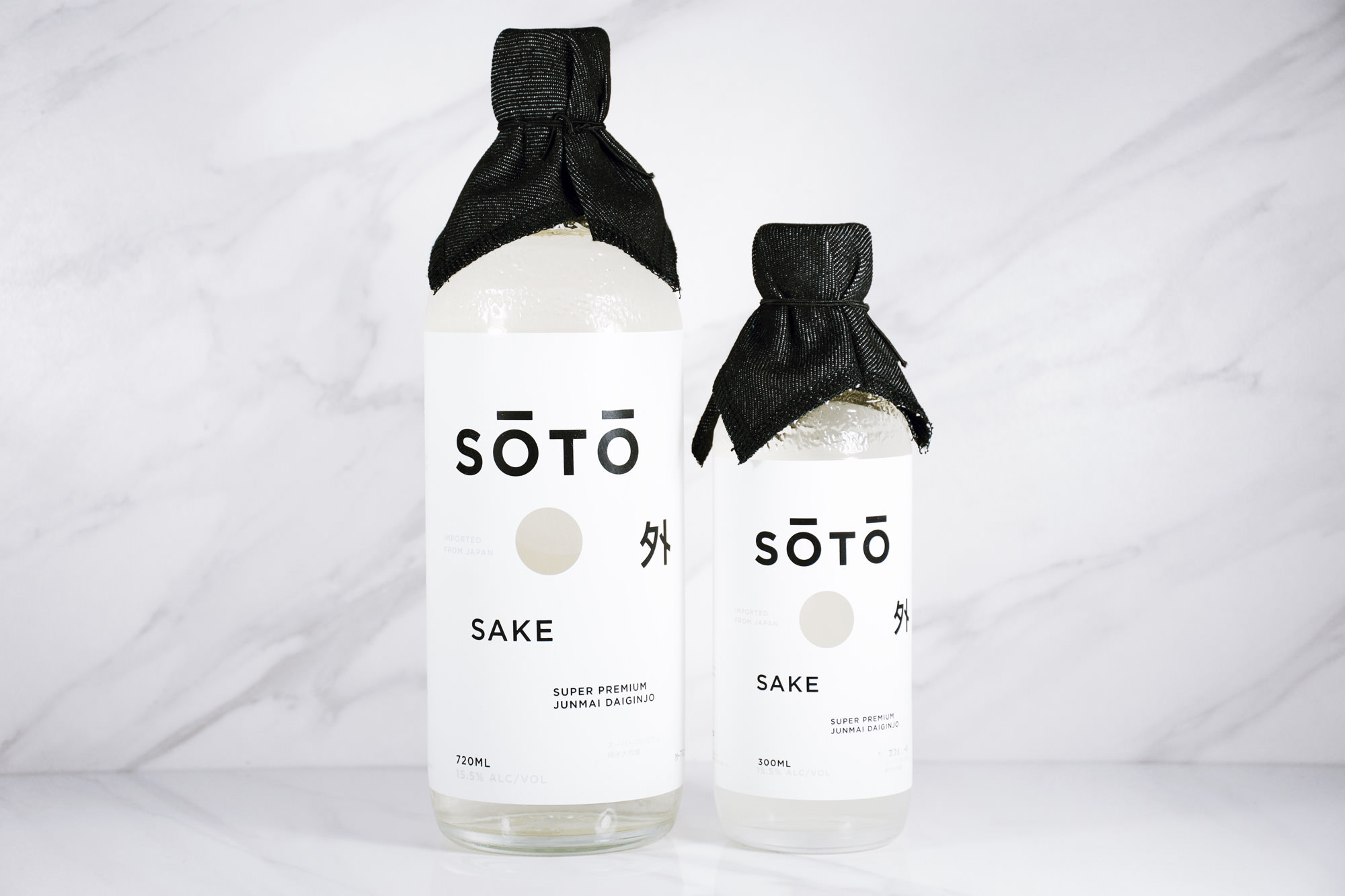 The design of the SŌTŌ bottle is clearly not only for show, as it's proven to be just as good on the inside as it is on the outside. It was easy to fall in love with the branding of SŌTŌ as it's clean and minimal — in fact, the bottle itself is just as premium as the sake it holds. Representing the mountain peaks of Niigata Prefecture. The design also provides a key grip for Sommeliers, Servers, Bartenders, and consumers when pouring. Made from Ultra Violet Coated Premium Japanese Glass — simple, but a beautiful bottle to hold and display. Each bottle also comes with a square piece of Japanese Denim. In celebration of the Japanese craftsmanship of their denim, and of course their sake, this denim bottle topper can be used afterwards as a coaster, pocket square, or many other uses.
WHERE TO BUY
ON THE MENU
• Katsuya Brentwood (11777 San Vicente Blvd, Los Angeles, CA 90049)
• Katsuya Glendale (The Americana at Brand, 702 Americana Way, Glendale, CA 91210)
• Katsuya Hollywood (6300 Hollywood Blvd, Los Angeles, CA 90028)
• Katsuya L.A. Live (800 W Olympic Blvd, Los Angeles, CA 90015)
• Mr. Chow (3835 Cross Creek Road, 18A, Malibu, CA 90265)
• Mr. Chow (344 N. Camden Dr., Beverly Hills, CA, 90210)
ON THE SHELF
• Bar Keeper (3910 Sunset Blvd, Los Angeles, CA 90029)
• Erewhon Market Los Angeles (7660 Beverly Blvd, Los Angeles, CA 90036)
• Erewhon Market Calabasas (26767 Agoura Rd, Calabasas, CA 91302)
• True Sake (560 Hayes St, San Francisco, CA 94102)
Comments
comments
---