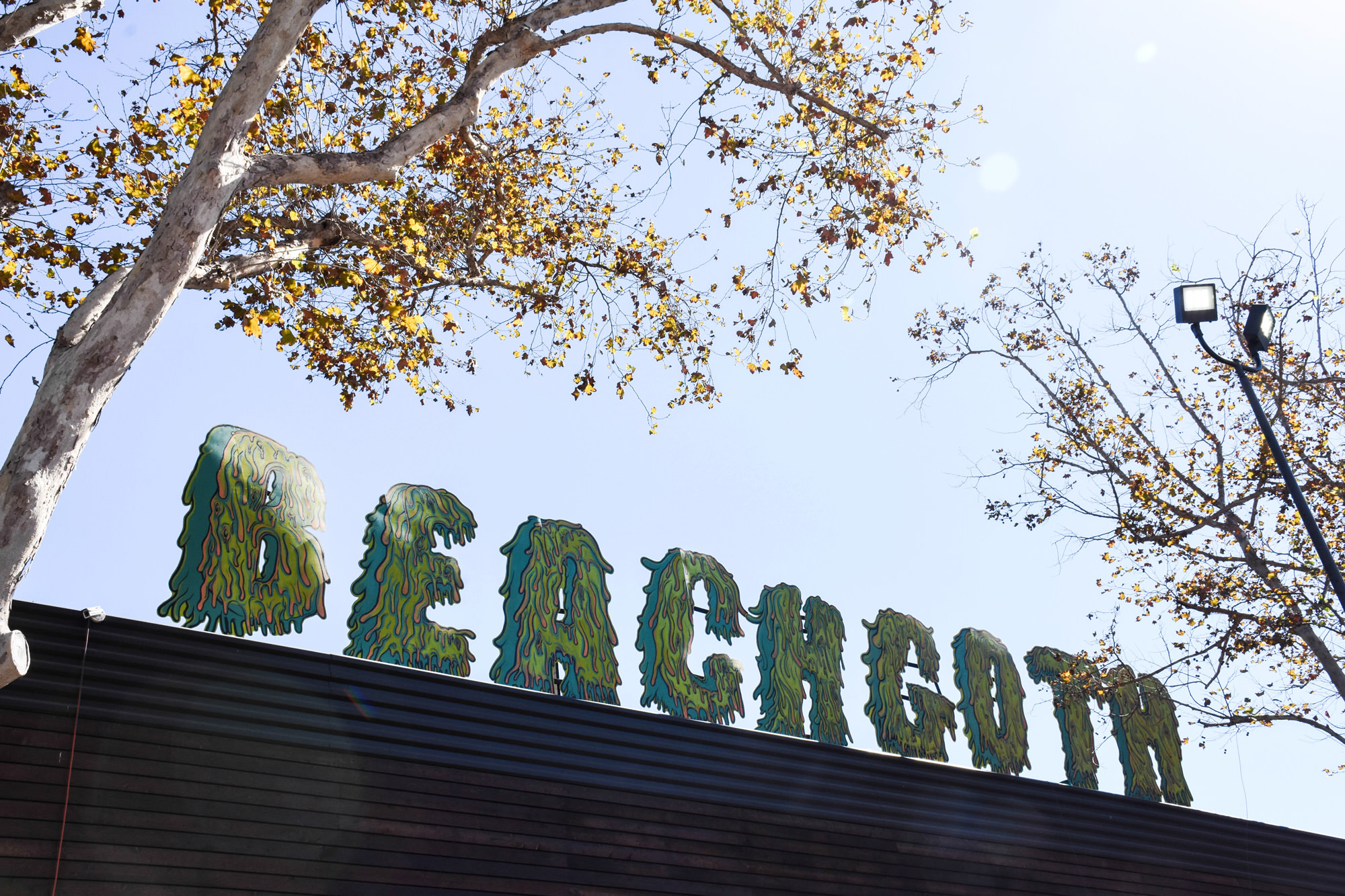 It's been a few weeks since we danced our butt's off at Beach Goth, but a perfect time for some reflection. Every week there seems to be a new festival happening. The very first Complex Con took place in Long Beach over the weekend, and next we'll have Camp Flog Gnaw. But I have to say, Beach Goth is as good a festival you can get in SoCal. The festival stays true to itself, and the lineup they present. Beach vibes, yes. Goth vibes, of course. It was my first time ever attending Beach Goth which is now in it's 5th year, and I think its safe to say I'm looking forward to attending next year. Now, that comes without saying — it was a complete shit show at times. Although day 1 went pretty smooth, everything went to shit come Sunday afternoon. It started raining, a sprinkler apparently broke, and a flood caused the outdoor stage to get shut down. It was a little bad luck for the festival which had gone pretty good up to that point, but overcrowding and rain sounds like everyones nightmare.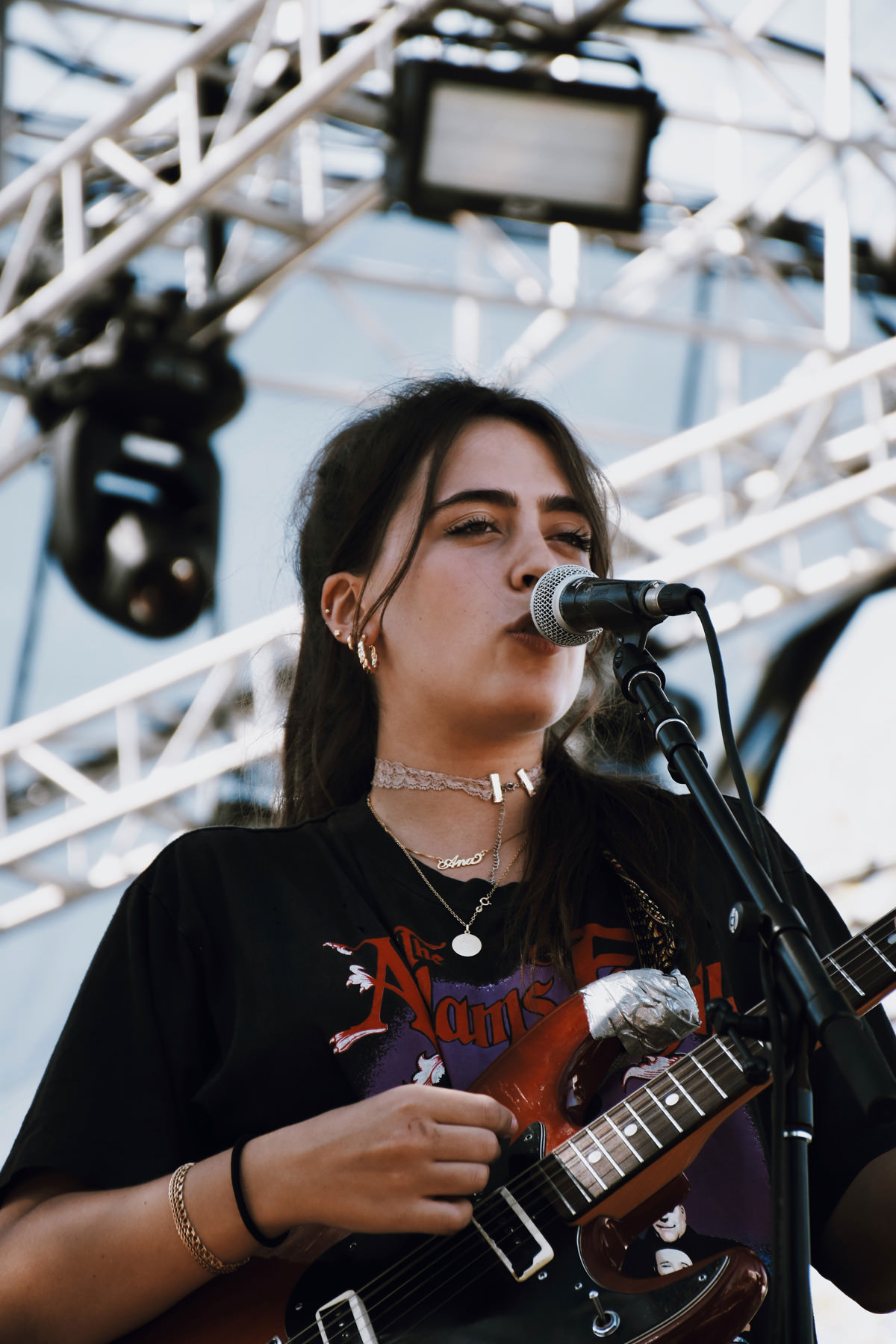 DAY 1
On the first day of the festival the sun was shining bright, and the crowds were soaking it in during every set. To say things went smooth would be an overstatement, but thats the word I'd use to describe my first day there. Yeah, there was some overcrowding, but when you look beyond that the artists' really showed up and gave us our moneys worth. If you spent all day at the Outdoor Stage alone you could argue that alone would be worth the money. With Hinds setting the tone, they gave us the beach vibes, and a great overall performance. Chicano Batman then took the crowd a step forward, and gave us a mesmerizing act. There was an arousing feeling from the crowd with everyone tuned in and grooving to every beat. Then you had Violent Femmes who has not lost their touch, followed by more crowd favorites in Patti Smith and King Krule who debut a new song during his set.
Now while you could've spent all day at the Outdoor Stage, there was still three other stages to catch great acts. The Observatory Stage and Constellation Room were two of the hardest stages to access if you weren't already inside, but well worth the trouble at times. The third stage was the main stage aka the BGV Dome Stage. Early in the day bands like Cold Cave and Corbin gave life to the crowd until turning it over to the much anticipated TLC followed by headliners James Blake & Bon Iver. Saturday had pretty much everything up and down the lineup regardless of what type of music you like. Personally, I enjoyed watching TLC mesmerize the crowd with nostalgic tunes. There wasn't a person in the crowd that wasn't singing to their 90's hits.
Sunday's lineup was as good, if not better (in my opinion) than Saturday's and then it all went to shit. As the opening acts took the stage roughly around noon, it was no surprise the weather was gonna have its way. Gloomy skies, and small drizzles were already giving the crowd an anxious time. Now the venue handled the situation, OKAY, but they too seemed out of wack at times. They did however acknowledge the mistakes they made, and addressed it on their Facebook page. But besides the weather being a factor, things couldn't have been better.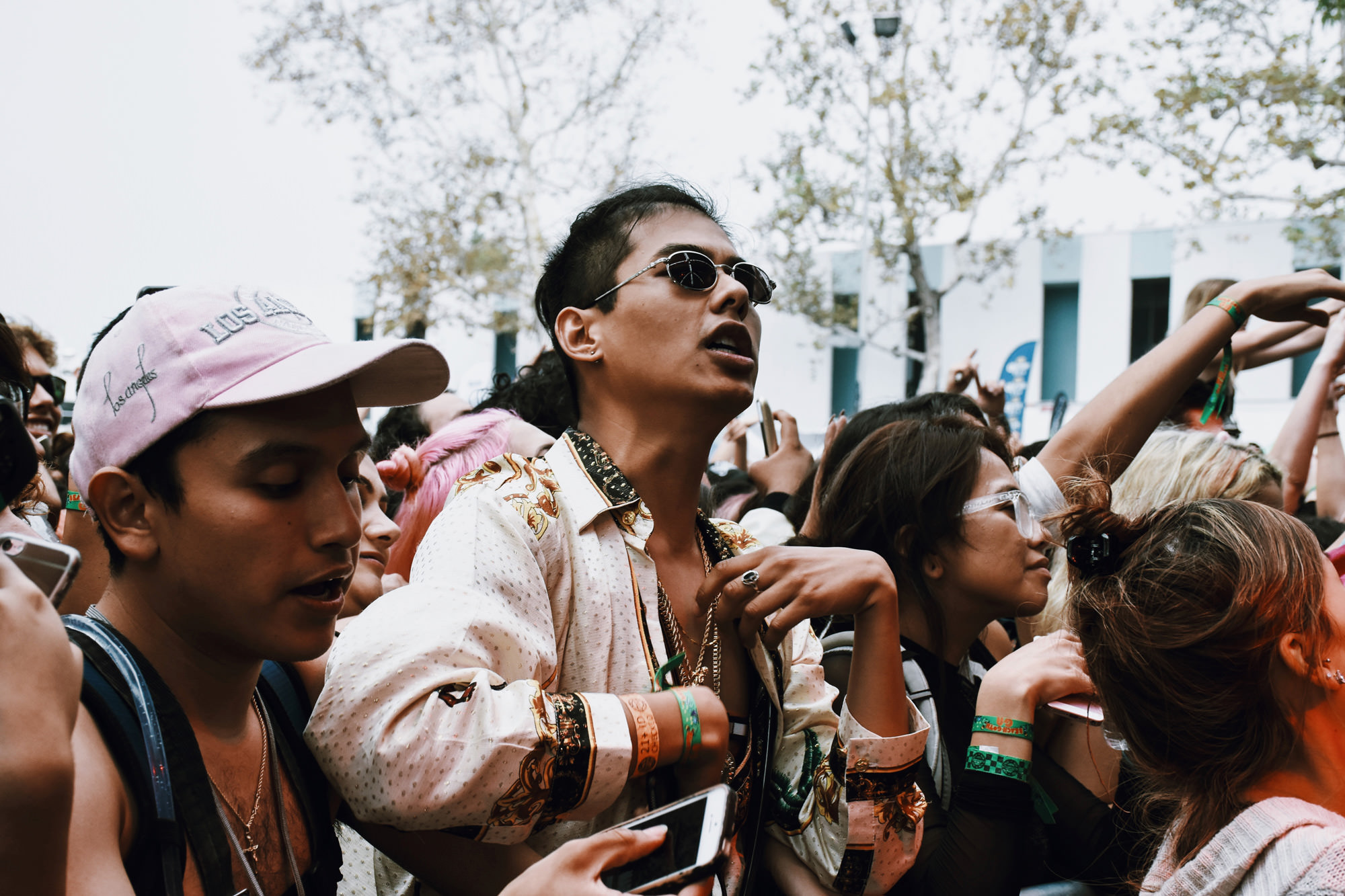 DAY 2
Let's just get this out of the way, no one was ready for Sunday. As what seemed like the biggest crowd of the weekend for artist Kali Uchis — everyone who was gathered to watch the playful, energetic act noticed one thing: rain. But the large crowd at the main stage wasn't gonna scare anyone away, especially once Gucci Mane went on stage. The man, and the legend himself didn't shy away from the wet weather and gave us all what we hoped for. An epic set of his heavy hitting classics. Indeed, Guwop was home. All while that was going on, XXYYXX was on stage over at the Outdoor Stage followed by The Adicts and She Wants Revenge whom all performed giving the circumstances.
But thats when things started to get a little ugly. From what people were saying, a sprinkler had broken causing the main road where the Outdoor Stage was set up on had flooded. I wanna say it was a good 5 to 6 inches high of water that people were trying to avoid, but ultimately couldn't. At one point people were dancing in it completely careless, and drenched in water. The eventually caused the stage to be shut down, moving The Drums set into the Observatory Stage. Mind you, this stage was inside a fairly tiny room. Everyone who had been waiting at the Outdoor Stage then ran like a pack of sheep and tried to squeeze through the doors to get into the Outdoor Stage. If you wanted to stay dry, and didn't mind skipping out on the main stages' headliners, there was a lot to see at both the Constellation Room, and Observatory Stage. Artists like The Pharcyde, Trippy Turtle, 2 Live Crew, Busy P, Slow Hollows, and a lot more.
If you did choose to stay dry than chances are you missed out on arguably the best performance of the weekend (in my opinion) which was Future Islands. The strong and violent voice of Sam Herring is not one to miss if you ever get the chance. Alongside his dance moves, and gestures towards the crowd that pulls you in he electrifies the stage and leaves you wanting more. The Growlers also performed for the second night in a row, and things commenced on the main stage with a magical set from Justice. The ever so popular DJ Duo who these days are hard to come by. Over on the Outdoor Stage where people were waiting to see if they were gonna reopen, finally did, but fell short having cancelled sets from Nicolas Jaar, and Grimes. They did however open it up for RL Grime, and allowed the crowd to let loose once again and get lost in the heavy bass. Overall, I would say that Beach Goth is taking small steps in becoming one of the elite festivals we have here in SoCal. Although there's issues specifically with the venue that need to be solved, you can only hope they come back next year as good if not better than this year. Cheers to The Growlers for an epic Beach Goth 2016.
Comments
comments
---