I love ramen, but I'm gonna be very honest that's all I can really do – love it. It's hard for me to down play any ramen unless it's bad, but we all know Ramen Champ is far from bad. It was my first time trying Ramen Champ and it was like trying ramen for the first time. Something about the space and the selection that just made it feel like that ramen bowl that changes the game.
Ramen Champ, located in LA Chinatown's culinary, Far East Plaza, changed it's ownership from one legend to another. Ramen Champ of course was established by the infamous Chef Alvin Cailan of Eggslut and his team, who dedicated themselves to create the best ramen. The incoming is Yoshimasa Kasai, the exciting, sometimes chaotic Ramen Yokocho festival former director. Kasai is unknown in the United States, but he has been a success in the international restaurant business for over 15 years. His experiences are vast, from opening Ramen Iroha (Reigning Ramen champion in Japan) in Hong Kong to producing gourmet food courts (think Grand Central Market meets Barney's New York) in Asia. He has also opened and managed sushi bars, high-end Chinese restaurants and French bakeries in Japan, Singapore, Hong Kong, Taiwan, and China.
Sounds legit, right? Wether or not you've been to Ramen Champ it really has a new feel to it. I think there was a lot of hype surrounding Chef Alvin and that's not discrediting him, but putting two minds together shows his strive for perfection. Bringing in chef Kasai really gives it that authentic feel that leaves you appreciating the experience. For me, going into Chinatown is an experience all on its own, but to find places like this, really adds to background of the eateries in Chinatown.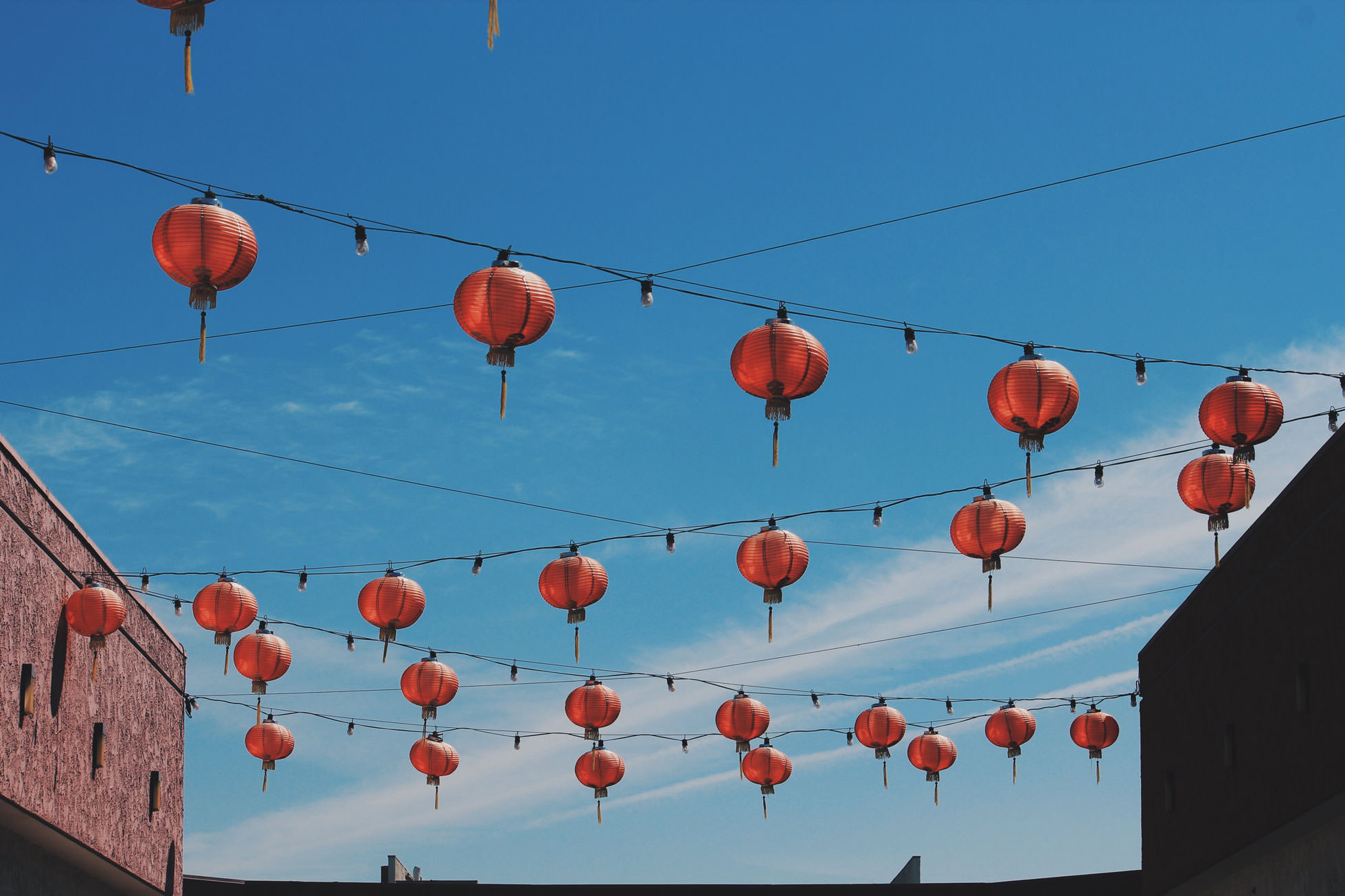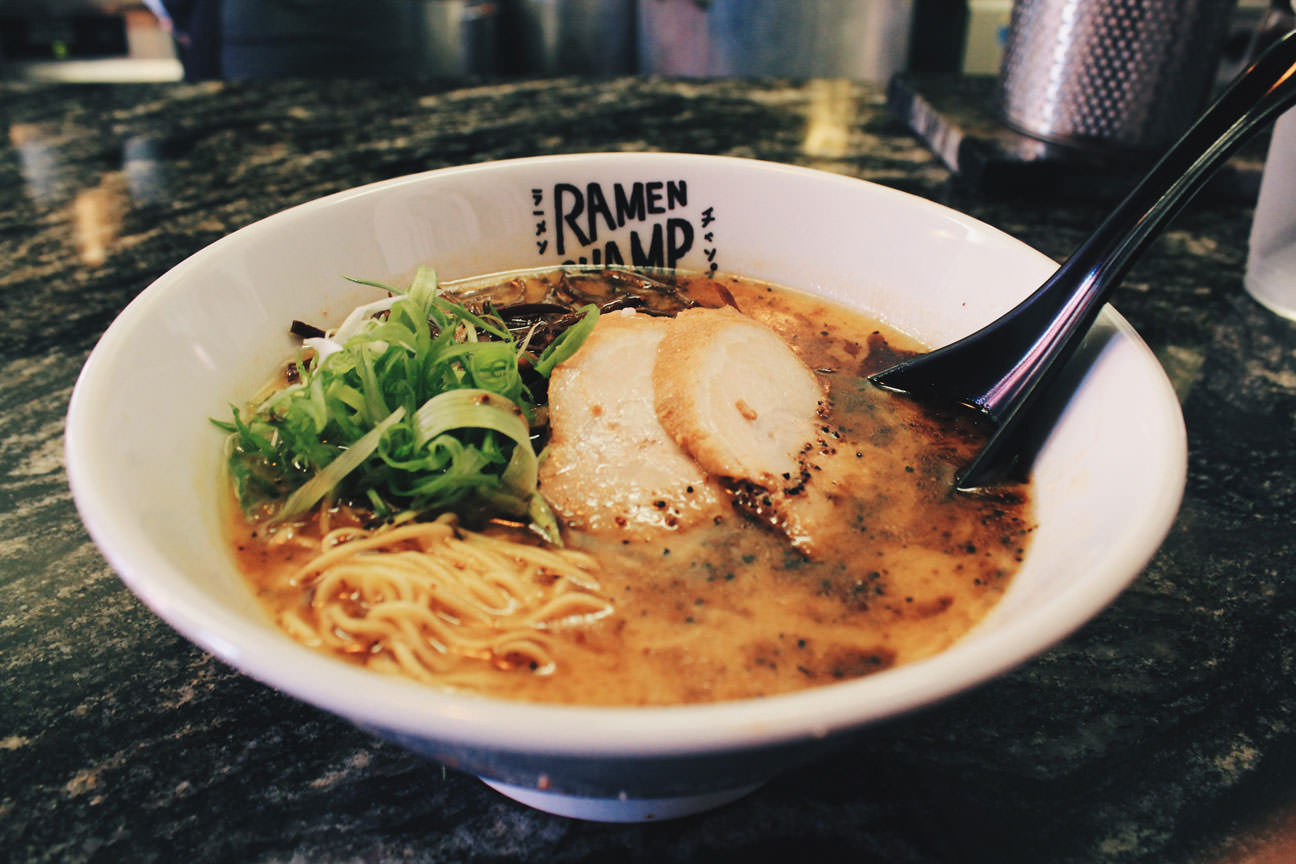 Tonkotsu
(pictured above) is such a well made ramen is just hard to even explain. I like my ramen spicy, but I think when I can eat a bowl of ramen with no spices, it's a damn good bowl. This was the case with the Tonkotsu ramen. The size of the noodles was fitting in this classic Tonkotsu broth, the only thing missing was an egg, but we'll have to wait till opening day to see what that's gonna look like.
On the new Ramen Champ's menu is: tonkotsu, tan-tan tonkotsu, and vegan. A few appetizers and additional varieties of ramen are scheduled to be added in November. Kasai uses every pork bone part available plus chicken to create rich tonkotsu broth, and garlic infused oil to create unique kaeshi  (flavor packed liquid to season broth) to complete his tonkotsu ramen. Japanese tan-tan men is a ramen noodle with soup topped with ground pork meat seasoned with spicy miso, and is a very popular dish in Asia. Usually served in a chicken based broth, but Ramen Champ's tan-tan noodle will be in served in their signature tonkotsu with meat sauce seasoned with sichuan peppercorns and garlic. This unique meat sauce is inspired by a dish by Kasai's mentors, Ramen Iroha Chairman, Kiyoshi Kurihara and the original Iron Chef, Kenichi Chin. The vegan ramen broth is made with kombu (edible kelp) and dried shiitake mushrooms. Combined with a soy sauce based kaeshi , this ramen has enough umami to to remind guests of an authentic Tokyo style shoyu ramen. Tonkotsu uses a thin noodle; tan-tan uses a medium thick noodle; and vegan comes with a spinach green noodle.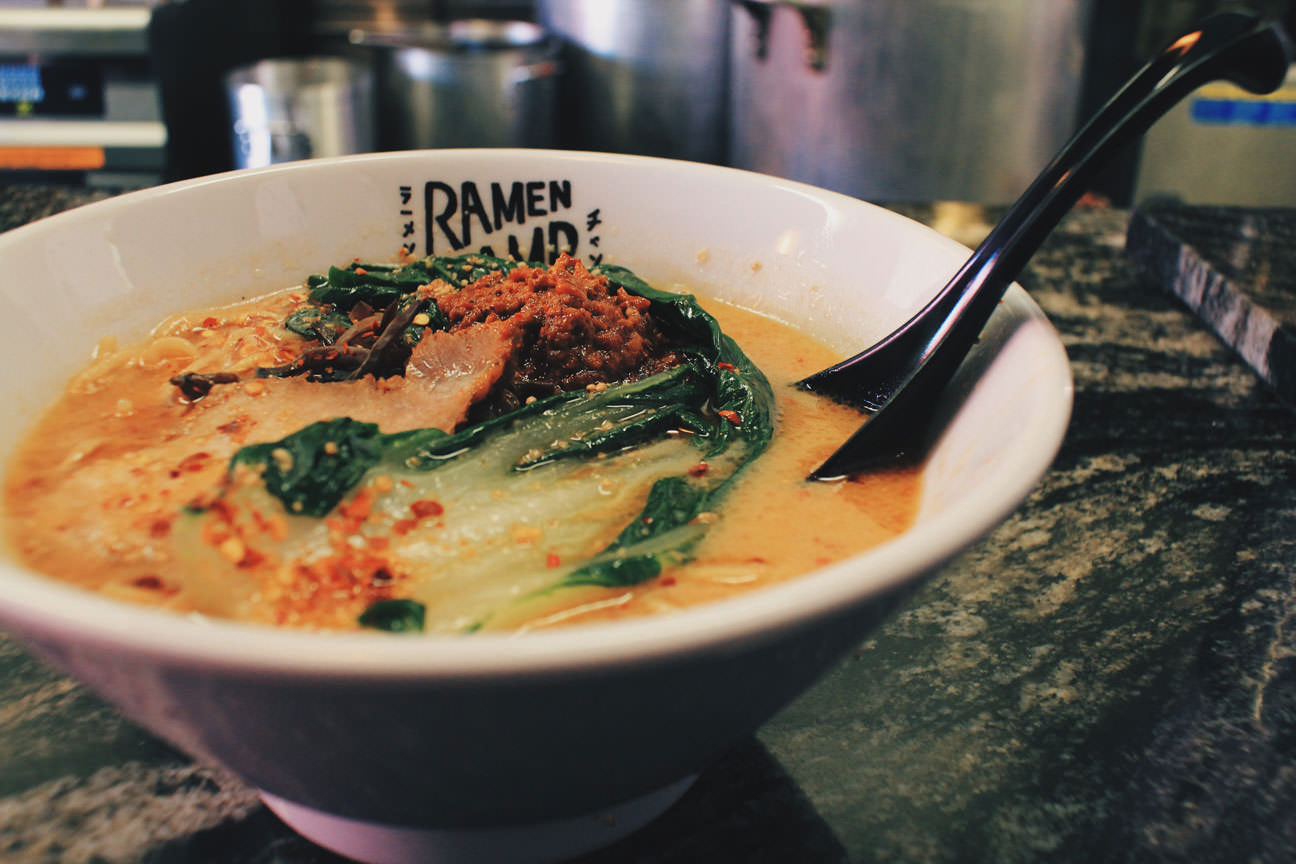 Tan-tan tonkotsu
this was my favorite! No, I'm not being biased because I love spicy ramen, ok maybe just a little, but regardless it was really well put together. The flavors in the tan-tan tonkotsu really all stand out individually and it gives you a unique flavor once it's half way down your throat. Yes, it also gives you a burning sensation, but who doesn't love that. The meat sauce that tops the ramen really gives it another layer of uniqueness that you probably won't find in another ramen bowl. They use medium thick noodles which I personally love, I feel like it really tops off the dish.
Overall
As I mentioned earlier, transitioning ownership while taking on the same values, Ramen Champ really takes it's name by the horns and runs away with it. I think for anyone who hasn't tried ramen and wants to try it or for any ramen lovers, it's a perfect place to set your ramen standards. You can't find a lot of authentic bowls that would match the high quality as Ramen Champ does and you'll notice that right off the bat. Another cool feature about Ramen Champ that goes without notice is the artwork. It gives you the feeling of being inside a hip new cafe in Tokyo or something along those lines.
Ramen Champ is located at 727 N Broadway, 2nd Floor, Los Angeles, CA 90012, in the heart of Los Angeles Chinatown.
#RamenChampRevamp reopens on Friday, October 2nd for lunch and dinner. Hours are: lunch 11AM-3PM; dinner 5PM-11PM (L.O.), and 11AM-11PM (L.O.) on Saturdays and Sundays. (11PM last order; closes on 11:30PM). Stop by, snap some photos, slurp away (before it gets cold), tag us in your pictures using #hypefeast and also tag #ramenchamprevamp. Hope you all can enjoy some Tonkotsu ramen this weekend!
Comments
comments
---