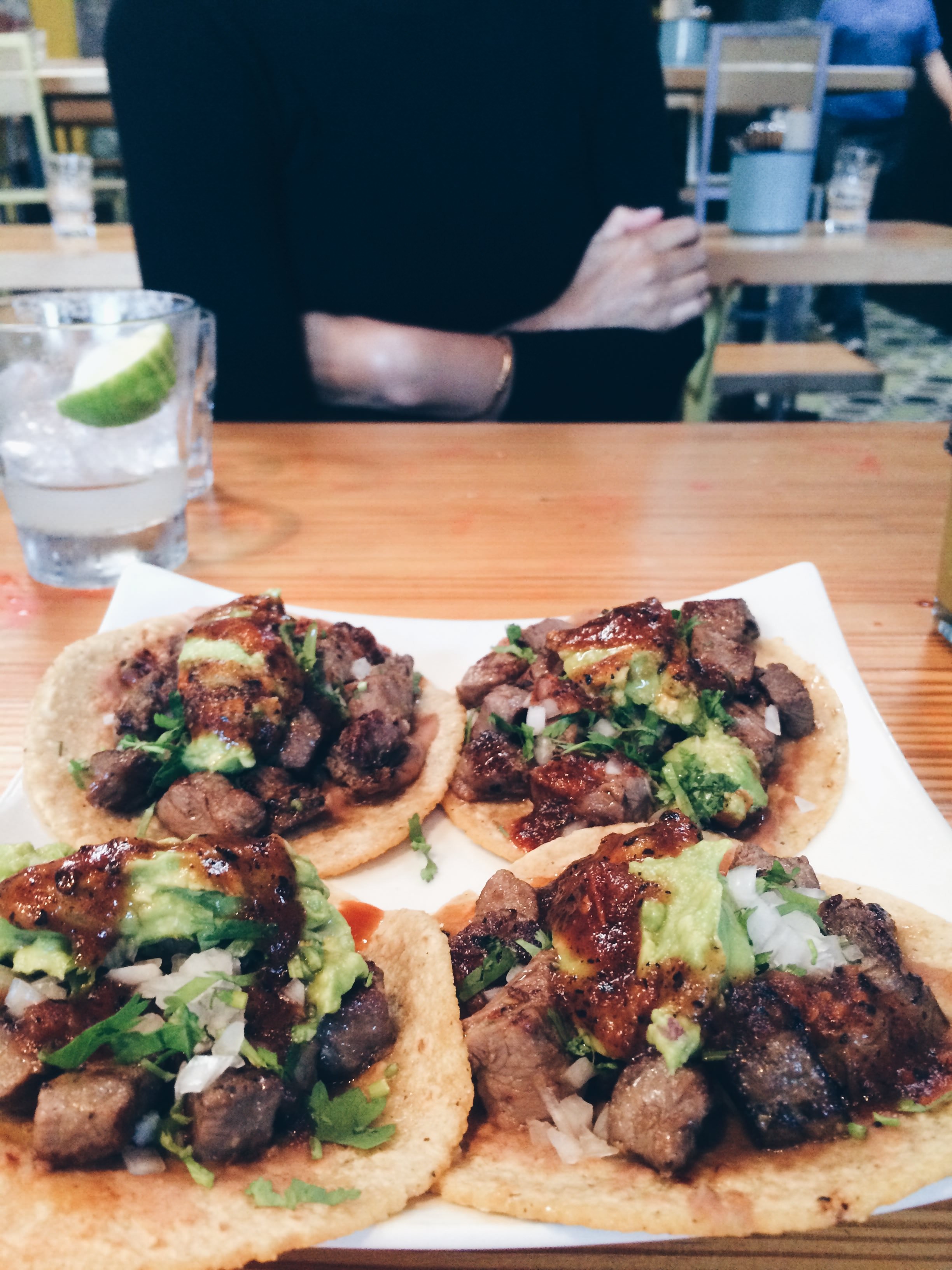 Our first visit to Petty Cash was a extremely delightful and all around joyous visit, not to mention our first of very many. Just as you approach the building itself it's really a site to see. Walking in we were greeted by a lovely host, cause in many instances this place is filled up by reservation. The interior of  Petty Cash is as well put as the food itself. It really gives you a welcoming upscale spanish vibe. The handmade pieces throughout the space really puts the concept of street art meets street food all together. The bar section makes it  a perfect place to come and hangout if you don't have a reservation. Now, let's get to the fun part…the food! The menu includes a variety of 'street food classics' which includes appetizer items like Roasted Cauliflower Nachos & the very popular bomb.com Now, while it's hard to choose from — some of the menu items we ordered included: Ceviche Negro (local white sea bass, squid ink, white peach and peanuts) it may sound a little unorthodox, but if you wanna find yourself in a sea of heaven we would recommend it. Also, from the taco menu we ordered The Cook's Ranch Pork Belly Carnitas which I must add were my personal favorite and the reason why I'm going back & the Boulder Valley Prime Strip Lion Carne Asada which if you came hungry you'll leave extremely happy or might not want to leave at all.
**Bonus — we were fortunate to have gotten a tour of the roof where they grow some of the organic ingredients that they implement in their recipes. It really put things into perspective after that. Seeing fresh produce being locally grown and used throughout their menu was fascinating.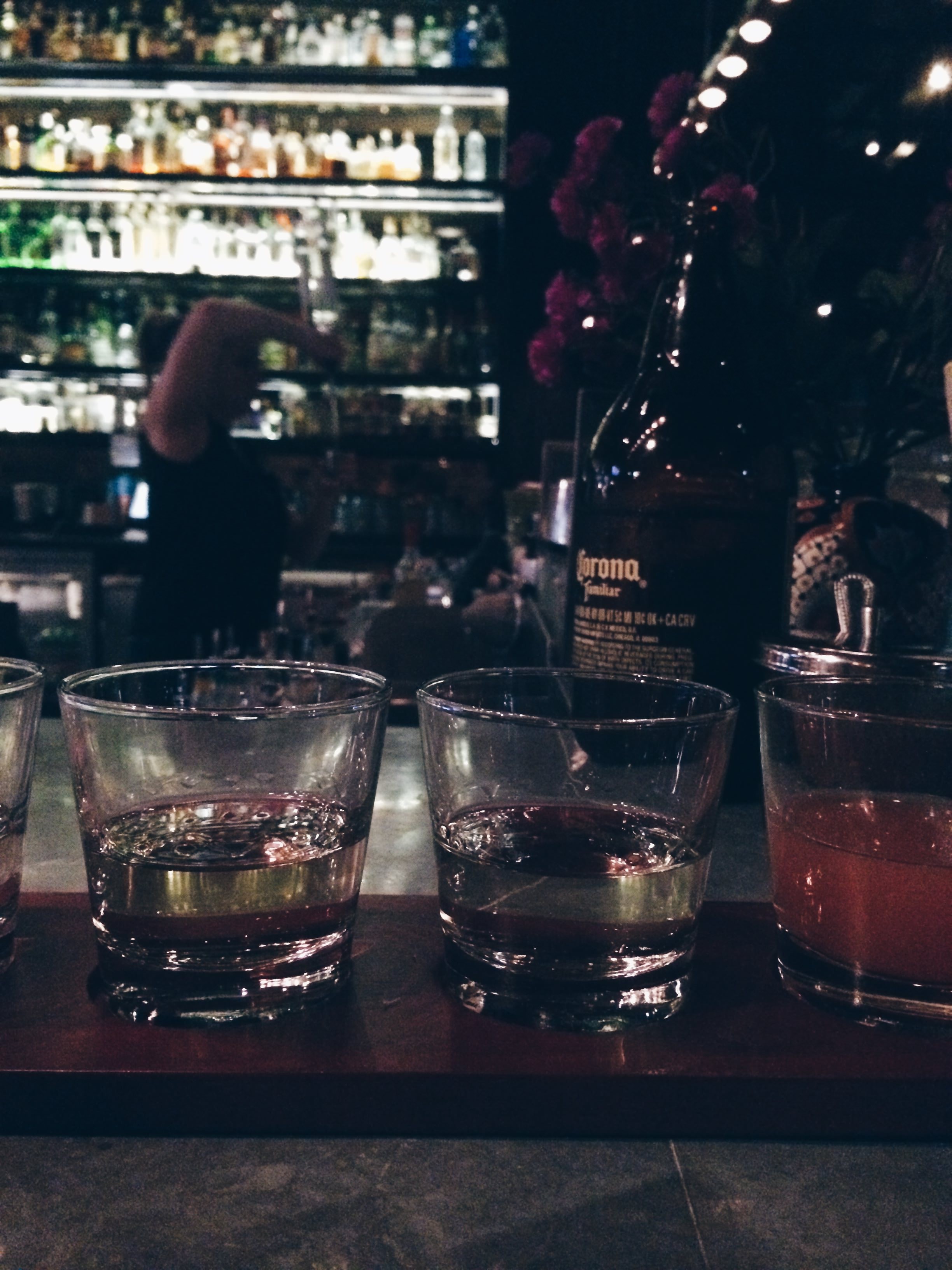 When we arrived at Petty Cash, which was around 5:30 (they open at 5pm) it was pretty quiet which gave us a chance to sit at the bar to look over the cocktail menu. From what the bartender told us, the most popular thing on the menu was of course their margarita. I mean, what else makes you feel more at home than some tacos and margaritas. But we went ahead and asked for the second most popular drink and we were introduced with 'The Brixton'. Much to our liking, the fire flamed drink included Gin, Plobano Sorbet, habanero, fresh lime and flaming green chartreuse. It was so good, we should've order more than one, but we kept it light…just while the sun was still out. Around 7pm at the time we finished eating and had some amazing cheesy churros with mole dip, we made a round at the bar before we left (in an Uber). This time we wanted to try something sweet and uprising so we ordered the 'Drunk in Love' and it wasn't till the next day that we realized it was the birthday of none other than Beyoncé. Anyways, the drink was amazing. El Silencio Mezcal, apple brandy, fresh watermelon, cilantro, agave and garnished with a pork chicharon; yes a chicharon. It had to be one of the best cocktails I've had, but then again I'm a whiskey man. Nevertheless, it gave us the courage to try a Tequila Flight which was starring us down all throughout the evening cause it's big bold sign was hard to escape from. We kept it simple and threw back a 'Ode to Camerena' flight which included Tequila Ocho Reposado, Excellia Reposado, Tapatio Reposado. All of which were enjoyed one after the other. If you wanna educate yourself on tequila or mezcal this is the perfect place to do it. Order a flight, some tacos, and have a conversation with your bartender.
[parallax_row direction="fixed" image="4686″]
Petty Cash, a semi-authentic taqueria, is the collaboration between celebrated Chef Walter Manzke and restaurateur Bill Chait with myriad talent drawn from East LA, Baja and beyond, including Petty Cash's Chef de Cuisine, Fabian Gallardo. Petty Cash's menu features Walter's interpretation of street food classics utilizing the best available local, seasonal and sustainable ingredients, rooted in multi-generational tradition and technique. Petty Cash sits on Beverly Blvd. beneath the (former Playa) rooftop garden stewarded by Chef John Sedlar and features urban elements such as hand-painted murals by local street artist RETNA as well as street-style graffiti art by some of Petty Cash's kitchen staff, a back room with shuffleboard, and picnic style tables and bench seating which lend to a relaxed and playful communal dining room centered around an active bar.
WALTER MANZKE
Growing up as a child in San Diego, Walter Manzke learned the ways of seasonal cuisine and sustainability at a young age. The family table was filled with organic, farm-fresh vegetables and fruits from the vast orchards and gardens surrounding his home. This seasonable, sustainable approach to eating, now popularized in the farm-to-table ethos, is a way of thought that Manzke has carried with him throughout his culinary career. At 20, Manzke decided to attend San Diego Mesa College. In 1992, Manzke graduated with a degree in Business and Restaurant Management. Upon completing college, Manzke moved to Los Angeles to work with Joachim Splichal, where he began to develop his signature style. After two and a half years, and a drive to continue his culinary education, Manzke departed Los Angeles to work in some of the most renowned kitchens in Europe, including Alain Ducasse in Monte Carlo and El Bulli in Spain. In 1996, Manzke returned to Los Angeles where he spent another six and a half years at Patina. During his time at Patina as Executive Chef, Manzke earned a number of accolades, including a three-star review from the Los Angeles Times. Manzke left Los Angeles in 2002 to open three successful restaurants in Carmel: Bouchee, Cantinetta Luca and L'Auberge Carmel. At L'Auberge Carmel, Manzke garnered a number of accolades including being selected as one of Robb Report's "Best New Dining Destinations," Bon Appétit magazine's "Best of the Year" and one of Gourmet magazine's "Top Fifty Restaurants in America."
FABIAN GALLARDO
Fabian Gallardo was born and raised in Leon, Mexico. The son of a shoemaker, Gallardo had aspirations to create from a young age. While studying business administration at ITESM (Instituto Tecnologico y de Estudios Superiores de Monterrey) – Campus Leon, he quickly realized he had bigger dreams to chase. He picked up a camera and moved to New York City where the food culture and passion took him over. Gallardo began studying at the prestigious French Culinary Institute in Manhattan where he graduated with Grand Diplóme and a degree in Restaurant Management. After meeting his wife, Hélène the two married at All Saints Chapel in New York City and worked in the culinary and pastry-fields, respectively. Gallardo staged at L'Ecole and Daniel Boulud's classic, Café Boulud. After gaining more knife-wielding experience, Gallardo began his own eclectic catering business with his dear friend and Short Order Executive Chef, Christian Page. Soon after, he was offered the opportunity of a lifetime as the Chef de Cuisine at the world-famous Vice Versa under the guidance of Executive Chef Stefano Terzi. Chef Fabian soon gained invaluable experience working with and running the front of house as well. After 14 years at Vice Versa, Chef Gallardo departed for California. Working under Chef Walter Manzke has been an incredible learning experience and the opportunity to run and manage his own high-volume kitchen has been a dream-come true. Chef Gallardo aspires to open his own Bed & Breakfast on a beautiful Hawaiian island with his wife and two daughters one day.
Comments
comments
---