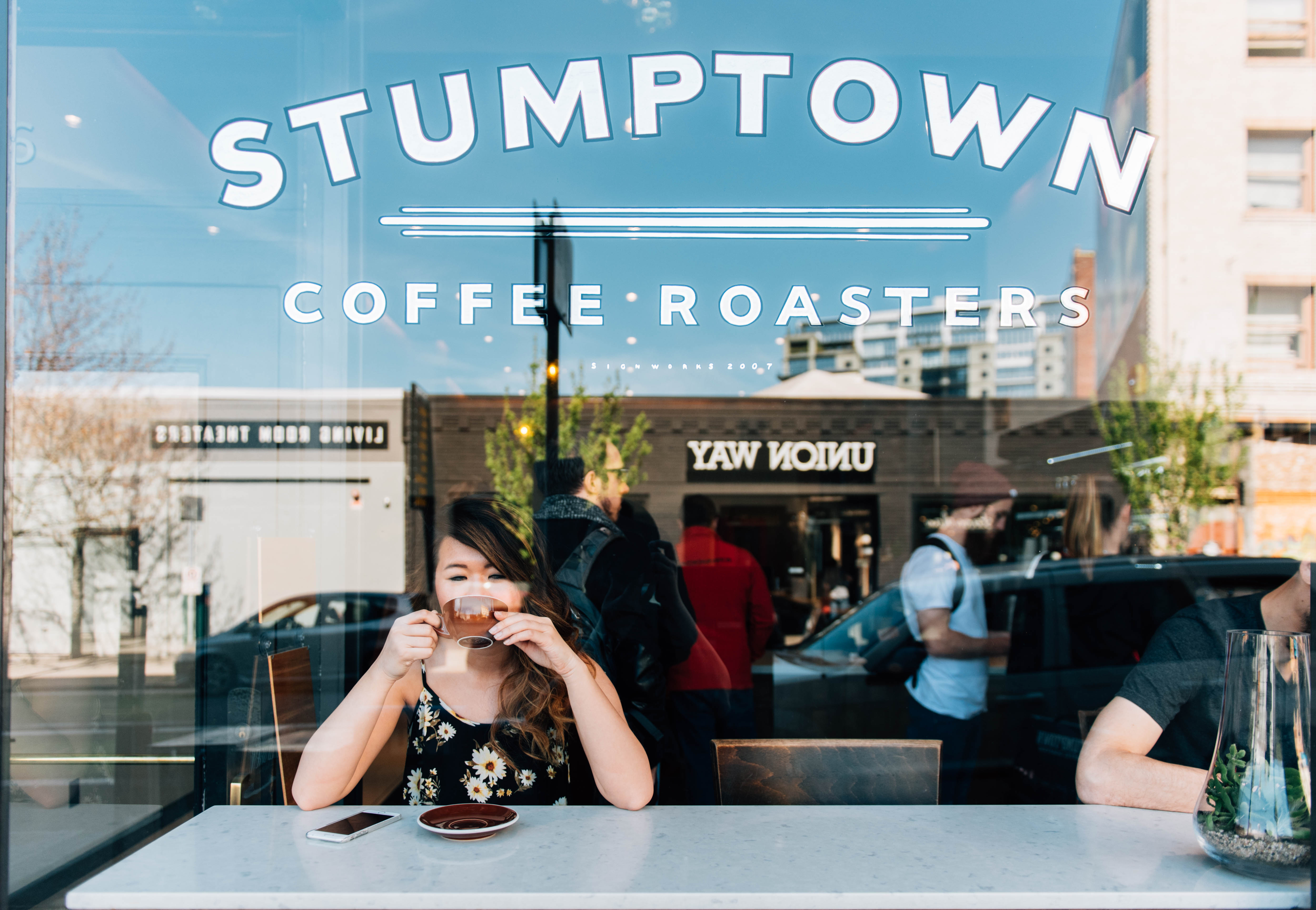 There is no doubt that Portland is one of the greatest cities for coffee. I have officially broken up with Starbucks since my move to Oregon, and there's so many reasons why. I'm always a big fan of trying out local businesses and getting to know the different vibes of each coffee shop, and what better place to do it than here in RIP City, the hometown of the legendary Stumptown Coffee itself.
STUMPTOWN COFFEE
Of course the first coffee shop to visit is Stumptown Coffee. The establishment has done so well since its first opening in 1999, and now has expanded to locations such as Seattle, New York and Los Angeles. I'm personally obsessed with their Stumptown Cold Brew Coffee with Milk, which comes in a perfectly shaped milk carton that brings back so many good childhood memories with every sip. They even have their cold brew coffee on tap, which is amazing!
The coffee is definitely strong and flavorful, and has an amazing aroma. I really have to try the coconut flavored coffee next time.
NUVREI
Next on the list would have to be a place not too many people know about, called Nuvrei. It's located on NW 10th Ave in Portland and is honestly my favorite coffee shop so far. The atmosphere is astounding with its high ceilings and vibrant white lights. The space reminds me of the coffee shops I visited during my time in Europe.
The Owner/Patissier is trained in French techniques which explains the unbelievable pastry choices. Each pastry item is carefully crafted by hand. I haven't tasted a croissant that was as delightful since Paris. It was crispy and flaky on the outside, but soft and light on the inside. I would recommend it any day of the week.
TEA BAR
If you're looking for a place for something lighter, such as tea or boba smoothies, there are so many choices in Portland. A great place I would recommend is definitely Tea Bar. I visited the location on NE Killingsworth St. but another is opening up on SE Division this Spring!
Tea Bar offers a large amount of high-quality tea from family farms all over the globe. We ordered the vanilla rose with no boba and matcha tea with boba. I don't think there is a bad flavor of tea there, so go crazy with your choices! The boba is also cooked perfectly, not too hard, but not too chewy. If you choose to sit and hang out with friends or do some studying, I absolutely advise it since the tea come in the cutest mason jars.
BLUE STAR DONUTS
Next are a couple of my favorite dessert places. You can't come to Portland without getting a bite at Blue Star Donuts, which also originated from PDX. The great saying at Blue Star is quality over quantity. The prime example of this is the fact that their dough takes 18 hours to make and is made from scratch every..single..day. Sometimes they run out of donuts by 4pm, just because they're that popular! Their classic donuts are to die for. They're soft, sweet, and impeccably flavored.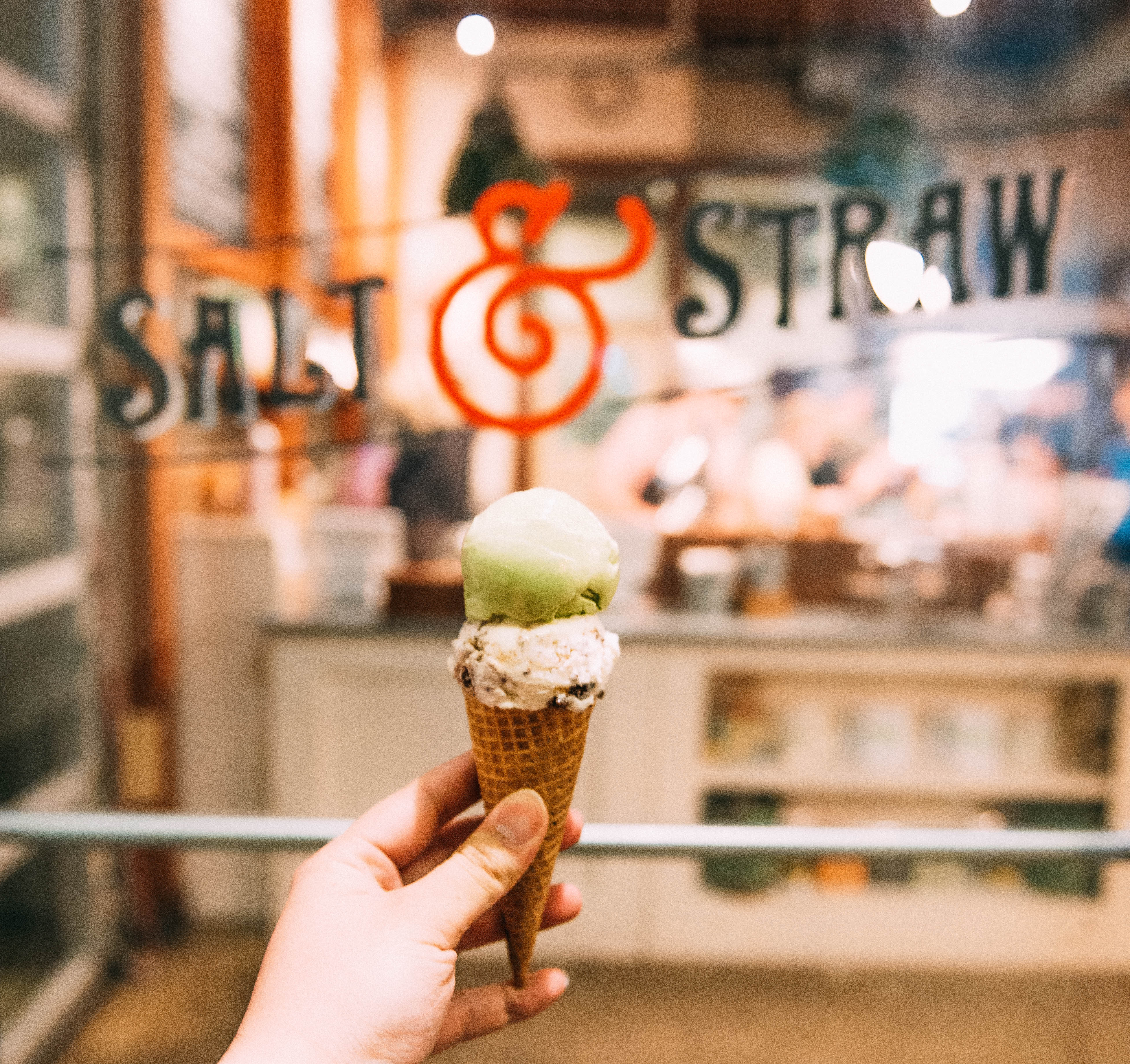 SALT & STRAW
Yes, yes, I've been holding out and saving the best for last. You can't talk about dessert in this city without mentioning Salt & Straw. I come here at least once a month to try out their monthly new flavors, and there is almost always a line. Thankfully we live only about a mile away and can manage to walk there whenever we like, but it is definitely one of the top places to go to if you're in town for the weekend. While in line, you can watch the magic creation of their delicious waffle cones, made right in front of you. You can get a sample of any of their enchanting flavors that are guaranteed to be unique such as – honey lavender, pear with blue cheese, sea salt caramel and so many more. A tip from me would be to get a split scoop, which only costs .50 cents more than a regular scoop and will allow you to have 2 flavors at once.
Go ahead, look up all these great places before your visit, it'll be worth it, I promise! There are so many more places that I love in this town and this didn't even scratch the surface, but for now, explore as much as you can. I bet you'll fall in love as much as I did.
Comments
comments
---