Dubbed as 'The Worlds only Gourmet Music Festival' Outside Lands just announced their 2016 Food & Drink line-up and they're not playing games. As impressive as Coachella's Food/Drink line-up was Outside Lands feels like it plays better with what they have. In their ninth annual edition, they'll feature options like: Outside Clams, A Taste of the Bay area, Cheese Lands, Wine Lands, Beer Lands, and Gastromagic. Um, whoa! In total, there are 80 restaurants, 40 wineries, and 28 breweries. Talk about being Trailblazers, eh?
The vendors are divided into serval categories with Outside Clams being this years newest arrival and hosted by festival veterans Woodhouse Fish Co. Outside Clams will offer a variety of options including raw and BBQ oysters, lobster rolls, and the always delicious clam chowder. They'll also be conveniently located next to Wine Lands, for all you pair heads.
If you like Wine & Cheese than Cheese Lands is probably where you'll find yourself outside of Wine Lands. Cheese Lands is set to expand this year, with expert artisans ready to serve up some ooey-gooey cheesiness. Expect servings of Raclette Cheese, loaves of fresh baked bread, cheeses by the dozen, and charcuterie selections. All curated by Thalassa Skinner of Culture, America's magazine for cheese lovers.
Maybe the best part of this all will be concluded with a trip to Choco Land. Vendors like Guittard Chocolate Co., Kara's Cupcakes, Sharona's Chocolate Shop, Candybar by Dessert Lounge, Epic Cookies, and The Creme Brulee Cart will make up all of the chocolatey menu.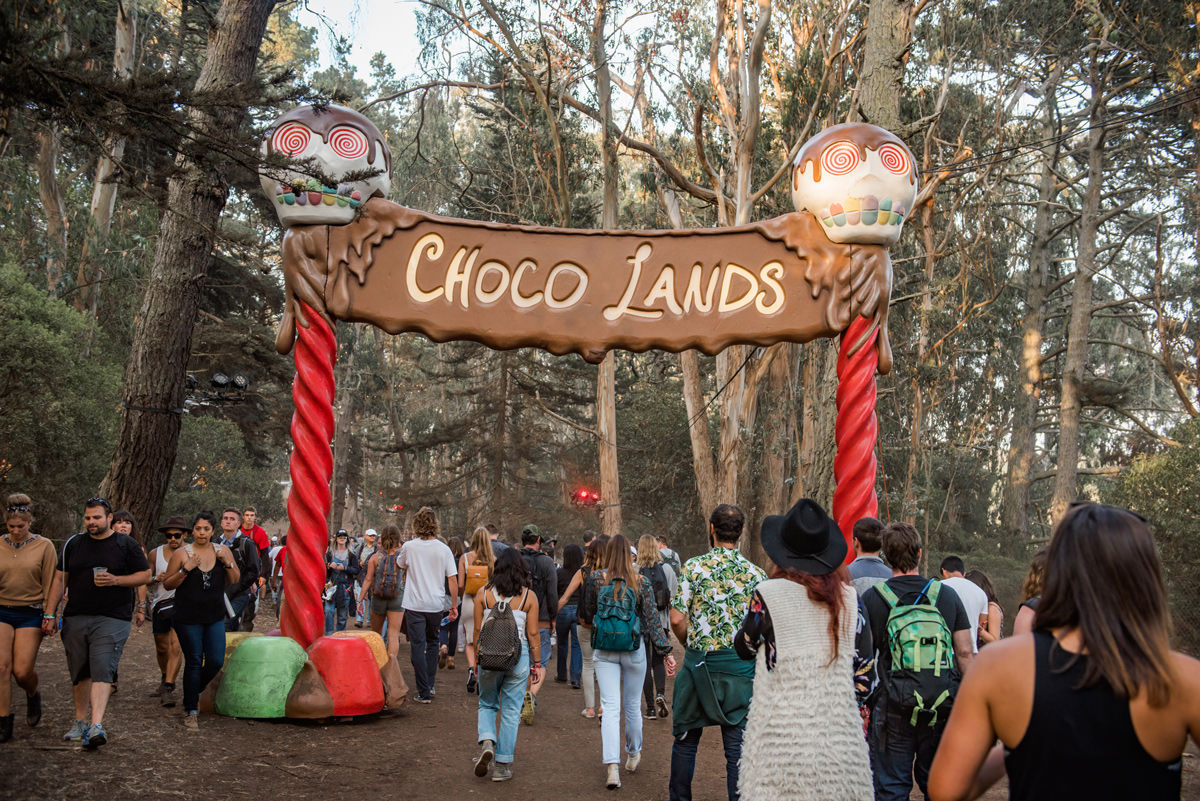 The festival's wildly popular culinary personality soars to even greater heights with GastroMagic, a one-of-a-kind stage devoted to fantastical entertainment in the way of star personalities, food, cocktails, comedy, improv, music, and of course, sorcery. The GastroMagic lineup will be shared in the coming weeks.
That concludes the entire Food/Drink experience set to take stage at Outside Lands this year. If you find yourself scouring the grounds, be sure to go out of your comfort zone and try new things. It's what will make the experience unforgettable. It's easy to wanna enjoy something you're accustomed to, but we're here to assure you that new experiences, especially culinary ones, are the most unforgettable. Also, don't forget to share all your Outside Lands food with us on Instagram and tag us. We'll be reposting photo's all weekend long. For complete vendor lineup, check below.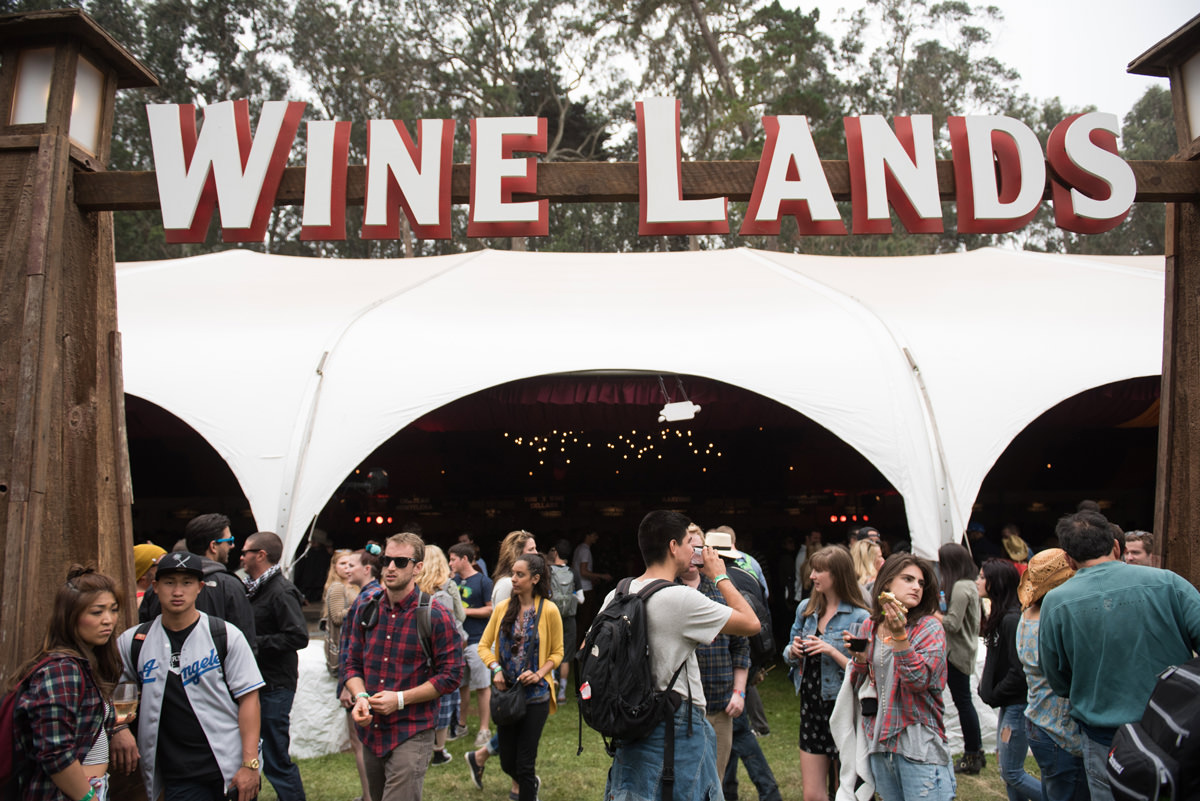 WINE LANDS
If you're a Wine head like most folks up North then Wine Land is for you. Wine Land offers an unbeatable collection of both iconic and trendsetting wines. This year, 40 of the top regional winemakers will be pouring over 120 wines for all to enjoy. Also making up the lineup are 12 new winemakers as well as more reputable names. As you can imagine, there will be an endless amount of drink options at the festival.
Alysian Wines (new)
AP Vin
August West
Baker Lane (new)
Banshee
Bluxome Street Winery
Bonterra (new)
Broc Cellars
Ca' Momi (new)
Cannonball Wine Company
Chateau Montelena
Claypool Cellars
CrossBarn by Paul Hobbs
Fount (new)
Georges Duboeuf (new)
Ghost Pines
Hobo Wine Co.
Idell Family Vineyard
Idlewild / Ryme / Leo Steen
Long Meadow Ranch
Marietta Cellars
Menage a Trois
Niven Family (new)
Pellegrini Wine Company
Preston Farm and Winery
and many more.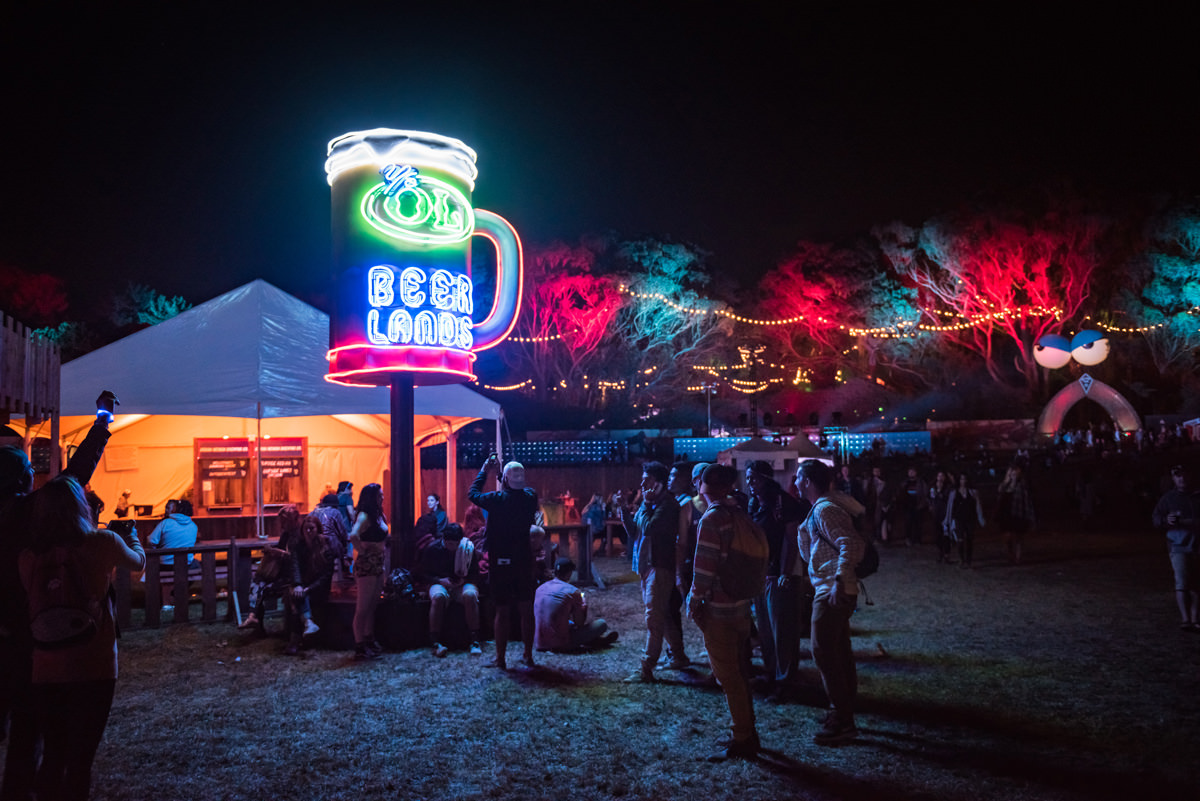 BEER LANDS
Beer Lands, which is curated by Dave McLean, Owner of San Francisco's Magnolia Brewing Co. has brought together 28 breweries that best represent the NorCal craft beer culture. Some of the returning brewers include: Harmonic Brewing, 21st Amendment, Calicraft, Lost Coast, and Sierra Nevada. Several more breweries are set to be announced over the coming weeks, so stay tuned.
* More to be announced
21st Amendment Brewery
Ace Cider
Almanac Beer Co.
Anchor Brewing Company
Bear Republic Brewing Company
Calicraft Brewing Co.
Drake's Brewing
Faction Brewing
Fort Point
Harmonic (new)
Headlands Brewing
High Water Brewing
Iron Springs Brewery
Local Brewing
Lost Coast Brewery
Mad River
Magnolia Brewery
Mendocino Brewing
Napa Smith
North Coast Brewing
Pine Street
Sierra Nevada Brewing Co.
Social Kitchen
Speakeasy Ales & Lagers
Strongbow Hard Ciders

A TASTE OF THE BAY
A Taste of the Bay is a true testimate to its name — joining together 80 restaurants, food trucks, and food carts that are located all throughout the City. Also located at A Taste of the Bay will be several of The San Francisco Chronicle's "Top 100 Restaurants of 2016". Some of the vendors include newcomers like Koja Kitchen, a Golden Gate Park neighbor, Fine & Rare, The Japanese Pantry, Rove Kitchen, Four Barrel Coffee, Belcampo Meat Co. and Homestead Cookies. The community driven line-up will consists of 90% returning vendors, all of which take on the challenge of new and creative experiences.
TRUCKS & CARTS
BACON BACON
California BBQ Bacon Burritos, Chocolate Covered Bacon
CURRY UP NOW
Samosas, Sexy Fries
DEL POPOLO
Margherita Pepperoni Pizzas
EVENT SPECIALISTS
Cinnamon Sugar Churros, Giant Soft Pretzels
HOMESTEAD COOKIES (NEW!)
Signature Savory Sweet Chocolate Chip Cookies
HUMPHRY SLOCOMBE ICE CREAM
Secret Breakfast Ice Cream, Bourbon Coke Floats
IL MORSO (NEW!)
Coffee Without the Cup
MOZZERIA (NEW!)
Salumi & Margherita Pizzas
ROCKO'S ICE CREAM TACOS
Ice Cream Tacos, Frozen Bananas
SENOR SISIG
Pork, Chicken & Tofu Sisig with Steamed Rice
SEOUL ON WHEELS
Kimchee Fried Rice Plates, Korritos
SPROGS
Fresh Fruit & Veggie Dippers, Fresh Fruit Sippers
THE CHAIRMAN
Steamed and Baked Baos, Bao Chips
THOSE FABULOUS FRICKLE BROTHERS
Fabulous Frickles, Fried Green Tomatoes
RESTAURANTS
4505 Meats
Best Damn Cheeseburgers, Chicharrones
Alicia's Tamales Los Mayas
Tamales, Pozole Rojo, Elote
Artis Coffee (new)
Drip Coffee, Regular and Vanilla Cold Brews
Azalina's
Malaysian Peanut Tofu Braised Nachos
Beast and the Hare
Loaded Baked Potatoes
Belcampo Meat Co. (new)
Fastburgers, Grass-Fed Beef Hot Dogs, Roasted Beets
Big Chef Tom's Belly Burgers
Pork Belly Burgers
Bini's Kitchen (new)
Turkey Momos, Nepalese Veggie Dumplings
Charles Chocolates
Frozen Hot Chocolate, S'mores
Delessio Market & Bakery
Thai Chicken Sandwiches, Rabanada
Earthly Delights
Philly Cheesesteaks, Garlic Fries
El Huarache Loco
Huaraches, Gorditas
Endless Summer Sweets
Gourmet Funnel Cakes, Corn Dogs
Escape From New York Pizza
Pesto, Potato and Roasted Garlic Pizza Slices
Fine & Rare (new)
Crab Rolls, Old Bay Chips
Four Barrel Coffee (new)
Cold Brew Coffee
Freshroll Vietnamese Rolls & Bowls
Banh Mis, Taro Chips
Glaze Teriyaki
Salmon, Steak & Chicken Teriyaki, Spicy Yaki Wings
Humphry Slocombe Ice Cream
Secret Breakfast Ice Cream, Bourbon Coke Floats
Il Cane Rosso
Fried Egg Sandwiches, Griddled French Toast
Itani Ramen (new)
Pork Gyoza, Vegetarian Ramen, Chicken Ramen
Koja Kitchen (new)
Chicken and Vegetarian Tacos
La Urbana
Chorizo Bacon Dogs, Esquites
Little Skillet
Fried Chicken & Waffles, Watermelon, Red Velvet Cupcakes
Living Greens Juice
Fresh Pressed Juices, Cracked Thai Coconuts, Hot Detox Tea
Loving Cup
Vanilla Bean Rice Pudding, Ice Cream Sandwiches
Lucca Foods
BBQ Pulled Pork Sandwiches, Rice Krispy Treats
Merigan Sub Shop
Merigan Mozz Sticks, Italian Ice
Namu Street Food
Korean Fried Chicken
Nombe
Ramenburgers, Sushi Burritos
Pacific Catch
Hawaiian Ahi Poke, Fish & Chips, Sweet Potato Fries
Pica Pica Arepa Kitchen
Arepas, Yuca Fries, Sweet Plantains
Precita Park Cafe
Bacon Egg and Cheese Fries, Nitro Coffee
Proposition Chicken
Fried Chicken Sandwiches with Spicy Slaw
Rich Table
Porcini Doughnuts with Raclette Cheese
Rosamunde Sausage Grill
Grilled Beer Sausage Sandwiches, Brats, Poutine
Rove Kitchen (new)
Fried Chicken Skin Sandwiches, House Pickled Veggies
Sababa
Falafel Sandwiches and Plates
Sabores Del Sur
Empanadas, Alfajores, Aguas Frescas
Sataysfied
Chicken Satays, Mie Tek Tek (Indonesian Fried Noodles)
Southpaw BBQ & Southern Cooking
Brisket Sandwiches, Pulled Jackfruit Sandwiches
Spicy Pie
Giant Pizza Slices, Cookie Pie
Split Pea Seduction
Country Style Split Pea Soup, Shakable Stone Fruit Salads, Puerto Rican Pork Sandwiches
Stones Throw
Meatball Sandwiches
Straw
Donut Cheeseburgers, Sweet Potato Tots
Sugar & Spun
Cotton Candy Bouquets
Suite Foods Waffles
Belgian Waffles Stuffed with Whipped Cream
Tacolicious
Shot-and-a-Beer Braised Chicken Tacos
The American Grilled Cheese Kitchen
Classic Grilled Cheeses, Smokey Tomato Soup
The Farmer's Wife (new)
Gravenstein Apple & Wildflower Honey Melts
The Japanese Pantry (new)
Spicy Tater Tots
The Little Chihuahua
Fried Plantain and Black Bean Burritos
The Monk's Kettle
Pretzel Knots with Beer Cheese Sauce
The Pizza Place
Vegan Personal Pizzas
The Up & Under Pub and Grill
Gourmet Waffle Fries
Three Babes Bakeshop
Peach Cobblers
Three Twins Ice Cream
Assorted Organic Ice Creams, Wafer Ice Cream Sandwiches
Trestle (new)
Announcing Soon
Wise Sons Jewish Deli
Bagels and Shmear, Chocolate Babka
Woodhouse Fish Co.
Lobster Rolls, Clam Chowder, Raw & BBQ Oysters
Comments
comments
---