photos via Sydney Yorkshire
I've lived in Silver Lake my entire life, and when I see new places open in Los Feliz — I get a little jealous. Needless to say, it's very exciting. You can make the case that Los Feliz is the perfect place for almost any thing and what better than McConnell's to land in an already sweet spot. With neighbors like Churro Borough, Jeni's Ice Cream, and tons of other walkable options Los Feliz will surely benefit from having another iconic establishment in the neighborhood.
Officially opening on December 1st — ice cream lovers will be greeted with FREE ice cream scoops from 5-10pm. What's better than free ice cream from McConnell's in a beautiful neighborhood, and in 70 degree weather. How about the fact that you can enjoy it on the beautiful joint patio that McConnell's shares with Go Get Em Tiger. Only in Los Angeles, amirite?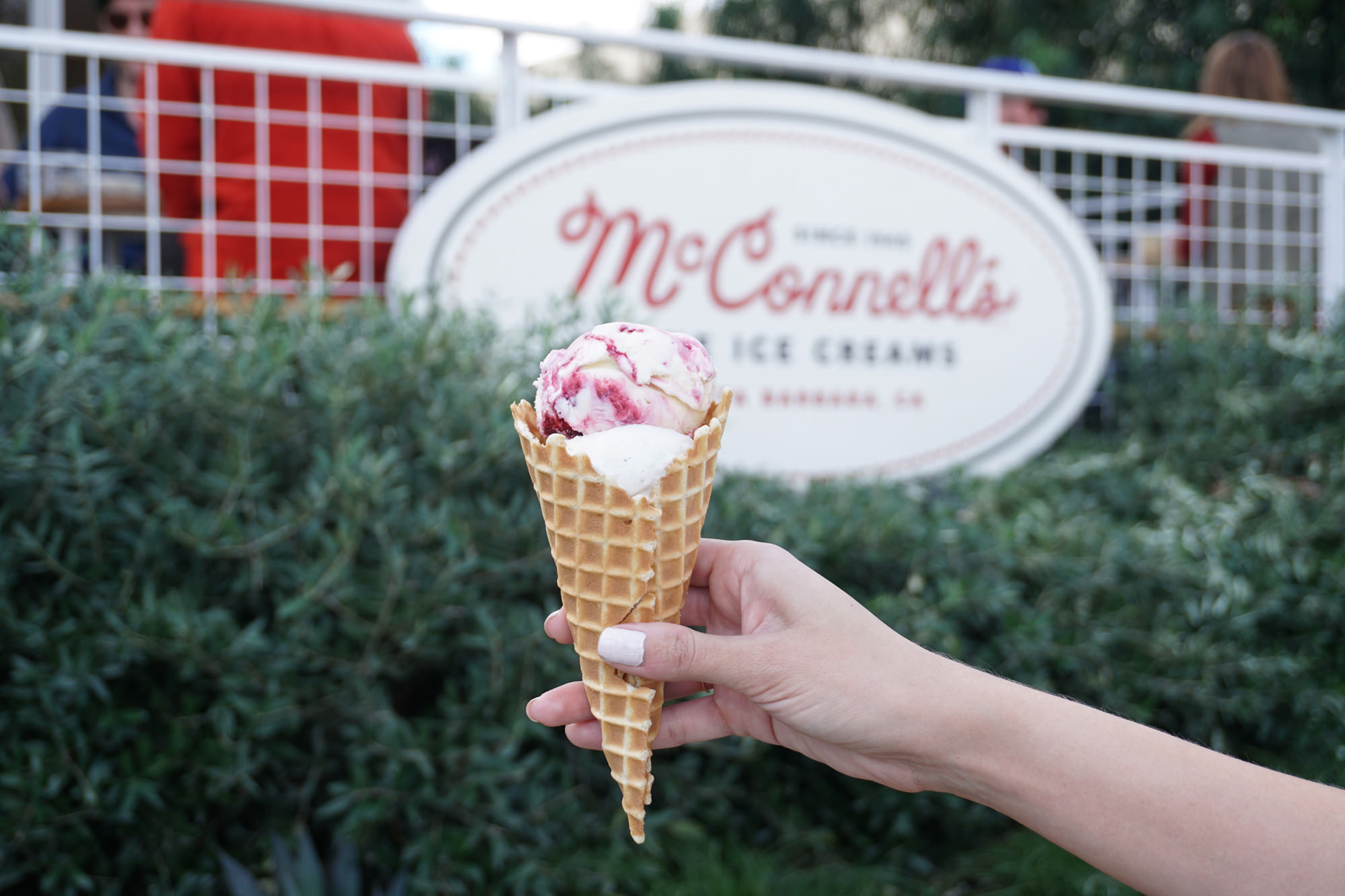 If you're wondering what flavors McConnell's will be offering come the grand opening, Holiday inspired flavors like Pumpkin Pie Ice Cream, Burnt Caramel Apple, and a McConnell's 1949 classic Peppermint Stick will be some of the few items on the menu to sweeten up your palette. If you want the complete holiday flavor run down check it out below:
• CARDAMOM & GINGERSNAPS 
Ginger-like, aromatic cardamom – the most traditional of Swedish spices – infused into Central Coast, grass-fed cream. We then fold in house-made "Pepparkakor" – spicy, buttery and crispy, traditional gingersnaps – for a holiday treat, straight from McConnell's Chef, Eva Ein's, Swedish childhood.
• PUMPKIN PIE
House-roasted pumpkin and a seasonally delicious puree of molasses, Sri Lankan cinnamon, ginger, cloves, allspice and R.R. Lochhead® vanilla, then stirred into California Central Coast, grass-fed milk & cream.
• BURNT CARAMEL APPLE
Autumn calls in this heavenly mix of luscious saltiness, tart apple and sweet caramel. Northern California apples, pureed and folded into a mouthwatering, dry caramel, then blended with sea salt and a hit of R.R. Lochhead® Vanilla.
• EGGNOG
Savory, spicy mix of Sir-Lankan cinnamon (the finest, "true" cinnamon), nutmeg, allspice and rum. Caramelized, R.R Lochhead® vanilla with delectably rummy, creamy and floral flavors.
VISIT
—
Thursday – Sunday
10:30am-10:30pm
Friday – Saturday
10:30am-11:30pm
Comments
comments
---