LA Weekly as if you can't tell is our favorite time to just pig out. This time around LA Weekly threw the ultimate burger party. But not just burgers, beers too! Imagine, boozed up, starving, Los Angeles. There's nothing that describes an Angelino better than that. In it's first time coming, I think it did better than any food festival we've been to this year. I mean, it had the perfect location, all the right burger joints, brewers, and of course weather. In LA it almost feels like you're always missing out on something going on and thats most definitely the case if you didn't attend this event.
Going into the festival, I had one thing in mind. Pace. That was not the case this time and I was regretting it, deeply. When you go to these kind of festivals it's hard to contain yourself. You wait in line for hours (1 usually) and you're anxiously waiting for some food to make its way into your mouth. Thats the thing though.. Once you get passed the security check point, get your wristbands, it's almost an all out charge towards the first place you see. Then after the first, the next, then another, then a beer, then another. That was the case for me and my big mistake.
The first place I went to was actually one of my favorite burger joints in Silver Lake, Hache. If you've never been, just look out for our review coming soon! The burger they served for LA Weekly was their Karma Burger, which is their version of a classic American Cheeseburger made with a steak haché. This simple rendition of everyone's favorite burger really packs a lot of favor especially within their meat. The burger includes some karma sauce, american cheese, onions, and tomatoes.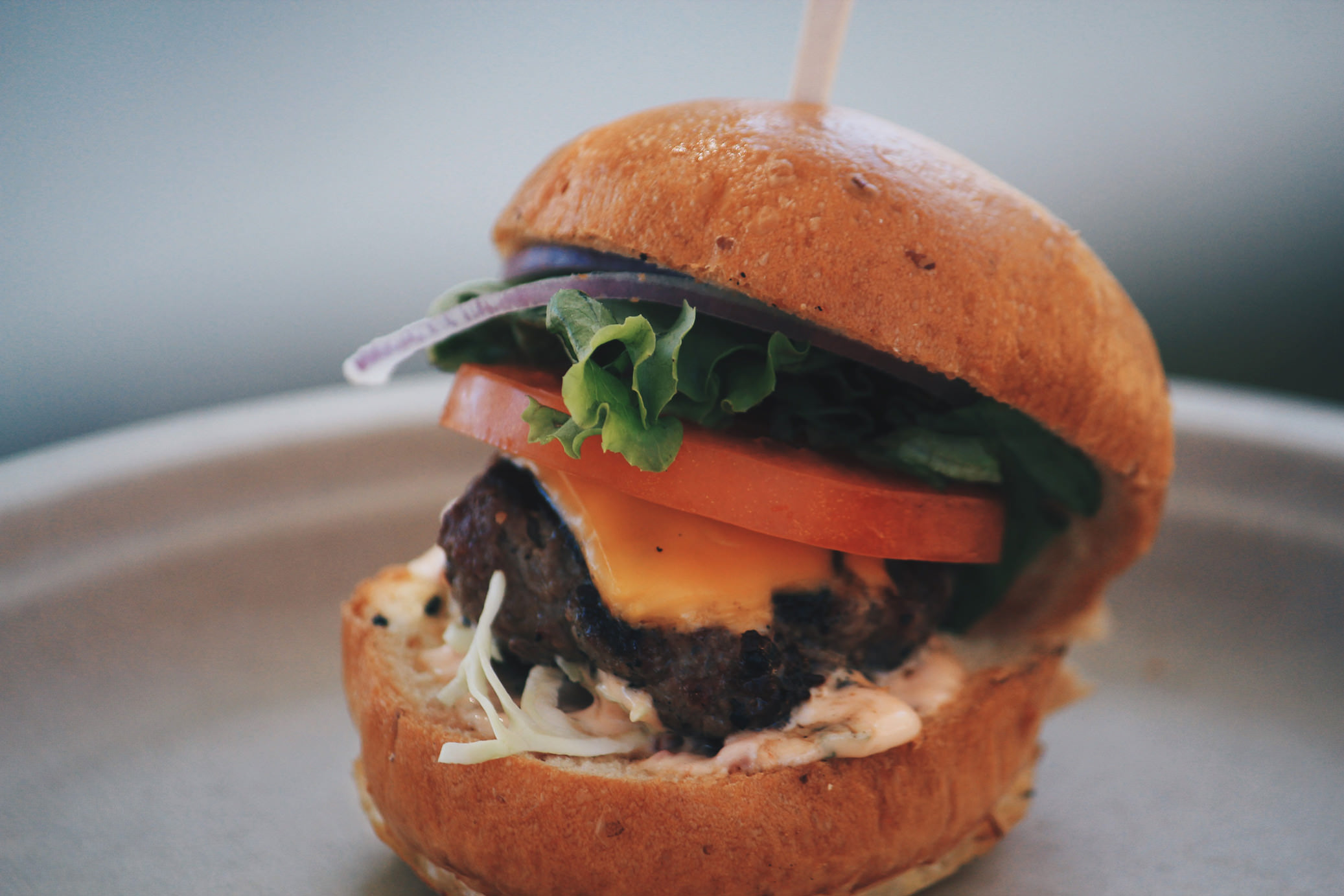 Haché: Karma Burger
Lettuce, tomato, onion, karma sauce, american cheese.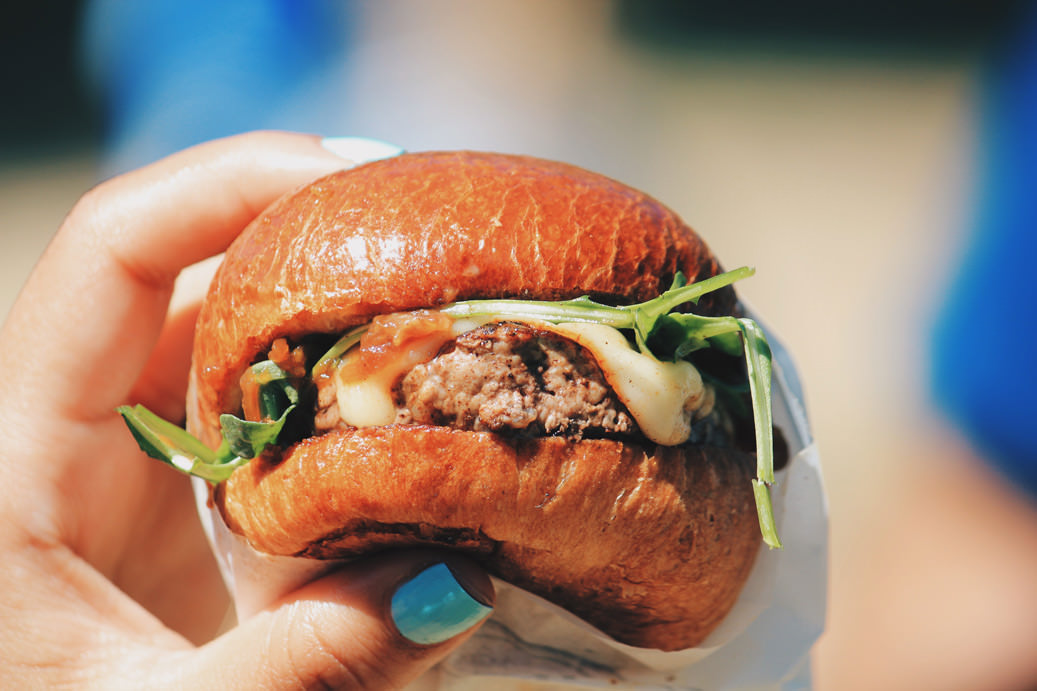 Vaka Burgers: Truffle Burger (above)
Challah bread, baby rocket arugula, NY sharp cheddar, white truffle oil, 6 hour braised caramelized onions, roasted garlic aioli.
Words don't even describe how good this burger was. It was by far the best burger I had that day, with much respect to all the other burgers we had. I mean, it was a mix of fresh greens, soft bread, perfectly seasoned grass-fed patty, and it had what I think is underrated in a lot of burgers – a nice crunch. I think a lot of people could agree just how good this burger really was. There aren't a lot of burgers that you can eat that make you say 'wow' knowing that it comes from such organic ingredients.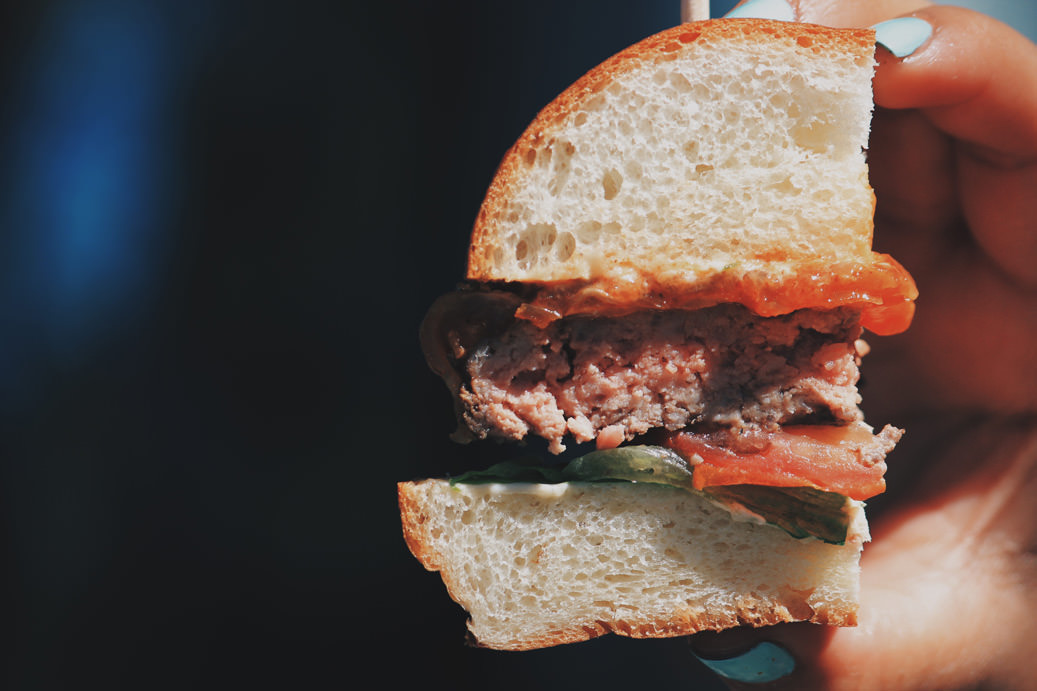 Slater's 50/50: Signature Burger
(Grounds beef and bacon patty, cheese, and fried egg.)
Once we got around to Slater's booth I know I was gonna walk away more full than I already was. I say that because if you ever been to Slater's you know just how big their burgers are and to think we only had a quarter of their burger and it was still pretty big. The ground beef and bacon patty which if you haven't had yet, you're living under a rock, is pretty well seasoned and has the perfect balance of beef to bacon. The burger itself is a good one, but that's if you wanna settle for something simple. Bottom line, it'll get the job done if you're hungry, but it will also compliment well with a craft beer which they serve a lot of at Slaters.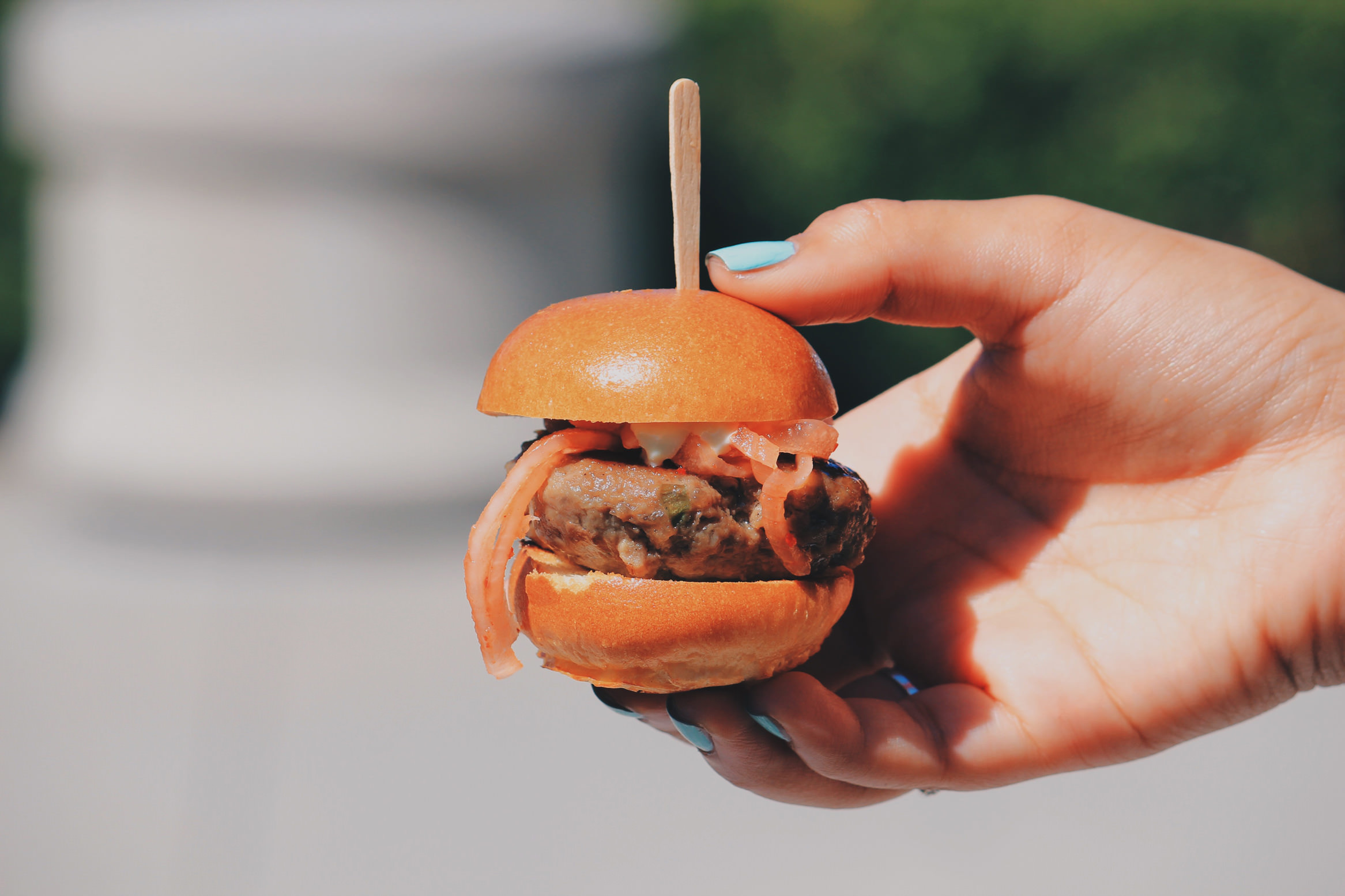 Seoul Sausage: KBBQ Beef Burger
(Handmade Korean BBQ beef burger patty served with garlic jalapeño aioli and pickled red onions.)
Let's start off by saying that this burger was top 5 of all the burgers we had. It's really hard to place these burgers in order, but right off the bat this burger separated itself from the rest of the burgers we tried. It was sweet and savory, but it had a small punch of fire. The pickled red onions really gave it that extra pickle-ness you look for in any burger, so that was something I really enjoyed from the burger. If you wanna skip the line next time you're craving KBBQ, this one really lives up to its name – giving you all the favors you would find when having KBBQ, but with less smoke in your face.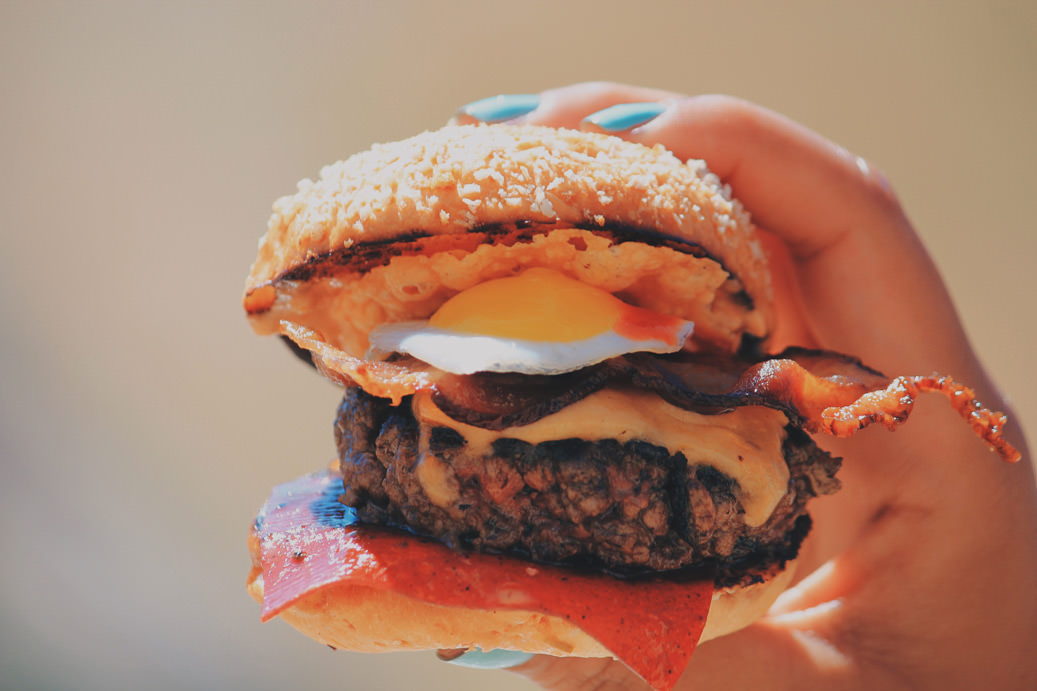 Plan Check: Chef's Favorite Burger
(Quail egg, parmesan crisp, ketchup leather, hot sauce.)
We finally got to the #burgergawds booth and almost knowingly, they bring out one of their signature burgers. First off, this was probably one of the best presented burgers, I mean look at how perfect that looks. Take into consideration just how many of these they had to make and I'm pretty sure they all looked equally perfect. But enough with the presentation, lets talk about how damn good this was. Everyone knows Plan Check for their burger and their ketchup leather, but they also know them for their quality gourmet burgers. Every thing from the crunch of the cheese to the soft chew of that egg porn, all the elements fit right. It was almost a guilty feeling eating up this little guy.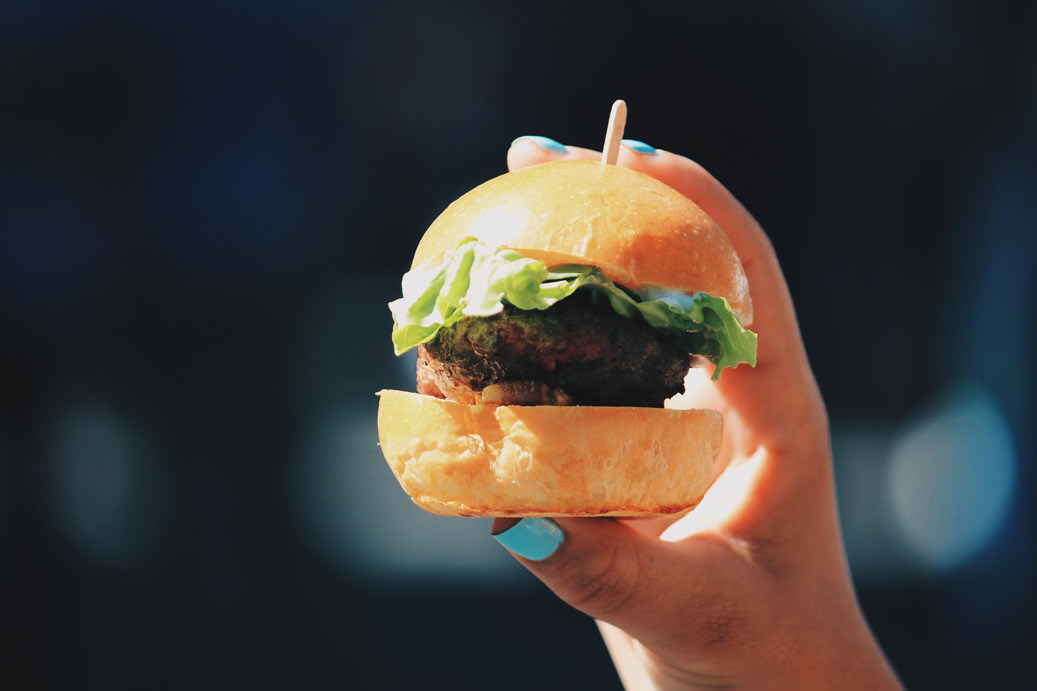 The Hungry Cat: The Pug Burger Slider
(Niman ranch, ground beef, blue cheese, bacon & onion jam, little gem lettuce.)
I know, I know…at this point you're telling yourself all these burgers look the same right? Well, it thought the same to myself when I was devouring all these little gems (no pun intended). But in all seriousness, they all had their distinct taste. Every burger comes with its own unique flavors and a big part of that is the sauce. In this case, the bacon-onion jam left your mouth wondering how it could taste whatever your mouth just consumed. It was good. It was good enough to try it twice. It was nothing fancy on the outside, but it was more than desirable on the inside.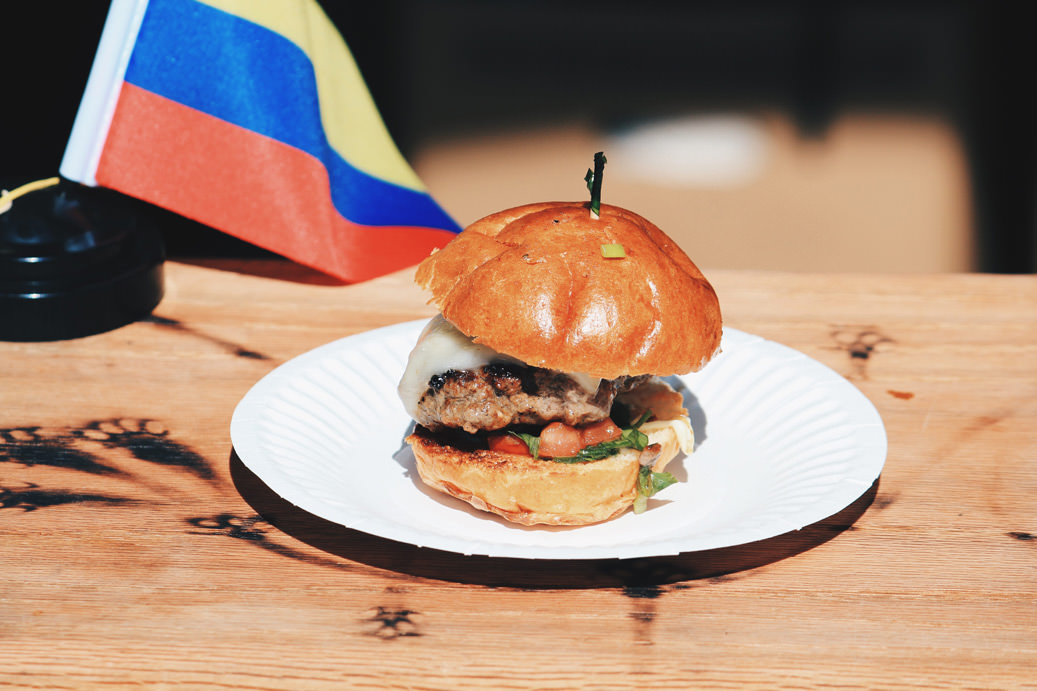 Escala: Carne Asada Burger
OG Chino knows how to satisfy his customers. In this case, we were beyond satisfied. I've never had a carne asada burger, and quite honestly I never thought one existed. So when I came around to Escala's booth, I was excited to try it. Having been made fresh off the grill, we were lucky enough to have gotten a fresh batch of burgers. The first bite, was heaven. The second bite, was history. I genuinely felt like I was eating a carne asada taco. It had all the flavors of one, from the seasoning of the meat to the pico de gallo. Had to put this one in my top 5.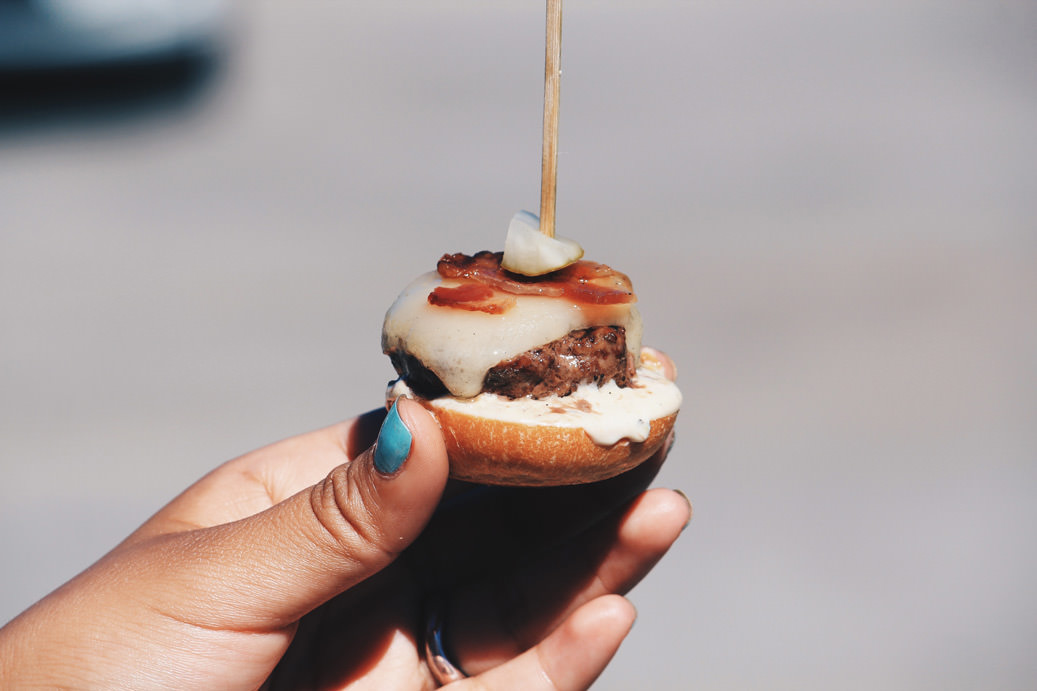 Barrel & Ashes: Wood-grilled Barrel Burger
Another simple yet tasteful burger that we had. Sometimes you just have to stick with the essentials and that's what this burger does. Its a quality meat patty topped with swiss cheese and a pickle. Talk about cheeseburger. I also liked that they left it topless. I felt as if a lot of the other burgers we had used over sized buns and it left my mouth dry (thank god there was unlimited beer). Overall, this simple burger left it all in the meat itself which is what we look for in every burger. It was quality, with a lot to offer.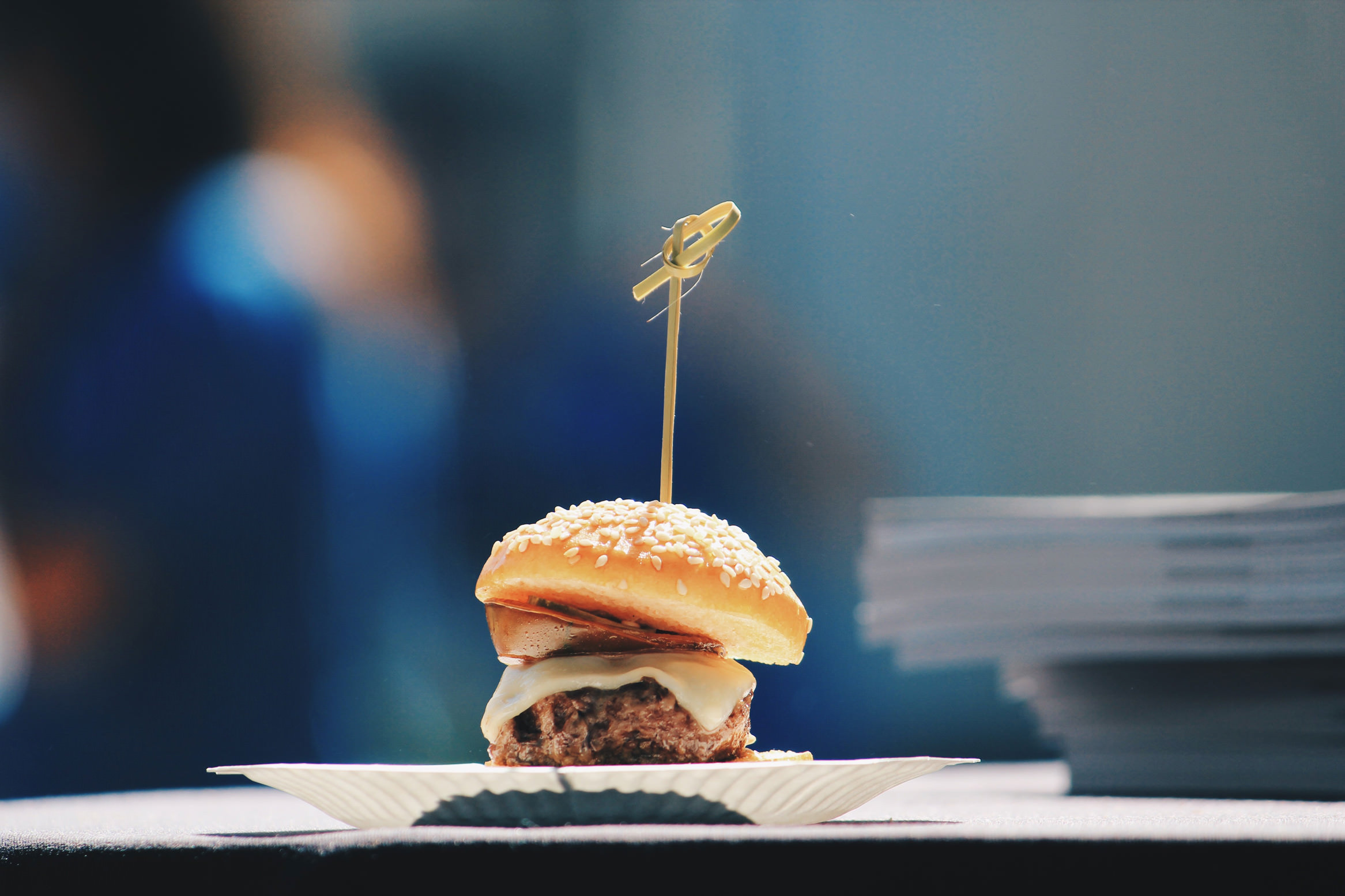 Bouchon Bistro: Le Burger Bouchon
(Prime beef, pain au last bun, heirloom tomato, raclette cheese, dijon mustard, garlic aioli.)
Yet another thick cut of some prime meat and we ain't mad at that. The only thing I didn't really like was the thick cut tomato that was in the burger, but other than that it was like eating a steak with two buns. It was a delightful amount of meat to consume. The cheese also made its mark with its flavor, but it wasn't over shadowing the taste of the patty. The dijon mustard was a nice touch to add some bitterness to the burger, but it was balanced out with the always delicious garlic aioli. For a gourmet burger, I guess we can give it a pass. Although, fine dining and burgers don't always go hand in hand. Just remember though, it's the Beverly Hills burger. Even they can't deny a good burger.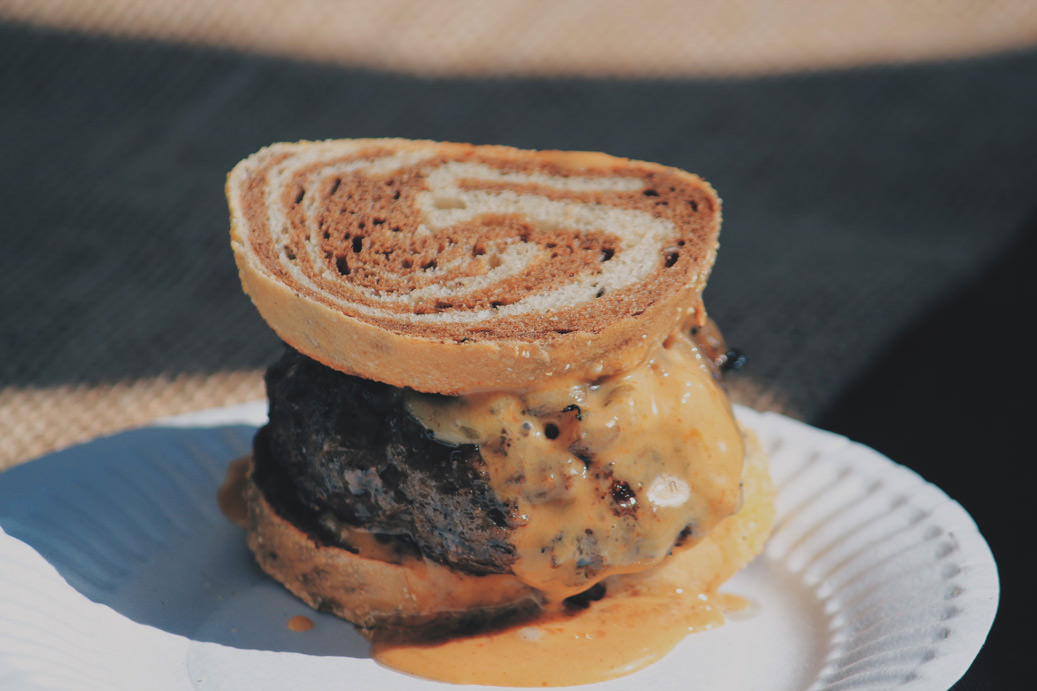 Animal: Boner Burger
(Ground beef and marrow, jack cheese, marble rye, caramelized onions, poblano chili, 420 sauce.)
Ok, I'm not even going to lie on this one…I didn't even get to try this bad boy. I just snuck in front and snapped a quick picture of the burger, lol. I had a chance to grab one, but I wouldn't have felt right given the long line that the guys at Animal produced. Probably one of the longest lines there, which contributed to us not being able to try it, and also by the time we got around I was so. damn. full. But from the looks of it, it was probably damn good. I mean, who doesn't love a hot burger melt and rare juicy beef…my mouth is watering just thinking of what might've been.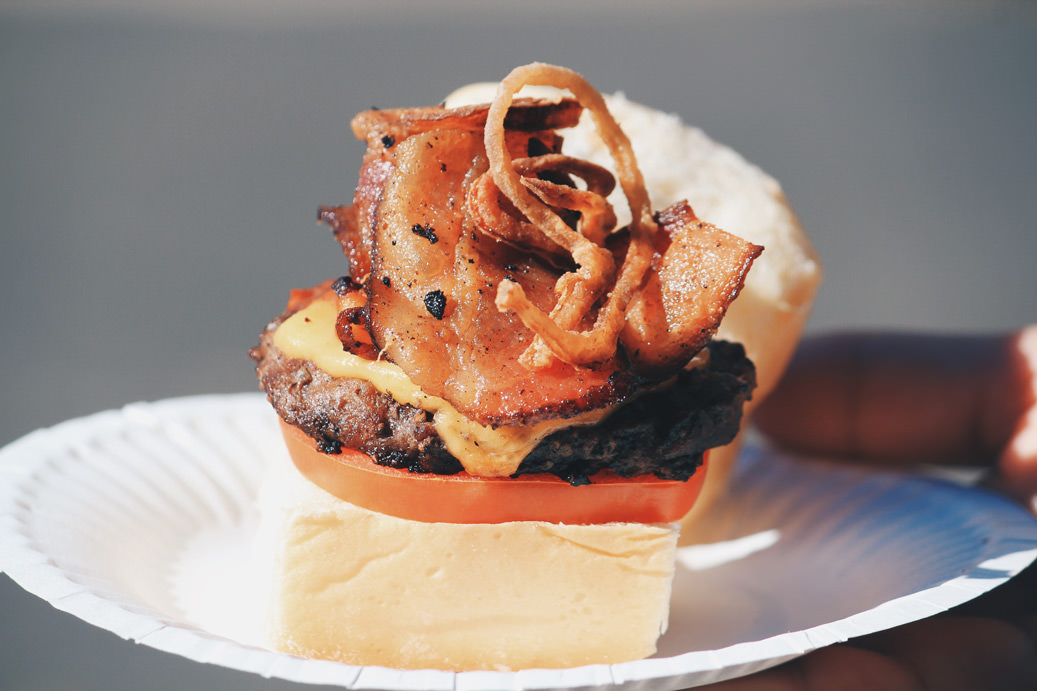 The Counter: Bacon BBQ
If the counter was closer to where the festival started, I probably would've had more than one of these. By the time I made we made it around to The Counter I was beyond full. I know, rookie mistake right? But I manned up and took it like a champ. The burger looked so good that I couldn't resist eating it. Initially I was just going to snap a picture of it then walk away, but I couldn't. I'm not such a big fan of BBQ burgers for some reason, but I've had my share of a few good ones and some bad ones. This one, was way way way up (yes, it was blessed). No, but seriously it had all the perfect elements of a BBQ burger and it was so well balanced. The crisp, the cheddar, even throwing in a tomato to help balance the bite. I loved it.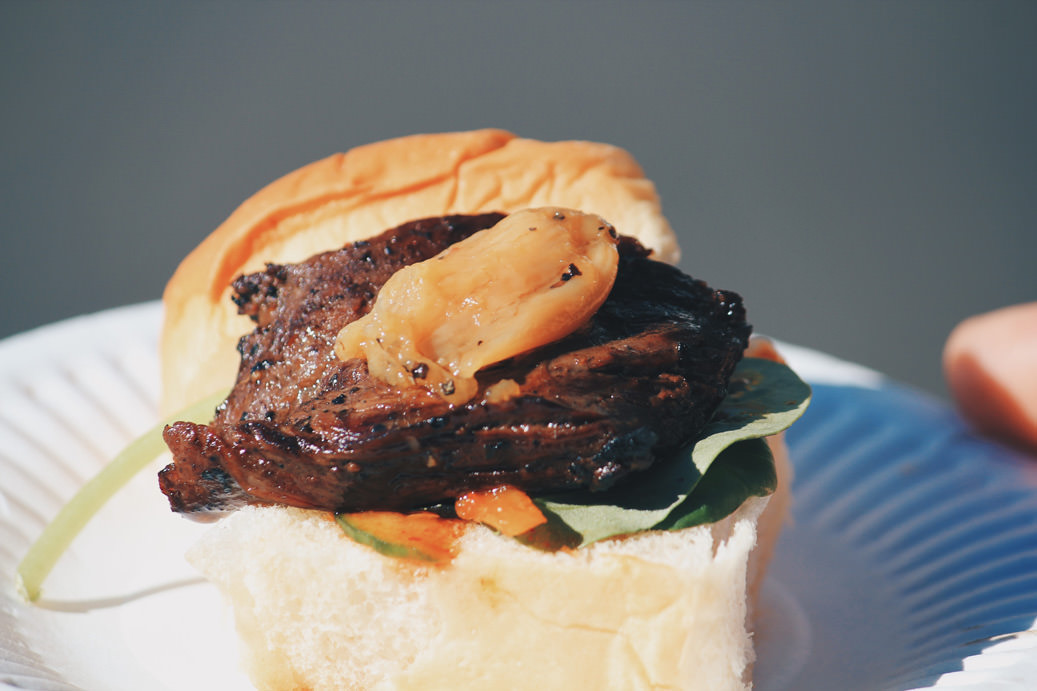 The Counter: Korean BBQ Burger
Part 2 of the already full chronicles. So while I was aching in agony, The Counter had two burgers to offer and I couldn't have been more scared in my life. 1). I was border line full 2). I couldn't resist both burgers. I mean, they LOOKED SO GOOD! Here's my only dilemma with this KBBQ Burger though. It wasn't what I expected in terms of flavor. Yes, the steak was a nice cut and we got good flavors from the steak itself, but the flavors around it threw me off. I was excited to see a nice piece of garlic confit sitting on top of this delicious galbi-marinated steak, but the flavor of the garlic just wasn't cutting it, for me at least. It topped off with some cucumber and kimchi aioli. Overall though, it was enjoyable. Don't think twice, just look once and go with what your heart tells you.
Comments
comments
---