LA Weekly's Brunch at the Races was a real treat for everyone who attended. It's no secret that in Los Angeles, everyone loves brunch. Wake up early Sunday morning, head to your favorite brunch spot, grab some booze, and some food. There's a real Sunday for you. Oh, and don't forget the football. Always a plus when you can go out and have brunch and watch football. Anyways! Brunch at the Races took place at none other than Santa Anita Race Track and I couldn't have been any more excited. I never been to the race track, I've only seen horse races on TV. Spoiler alert, there were races.
The day started off pretty wet & gloomy. I woke up to a text from a friend who lives in Pasadena saying "it's pouring out here!" which led to our next question, will they cancel the event? After a quick glance at the FAQ (some people really need to read those) we saw that the event was gonna be held rain or shine. Fine, I got out of bed, put on my regular all black (you'll see one day) and made our way over to the tracks. The road on the way was still pretty wet and as we got closer it had started sprinkling a bit. I wasn't gonna let some sprinkles ruin my day though, I was pretty stoked for some brunch.
We got there an hour prior, because you can never be too early – right? There was a short line, but about 10 minutes after the line grew massively. Luckily, we beat it out by being just a bit earlier than everyone. As every LA Weekly event starts, we drew out our ID's and scanned our tickets. We were given two tickets, one for entry to the race tracks which allowed anyone with a ticket to stay after the brunch, and one wristband to the Brunch section which was on down on the track side. We were pretty close to all the action, but there were no races going on during the event. Not until after.
Once we made our way into the track side we were greeted by all the beautiful white vendor tents. First things first, it was 11 in the morning, but it wasn't gonna stop me from heading over to the Stella Artois booth for a complimentary Chalice filled with Stella, duh! Luckily, when we got over to their booth it was still empty, but if you could only see the long line they had throughout the day. Seemed like it was the longest of all, but rightfully so. Stella isn't such a heavy beer that it makes you feel full, its pretty light and extremely refreshing.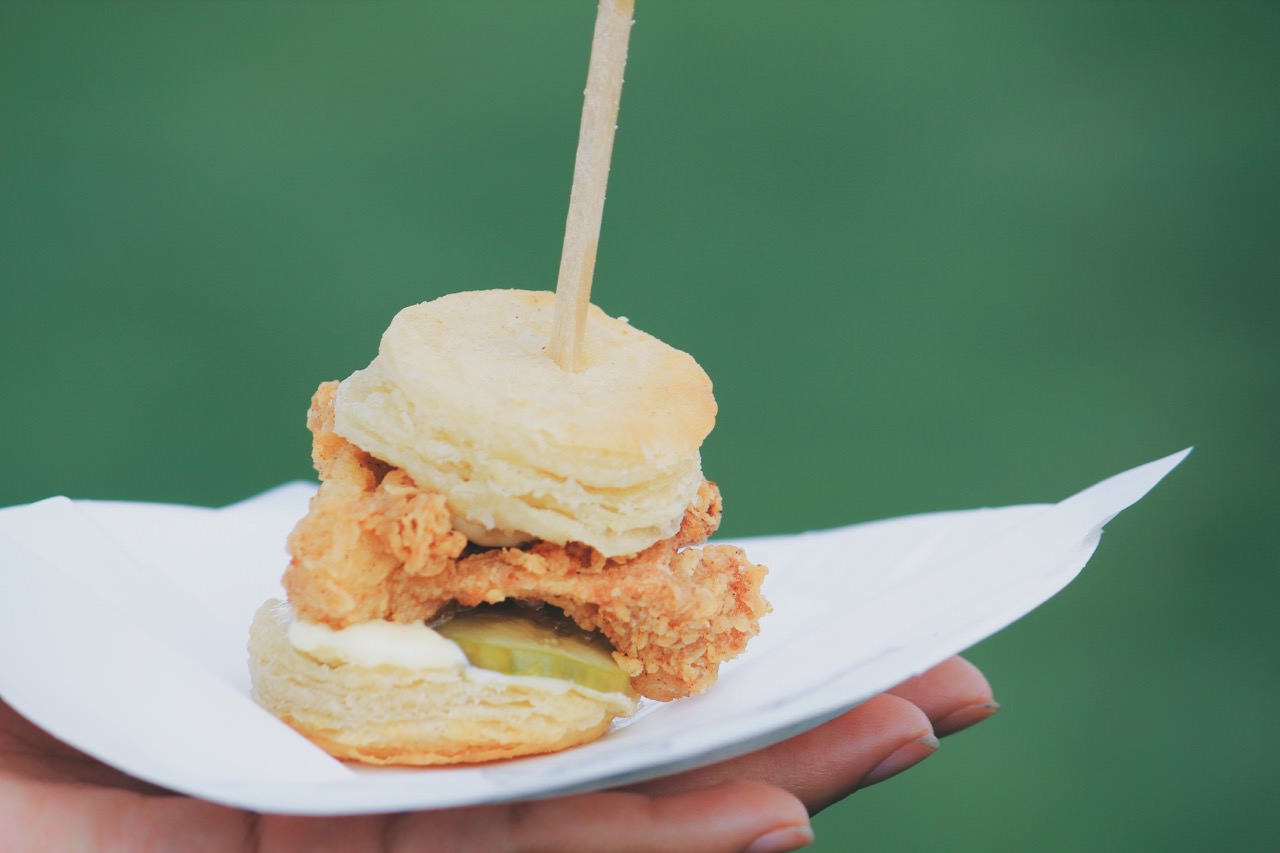 After boozing up, the first thing on my list was none other than Poppy + Rose which was conveniently located right next to Stella's booth. Also one of the longest lines of the day, we were lucky enough to have gotten over when there were just a few people in line. They served up their Chicken Biscuit sandwich. Fried chicken, between two fresh hot biscuits, house aioli, and house pickles. By far one of the better items we had and understandably given the long line. I'm sure everyone could agree. It had a really nice complexity, soft, crunchy, warm, cold, just about everything you could have going on, with such good flavors. I would definitely go back to Poppy + Rose to get a full sized one.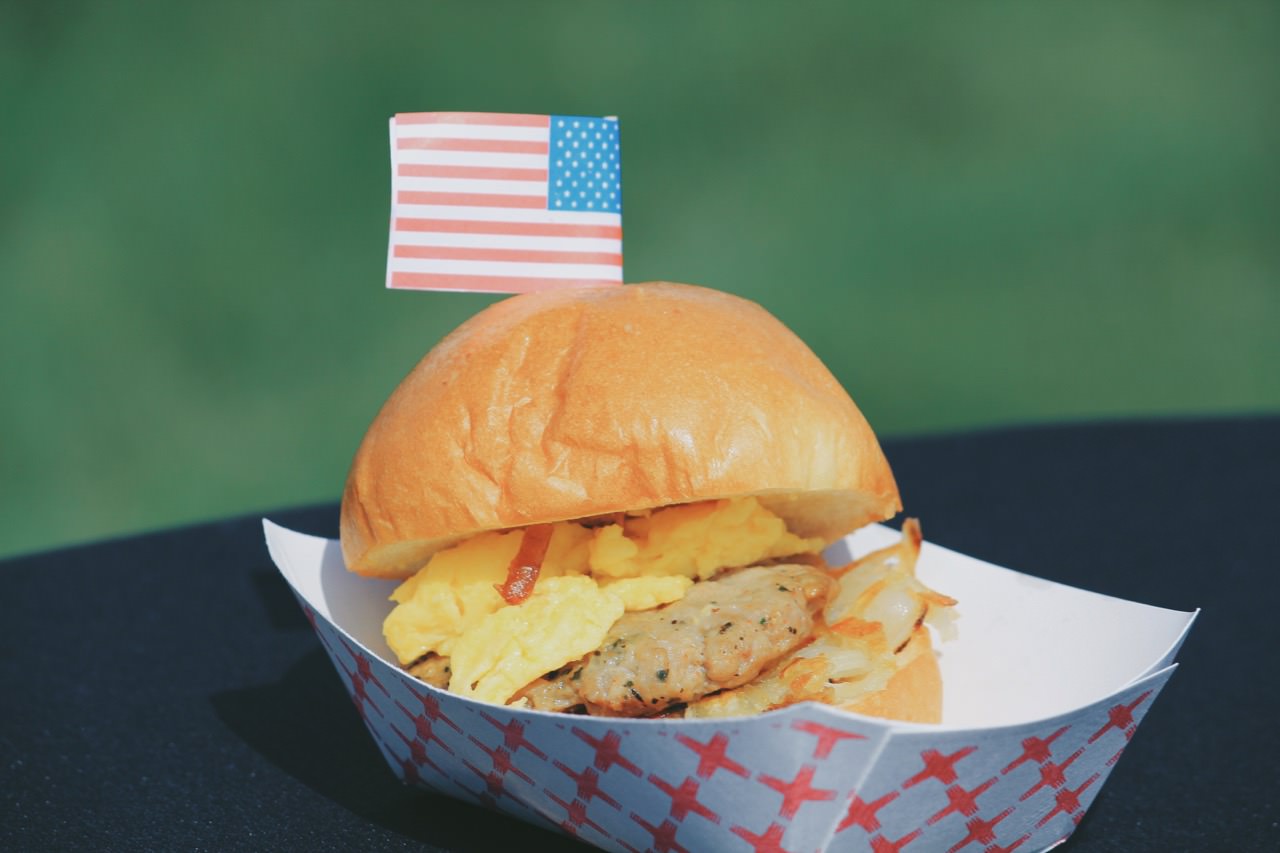 One of the places I grew up going to (on my own) when I was in high school was a nice gem that belongs to Los Feliz. None other than Fred's 62, but sadly I haven't been over there for quite some time. I was excited to see them on the bill, especially cause you hardly see them participate in such events, or at least I think so. Anyways, they really gave Poppy + Rose a run for the biscuit. I absolutely loved what they had dished out and to think it was a simple breakfast slider. It had a nice soft bun almost reminiscent of Hawaiian bun, with a homemade sausage patty, and topped with eggs, cheese, and hash browns. All those ingredients put me in such comfort mood. I felt like I was living the American dream. Oh, we probably were cause they were topped with an American Flag, very cool touch if you ask me. Triple thumbs up to Fred's – I'll be back soon.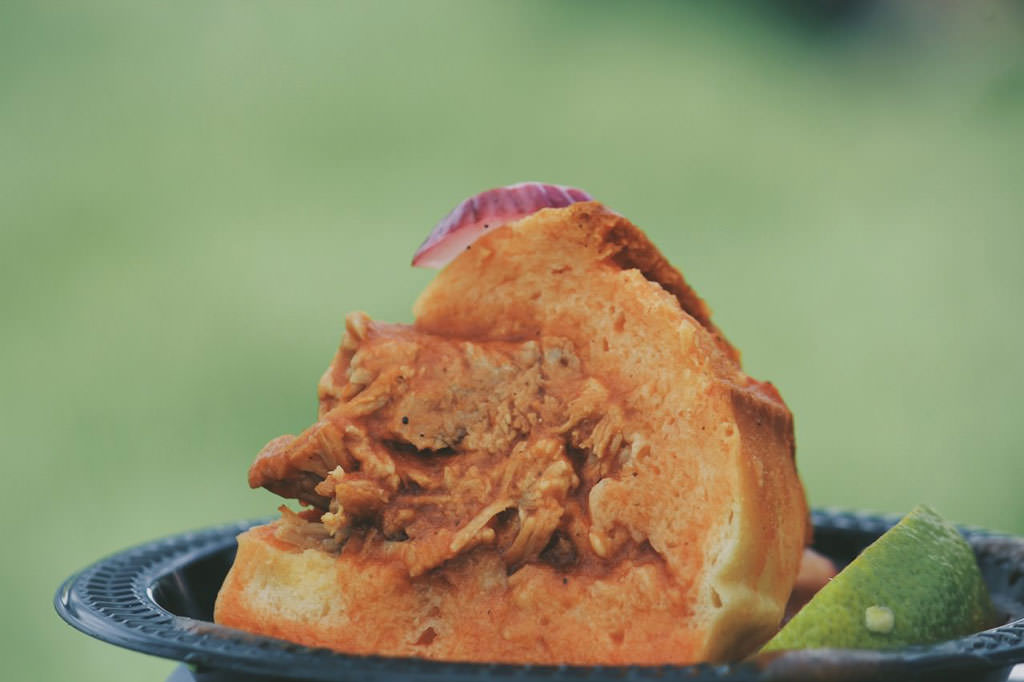 You may or may not be familiar with Chago, let alone being familiar with a Torta Ahogada. I would strongly consider you make your way over to Chago for their truly authentic torta ahogada. Made from scratch, the bread that is, made just how you'll find 'em in Mexico. Everything from Chago's custom sauce to the tender meat, it was one of my favorites of the day. Who doesn't love a torta, especially for brunch.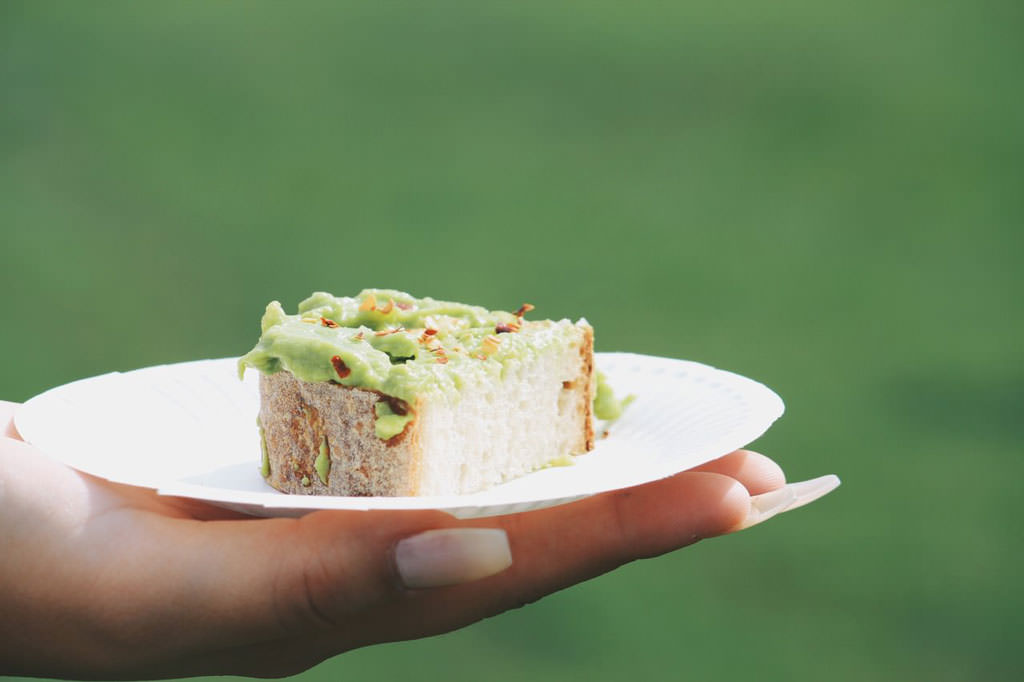 The Avocado Toast from Goldies was not as good as you would think. It was good, but it's far from 'toast' but it stands out with such a good avocado spread. Fresh made avocado spread on top of what I felt was too much bread. I didn't really like the balance of the dish, but nevertheless, you can't go wrong with any thing named avocado toast. The chili flakes did give it that kick you might want to wake you up in the morning, something you don't usually find in traditional avocado toast dishes.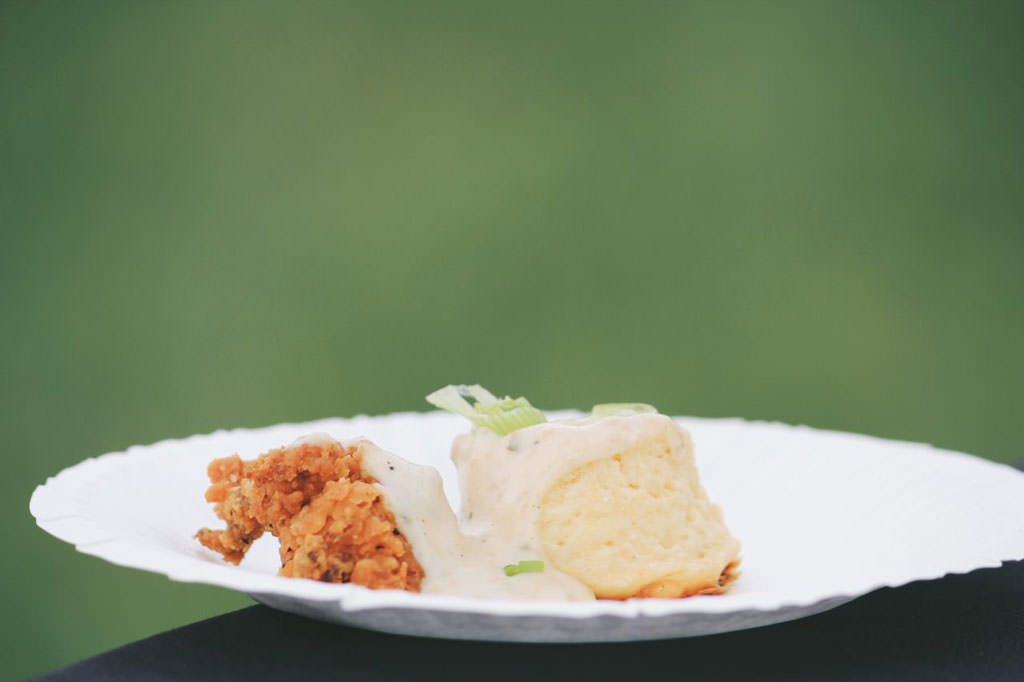 Flores + Sons came with a very country dish, but definitely fit the bill. I liked that the gravy wasn't too thick or thin, felt like it has a nice consistency that played well throughout the dish. Giving you extra flavor on top of a perfectly fried, fried chicken and nice fluffy biscuit. Not too sure if people were digging this dish, as I saw it I would say it was very underrated.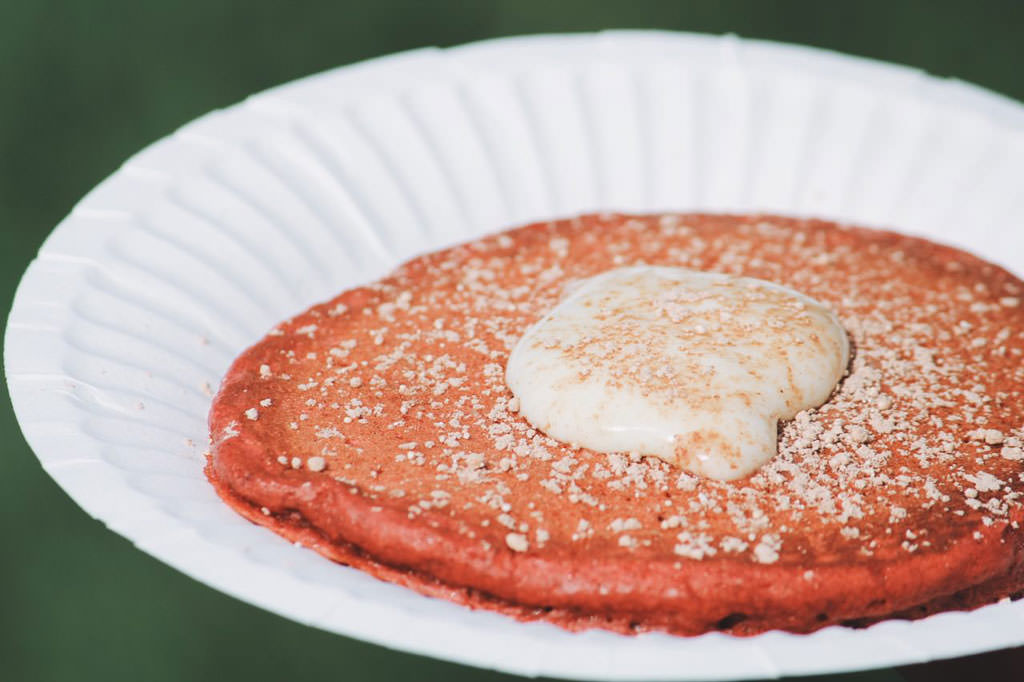 Mykes Cafe, was put in the spotlight before the event even happened. Dubbed as one of the 'must have' plates at Brunch at the Races by LA Weekly, I was excited to see why. Arguably, you can say they had one of the biggest lines of the day. I know this, because I wasn't ready to stand in what seemed to be a half hour line, but I came back and surprisingly they had a short line. The verdict — wow. I'm a moderate fan of red velvet. It's hard for anyone not to be, but the thing about red velvet is that it gets overwhelming sometimes. It didn't feel like that in this case. Sprinkled with brown powdered sugar and  topped with a cream cheese frosting. So good.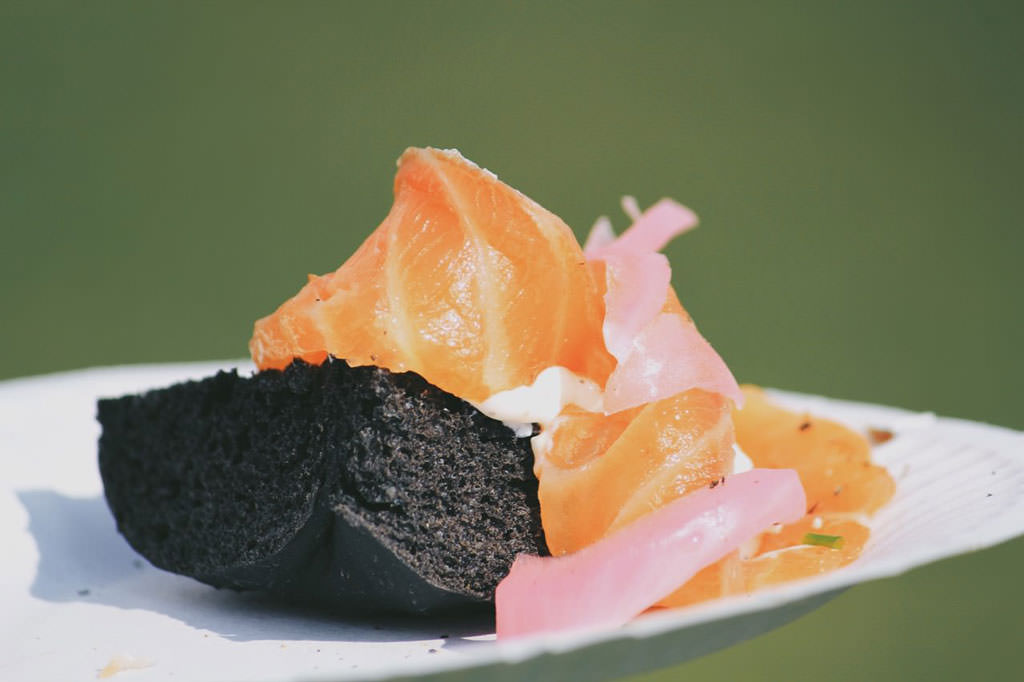 Status Kuo served us up a dish that was eye opening. Like, ok Status Kuo – just say you wanted to kick everyones ass by serving this creative, appetizing, beautiful dish. Smoked Salmon with Lebneh yogurt on squid ink bread. I mean, you could go to a couple of booths and see the usual safe dishes, but this was far from it and it worked. It's not always you can appreciate the presentation of a dish while enjoying all of its flavors, but in this case Status Kuo kills it. Big up's to y'all.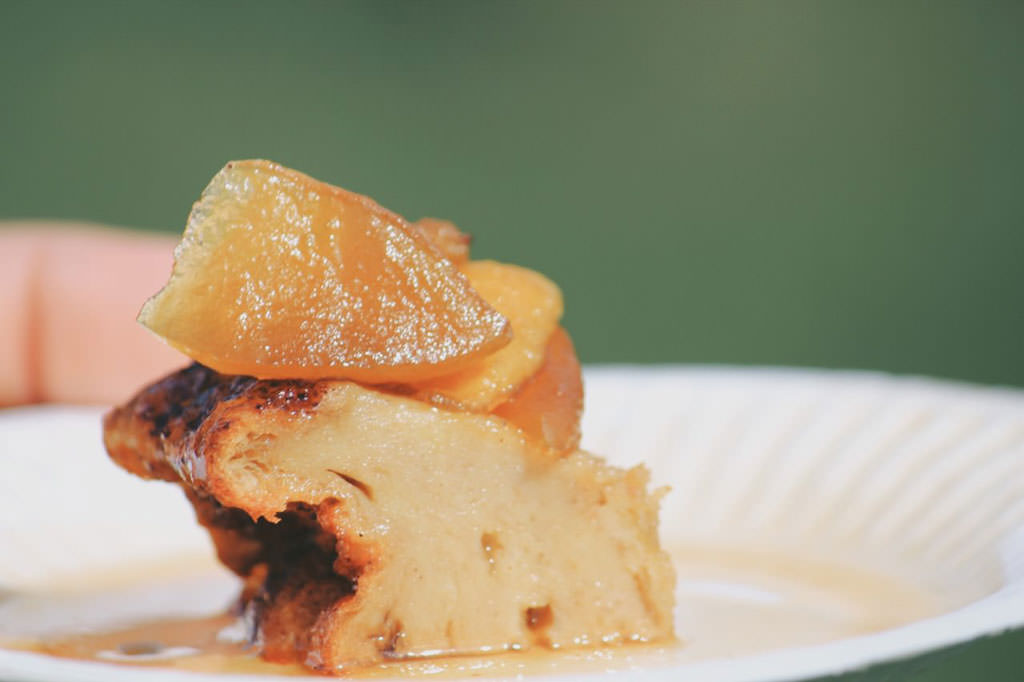 Nickel Diner really surprised me with their serving of caramelized peach bread pudding french toast. Normally, bread pudding would make me run, but I had to put my 'foodie' shoes on and take on for the team. Ok, maybe I'm taking it too far with all that, but it really was a good french toast. By the time I came around to Nickel Diner I was pretty full, but it was good enough to stuff down my throat and actually enjoy it. Gotta see what's good with them one of these days.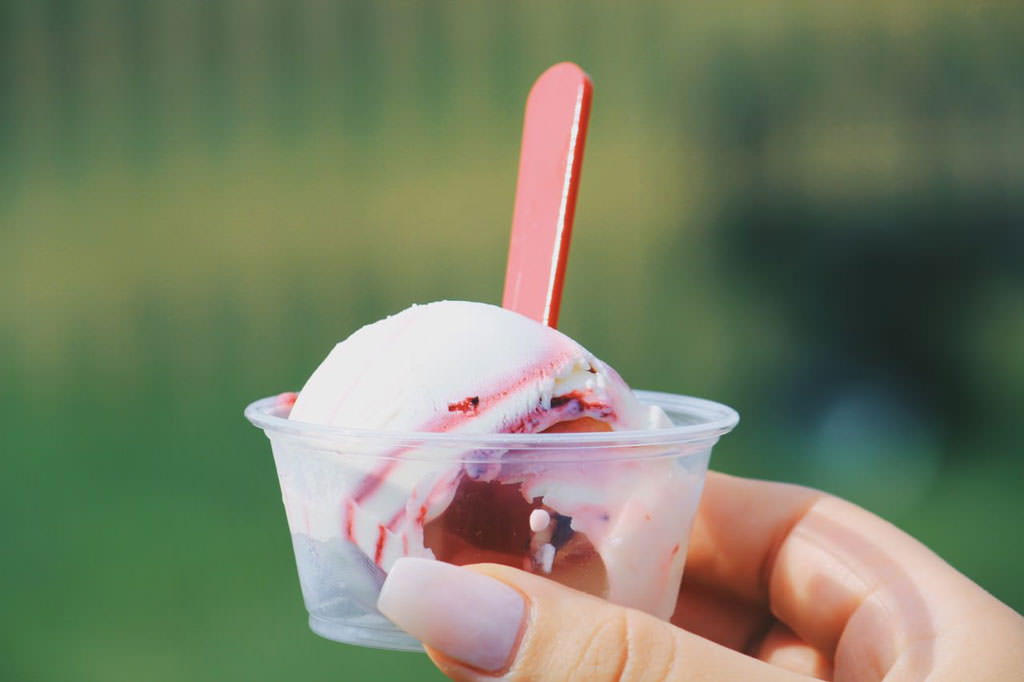 You gotta love McConnell's for a lot of things, their all natural sustainable approach, and of course their flavors. We were fortunate enough to sampled their newest flavor, Eureka Lemon and Marionberries. Such a great expansion to their already wonderful line-up of flavors. McConnell's is some of the best ice cream you can find in all of California, look out for this flavor cause you'll undoubtedly enjoy it as I did.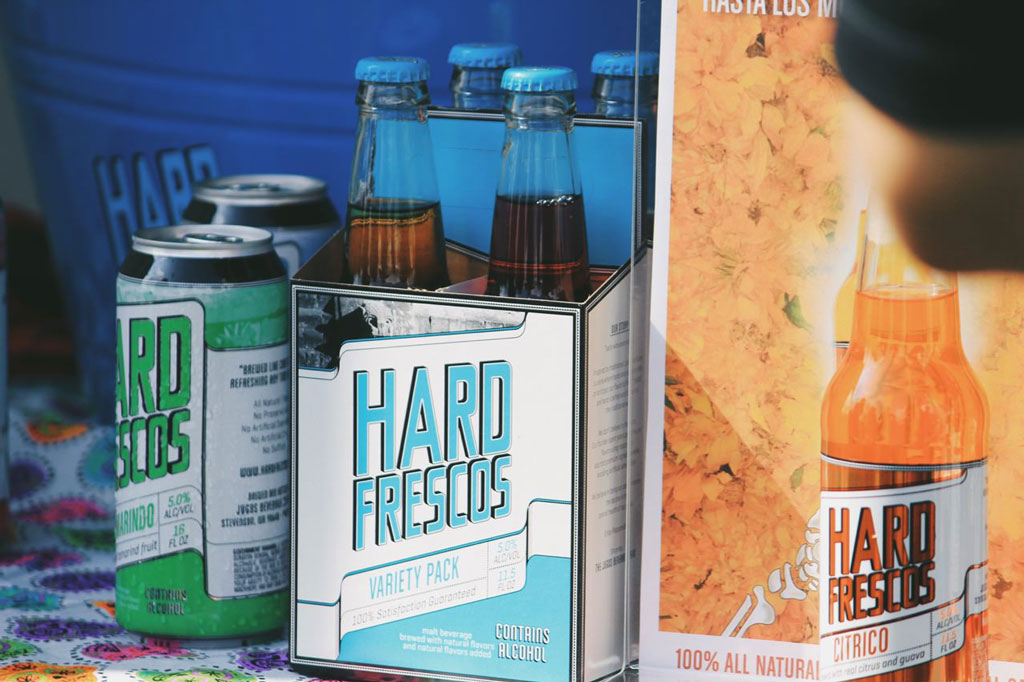 Hard Frescos came with the refreshing refreshments we've all been waiting for. No artificial colors or sweetness, no preservatives, you could taste the freshness in these boozy Mexican inspired drinks. The fact that a hard soda is sitting in a market right now, as we speak is slowly melting in my brain. I need some more of these. The Jamaica was so good. It didn't taste of feel too boozy, but be careful cause at 5.5% ABV it's far from it, but its very enjoyable. Doesn't sacrifice any flavor and it gives you a better appreciation for their original Mexican flavor.
Comments
comments
---