We're just a little over a month into the summer, and its safe to say we're already over it. Beach days are the new norm, at least to cool off for a few hours. But beach days can be stressful if you don't plan accordingly. Well, we're not here to help you with all that, but we are here to take one of the loads off. If you're in the market for a new sun shade, rest assured this is the last one you'll ever need.
You can be a beach bum, or maybe you want to start doing more outdoor activities — like camping. The Homestead Shelter is the fashionably and functionally better replacement for your traditional Ez-up. Fitting in almost any environment — you can take it anywhere, and whats better is just how light it is. Fitting into a handheld bag, and using only four poles — this is the new easy up. It's worth noting our rookie mistake in the photo below, where the pole should've gone over not under.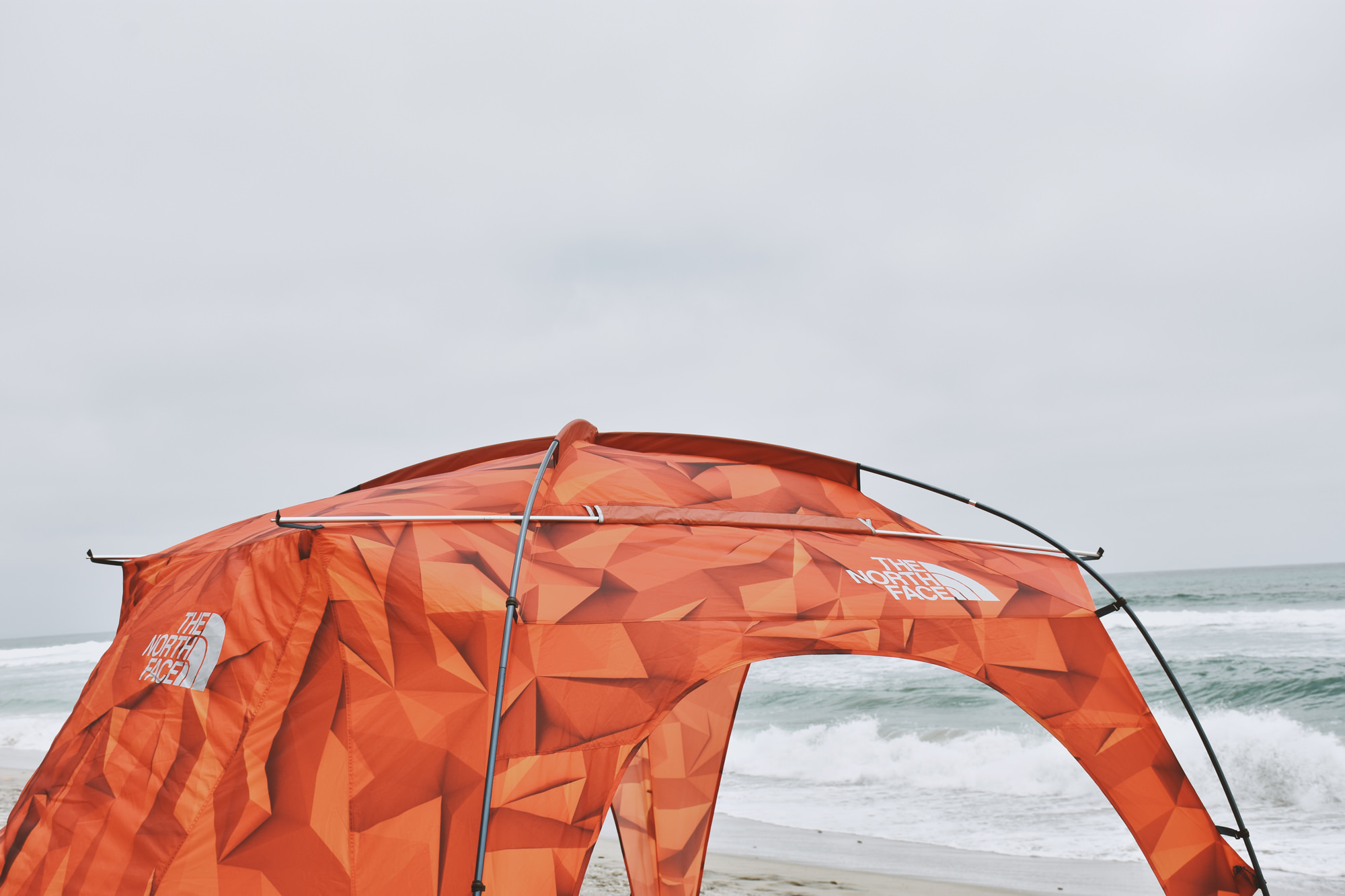 • Create the ultimate weekend base camp with this large hub
• A member of the new Homestead Collection
• Easy-pitch design with sturdy aluminum poles
• Full stand-up height
• Designed to fit around most campground picnic tables
• Rear wall with integrated gear-storage extension
• Mesh sunshade "curtains" on two sides become gear lockers
• Internal dry lines included
• Large doors can accommodate a queen-size inflatable mattress
• Velcro® lantern hang loop
• Hanging adjustable rear mesh pocket
• Two side mesh pockets are protected from the elements
• Duffel-bag-style stuffsack
• Tentertainment compatible (sold separately)
• Fly Fabric: 75D polyester, 1200 mm PU coating, water-resistant finish
• Mesh Fabric: polyester mesh
OUR EXPERIENCE
Since the first time I saw the Homestead Shelter, I knew it was gonna be one of my favorite gear essentials, and that's exactly what its become. It's an essential. The first time I used it, you may remember it from our *Coachella Camping post. The Homestead Shelter is very durable — when set up properly. In our experience with wind, we survived 60mph winds at the Coachella Music Festival, and it also did pretty well at the beach in pretty heavy wind (as you can imagine). I will say this though, the shelter wasn't made specifically for the beach so if you encounter any problems just know that it's against the shelters targeted market (camping). With that said, I've seen reviews of other customers who have taken it to the beach, and loved it. We feel y'all.
My beach trip with the Homestead Shelter was at Buccaneer Beach in Oceanside where I spent the whole day basically camped beachside. What people might not realize is how light-weight and portable the homestead really is. It takes about 5 minutes to set up, maybe longer if you're doing it yourself, but what's an extra 5 minutes doing it on your own. It's really that easy though. If you find yourself on the beach, you can take some stakes to hold it down, but also use sand on each four sides. Other than that, grab your beach chairs, some draaaaanks, and some picnic food — the best time you'll have at the beach all year.
This is custom heading element
Comments
comments
---