It's been a little under a year since Halal set sail on the West Coast, and landed in Costa Mesa. The first West Coast brick and mortar opened in October of 2015, and now 8 months late their third location — now open in Koreatown. It wasn't without some minor setbacks, and unknown grand opening dates, but they got it done. The Koreatown location officially opened on Friday, July 8th — a little over 2 weeks now. Located at 3432 Wilshire Boulevard, you can only imagine the insane foot traffic they attract. Not to mention The Line Hotel right across the street from The Halal Guys, it's only right that they are open until 4a.m. every night.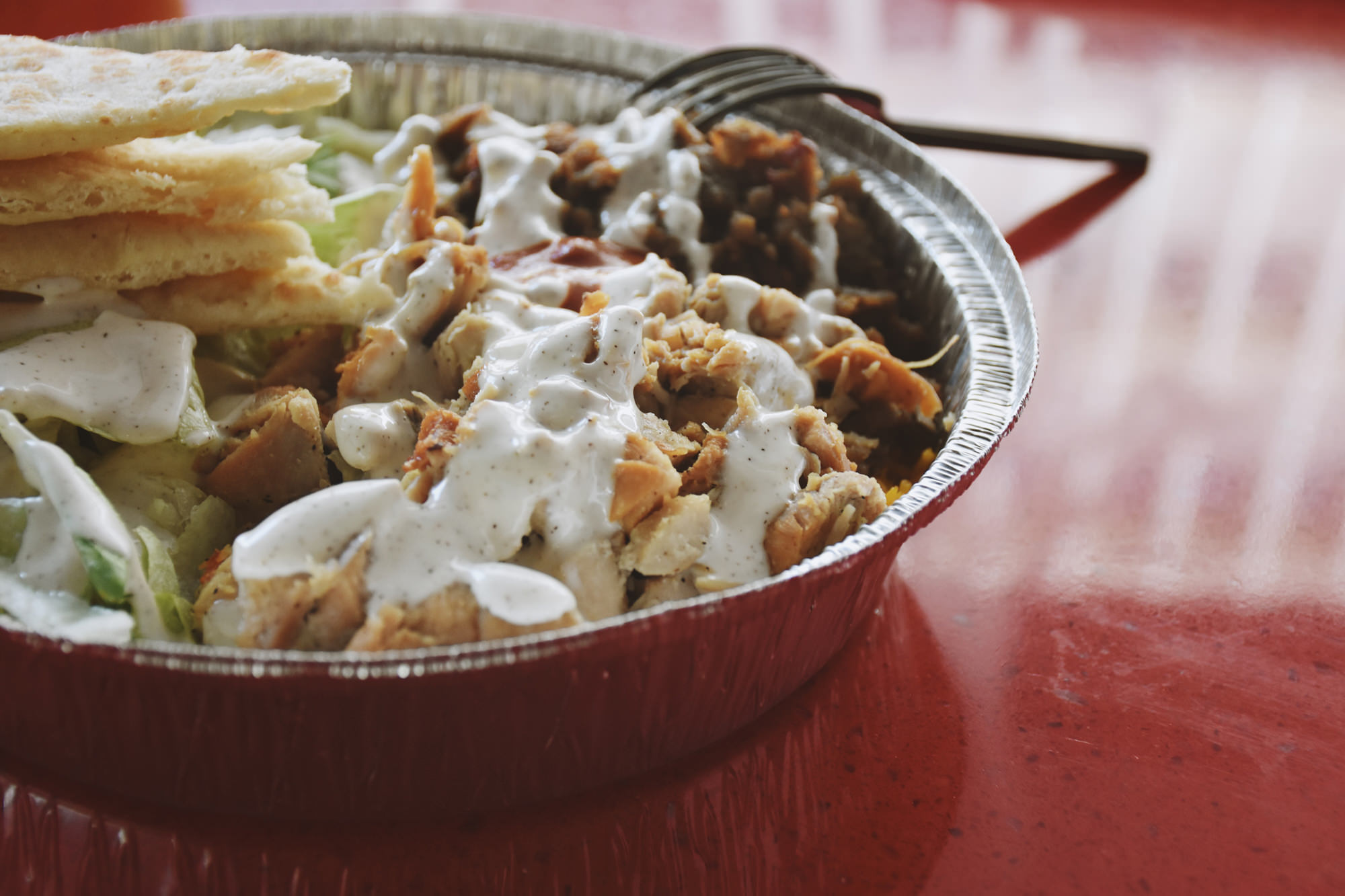 So what's all the hype? Let's start off with my first experience. It was my first time in New York about 4 years ago, and I had just left a bar somewhere in Hell's Kitchen. As I was walking back to our apartment (where I was staying) we saw this moderately long line. I say moderate because apparently the line was shorter than usual. My friend whose apartment I was staying at explained to me the hype surrounding The Halal Guys. So I stood in line, ordered some Gyro with no white sauce, and theres where I went wrong. I left New York not really understanding the full Halal Guys experience.
Fast forward to 2015 and news breaks that The Halal Guys are coming to the West Coast. A part of me was like, eh — not a big deal. The first location opened, and I couldn't care less. Then the second, and I was like — ok, they're definitely not a bust if they are set to open a second then third location. So finally, the Koreatown grand opening came, and I gave in. It did help that my barber who is friends with the CEO Thomas, had something to do with naming their infamous white sauce, which was the ironic reason I wasn't impressed the first time — since I didn't have it.
The menu is pretty simple: Platters 1 or 2 items to choose from — Chicken, Gyro, Falafel (served with Rice, Pita, Lettuce & Tomatoes). Sandwiches are also an available with the same options. Finishing the menu: sides like fries, hummus or tahini with pita, and extra sauce. You can also order some baklava for dessert.
So how is it compared to the first time? I gotta say, it was a completely different experience to my first time. My visit to the Koreatown location was great to say the least. I ordered a platter with Chicken & Gyro, white sauce, and some hot sauce. FYI, it's really damn hot. I'm not saying that as a mild chili eater, I'm saying that as someone who'd prefer my food hotter then usual. I also ordered some fries, and I have to admit they surprised me. They're not anything special by any means, pretty simple crinkle fries that on the outside look pretty boring, and bland. But they are actually pretty well seasoned, and crispy.
The food itself can be as simple or complex as you make it, meaning you can customize the order to your liking. Every platter is pretty well filled with the meat of your choice, and is always ready to order making it a pretty fast checkout. It's a pretty tasty meal — chicken, and gyro is my personal favorite. Both are pretty good individually, but when combined, it gives the platter a different dynamic. Then topped with white sauce, it's a magical experience all on its own. The rice is medium textured and well seasoned allowing the meats to be less salted. All in all, it's a great meal for anyone who wants to experience something different, and that's exactly what they want.
Comments
comments
---