A PORTION OF THE PROCEEDS FROM THE LABOR DAY WEEKEND EVENT WILL SUPPORT LOCAL CHARITIES HEAL THE BAY, WAGS & WALKS AND LIGHT BRINGER
If you thought festival season was slowing down, you're far from wrong. It seems like these days new festivals are introduced weekly. Today, we wanna tell you about one we're looking forward to. Golden Road Brewing announced the first Made in LA, a new music and arts festival here in Los Angeles. The festival takes places over the Labor Day weekend with performances from the cities top bands. One headline act comes from legendary West Coast rapper Warren G, followed by indie band groups YACHT, Buyepongo, Maxim Ludwig, Iconique and more to be announced.
Made in LA will also showcase artist and vendors from and or established in Los Angeles. Golden Road will also be dishing out their own food menu, alongside favorite local food trucks & vendors. And while we can boast on and on about the food and music, we're all there for one thing — the beer! Limited released specialty beers will be on hand for attendee's to sip on throughout the weekend. Including one brewed and released for especially for Made in LA.
If you bought or will be buying a ticket to Made in LA, you now have another reason to smile. A portion of the proceeds will be going to three local charities near & dear to Golden Road. These include: Heal The Bay, an organization working to keep Southern California's coastal waters safe, healthy and clean, Wags & Walks, a local dog rescue offering family-friendly foster and adoption programs, and Light Bringer, a Pasadena based charity building community through the power of art and education. At checkout, ticket holders will have the ability to choose which charity their purchase will benefit.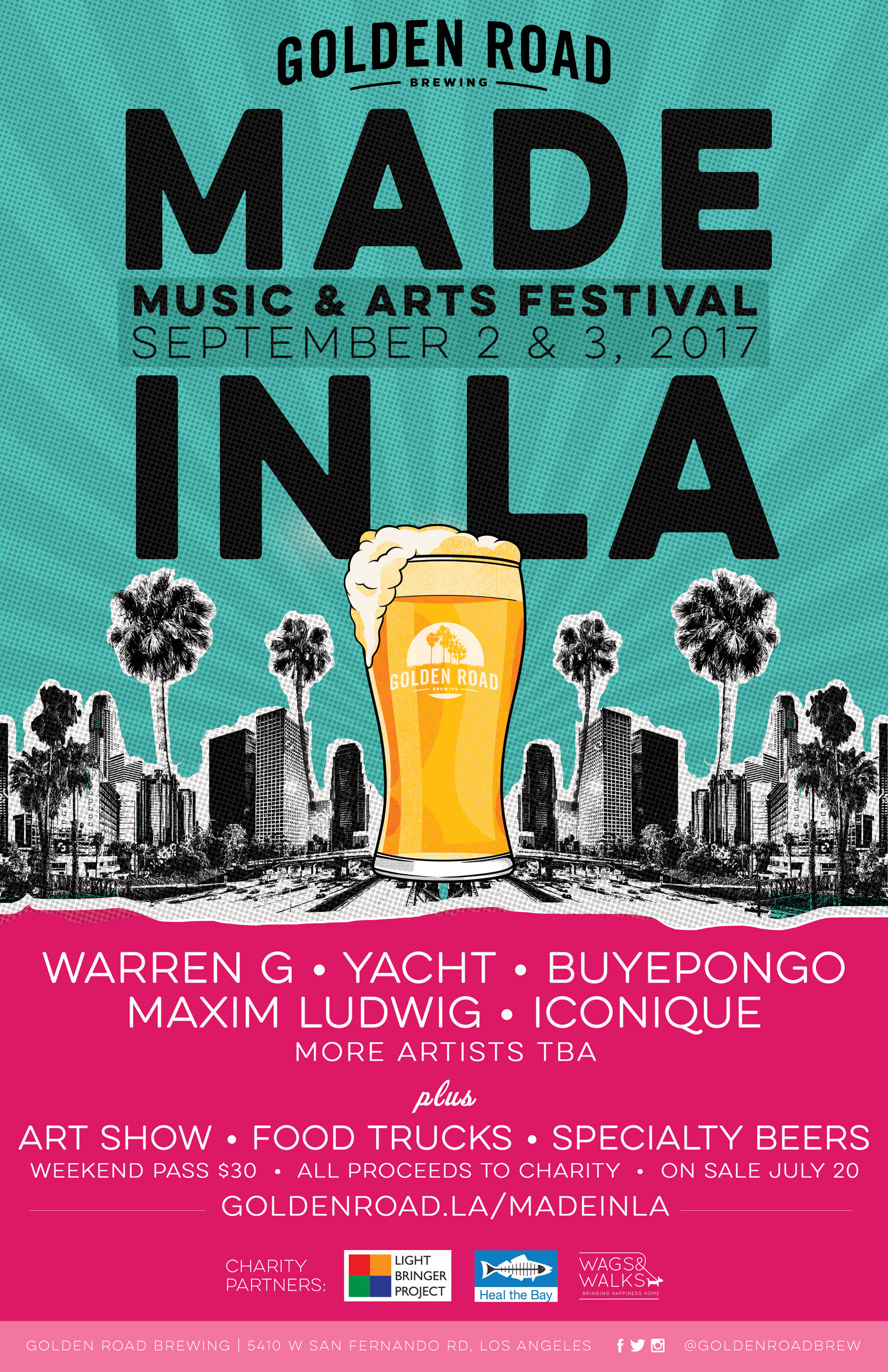 Comments
comments
---