Grand Central Market is home to many vendors — all of which provide us with their own uniqueness. Everything from food vendors to florists, the 1917 establishment brings together cusines and cultures right in the heart of Los Angeles.
On March 8th, 2016 Grand Central Market added to the already diverse culture of Downtown Los Angeles and welcomed in Golden Road Brewery with open arms. Boasting twenty Golden Road taps and an eclectic food menu, the craft brewer's new market booth offers visitors an escape from the city hustle and invites you to slow down with a fresh pint of their favorite local beer.
"It's an honor to bring our craft beer to this iconic Los Angeles location, and we look forward to sharing a beer with our new friends and neighbors.
The booth will serve as Golden Road's third location, joining its brewery and pub in Los Angeles and tap room in Anaheim. Unique to this location, the food menu offers a wide array of pierogi – both sweet and savory – complemented by breakfast parfaits, entree salads and a selection of delicious hot sides served up all day. As always, Golden Road's Grand Central Market food and beverage menus are crafted with sustainability top of mind and features primarily vegan cuisine.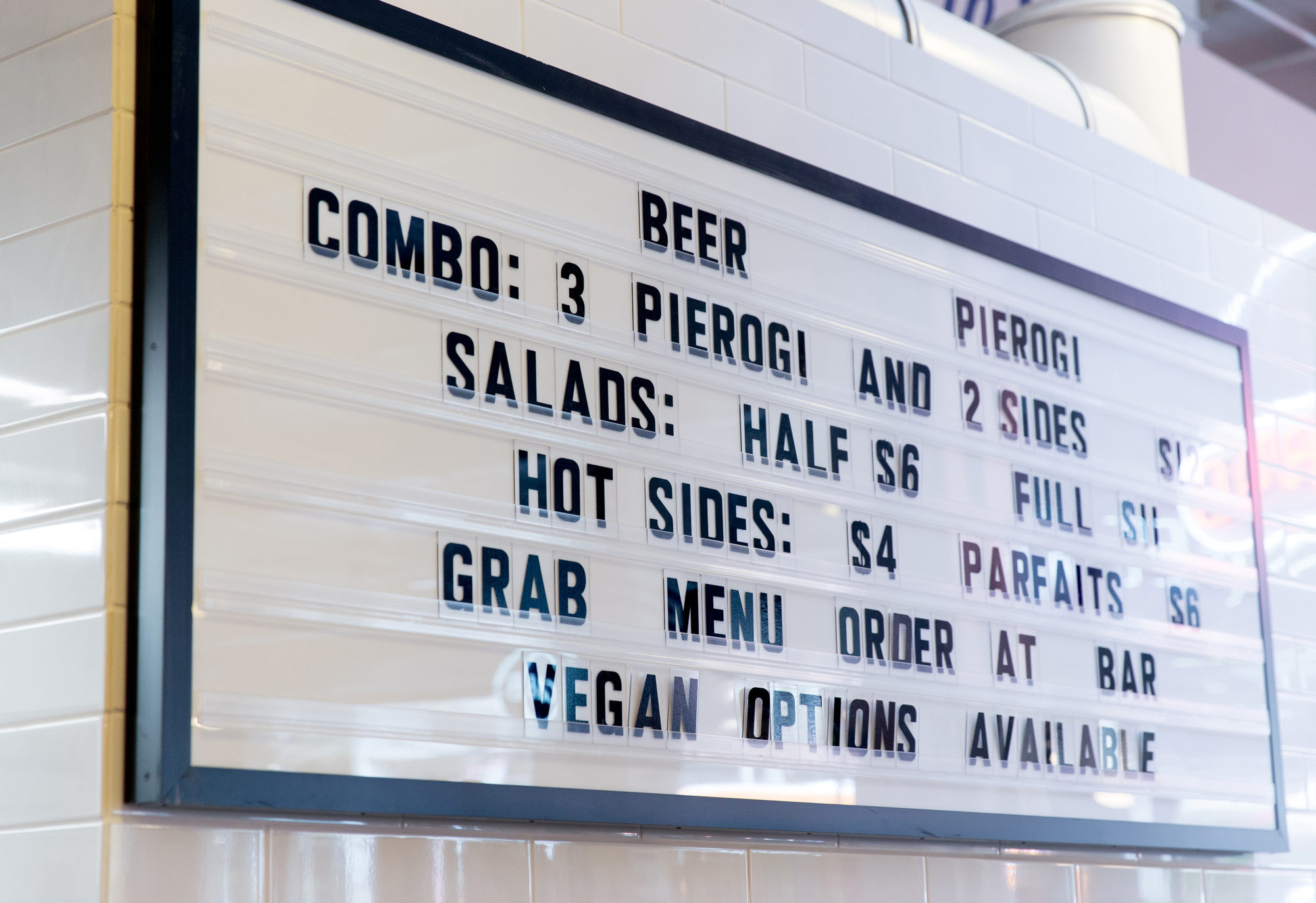 As soon as news hit that Golden Road had opened in Downtown LA, you know I had to make my way out and support one of my personal favorite Los Angeles brewers. Now, give me a break as I say this, but I've only been out to Grand Central Market a few times — roughly five, but that's quickly about to change. If you're a day drinker (like me) or just wanna grab a nice cold fresh one after a long day of work, you'll probably find yourself here five times out of seven. That's not to say you're an alcoholic, we won't judge, it just says a lot about Golden Road.
The Grand Central Market booth is a refreshing take on an otherwise hectic market, a place to unwind and reflect on your day. Everything from the food, to the always fresh and earthy brews. The menu, as mentioned was created by Golden Road's head chef and was inspired by a recent trip to the Czech Republic.
I got a chance to try some/most of the menu items and I have to say, I truly enjoyed it all. If you're anything like me, you probably stay away from all the 'healthy' stuff, but in my honest opinion, the menu here is satisfying to say the least. Paired up with the right beer, you'll have yourself a magical experience.
Below, I ordered up their combo which comes with 3 pierogies and 2 sides for $12.
Pearled barley salad (Side 1 – top left)
Citrus Kale (Side 2 – top right)
Vegan Chorizo (two)
Wild Mushroom (one)
Let me just start by saying that if you've never eaten vegan, don't be afraid to start here. I'm not a big fan of mushrooms, and by that I really mean I don't like them. So you can only imagine how I felt about trying the wild mushroom pierogi. It really took me by surprised, because I loved it. The mushrooms were so well cooked and sautéed that I wasn't even aware that I was eating a mushroom pierogi made with wild forest mushrooms, onion, spinach, and potato. The vegan chorizo was one of my favorites, it had a great texture and warm hot flavors like soyrizo, vegan cream cheese, sweet corn, onion, and potato.
The two cold sides, I had were the pearled barley salad roasted and the citrus kale salad. I'm not sure if there's still a big craze over kale salad here in California, but this one will almost definitely create another round of buzz. One of the better kale salads i've ever had, made with baby kale, orange, grapefruit, candied pecans, agave mustard vinaigrette, and your choice of vegan ricotta or Redwood Hill goat cheese. The flavors were all beyond me. Sweet, savory, smokey flavors that we all mixed so well.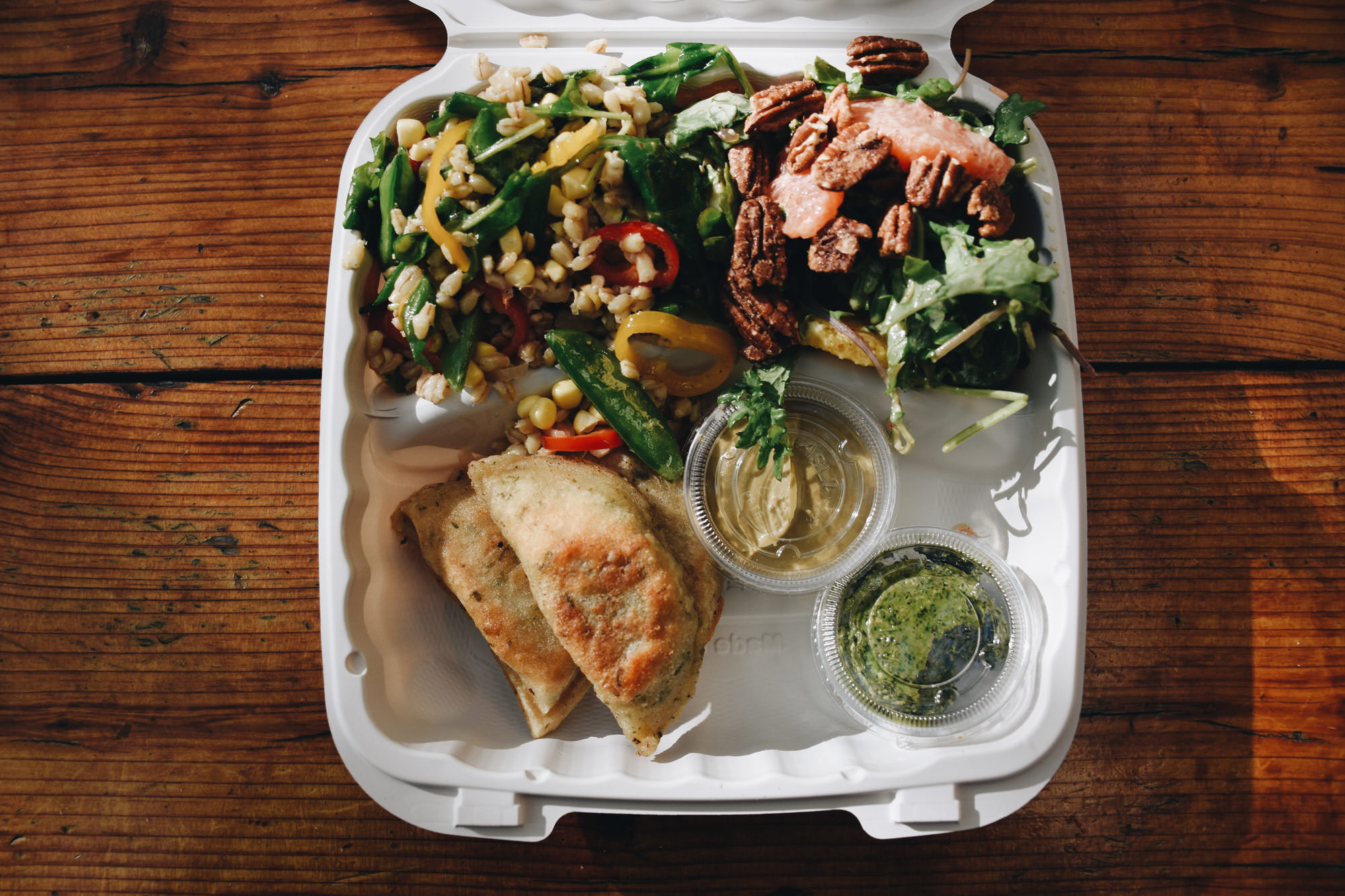 Our second combo consisted of the Coconut "noodle" salad (shredded cabbage, carrots, cucumbers, red and green bell peppers, fresh young thai coconut "noodles", spiced cashews, and topped with an almond chili dressing). Also pictured is the Spring Squash made up of roasted baby zucchini and squash. Another menu item that took me by surprise was the Coconut noodle. It was so damn good! I usually stay away from cabbage and even coconut, but this was so incredibly good that I've already went back and ordered it again. If you're not into spicy foods, let me just take a moment to say that this item gets things heated. It's really hot, really hot. But the heat is consistent throughout and it's very well balance with the coconut "noodles" that take you by surprise upon eating one.
I also took this plate to order some more pierogies, and this time they were filled just right. There was one of each: Bacon Cheddar, Al Pastor, and Duck Confit. All were so fresh and warm which just added to the level of complexity each had. While the Bacon Cheddar and Al Pastor were both equally delicious, I think the Duck Confit took the cake for me. Made with shredded duck, kabocha squash, cranberries, green onions, w/ cumin sour cream. If that doesn't do it for you, than it's ok, you have a lot to choose from. Just remember that these are all really great options for a small bite while having a beer (or not), but it's always better with beer.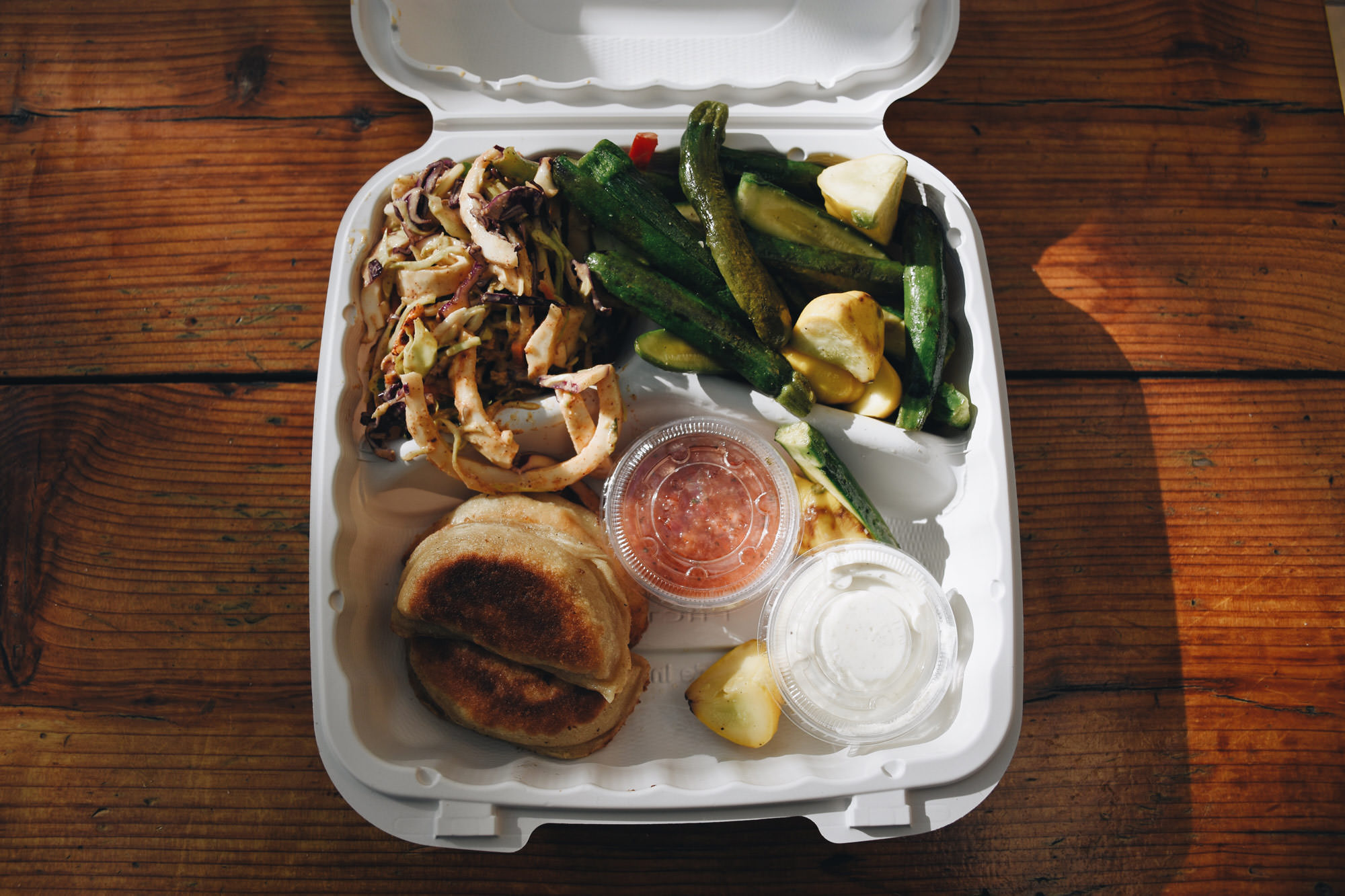 Now, let's talk about some damn beer! As much as I would have loved to order up one of each, I had to make a careful choice of what I wanted to order. I had about 4 drinks — Ride On IPA 6.4%, Berliner Weisse 3.3%, Berry Single 4.5%, and the Wolf 3D. The Ride On was kind of surprising for me given it's malty taste. It had a clear golden pour with a white head and scents of citrus and hops.
Another really good beer I had was the Berliner Weisse, although if you're not into tarty beers than it's probably not for you. It's a tart wheat ale, more sour than most traditional Berliner beers, but it's really damn good. It gave me a few sips of spiked sour lemonade at times, but it really does have a balance to it. Smooth and light, very drinkable at any given time.
Next up I had the Berry Single, which seemed like a pretty reasonable idea given the weather and the Spring vibes, but I just wasn't feeling it. The very fruit forward beer was flavorful and smooth with a kick of sourness. It wasn't all bad, I just would see myself ordering up another one.
Last, but not least I had the Wolf 3D, which to my knowledge didn't even exist. It's described as:
"all the hoppy goodness of Wolf Among Weeds, but with a third dry hop to wallop your senses. We added citra and mosaic for added citrus, stone fruit, and tropical fruit juiciness."
By far one of the better Golden Road Brews I've had and probably my new favorite. Right off the bat, it  gives your nose such a hoppy (pun intended) aroma. I don't know what was better, tasting it or smelling it, but I can assure you both we magical moments. The flavors are like an improved rendition of Wolf Among Weeds, which is a little hard to believe. It had a smooth taste going all the way through, crisp and clean, perfect for the Spring and Summer season. Something you'll wanna have all throughout the year, easily.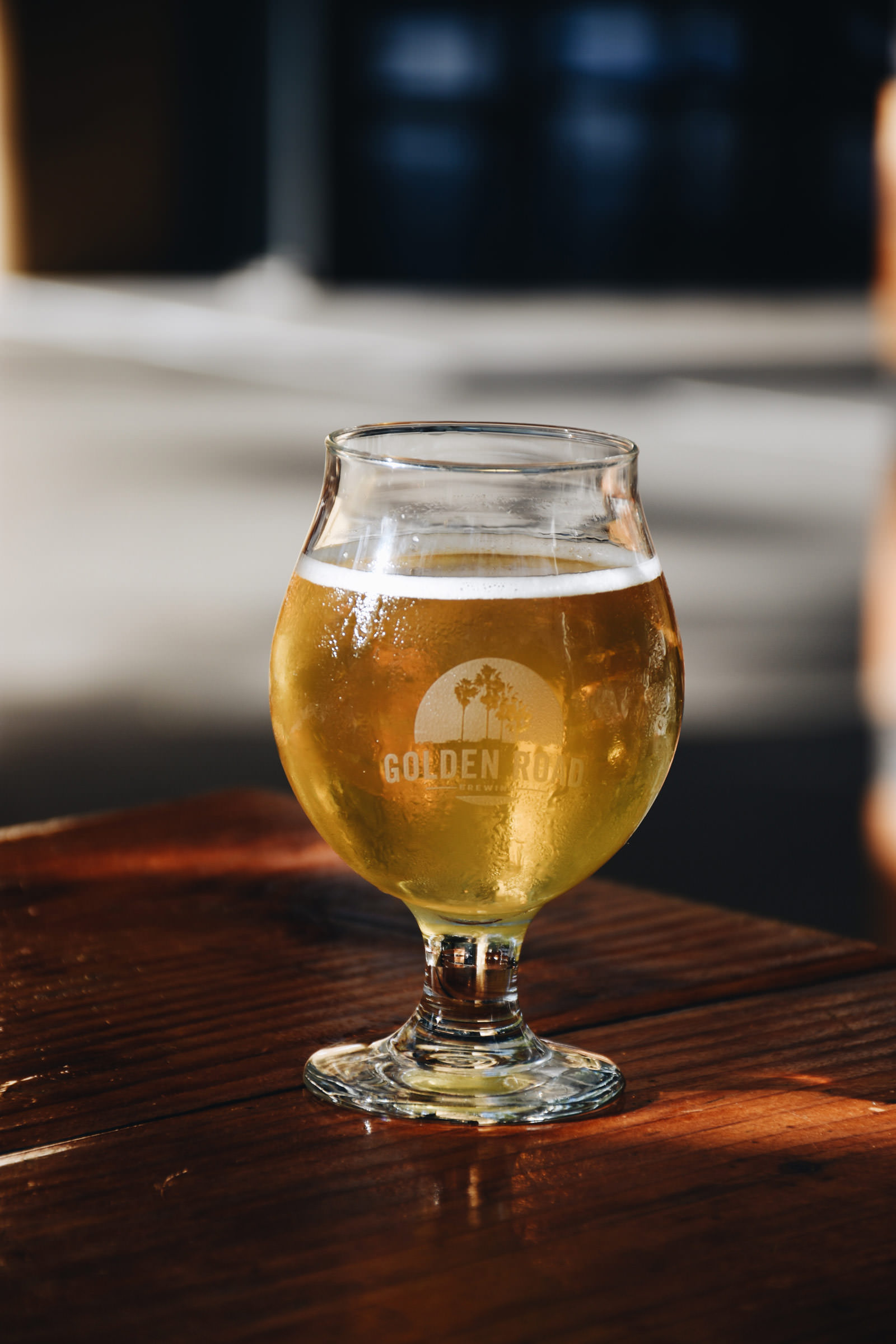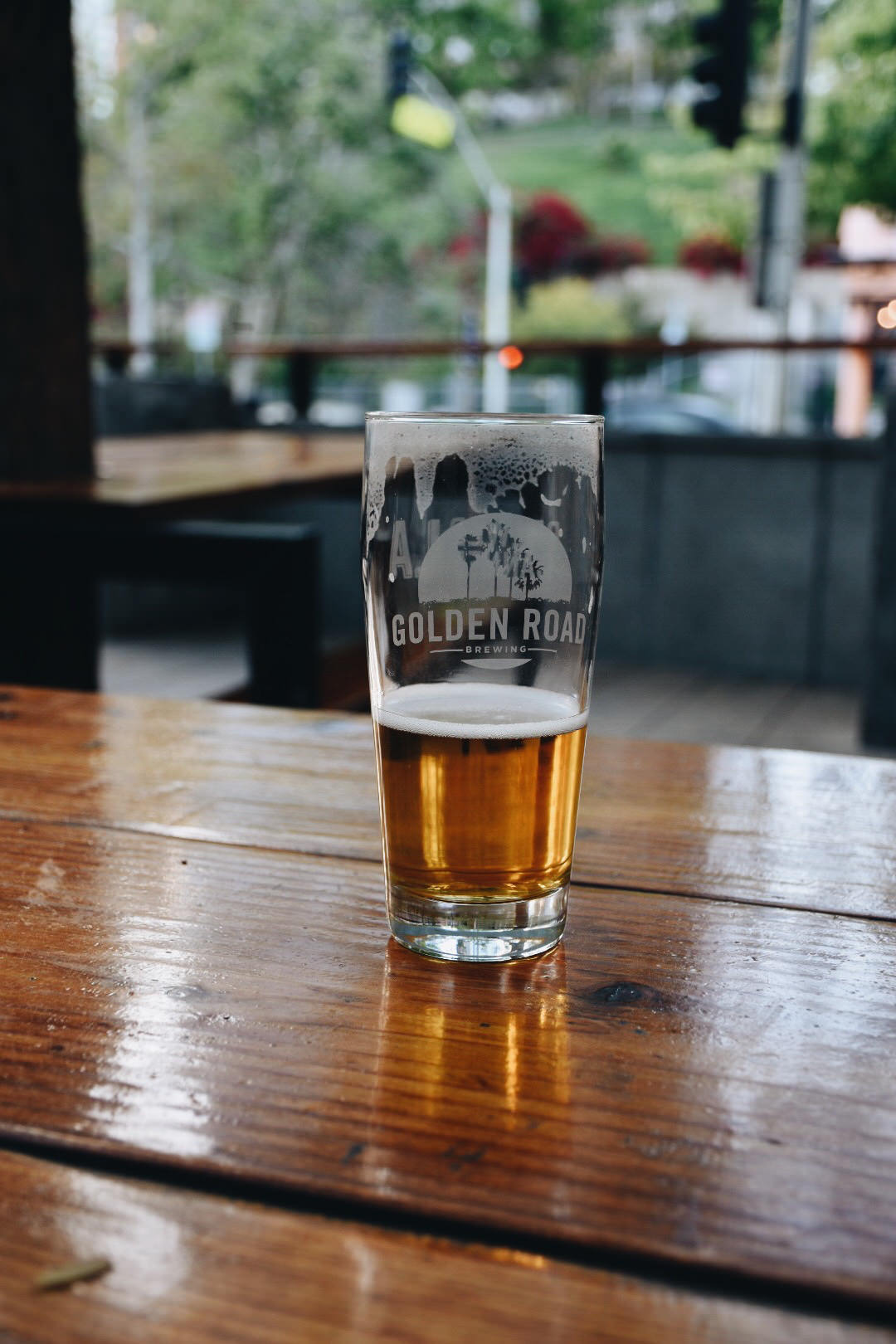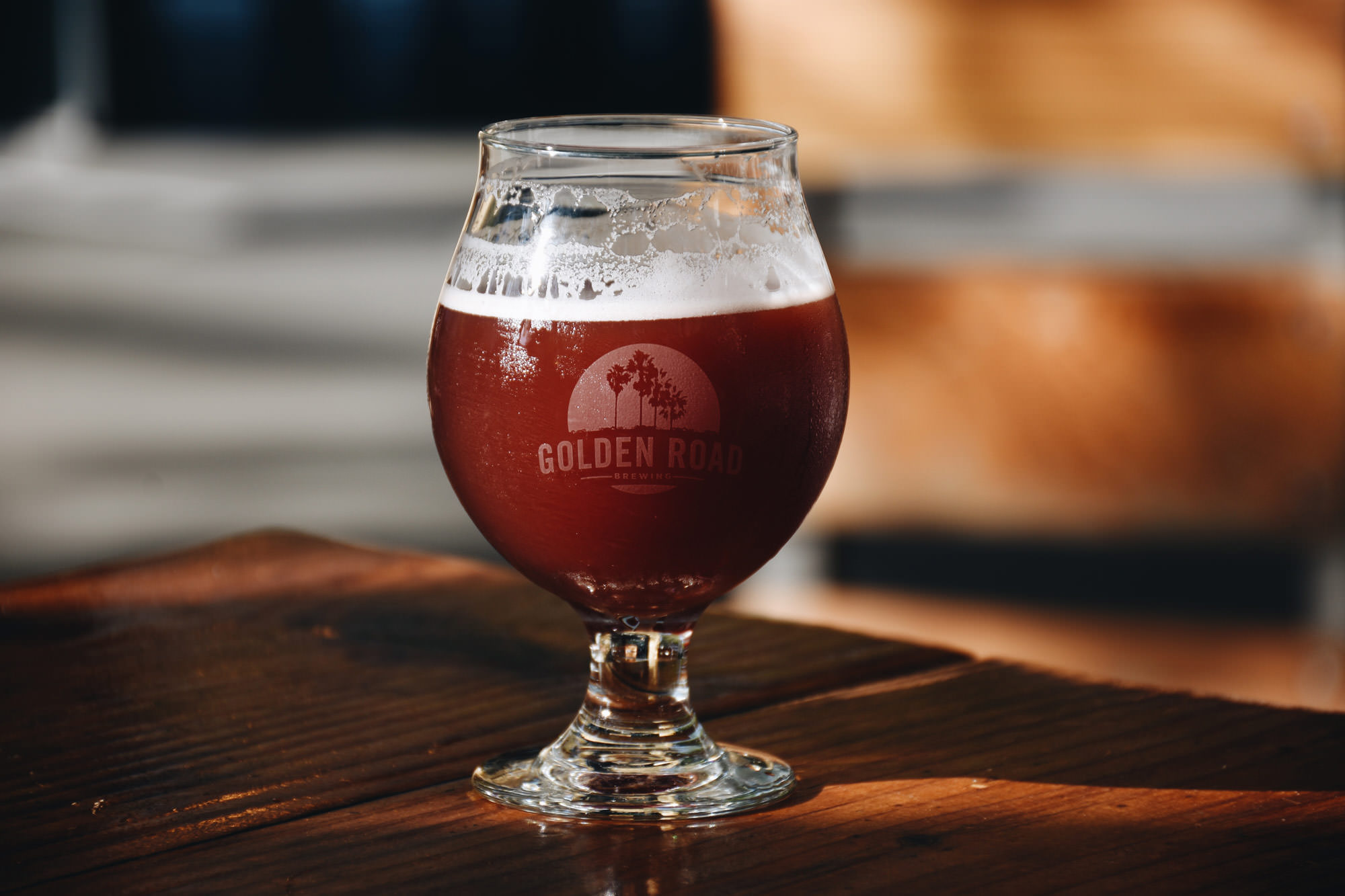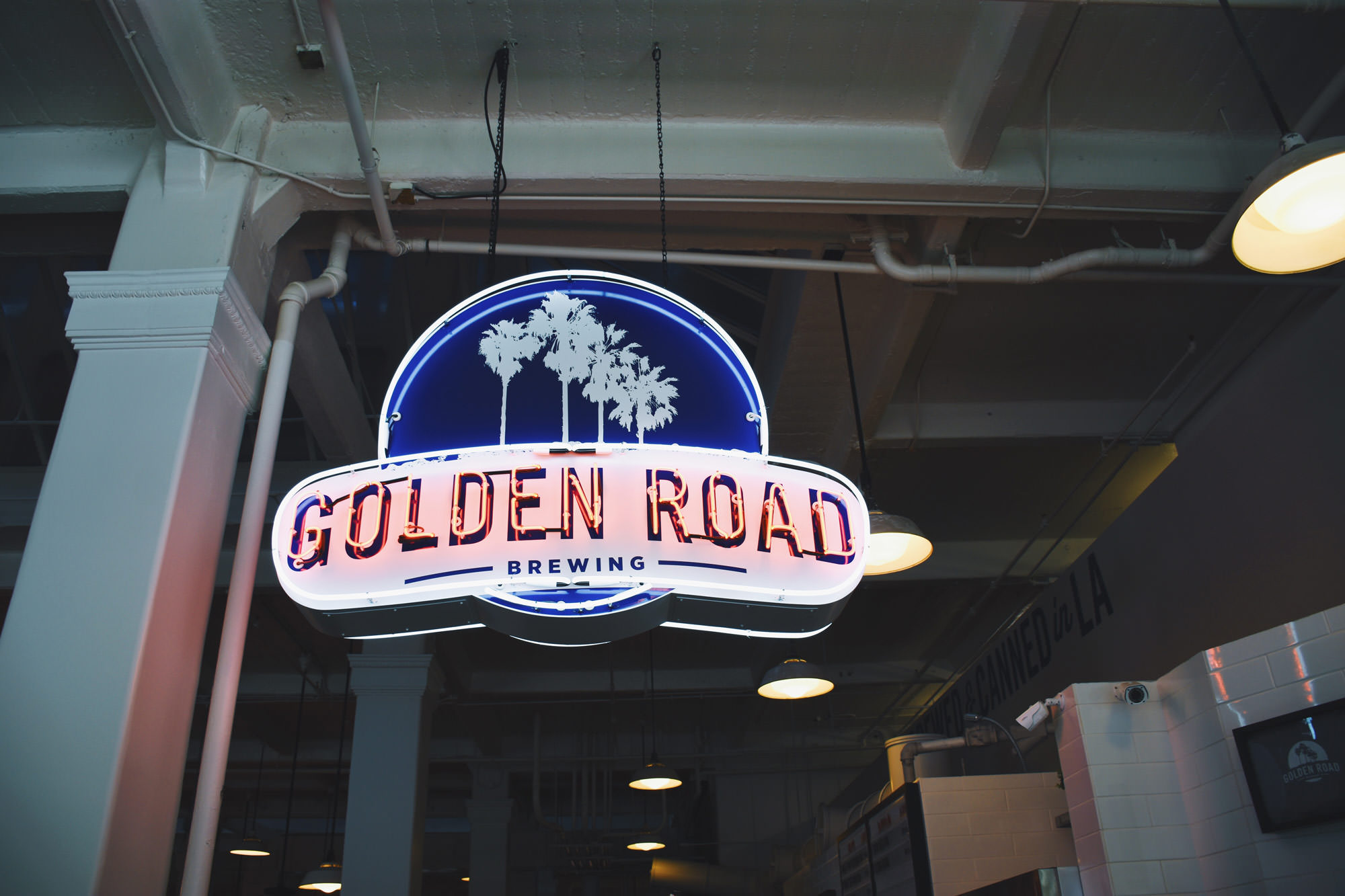 …until next time, Golden Road.
Comments
comments
---