Let us all rejoice, FYF is back this weekend! While we're not excited for this heat wave, we are excited for the food! Oh, and the music. On the music side, the festival presents big named headliners like Frank Ocean (who STILL hasn't released his promised album) and Morrissey The Smiths alum. Now we all know that Morrissey won't be devouring any FYF Food maybe except for some SAGE, but Morrissey wouldn't be stoping FYF from serving up some meaty options. For those who don't know, or aren't aware, Morrissey holds out from performing at events that offer anything other than vegan options (MEAT IS MURDER!). But enough about him, let's get to the good stuff.
(DONUT FRIEND) S'MORRISSEY
A CHOCOLATE CAKE DONUT FILLED WITH TOASTED MARSHMALLOWS AND TOPPED WITH CHOCOLATE GLAZE AND GRAHAM CRACKER CRUMBS.
At first glance, we're all excited to have some super milky buns actually come to Los Angeles. A lot of people we know always think Afters Ice-Cream is somewhere in Los Angeles, but in fact their locations are far from it. So having them in our backyard will be a refreshing treat for all of us who haven't had a chance to bite into one of those milky buns.
Another headliner everyone will be lined up for is the #chikengawds our friends over at Free Range. Everyone loves Free Range, I mean what else could you be thinking of eating for lunch other than The Wolfs Special. Having been independently owned from the get-go Free Range is the all so lovable food truck you can't help but hunt down. If they're serving up the usual goodies, you can expect some delicious menu items like below.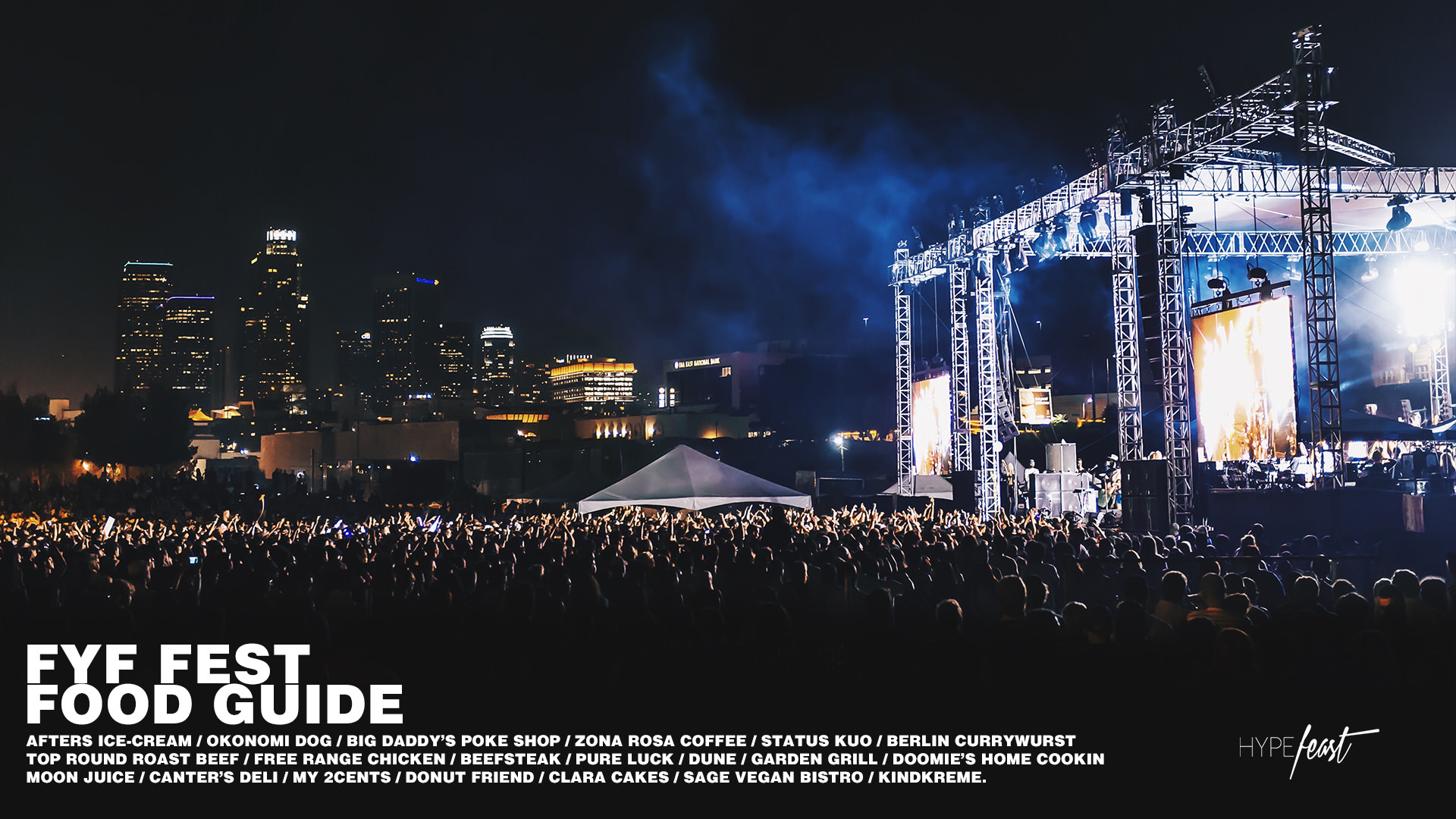 Canter's Deli, LA's famed deli will also be pulling up at FYF bringing with their truck and offering up some good options. I mean, what is there from Canter's that you wouldn't want. They serve everything from breakfast, lunch, and dinner (at their restaurant). But of course we will be limited to what their truck menu offers  so we'll mostly be seeing sandwiches and we're excited! Canter's offers really really good deli style sandwiches and some notables include pastrami, corned beed, and reuben. If you arrive at FYF hungry, do yourself a favor and stop by Canter's you'll be doing yourself a favor.
As we mentioned earlier, Sage Vegan Bistro everyones favorite vegan option will also be attending and offering some pretty good options for you light eaters. Items like buffalo cauliflower, fresh baked vegan pretzels, and vegan soft serve. Everyone loves buffalo cauliflower, we've seen it at countless restaurants in LA, so it's no surprise we'll be having a good snack to get us through the day. Sage is just one of many vegan options that will be available at FYF so if there's a long line, don't say we didn't tell you so. You might have to find your vegan fix elsewhere.
FYF is also introducing a special night market (street food area) that will be open as soon as everyone runs through the gates and will end at 1am on both nights.
Aside from some of our favorites, FYF will also be hosting 100 other vendors. Some local, some not, some old, some new. We'll be excited to scour the grounds for some good eats, but also keep our ears peeled. If you haven't heard, Clara Cakes will also be serving up what is said to be a waffle stuffed with mac 'n' cheese. Their waffles our made with Follow Your Heart cheddar shreds and ranch! Donut Friend will be providing an all so good snack for when the mood strikes, like maple glazed donuts, vegan cream cheese and strawberry jam, lemon glazed topped with poppy seeds, chocolate cinnamon crumble, and hopefully – hopefully, the limited edition s'morrissey. Not to sure what they'll be serving, but I do know for sure, we can always go for some donuts.
By this point, I know what you're thinking…Where the booze at?! Well, this time around there will be 4 beer gardens all serving up craft beers only brewed from where else, Los Angeles. Craft cocktails are also said to be made on site from easy distribution, since we all know the consumption comes easy. Our guess is as good as yours, but if you need to refresh your memory, some L.A. Breweries include – Los Angeles Brewing Co., Eagle Rock Brewery, Golden Road Brewing, Angel City Brewery, maybe even Karl Strauss. We'll just have to wait and see, but let's not be picky here. We all love our craft beer, but we could always pick up something new.
We're excited to see how it all pans out given all the criticism in the past years  that FYF Fest has faced. It's no secret that they've faced some battles since moving the festival into the Los Angeles Coliseum, but we're hoping this is the year it all goes right. Sadly, we weren't granted media creds so we won't be able to snap some food pics, but if we manage to get in with out "non detachable lens" camera, we'll do our best to show you guys what we'll be eating. If you're going to FYF this year, tag us in your food pictures using #hypefeast we'll be sure to repost our favorite ones!
Comments
comments
---