255 Long Beach Blvd, Long Beach, CA 90802
—
If you ever find yourself in Long Beach, you've probably said to yourself "oh shit, it's nice here". A lot has changed in Downtown Long Beach that's for sure, and they just received another upgrade — Beer Belly. Born in the heart of Koreatown, they've transformed themselves into a more polished, sleeker, and innovative flagship in Long Beach. This is an exciting time for beer lovers and consumers in general. With surrounding neighbors like Beachwood Brewery, Congregation Ale House, and tons of other restaurants it's worth a trip to Downtown Long Beach for sure.
—
$1 BEER
www.beerbellyla.com/lbc2016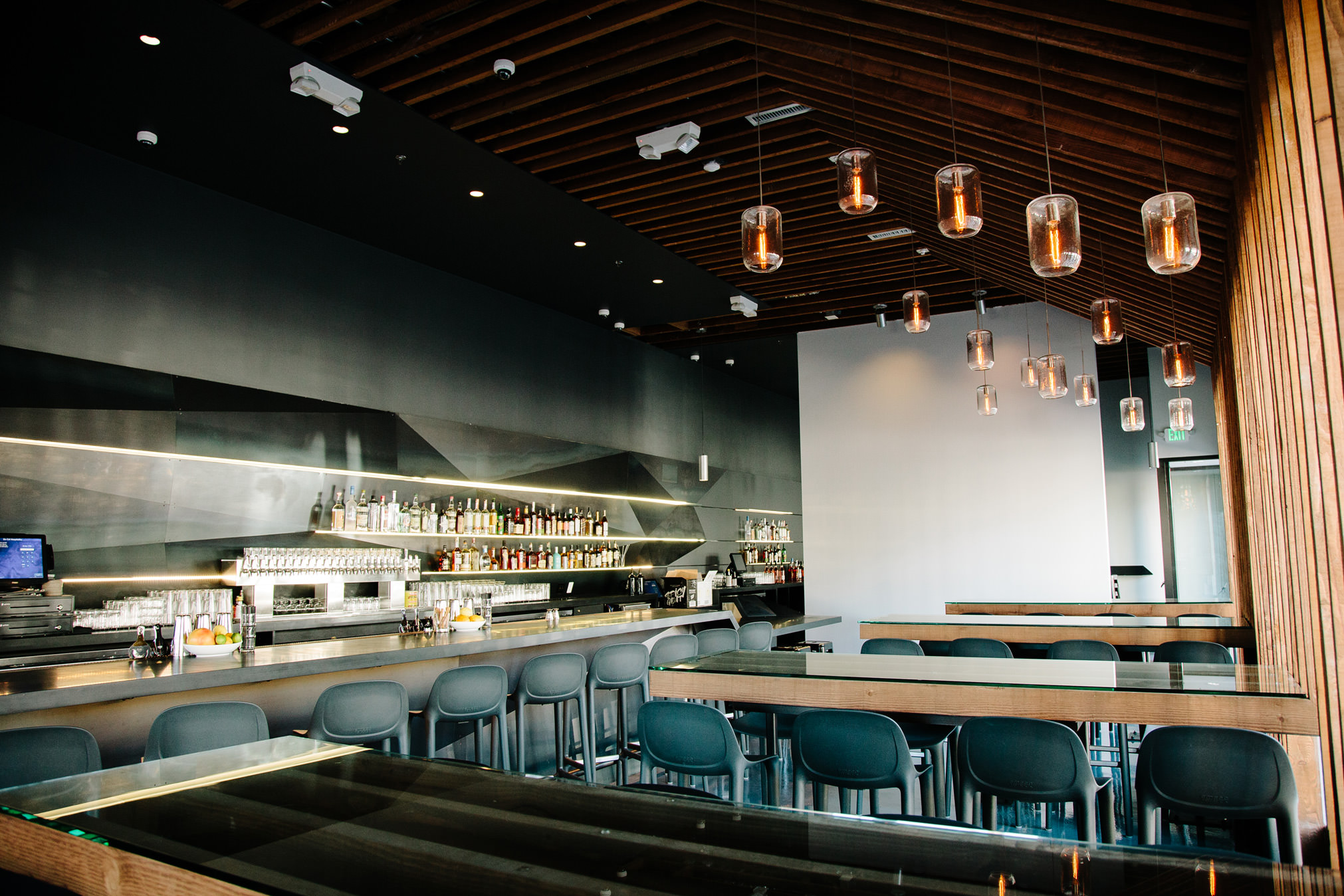 Interior
—
From the outside of the building you can already know what to expect walking in. Clean and inviting on the outside, sleek and modern on the inside. The space is truly one of a kind and carefully detailed. The bar stools are made out of recycled material, and the beautiful bar top is made from a huge concrete slab. Futuristic strikes of lights are spread out throughout and really set the mood. Another feature that goes unnoticed is all the wood throughout the space. The high tabletops themselves are a beautiful showcase of what the MAKE architecture team has created.
Food
—
The food, the food! A lot of folks might think Beer Belly, that's probably a bar right? Wrong. Beer Belly is indeed a Restaurant & Bar and a good one at that. Looking up and down the menu theres a ton of delicious items to choose from, but one thing to keep in mind when coming into Beer Belly is to stay curious. The food and drink menu are designed for you to try something new, something different, and that's why I love Beer Belly. Items like their popular Death By Duck Fries or Duck Fat Fries kick off the top of the menu, followed by snacks, shareable items, salads, sandwiches, mac n' cheeses, and desserts. Exclusive to the Long Beach location is the Al Pastor Enchilada Meat Balls, and the BLVD Burger.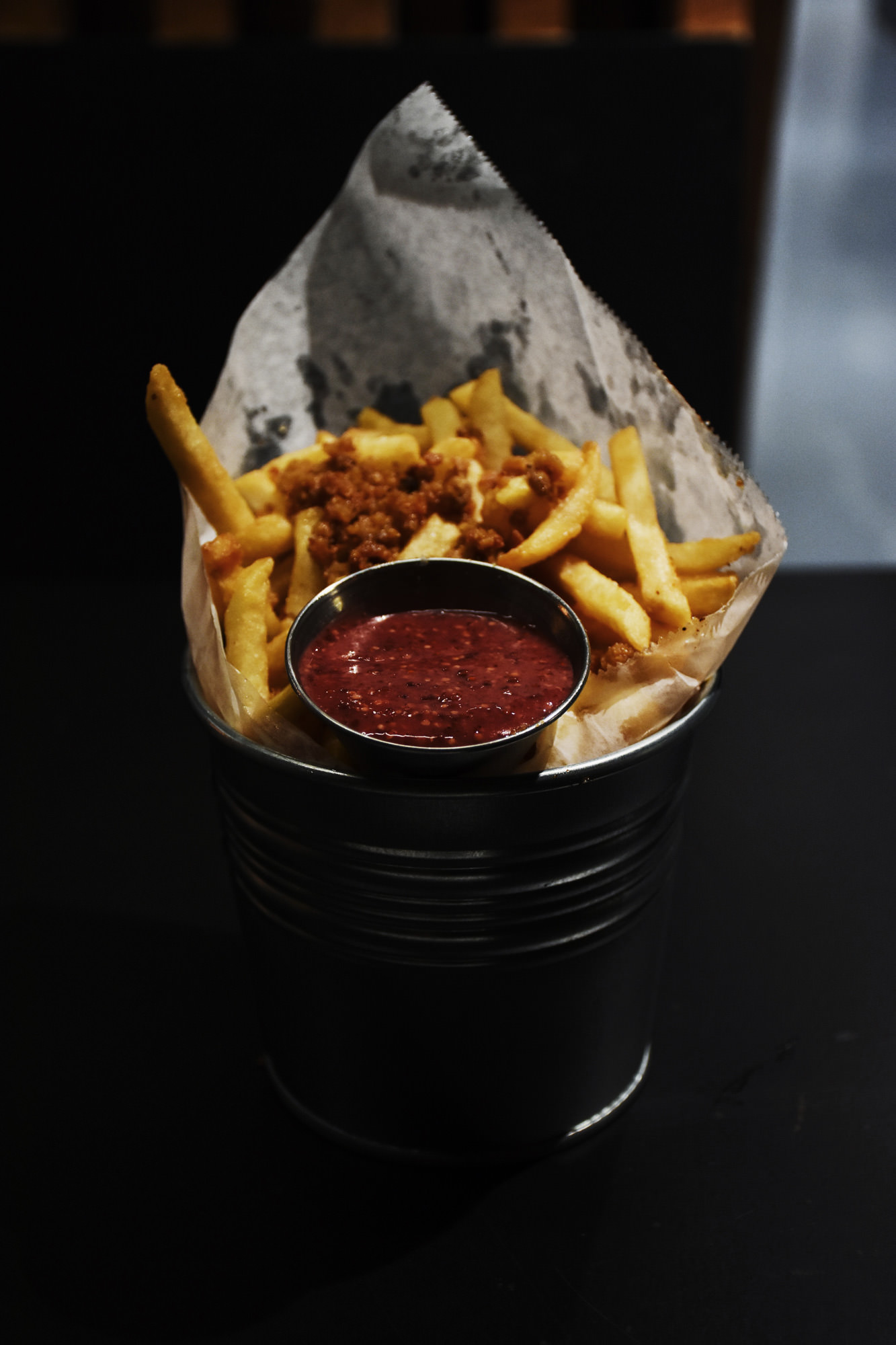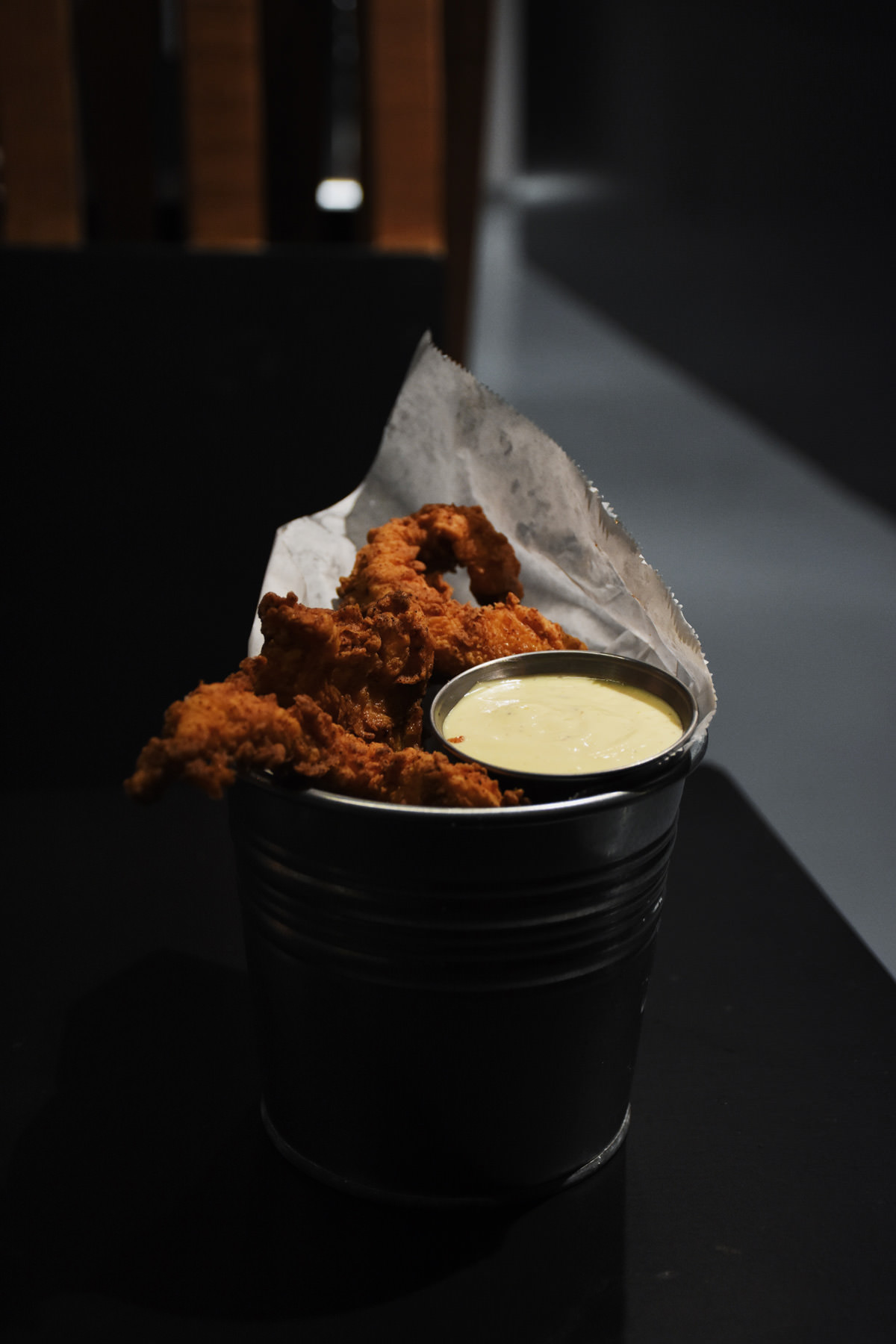 If you need help choosing what to start with, you can't go wrong choosing any of their fries. The Duck Fat fries have always been a personal favorite, and they of course are a fan favorite. Golden crispy fries tossed in duck fat, duck skin cracklins, and the delicious raspberry mustard. If you want something to snack on while you have a beer a jar of pickles will smooth out your tarty beer, or if you want some crunch the pork belly chips with tabasco aioli is the best choice. You can also choose to share some dishes like the buttermilk fried chicken that come with your choice of corn aioli or housemade bbq. These tender pieces of breast strips are not your average chicken strips, they are good. But if you're looking for something bigger to devour, the BLVD Burger is absolutely my favorite item on the menu and maybe one of the better burgers in all of Los Angeles. The BLVD comes with a candied bacon slaw, sharp cheddar, arugula, and hot smoke mayo. Anyone who loves burgers as much as I do has to try it. Shifting the dynamic of the menu Beer Belly offers Mac 'N' Cheese which will hit the spot for mac fans. Especially the short rib poutine mac, you'll be reminiscing all night long. Last, but not least the desserts. I gotta say I was pretty skeptical eating deep fried poptart giving the meal I just had, but I really enjoyed it.
Drinks
—
If you don't leave this place having a Beer Belly, did you really even go? With 24 taps and a full liquor license the beverage program promises to deliver a different experience than the Koreatown location. The beers were all hand chosen by Jimmy Han (owner) himself, and its quite an impressive selection. All of which will be rotated at an endless pace, from what Jimmy tells us. Handling the seasonal cocktail program is the popular Karen Grill who will be featuring ingredients straight from the farmers market.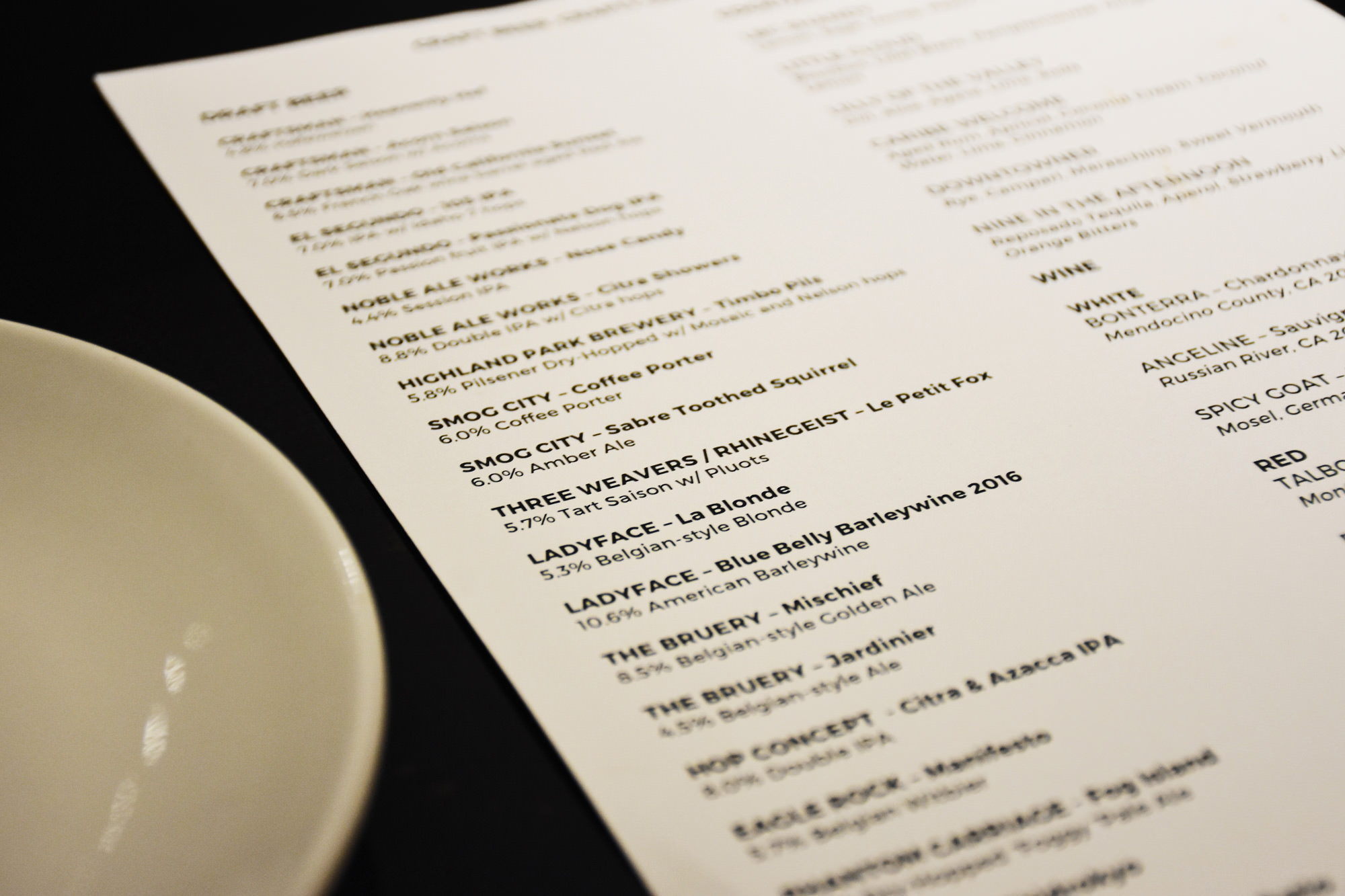 So what beers should you try. Everything? Yes, but don't try to do it all in one sitting. Literally every beer was hand chosen and how could you go wrong with that. There's a little bit of everything for every type of beer drinker. Hops, ales, IPA, saison, and porters. You name it chances are they'll have your type, but the fun part of the beer selection is how diverse it is. I mean, if you wanna try something new, something different — this is the place to do it. Do you want cocktails instead? How about a glass of wine? No problem. I had a LBC Shandy cocktail which was a simple drink — lemon, sage, honey, peach, and white ale. It was refreshing, warm, and easy to drink. I would've had another cocktail, but I had a Three Weavers Rhinegeist and Craftsman Old California Sunset, both recommended.
Overall, Beer Belly is a place for any situation. If you wanna grab a beer and hang out, small bites, big bites, cocktails, wine, guys night out or girls night out. It's a fun and intimate space, fueled by an innovated team dedicated to their craft.
VISIT
—
255 Long Beach Blvd.
Long Beach, CA

M-Tu 5pm-12am
W-Th 5pm-1am
F-Sa 11:30am-2am
Sun 11:30am-12am
Kitchen closes 1hr before closing daily
Comments
comments
---