Where: Indio, CA
When: April 15-24, 2016
Tickets: $375
Camping: Yes
About the festival:
The Coachella Valley Music and Arts Festival (commonly referred to as Coachella or the Coachella Festival) is an annual music and arts festival held at the Empire Polo Club in Indio, California, located in the Inland Empire's Coachella Valley in the Colorado Desert. It was founded by Paul Tollett in 1999 and is organized by Goldenvoice, a subsidiary of AEG Live. The event features many genres of music, including rock, indie, hip hop, and electronic dance music, as well as art installations and sculptures. Across the grounds, several stages continuously host live music. The main stages are: Coachella Stage, Outdoor Theatre, Gobi Tent, Mojave Tent, and the Sahara Tent; a smaller Oasis Dome was used in 2006 and 2011, while a new Yuma stage was introduced in 2013.
The festival's origins trace back to a 1993 concert that Pearl Jam performed at the Empire Polo Club while boycotting venues controlled by Ticketmaster. The show validated the site's viability for hosting large events, leading to the inaugural Coachella Festival being held in October 1999 over two days, just three months after the disastrous Woodstock '99. After no event was held in 2000, Coachella returned on an annual basis beginning in April 2001 as a single-day event. In 2002, the festival reverted to a two-day format. Coachella was expanded to a third day in 2007 and eventually a second weekend in 2012; it is currently held on consecutive three-day weekends in April, with each weekend having identical lineups. Organizers began permitting spectators to camp on the grounds in 2003, one of several expansions and additions of amenities that have been made in the festival's history.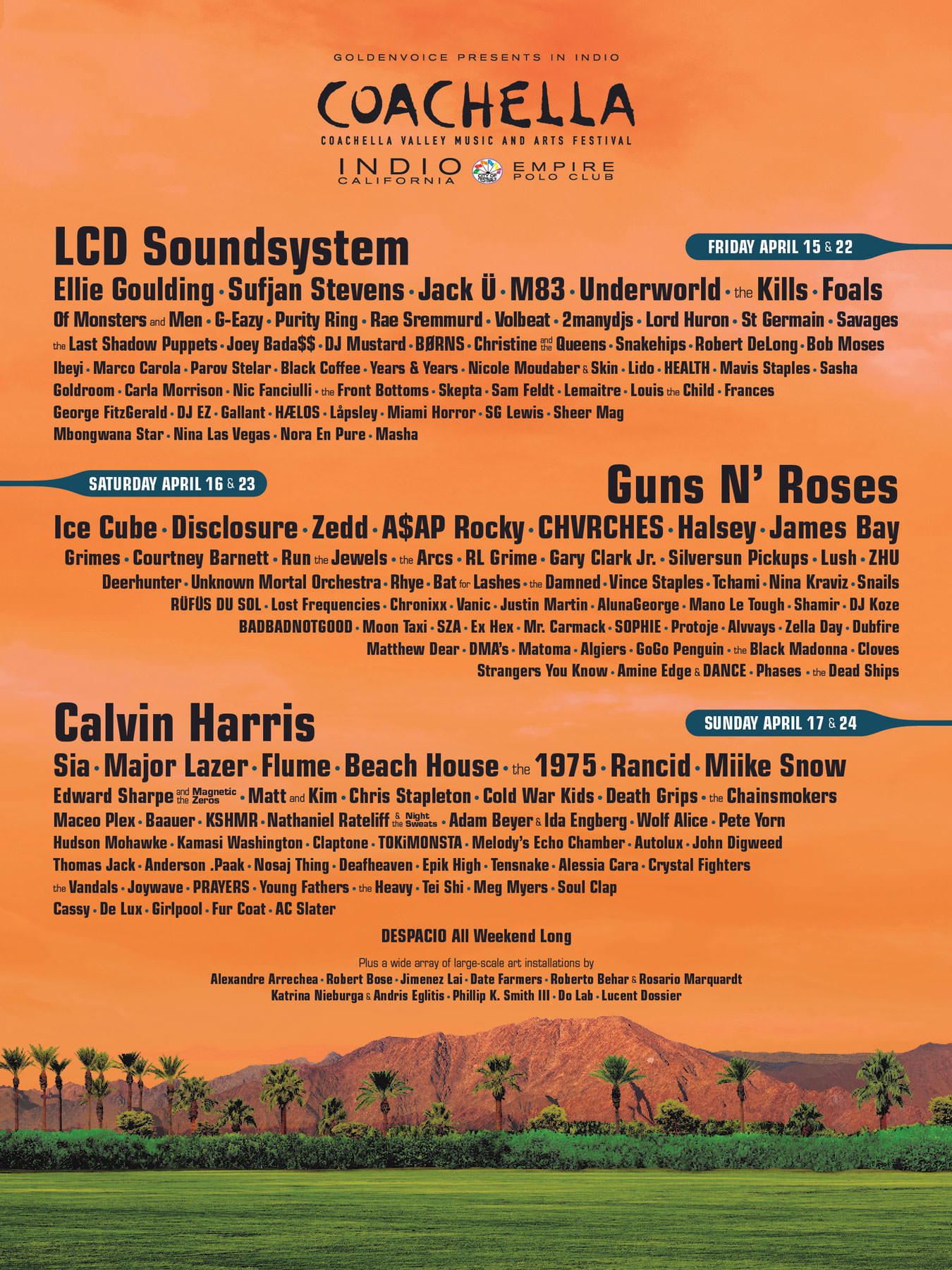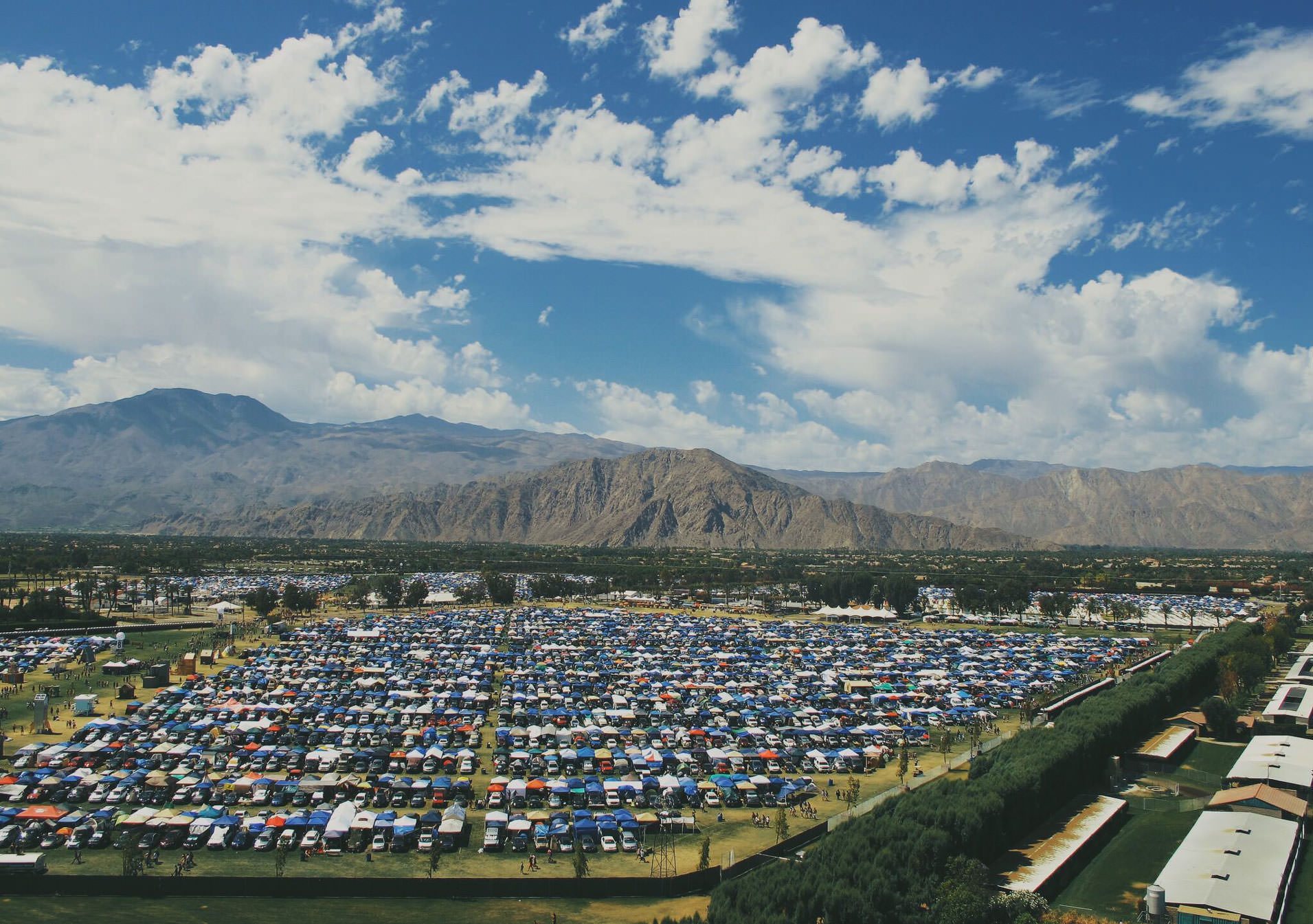 There are many ways to approach your weekend at Coachella, whether or not you're car & tent camping on the campgrounds, staying at the elusive Lake Eldorado, or Safari Tents. Each is created for it's own unique experience depending on how you want to enjoy your stay. Outside of the campground you might find yourself at a Motel, Hotel, or renting a house via Airbnb. Regardless of the situation, it's all to celebrate the majestic 3 day festival — one of the best in the world.
Free showers, Large shower pods in 2 locations
Internet Cafe (w/free wifi)
Cell phone charging stations
General Store / Food & Beverage vendors
Satellite stores w/ice in all camp lots
Portable toilets in all camp lots
Many camping activities
Farmers market
Free supermarket shuttles
Free water refill stations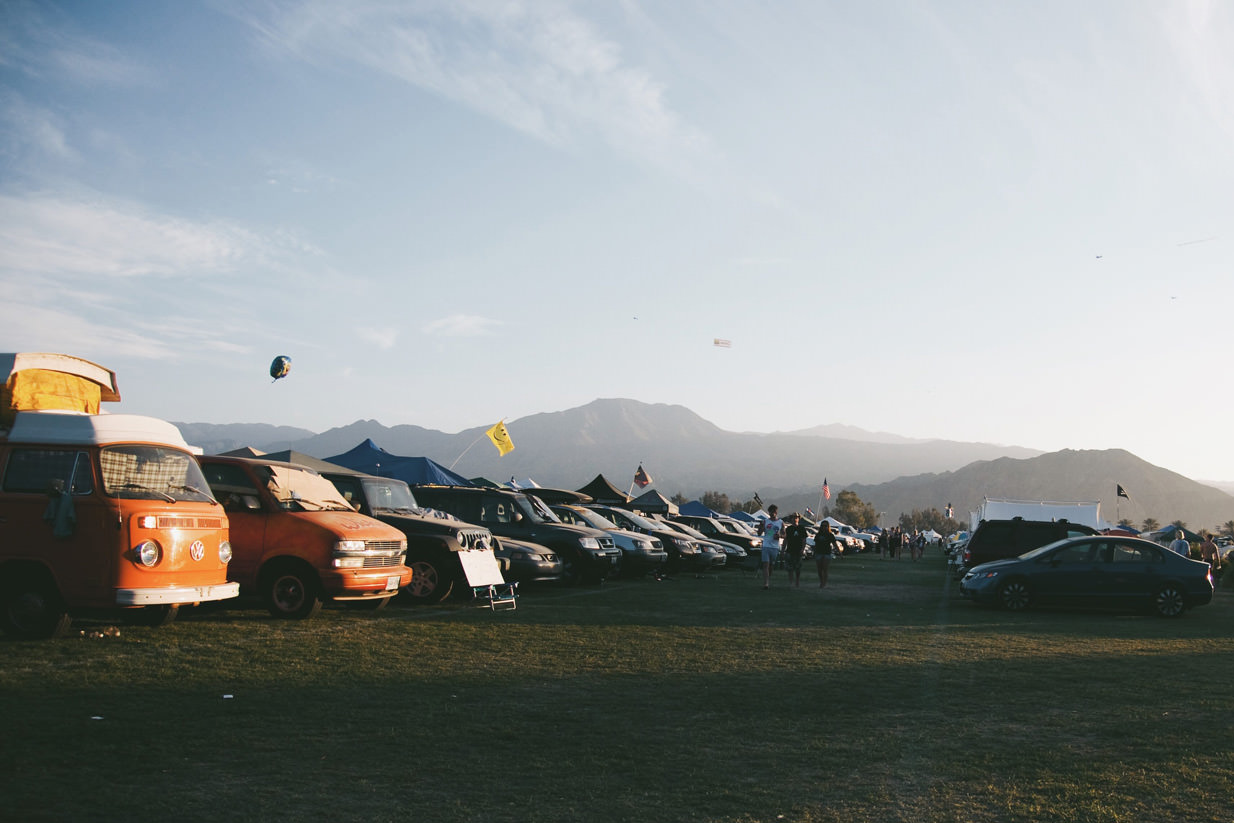 Car camping and tent camping might sound like the same thing, since they both involve (tents) but don't confuse the two. They are both different options and you don't wanna get stuck thinking you purchased one or the other. Make sure you read carefully what they entail and plan accordingly.
CAR CAMPING
Camp next to your car. You can have as many people camp in your spot as you can comfortably fit. Everyone camping in your spot must have a festival pass.
Car Camping spots are 10'x30′. All spots are good for the entire weekend. You park your car IN your spot for the whole weekend. There is no driving your car in/out of your camp spot. No saving spots – arrive together to camp together. One car per car camping spot required – no exceptions. If you're driving in one car, you will only be able to occupy one camping spot, even if you have purchased more than one car camping spot. One additional car camping companion parking pass per camping spot is available for purchase. Companion vehicles will not be allowed to park in your car camping spot. Companion car parking will be adjacent to the campgrounds and may or may not be in close proximity to your car camping spot.
These spots are NOT sold separately. This spot is NON transferable and will only be valid when used with a festival pass it was originally purchased with. Not valid unless purchased with a festival pass. You can't buy a valid camping spot alone.
TENT CAMPING
Standard tent camping in a 10×15 grass spot. You can have as many people camp in your spot as you can comfortably fit. Each tent campingspot comes with one overnight parking spot to leave your car.  One additional camping companion parking pass per camping spot is available for purchase. Companion vehicles will not be allowed to park in your tent camping spot. Companion parking will be adjacent to the campgrounds and may or may not be in close proximity to your camping spot.
CAMPING ESSENTIALS
Wristband & Camping Pass (this may be obvious, but don't forget em at home!)
Easy-up (for maximum shade)
Tent
Pillow
Sleeping bag or Bed sheet (sleeping bag may be too hot)
Beach chairs
Toothbrush/Toothpaste
Soap/Shampoo (there are washing stations, but get there as early as possible)
Deodorant
Chapstick
Sunscreen
Sunglasses
Comfortable clothes/One or two sweaters (nights get cold)
Charger(s)
Earplugs (luckily these were provided by DUB this year)
Tissues/Baby wipes
Hand Sanatizer
Excedrin/Asprin
Flashlight (not fleshlight, weirdos!)
Trash bag
BASIC FOOD LIST
Water
Beer
Fruit
Bagels/Cream cheese
Orange Juice
Granola bars
Trail Mix
Crackers/Chips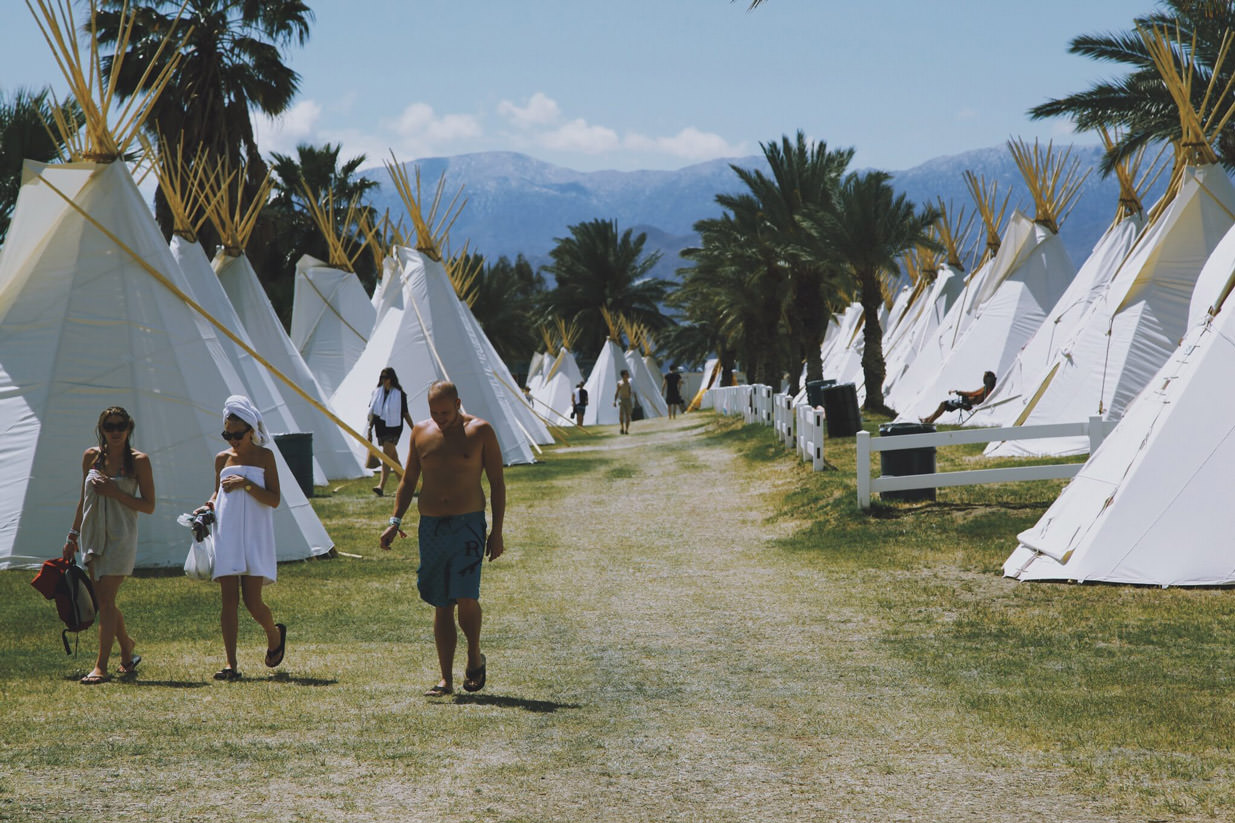 LAKE ELDORADO
This campsite is located in the serene setting of the redeveloped Lake Eldorado. Enjoy Coachella with flair.
Partiers of the exclusive Lake Eldorado enjoy all the standard camping amenities plus:
24 hour concierge service
Lake side benches w/umbrellas for group hangs
Free exclusive showers
Separate check-in location
Private access to porto potties & flushable toilets
Vehicle in/out privileges Thurs and from 2am-10am Fri-Sun.
Close proximity to camping store and food vendors
Games and activities throughout the grassy grounds
Lake Eldorado will only be accessible for Lake Eldorado campsite guests.
4 person tents will also feature additional hospitality amenities such as a cooler and chairs for your convenience.
Each reservation also comes with 1 designated parking spot in adjacent lot with drive in/out privileges on Thursday and also from 2am -10am FRI-SUN.
Each cot comes w/ a sleeping bag & pillow which are yours to keep or we'll donate any leftovers to charity (Coachella Valley Rescue Mission).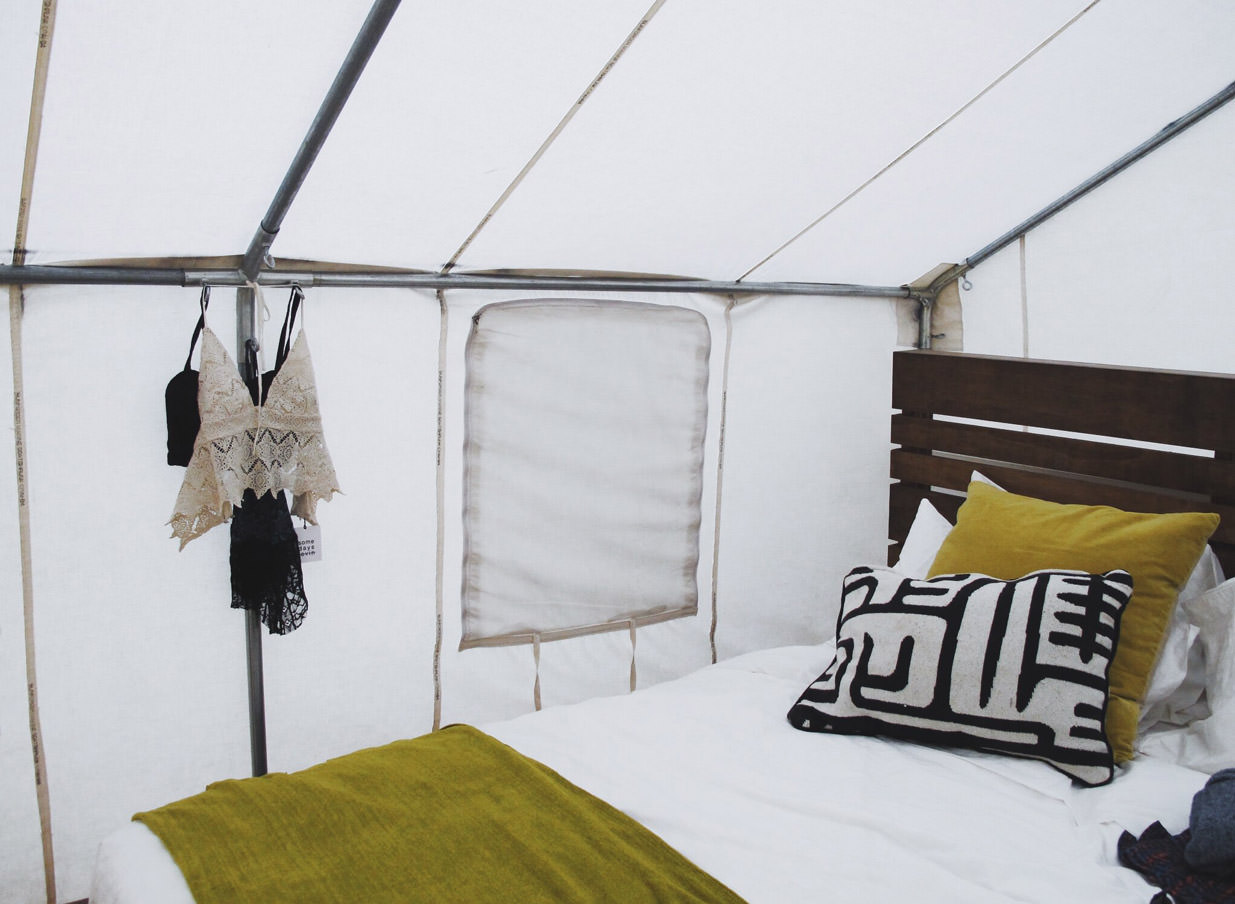 Safari Tents
This exclusive area includes:
Your own offsite private check-in
Fully furnished Shakir style tents with air conditioning
Restrooms & Showers
Golf cart shuttles to and from the stages!
Private parking lot adjacent to Safari Tent Camping
Drop off area for your gear
Breakfast and late night snacks
Onsite concierge
Dedicated security & secure fence lines
Outdoor chairs, shade tents + outdoor lighting
Games and more!
Safari Guest passes (backstage baby!)
These tents will be set up, fully furnished, and awaiting your arrival! Sold exclusively through Valley Music Travel.
Comments
comments
---