These days, music festivals aren't as pristine without a food line-up that is up to par. Its become a huge trend over the years to have an equally impressive culinary experience as much as a music experience. One festival that has gone above and beyond, is Coachella. They've created such an impressive experience for the mass of fans that attend the festival. Catering to essentially all options imaginable, its become the new identity of the Coachella festival itself.
For us, you know what that means. Its like Disneyland for adults. The happiest place on Earth, for two whole weekends (if you choose). Now it can be all fun and games, but when it comes down to it — these vendors don't play. As you would imagine, the prices are all at a premium.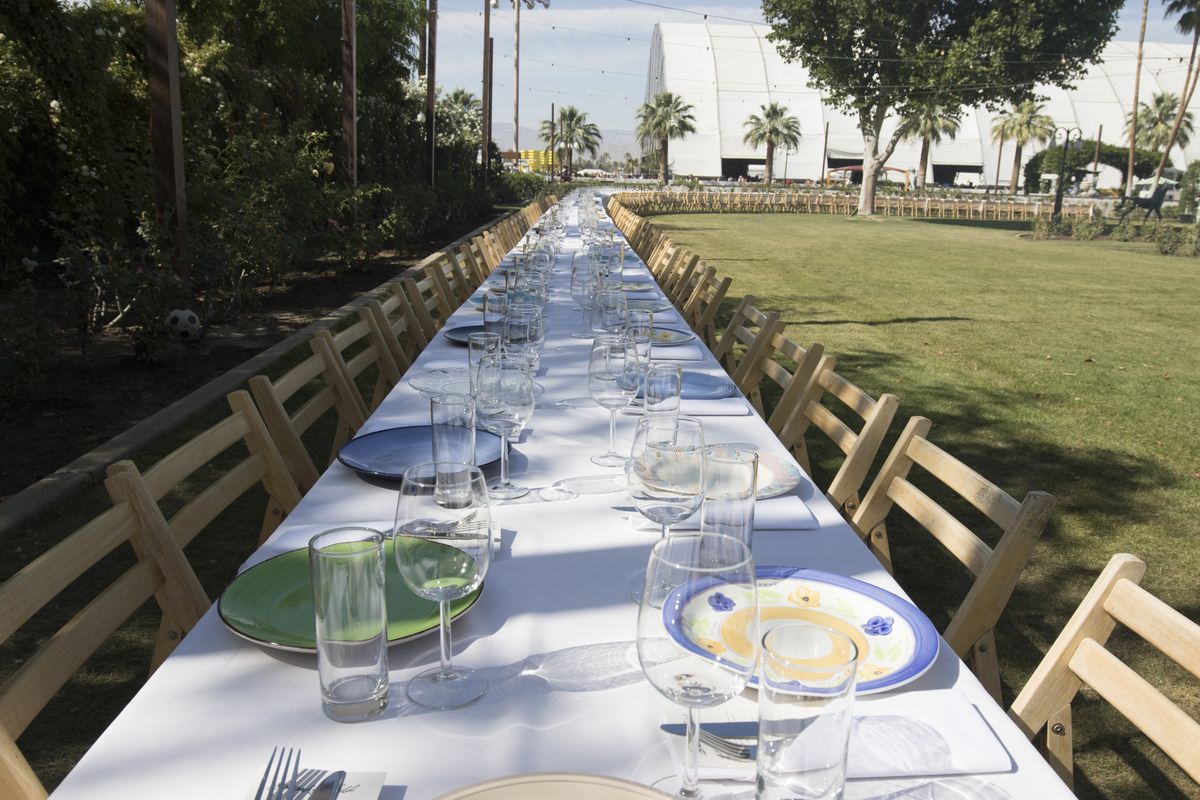 OUTSTANDING IN THE FIELD
Considering what options you decide to choose from, theres something for everyone. Outstanding in the field can be pricey, but your dollar goes a long way with the quality & luxury that they provide. Offering a 4-course meal prepared by a pair of top chefs all while dining in the beautiful Coachella Rose Garden. Also included in the welcoming package is a glass of wine, cocktail, and beer. Following your dinner, you have access to the VIP Rose Garden for the entire day. You can also choose from various packages, like 3 Day GA Pass + 1 Dinner for $624 per person. Dinner only options are also available.
RESTAURANT POP-UPS
Another fancy way to spend your food money is by experiencing the restaurant pop ups that Coachella has to offer. This year, there were three to choose from — Pok Pok, Commissary, and Rosaline. At these full-service pop-up restaurants you can sit down and order from their menu, sip on your drink, and wait as your server brings your food like they normally would at any restaurant. Now the tricky things about the restaurant pop-ups is that its limited to those who have VIP passes. It's a big price to pay, but if you already have a VIP pass than you might as well ball out, amirite?
VIP
If you're still riding the money train, then you probably spent most of your time doing what VIP's do. Enjoying food options like The Church Key, Hanjip KBBQ, Fritzi Dog, Free Range, Burgerlords, and Badmaash, just to name a few. Theres nothing like VIP food, but we wouldn't know — since we spent our Coachella just like most of y'all with General Admission. Don't worry, we'll get to that part of the food soon. Anyway, this year's food line up was top notch — and if you were there you were probably aware of how massive the food scene has become at Coachella.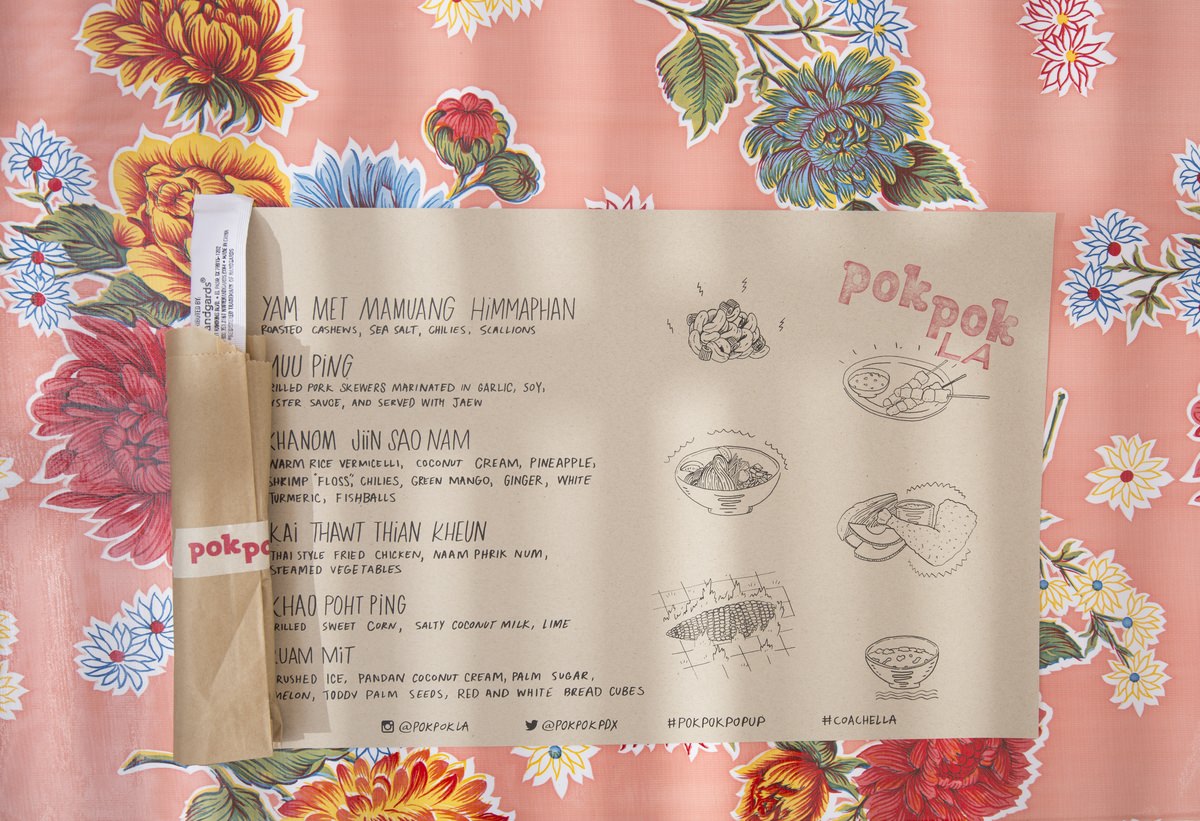 GA FOOD & BEVERAGE
As I mentioned earlier, we spent our Coachella experience with just a General Admission pass (apparently media wristband was useless) so chance are you're probably familiar with most of the places we're about to list. Like Free Range, GD Bro Burger, Pinches Tacos, Beer Belly, Eureka, Phorage, and Sumo Dog just to name a few. Spending most of our time over at the Beer Barn & Terrace — the food options were incredibly satisfying. Having personally eaten over at several that I just mentioned there were a few that were couldn't miss, and quickly became our favorite eats.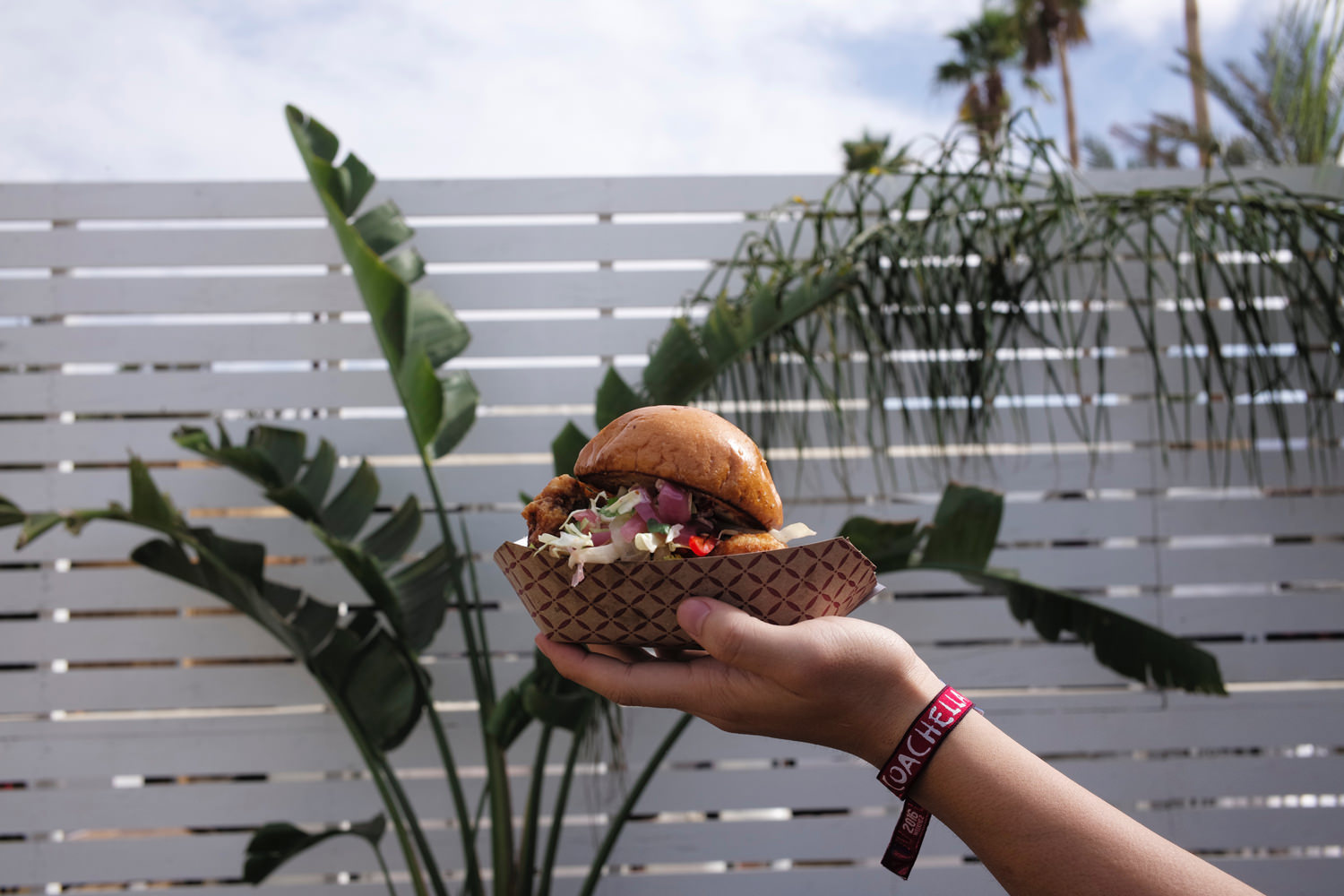 FREE RANGE
A returning favorite and a Los Angeles icon, the Free Range truck is one of those places that you just have to eat no matter where you find them. You could have just ate, realized that Free Range is parked outside, and you'll be forced to make room for some of the best fried chicken sandwiches you'll possibly ever have. Of course we had to make them our first food stop on day 1 of Coachella, and we went full circle. Some OG Fried Chicken Sandwiches, Avocado Toast, and Crispy Potatoes — if that doesn't sound like the Coachella dream breakfast than you might as well just close this post.
PHORAGE
Another favorite vendor that I enjoyed was Phorage. The Vietnamese eatery that has become widely popular, selling some of the best Bahn Mi sandwiches. Imagine, fresh, local, sustainable ingredients — all used in their menu. It was a nice shift from the traditionally heavy food we had been having throughout the weekend. The meal was light and insanely good. We had a Bahn Mi & Imperial Rolls both of which were respectably some of the best I've had. Considering it was my first time having Phorage, I'm already making plans to visit their restaurant ASAP.
BEER BELLY
One of those places where you just wanna be at, any given time of the day. The vibes that Beer Belly brings go hand in hand with the festival scene. Having a beer? Great, they have food to pair with that. Oh, they brought their own bar? How are they not in VIP cause it felt like a VIP experience. We only had some small bites, but thats only because we were too stuffed to have some of the good stuff. Offering plates like Buffalo Wings, and of course Pork Belly. I know, we missed out on the good stuff. But we're just happy to know they're close by located in Koreatown.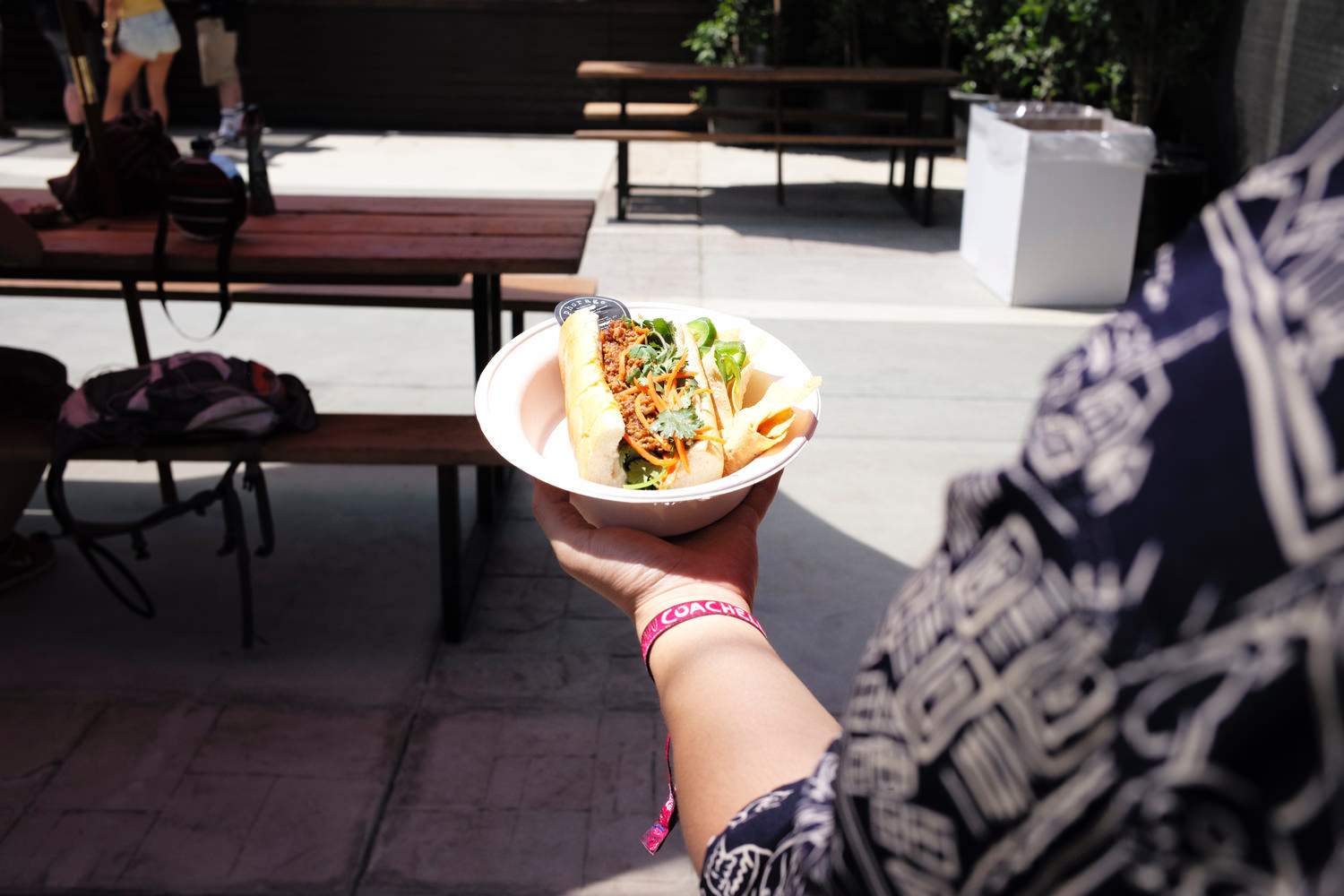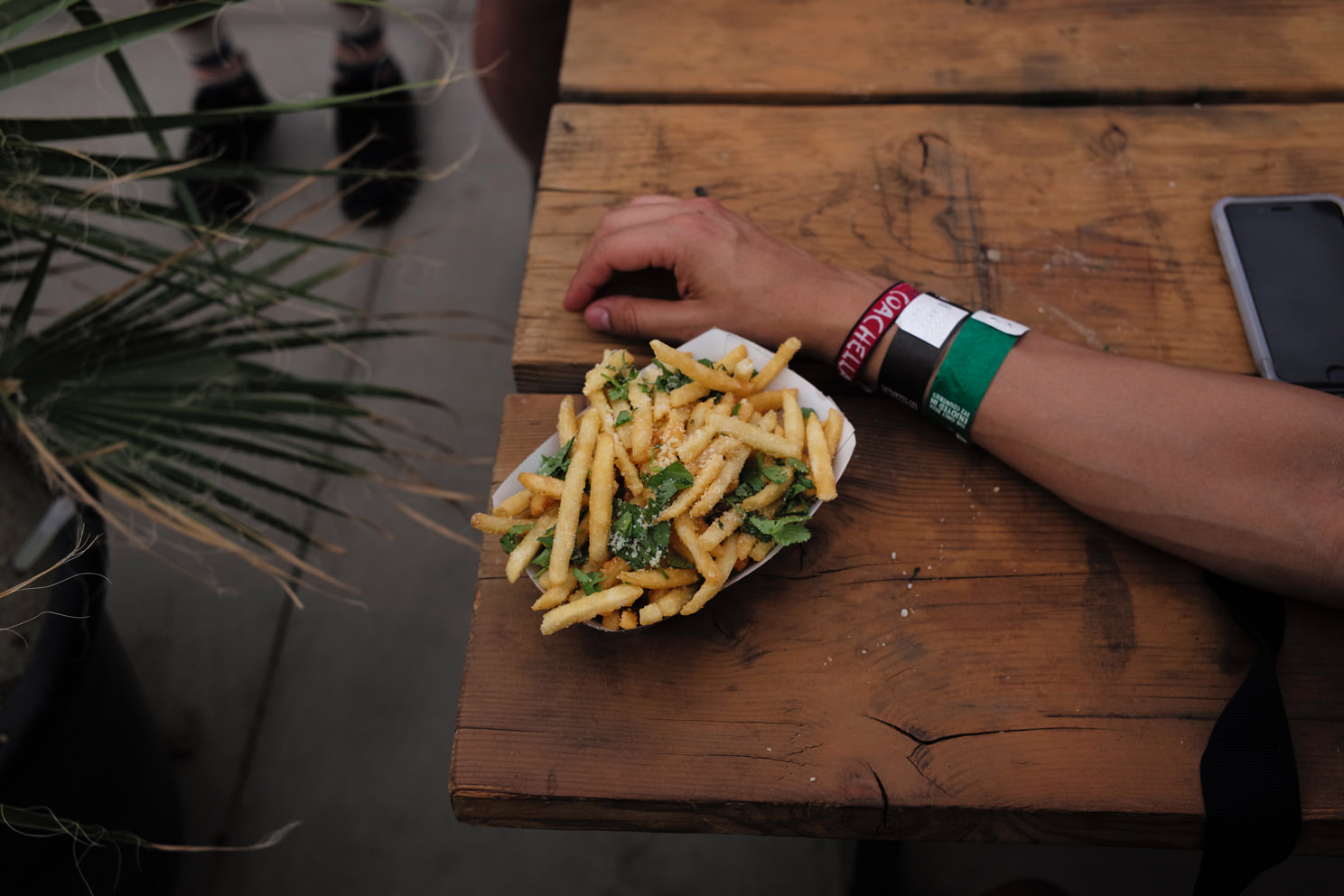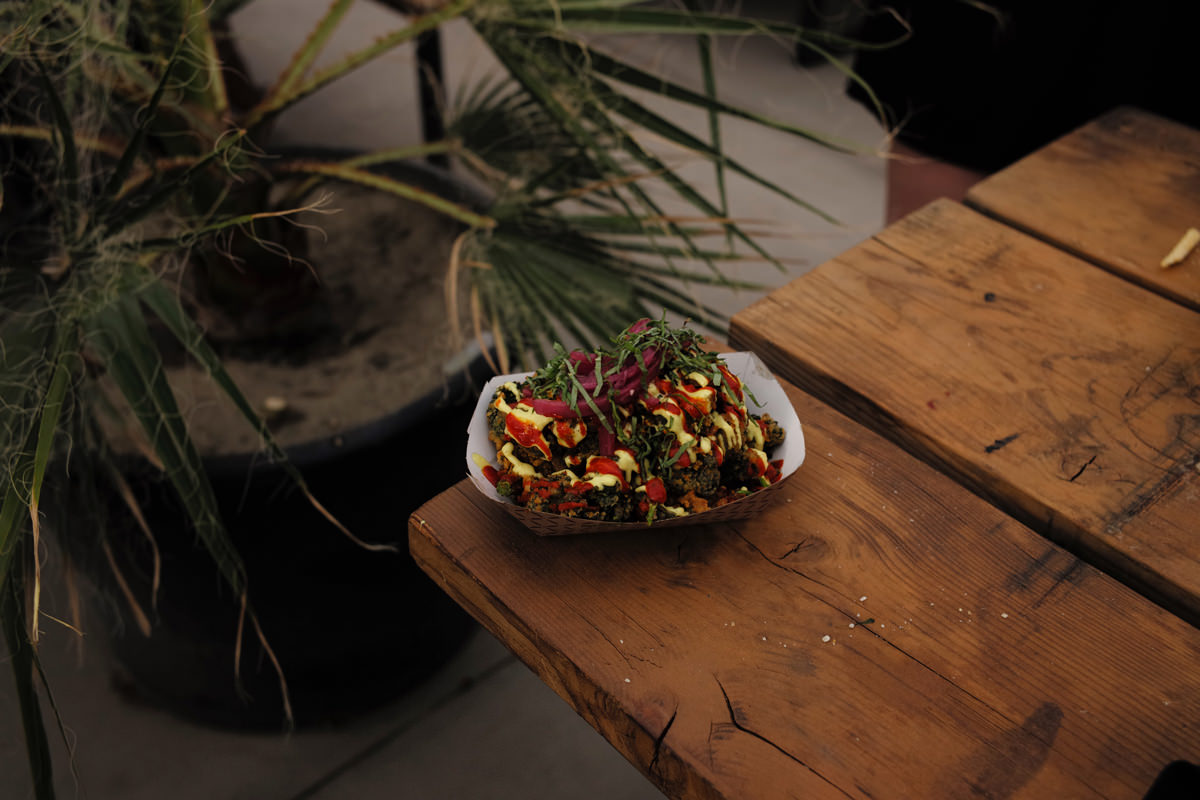 GENERAL EXPERIENCE
The general atmosphere over at the Beer Barn & Terrace was as Coachella as it gets. People having fun, eating, drinking, and trying to keep cool from the sun. If you needed a break at all, you probably sat under some shade with some drink (non-alcoholic) in hand. There was a lot of watermelon being eaten throughout the festival, and of course drinks. Craft cocktails were provided by many vendors, but none as cool as the secret pop up Cabin by the Houston Brothers. Located just inside the Beer Barn, it was an unfamiliar guest sitting nicely in between the other vendors. The unannounced surprise was as Houston as it gets. A woods-like cabin themed bar which many guest (21 & over) had the luxury of enjoying.
Also worth noting, most if not all vendors were required to use Square to accept credit/debit payments which made the entire weekend soooo much easier. You didn't even need your wallet, all you really needed was your phone — and these days who doesn't have that. Apple Pay was accepted with the new square readers that almost ever vendor had, if that isn't as convenient as it gets than I don't know what is. Hats off to Coachella and the vendors for yet another great year in the festivals history. We can't wait to see next years lineup.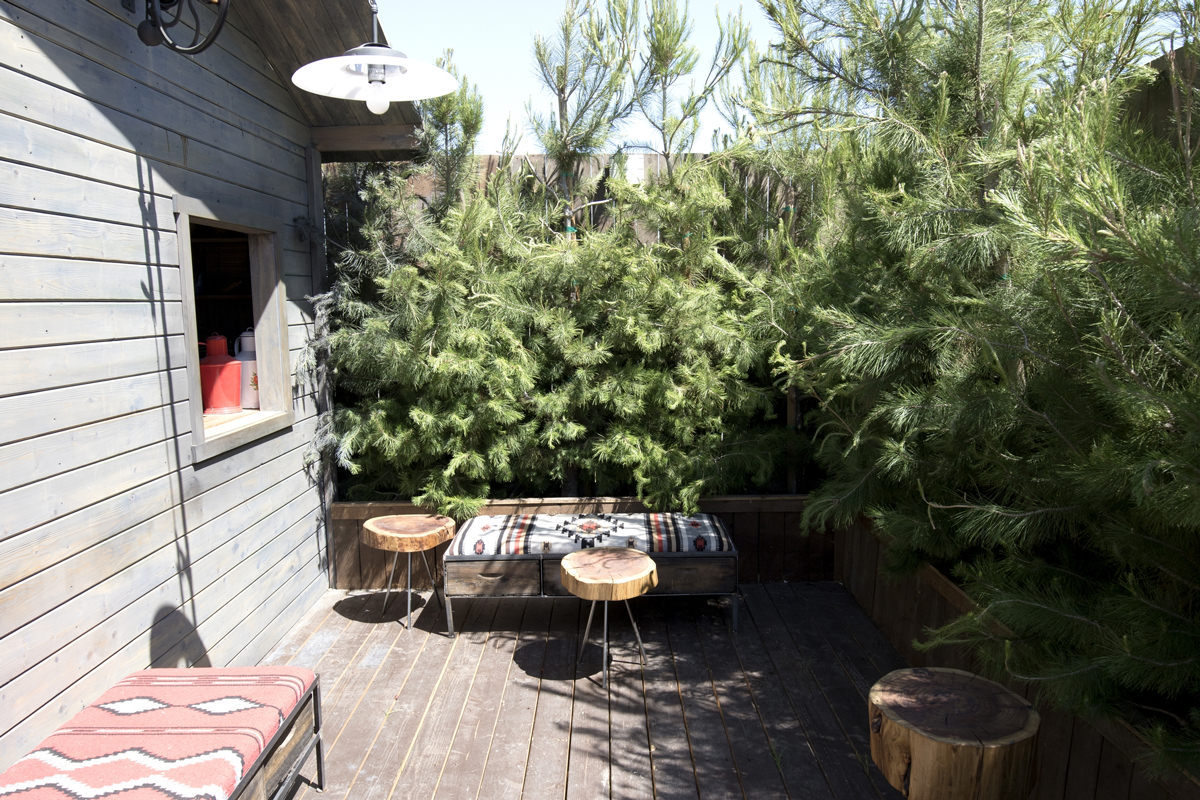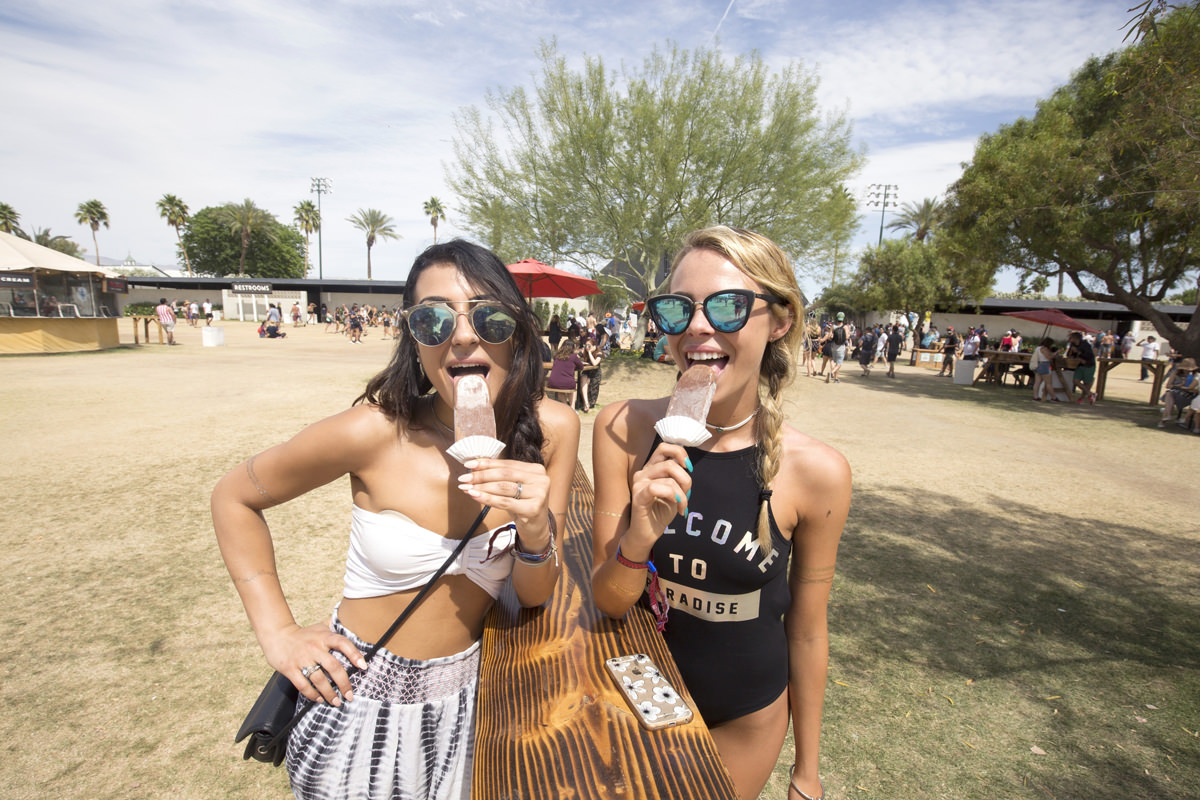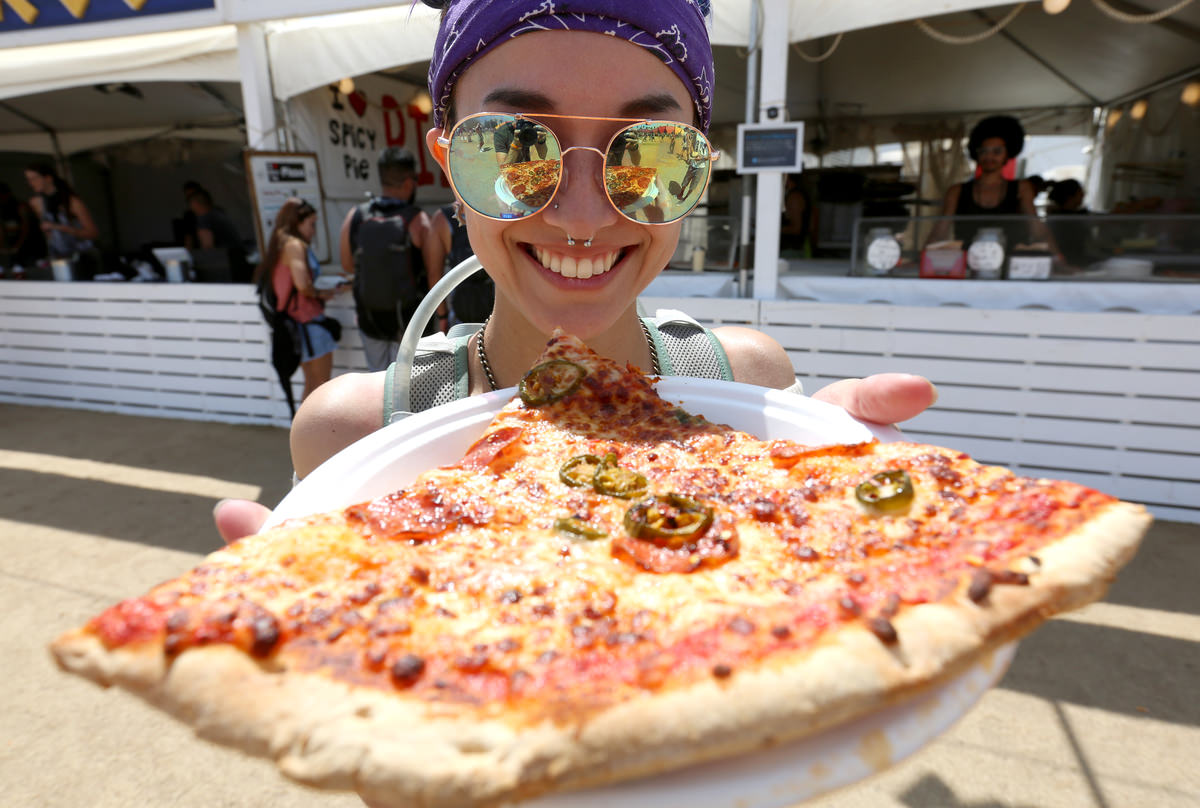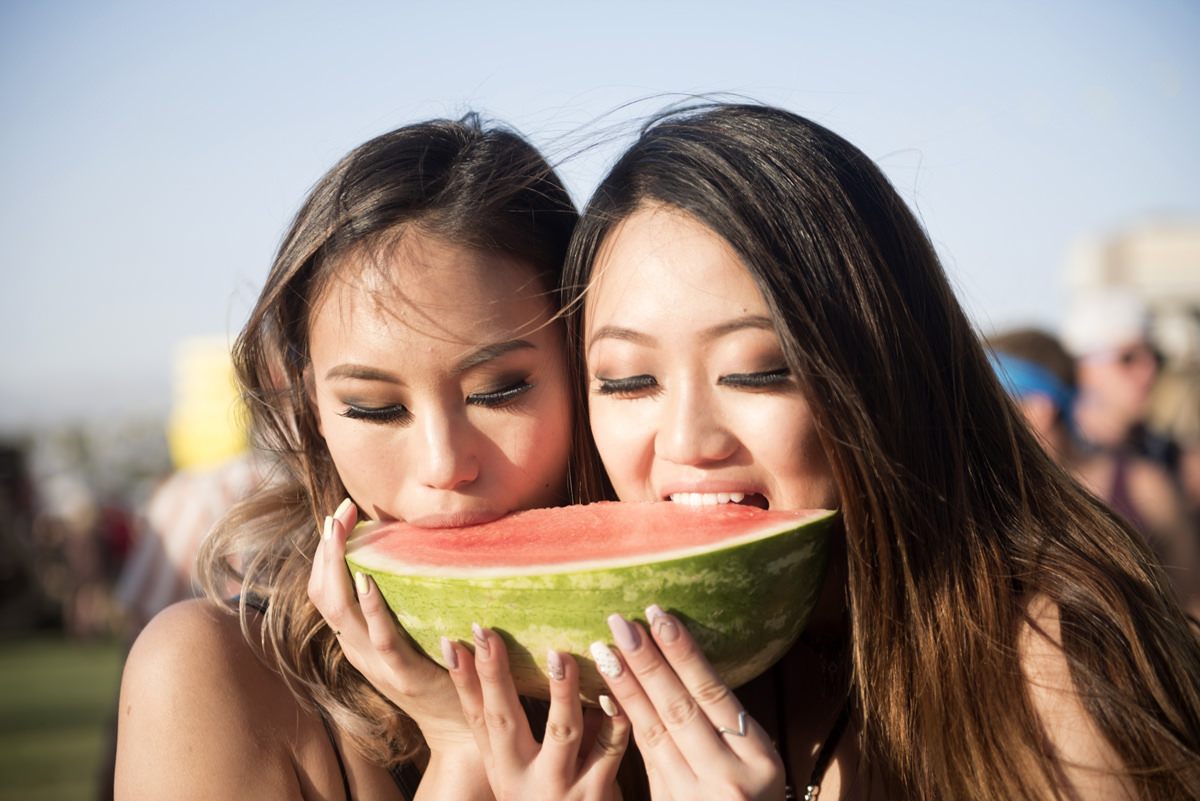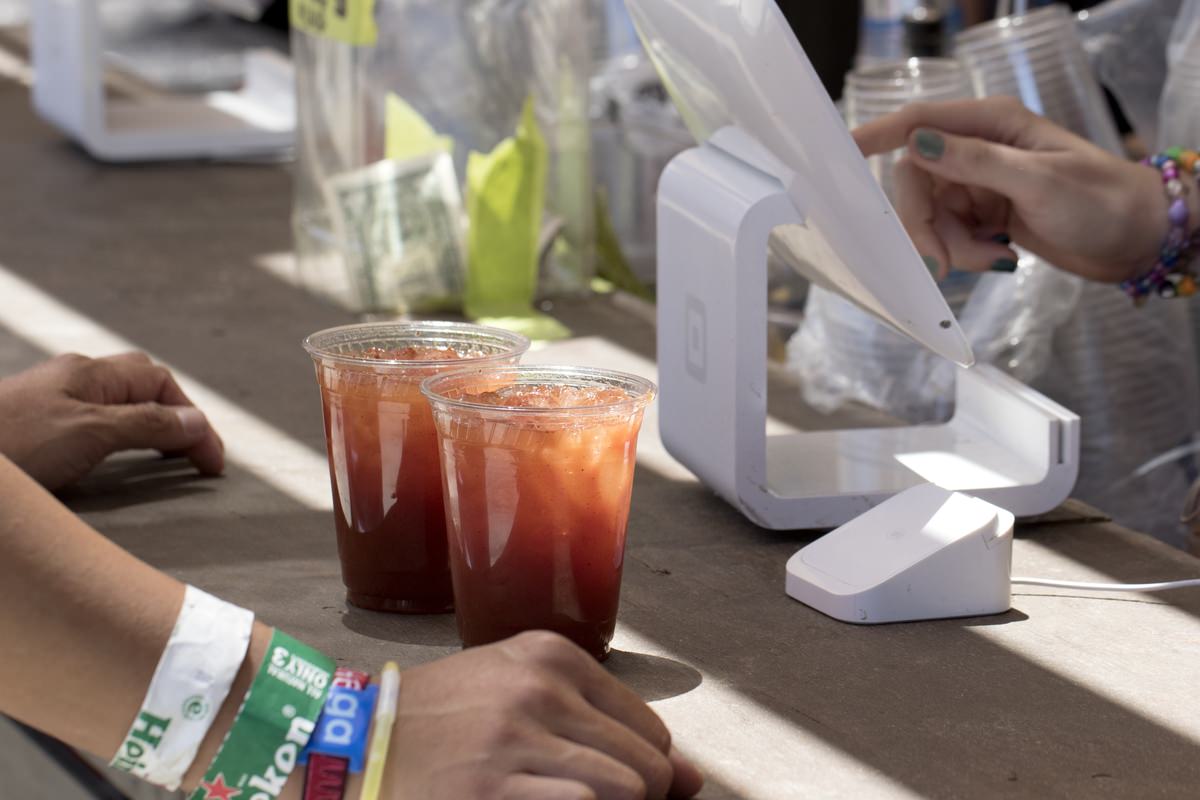 Comments
comments
---