ACTIVITIES
Coachella weekend is the weekend that we all wait for every year. If it's your first time, you don't really know what to expect. If you're a returning fan, it's a long eager wait. If you just got through our camping post then you're more than likely going to have the full experience of walking around the camp grounds and enjoying all the activities and amenities Coachella offers. Thursday always sets the tone for Day 1 and the rest of the weekend. With music parties like the Not-So-Silent Dance Party (9pm-1am), Silent Dance Party (1am-end), and The Turn Down (11pm-3am).
Aside from all the musical fun outside the festival, theres also a lot of activities to keep the party going all weekend long. Things like pie eating contests, joke contest, hula hoop contest, water balloon toss, glow in the dark dodgeball, and limbo contest.
The activities tent is also filled with great competitive games like Giant Jenga, Ping Pong, Twister, and free Pinball/Arcade games. You can also spend your time playing in a life size game of Foosball. Its all fun & games at Coachella — especially if you find yourself camping. Take full advantage of what Coachella has to offer, its free!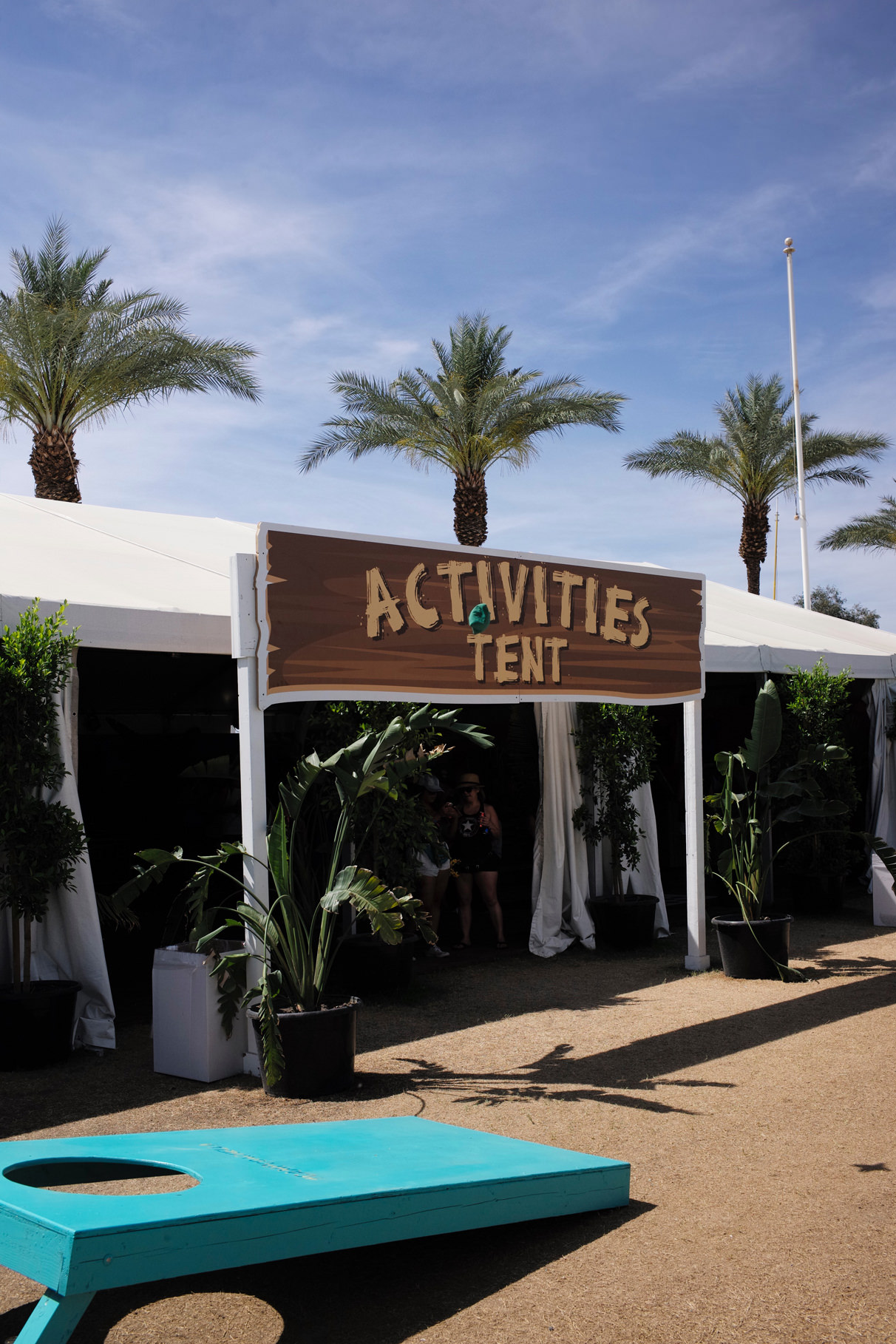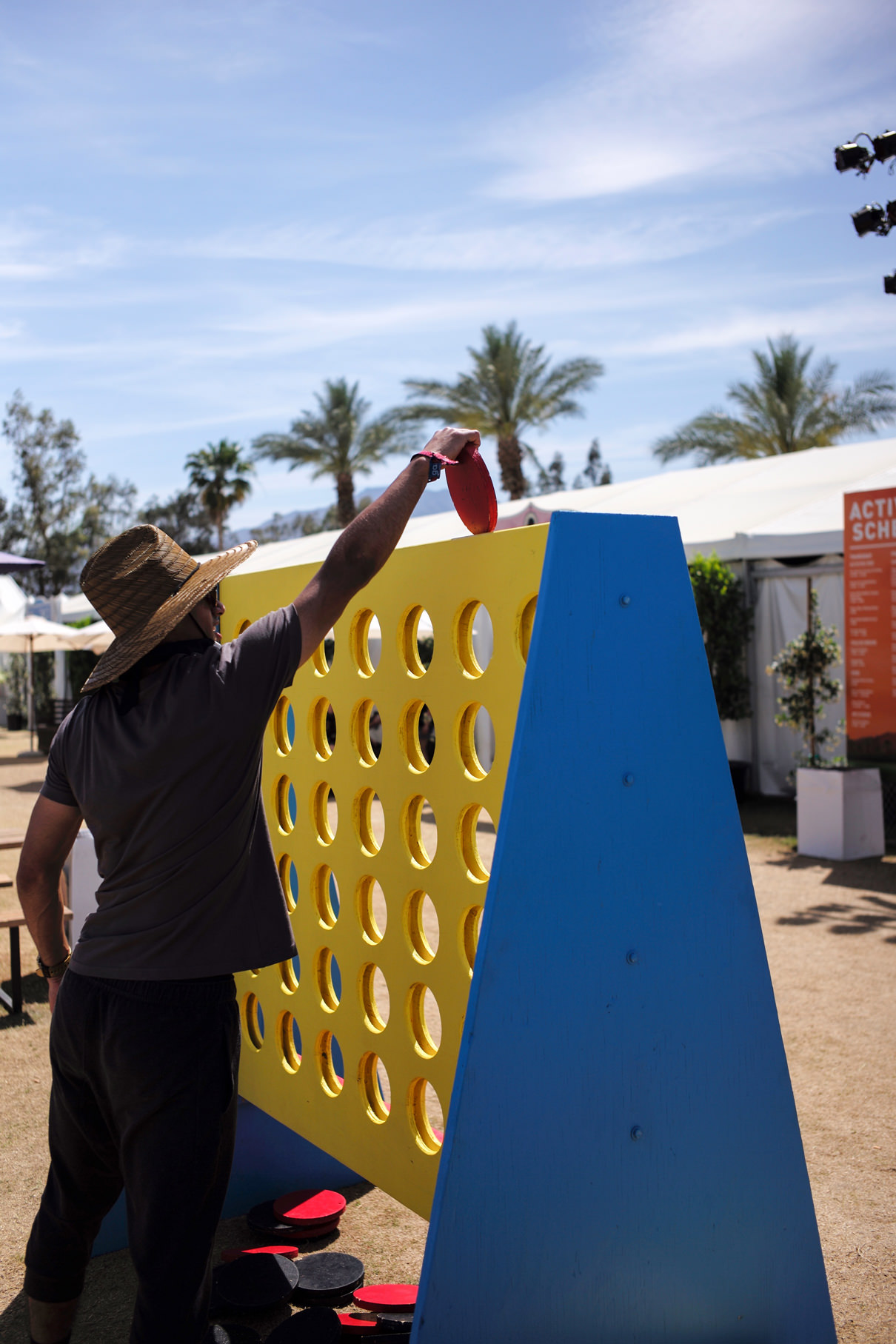 ART
Every year Coachella treats us to some of the best art installations imaginable. Always scaled larger than life, the installments help bring the festival to life. Yeah, they might be great for photo-ops, but they're also a good reminder to stop and take it all in once in a while. Then again, they're also really good for some shade which will be a nice break from the sun that hits the festival all day long. Regardless of how you look at it, the art at Coachella is always outstanding. You almost look forward to what they'll be displaying every year. I mean, it is called Coachella Music & Arts Festival.
The Tower of Twelve Stories (click to expand)
Jimenez Lai courses fearlessly and thrives somewhere in the space between architecture and comic book art. The Taiwan-born architect's Downtown Los Angeles firm Bureau Spectacular focuses on experimenting with design through storytelling. The Tower of Twelve Stories is essentially a full-scale section model, a 52-foot-tall structure peeled open from top to bottom to expose the interior action. Its modules come together not in exacting cubes, but rather in cartoonish spaces of different shapes, some barely touching and others snug in place.
The installation responds to Rem Koolhaas' notion of the "typical plan," or generic sameness, of Manhattan's skyscrapers, a wholly American architectural archetype that presumably adapts to any kind of business that occupies it. Lai offers a more animated vision: a cartoonish metropolis of tiny bubble-like spaces populated by eccentric characters. The title of his four-story structure traces to the Leonard Cohen classic "Tower of Song," whose lyrics refer to observations — "coughing all night," "they don't let a woman kill you," "you hear these funny voices" — in the "tower of song."
The design also takes into consideration skyscraper architect Louis Sullivan's theories about tall buildings, particularly their tripartite stack (base-shaft-crown) composition based on the classical column to emphasize its height. In The Tower of Twelve Stories, Lai composes a story within cartoonish architecture with oblique surfaces that play with the viewer's perspective. It offers no podium, no crown, and no neoclassical features, but only its nakedness to focus all attention on the activity inside.

Constructed with a 20-foot-tall steel table as its base and a body of lumber and wire-cut foam clad in plywood, the white-painted structure comes alive, especially at night with dramatic embedded lighting design and projected images.
Designed with the festival audience and hot climate in mind, The Tower of Twelve Stories casts a long shadow that serves as a canopy during the daytime. Since its 2008 inception, Lai's Bureau Spectacular built the monumental White Elephant, now in the permanent collection of the Museum of Modern Art in New York, as well as the Taiwan Pavilion at the 2014 Venice Architecture Biennale. Lai, a faculty member at UCLA, also won the 2012 Architectural League Prize for Young Architects and the inaugural Millenium BCP Lisbon Triennale Début Award in 2013. In addition to artful architecture, he continues to create architectural art like his first manifesto, Citizens of No Place, playfully exploring the aesthetic conditions of architecture and urban spaces.
The Tower of Twelve Stories is his largest project to date.
Comments
comments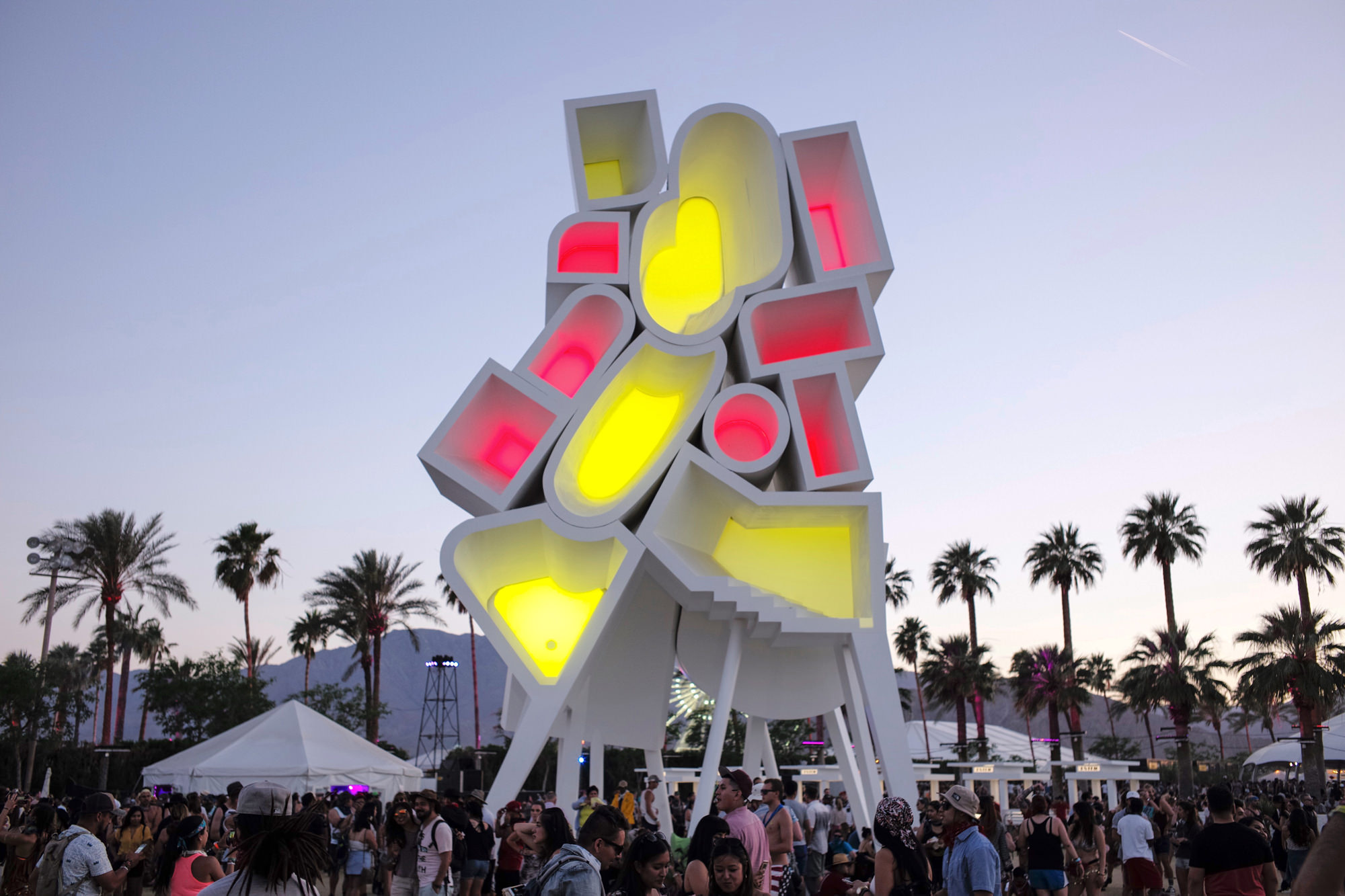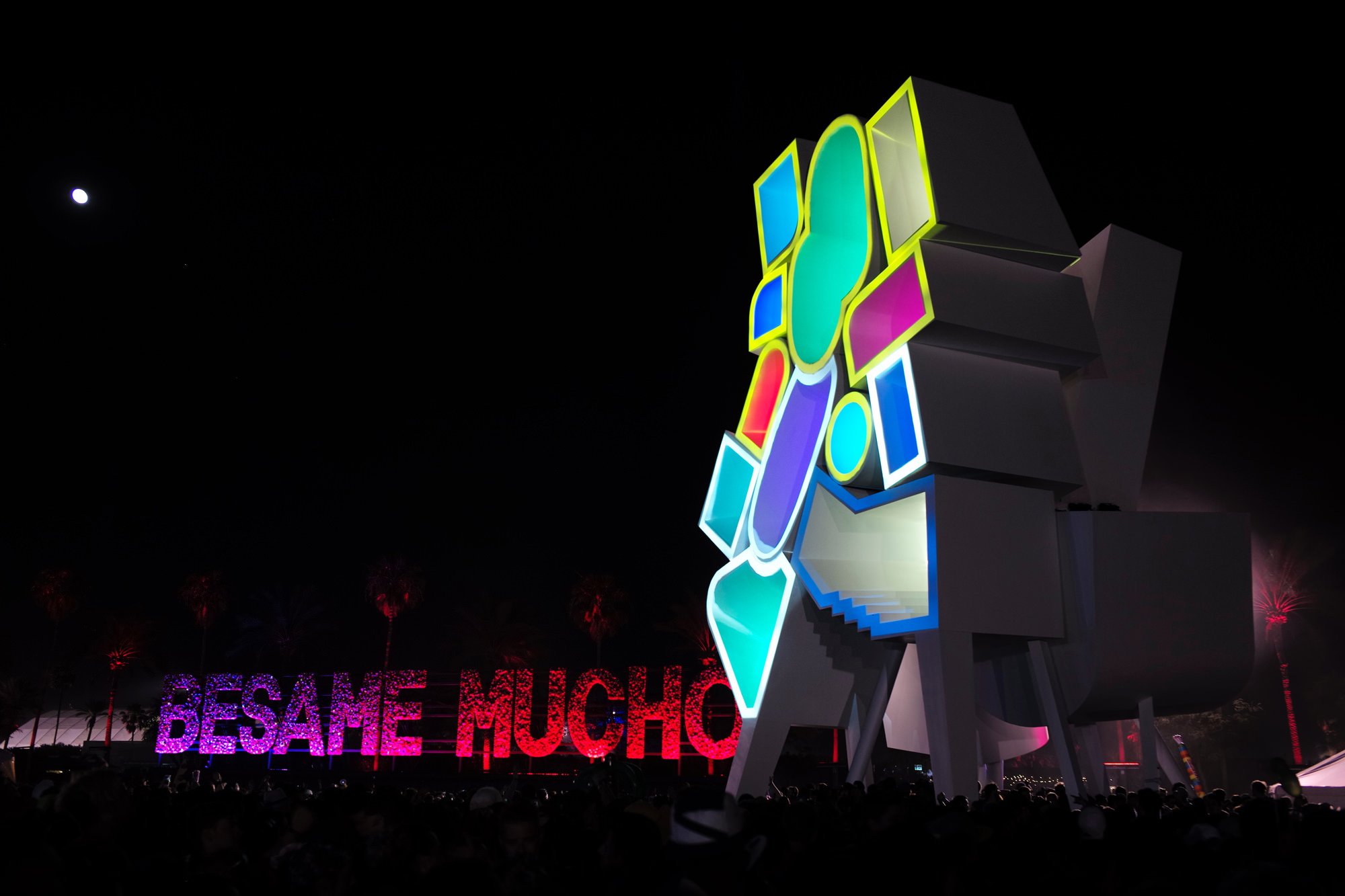 Katrina Chairs (click to expand)
Chairs can be stationary or they can recline, swivel, or even roll on wheels. They can be objects of visionary design or mundane practicality. But they have at least one common trait: They are constructed to seat one person comfortably above the uncertainties of what lies below.
With Katrina Chairs, on the other hand, Cuban artist Alexandre Arrechea imagines a bigger, more significant purpose: to elevate an entire community.
Like many of Arrechea's sculpture and installation works, Katrina Chairs began with a watercolor painting, A Few Days Before Katrina (Diálogo). Practical and immediate, watercolor is the artist's primary medium. He cherishes the watercolor as the only part of his process that he shares with no other hands. His "Katrina" series includes the watercolors Levitate, Aire Húmedo, and Dialog II, each depicting the theme he realizes in Katrina Chairs. The titles refer to the hurricane in 2005 that slammed the U.S. Gulf Coast with winds of up to 127 miles per hour. Its flooding caused the breaching of some levees in New Orleans, leaving parts of the city under water and uninhabitable.

In 2008, when the city introduced Prospect.1, a biennial contemporary art exhibition, Arrechea was among the 81 artists selected to participate. His installation, Mississippi Bucket, was a large-scale pale mimicking the shape of the Mississippi River and constructed with driftwood salvaged from it waters after the storm.
With Katrina Chairs, he imagines a structure that lifts the community from the danger and encourages a dialog about the purpose and possibilities of space and design. He constructed the four Katrina Chairs with steel I beams covered with plywood. Each supports one side of an improbably situated building, a Dadaist juxtaposition that jolts viewers' sense of proportion. At 50 feet tall and 19 feet wide, the installations create a surreal environment that communicate a story and offer shelter from the sun in their deep shadows.
Arrechea, a 1994 graduate of the Instituto Superior de Arte in Havana, was a founding member of the collective Los Carpinteros. In addition to his massive solo installations — including a 15-foot spinning that a child can spin with one hand and a tree sculpture with surveillance cameras on its branches that project images of passersby — he has exhibited at Nara Roesler Gallery and the Bronx Museum in New York, as well as Espacio Derrotado at Casado-SantaPau Gallery in Madrid, Spain. His work is in the permanent collections of the Brooklyn Museum in New York; Museum of Latin American Art in Long Beach, California; Museum of Contemporary Art in Los Angeles; Daros Collection in Switzerland; and the Museo Centro de Arte Contemporáneo Reina Sofia in Madrid and Spain's Centro de Arte Caja de Burgos.
Comments
comments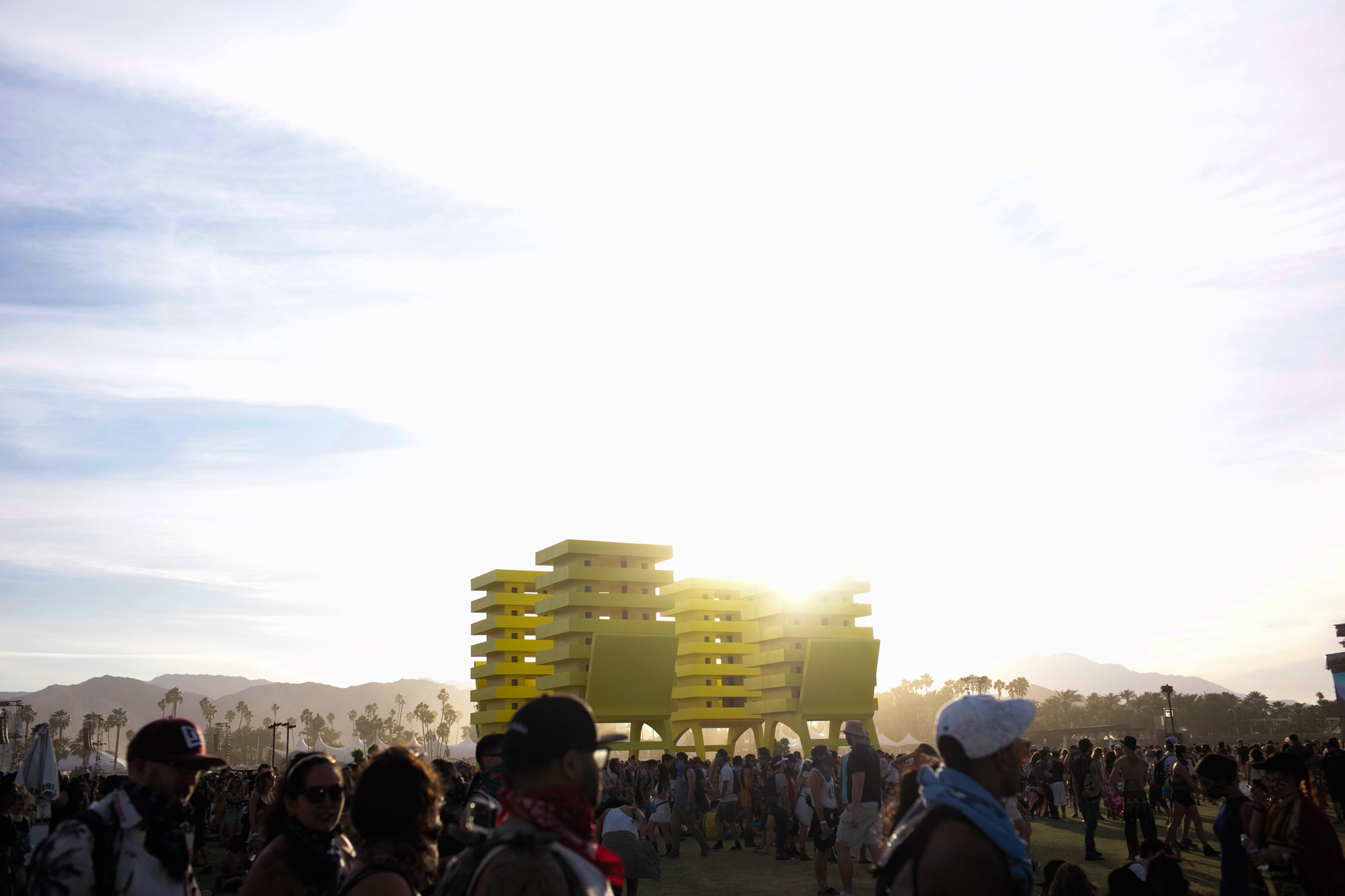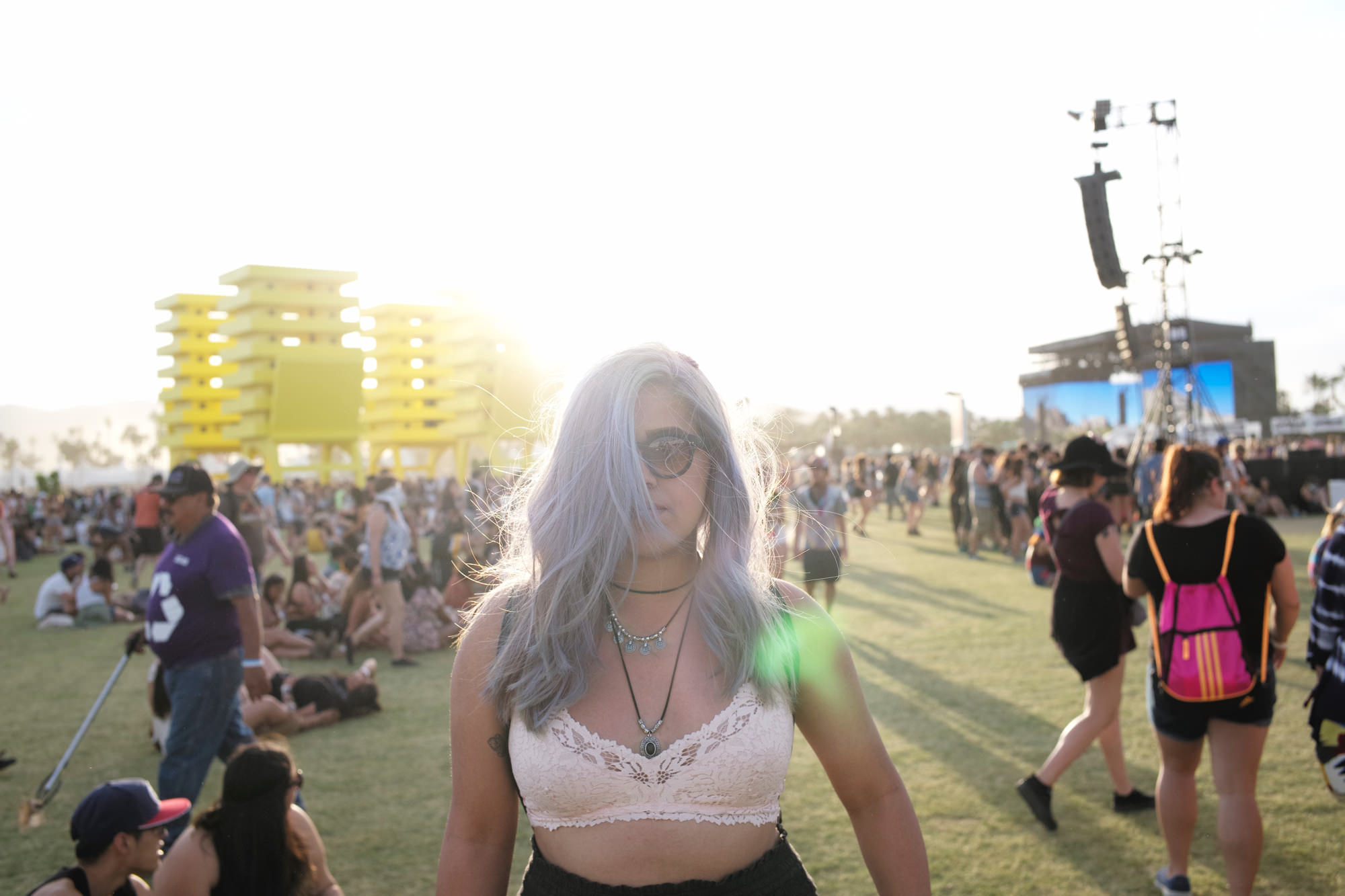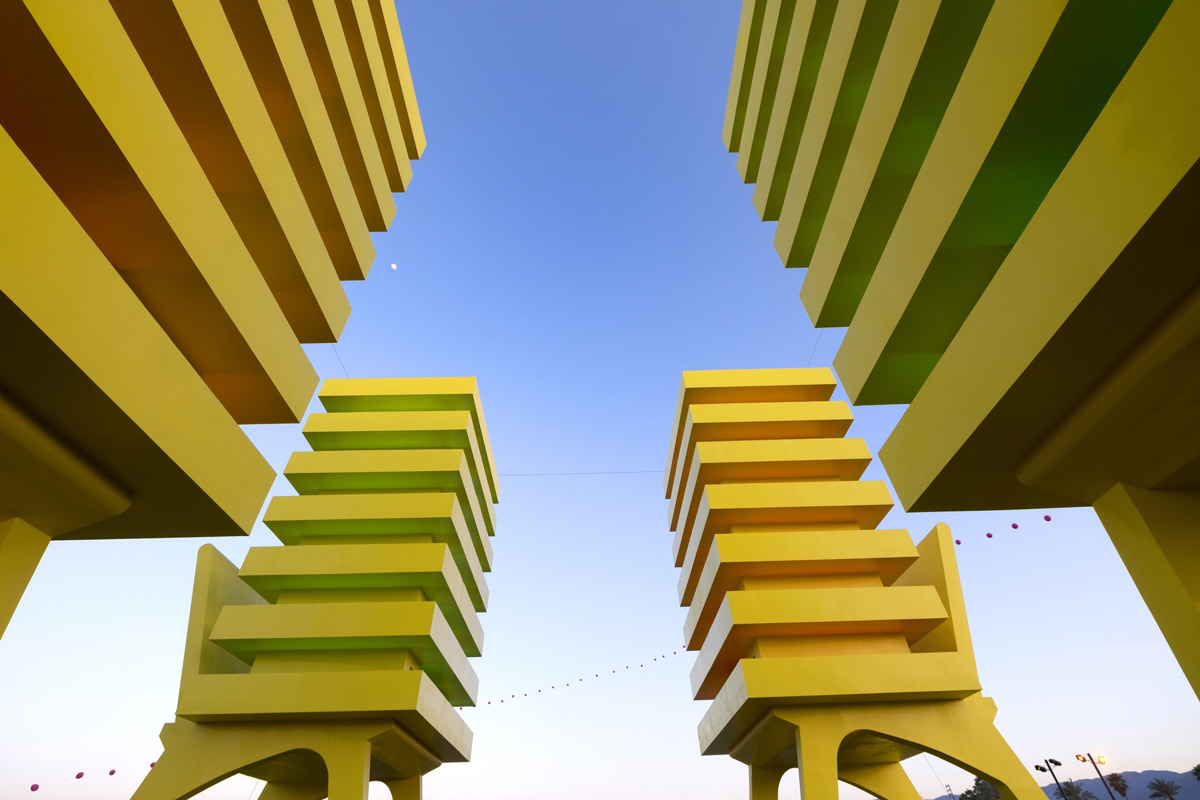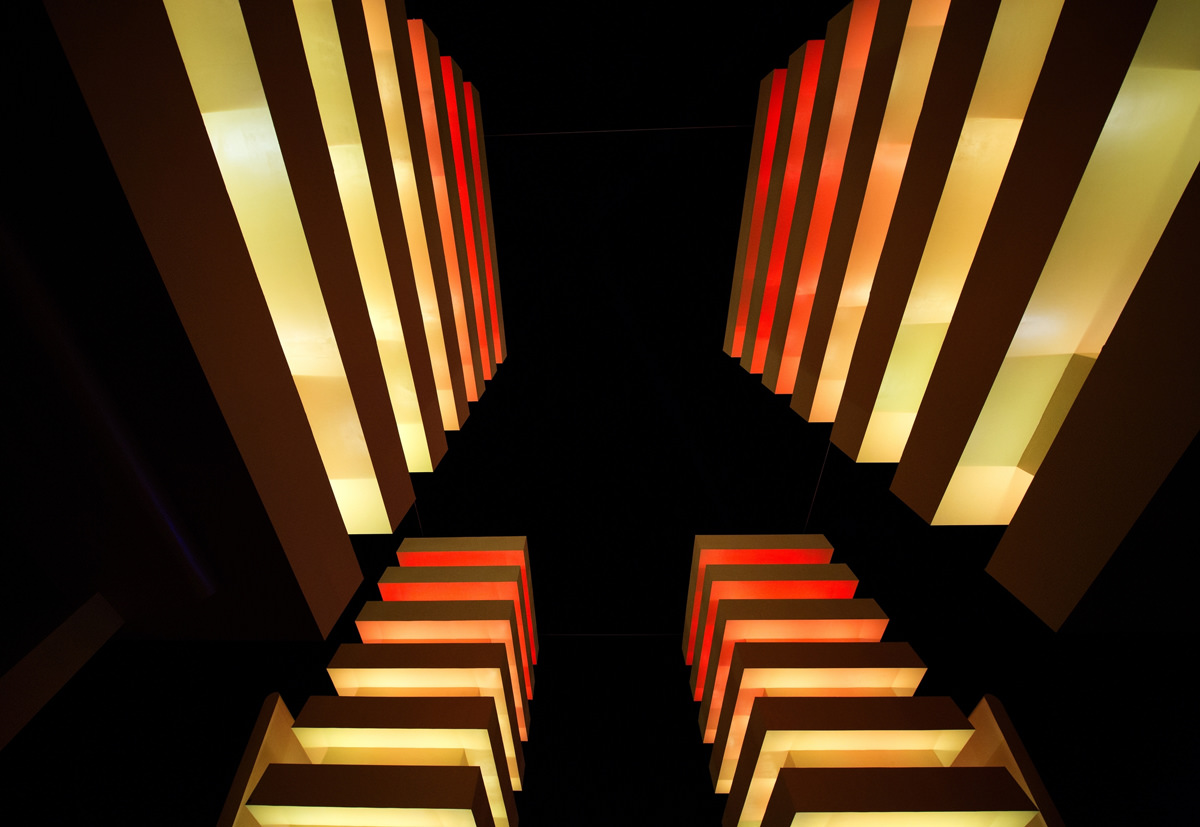 Sneaking into the Show (click to expand)
Often feeling like outsiders in their own hometown, Coachella-based artists Armando Lerma and Carlos Ramirez, who collaborate as The Date Farmers, have titled their installation Sneaking Into the Show. For the artists — whose paintings, constructions, and installations reflect the lives and traditions of the area's Mexican farmworker community — the title suggests the only way most of their neighbors could ever experience the Coachella Valley Music and Arts Festival. To a certain degree, they also feel like party crashers. And they hope the title will show the audience a small slice of the life only a few miles from the perfectly manicured festival grounds.
During the last year's festival, Lerma and Medvin Sobio spearheaded Coachella Walls, an ongoing mural project that invites artists to celebrate the laborers and their families who dominate the population of Coachella. The Date Farmers painted their mural, which commemorates the 1965 grape boycott, on the side of the historic Casa del Trabajador, where farmworkers received services and Cesar Chavez once spent a night.
Their work asserts a Chicano pop art aesthetic, infusing a graphic and collage style that evokes Jean-Michel Basquiat and Robert Rauschenberg and razor-sharp content that brings to mind the Mexico-born San Francisco artist Enrique Chagoya, whose paintings and prints integrate pre-Columbian mythology, Western religious iconography, and U.S. politics and pop culture.

Sneaking into the Show, a 30-foot-tall figurative sculpture constructed of painted wood, is The Date Farmers' largest installation to date. It consists of two figures and a low-rider bicycle. They based the male figure on Lerma's cousin who died last October. Lerma describes him as a Coachella stereotype who ran with a gang in the '80s, spent time in prison, and liked tattoos. He was also an artist. His art was about real people, and he was telling a real story. But he also had cancer.
The male figure in this installation has several symbols, including a rose and a spider, as well as a desert scene on his back. He stands to the side of the platform on which the female figure stands with the low rider. The artists will illuminate the sculpture at night. Lerma and Ramirez are self-taught artists who met in 1998 when they were selected to show in a local group exhibition. They have since collaborated and exhibited their work at the Oakland Museum of California and Palm Springs Art Museum, as well as galleries in Los Angeles, New York, and London.
Their work values not only collaboration, but also scavenging and salvaging signs, wood, corrugated cardboard and metal, and other desert detritus they spin into colorful, meaningful artwork that expresses the life of the working class in the shadows of so many luxury resorts and spas.
Comments
comments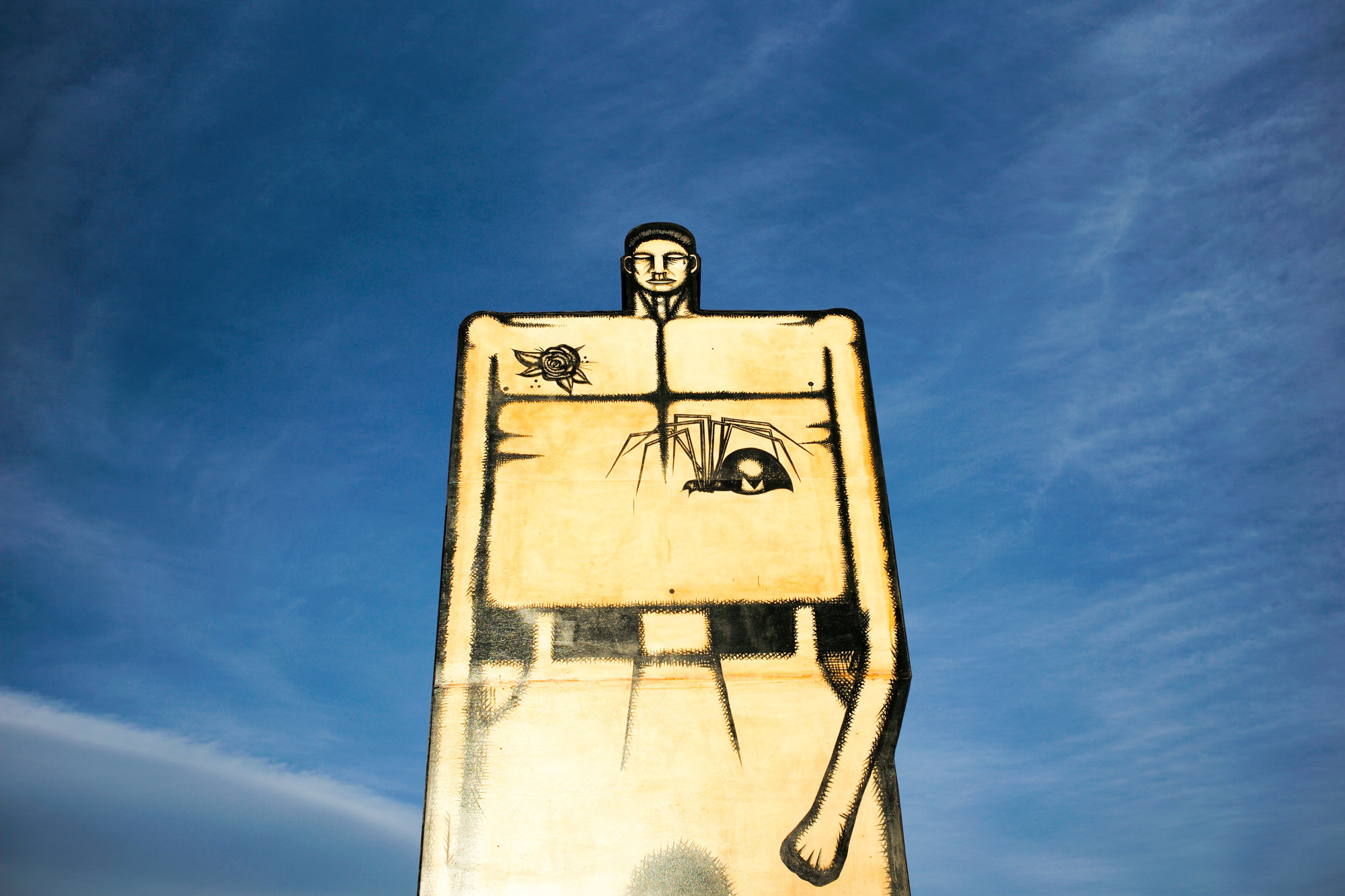 Portals (click to expand)
About two years ago, Phillip K. Smith III refaced a 70-year-old homestead shack near Joshua Tree, alternating existing wooden and newly mirrored bands to create the illusion of transparency. He also mirrored the door and window spaces to reflect the environment by day and fill with progressive LED-produced colors at night. Photographs of Lucid Stead went viral on social media, claimed covers of magazines and newspapers, and propelled the artist's visibility.
It was a tough act to follow yet Smith — born in Los Angeles and raised in the festival city of Indio, California — built a monolithic installation at the 2014 Coachella Valley Music and Arts Festival. Reflection Field, consisting of a two-story-tall mirrored rectangle and four smaller mirrored squares, reflected the movement of people in the desert environment in daylight and then drenched the night in bright progressing colors powered by LEDs.
Fascinated and inspired by the desert's phenomenal light, Smith advances the work of California's Light and Space pioneers of the late 1960s and '70s, particularly James Turrell and Robert Irwin. The idea of interacting with light and the sun traces to Smith's earliest works after studying art and architecture at Rhode Island School of Design.

His new installation, Portals, combines ideas from Lucid Stead and two series, "Lightworks" and "Light + Shadow," that he recently exhibited at Royale Projects in Los Angeles. The all-white pavilion is a ring, 85 feet in diameter, with outer walls of 3-by-3-inch mirrored stainless steel columns angled toward the center and reflecting a fractured view of the sky and crowd moving on the festival landscape.
From inside the pavilion, the mirrored columns reflect the progressing colors generated by the 6-foot-diameter portals in each of the structure's eight 10-by-10-foot volumes. Each portal has its own color sequence, although they periodically sync and dissipate into a single experience.
Smith' intimate, immersive experience with color and light also provides an oasis of shade and shelter at the festival. The pavilion contains a 35-foot-tall illuminated mesquite tree, seating, and grass spaces where visitors can stop, hang out, and spend time with the piece. Portals encourages one's individual alignment with the light, pace, and solitude of the desert. After only a short time in the pavilion, the stages seem a world away.
Comments
comments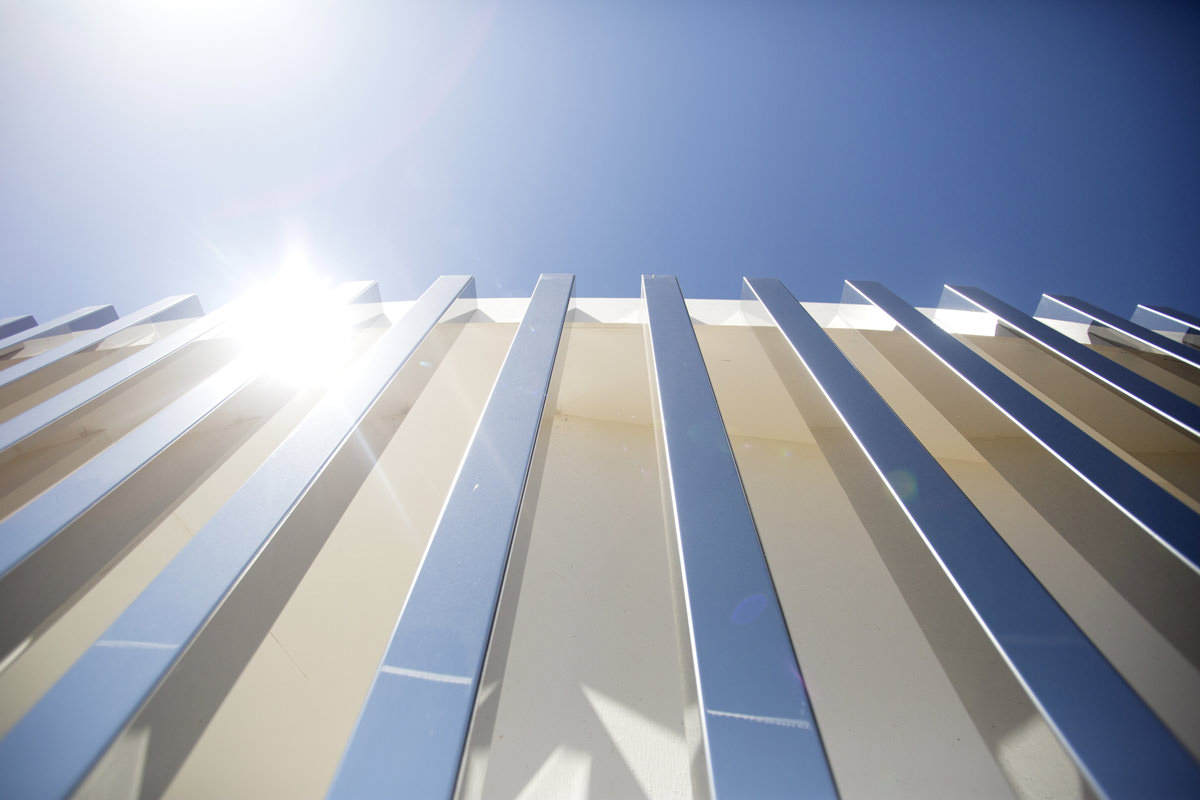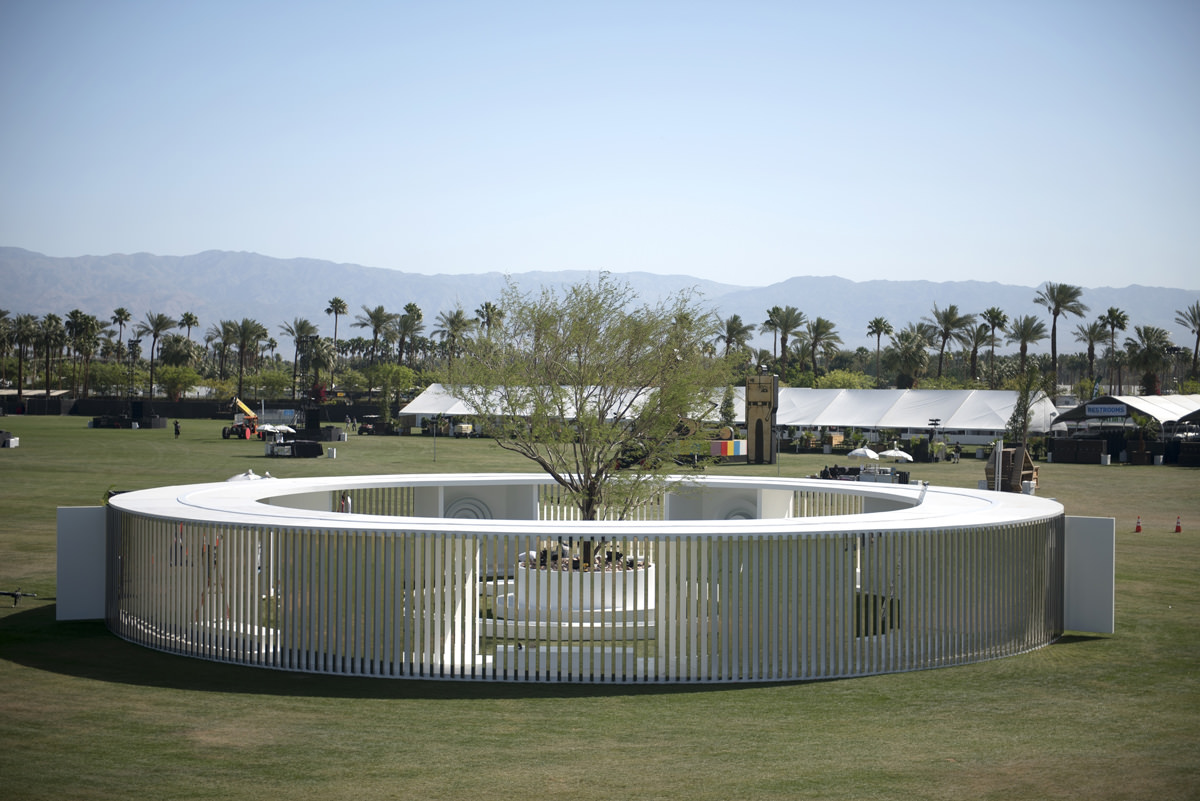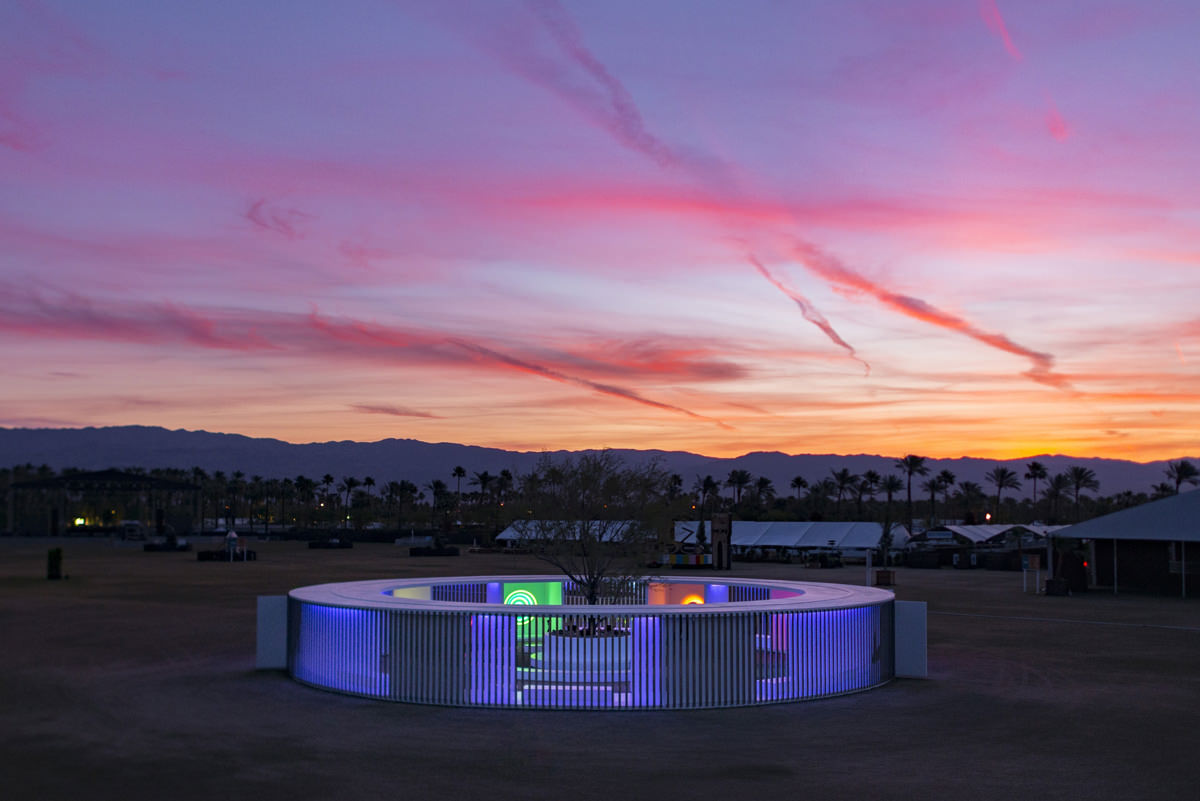 Besame Mucho (click to expand)
¡Bésame Mucho! It's a boldly intimate and wildly exhilarating sentiment. In 1940, Consuelo Velázquez, a teenage songwriter who thought kissing was a sin, parlayed the adoring phrase into Mexico's most popular bolero, recorded first by Emilio Tuero, famously by Lucho Gatica, and later by scores of others, including Tino Rossi, The Beatles, Herb Alpert, Plácido Domingo, Diana Krall, and Andrea Bocelli.
Kiss me, Kiss me a lot, As if tonight were the last time
Kiss me, Kiss me a lot For I am afraid to lose you, To lose you afterward

For artists Roberto Behar and Rosario Marquardt, who work collaboratively as R & R Studios in Miami, the 130-foot-long-by-28-foot-tall installation Bésame Mucho is a timely gesture for California. Always relating their larger-than-life-sized art to the places where they install it, the artists associate California with freedom. Inspired by L.A.'s iconic Hollywood sign, they created Bésame Mucho in the universal language of flower power — 100,000 silk flowers in a prevailing warm tone of reds, yellows, and oranges.
Behar and Marquardt describe their adopted home of Miami as "a land of many cultures." And they talk about their wall of flowers at the Coachella Valley Music and Arts Festival as an "imaginary solution for a better world to come, a future of everyone dancing in the green — poetic and political, without being militant, a way to criticize with a positive point of view." Bésame Mucho conveys a sense of openness and possibility, and is also a gentle call to action and a wink to brighter days ahead. For many years the artists have incorporated flowers into their work, including the Peace & Love and All We Need is Love installations at Miami International Airport, as well as their most popular (and viral) "urban intervention," The Living Room, in the Miami Design District. The common theme in these works is the element of hope in the transformation of space.
Behar and Marquardt have known each other since their childhood in Argentina, where they each grew up and earned a degree in architecture at Universidad Nacional de Rosario. Recognizing the challenge of building with purpose and meaning, they paired their architecture skills with their love for visual art and design. Behar has been a visiting artist at the Getty Research Center in Los Angeles and a visiting professor at Harvard University and Cornell University. Behar and Marquardt are fellows at the American Academy in Rome and teach at the University of Miami School of Architecture.
Ultimately, they want to create spaces for public endeavor and pleasure, where there is empathy, optimism, and togetherness. When people post selfies with Bésame Mucho on social media, they spread the distinctively American feeling that we can do it all.
Comments
comments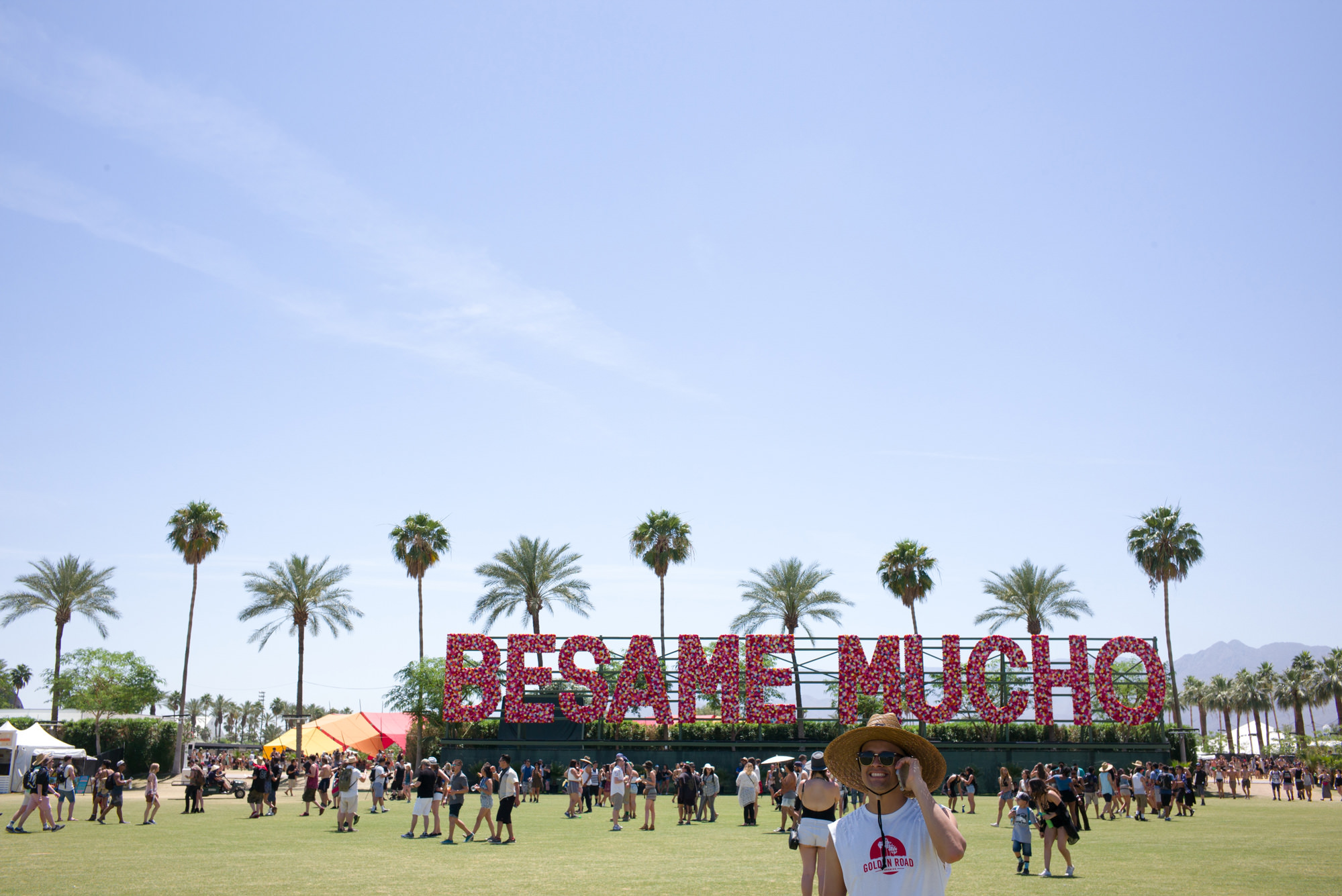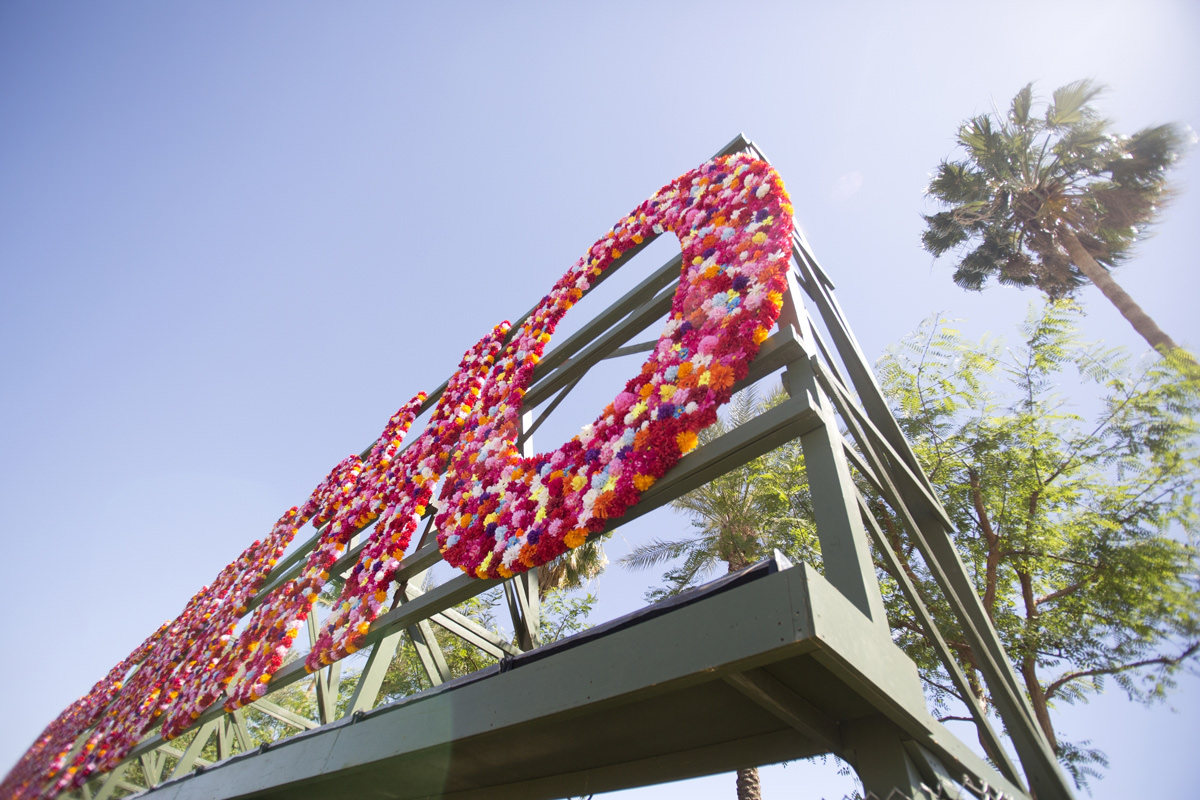 Comments
comments
---