Fusion cuisine has been a staple in food for quite some time now, and Roy Choi is no stranger to this custom. The creator of the infamous Kogi Taco Truck that runs rampant through Los Angeles fusing Korean and Mexican food out of it's trucks also owns numerous sit down eateries all throughout the L.A.. One of these places is Chego, a little gem hidden in the nooks of Chinatown on Broadway. The deserted and almost always empty plaza boasts a glint of light through Chego through its bright fixtures and colorful food. Here, Choi represents Los Angeles through heavy bowls of delicious eats; a giant melting pot fused with influences from all around the City of Angels.
The food here is just as bright as their light box sign. The stainless steel furniture and wood benches located outside the restaurant is a nice contrast, and also adds color to the lifeless plaza it is located in. Upon entering the restaurant, you can see the bustle of the kitchen. It's a small spot, but feels like home. The medley of flavors is what makes Chego one of my favorites spots in all of  L.A- every other bite is a surprise, and I find something new every time I pay them a visit. We opted for the Chubby Pork Belly and the Tiny's Prime Rib Rice Plate. The pork belly, nice and juicy with a sweetness and spice and the prime rib cooked to perfection always leaves me wanting more. The Chinese broccoli is a nice bitter taste to sway you from the sweetness and the spiciness of the bowl, while the egg adds a nice texture to each bite (if you can make it last that long).
Chego is a communal restaurant. Rather than sitting in your own booth, you are forced to share tables via the benches or the bar seating. Having to eat with casual eaters and food lovers alike elbow to elbow provides a deeper and more concise explanation as to what Roy is trying to portray with his food; Los Angeles. Chego is in essence the 5 freeway on a 4:00 Friday afternoon; busy, packed with flavor but all in all a mixed pot of different people going to different places all from different backgrounds. Choi does a great job conveying this not only through the restaurant, but the food itself. So do yourself a favor and grab a bowl of something- whether it be the Ooey Gooey Fries or the Kimchi Spam bowl. I'll even share the bench with you.
Chubby Pork Belly $9
Kochujang-lacquered kurobuta pork belly rice bowl with fried egg, pickled radishes, water spinach, Chinese broccoli, cotija and peanuts.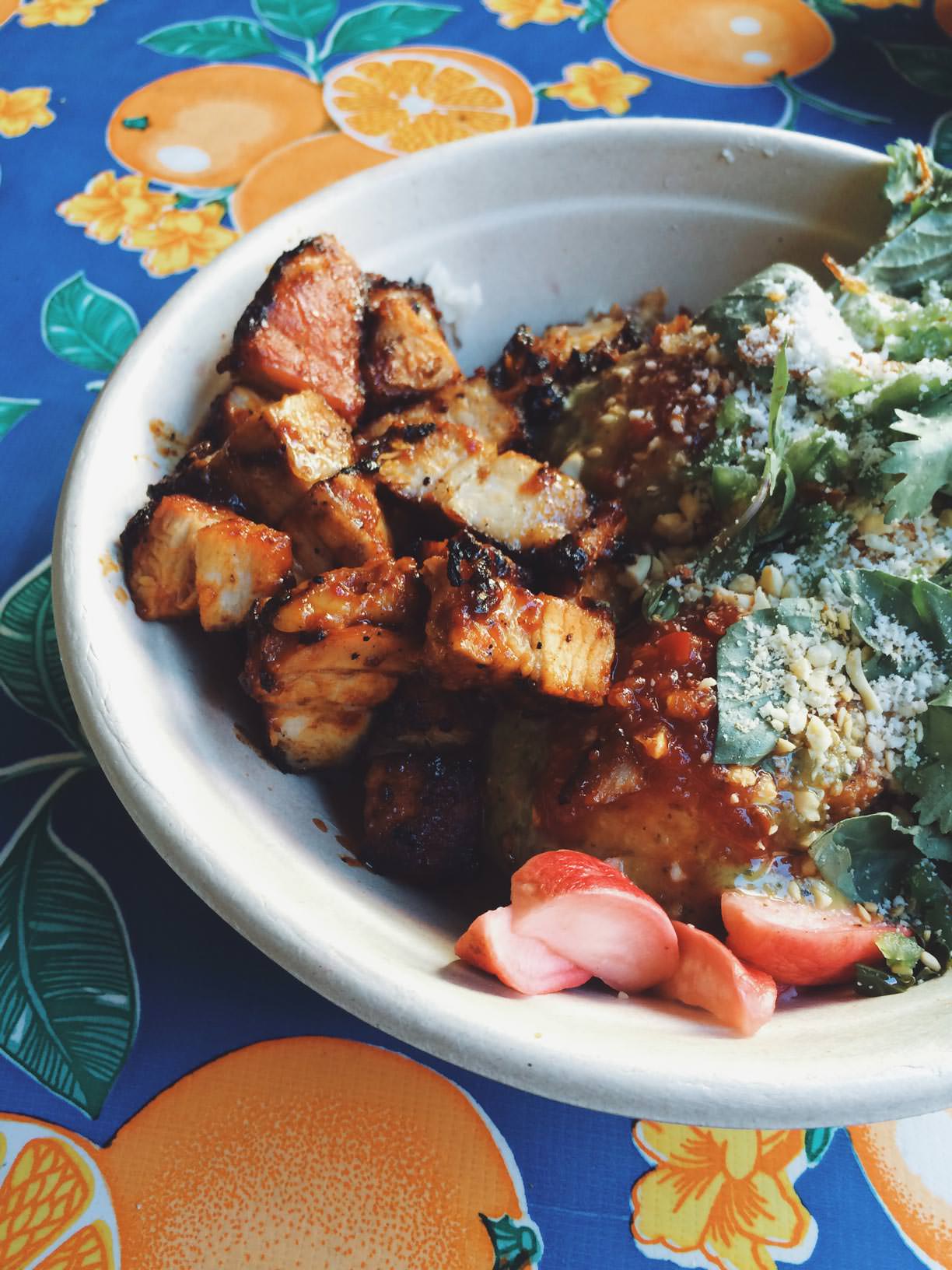 –
Finally. Happiness in a rice bowl can be had once again! Tucked inside the tummy of Far East Plaza in Chinatown and stationed across the way from Pho 97, Chego is located at 727 North Broadway, #117, 90012. On your way to a Dodger game or rolling through downtown? Order Online for takeout. Craving Chubby Pork Belly and Ooey Gooey Fries in Echo Park and Silverlake? Order Online for delivery. 1 hr validated parking with minimum $10 purchase. No worries, East Side. We've got you covered.
Comments
comments
---