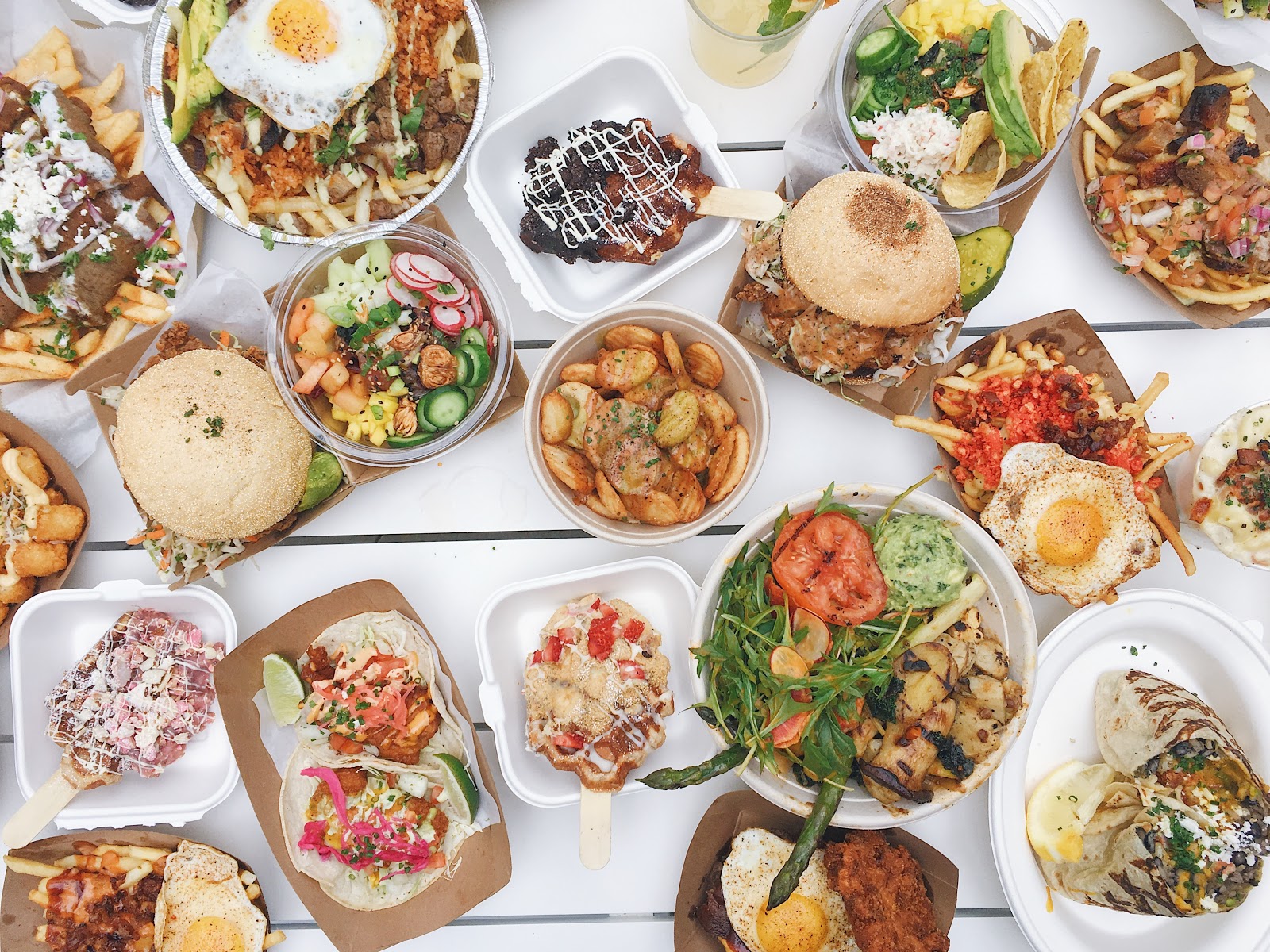 Are you constantly looking up new places to eat on your phone? Trying to find the best dish to feed your Instagram with? But whats more important, the feed for your gram or the actual food? The Trade Food Hall in Irvine makes both reality. It's only been open for a little over a month, but they made quite an impression on our first visit. The space is not so overwhelming like the other neighboring food halls, but they pack in an array of vendors with plenty to choose from. One thing you might want to consider though, is what day and time you make your way over. The parking lot is big, but not big enough and with summer in full-effect I won't be surprised if theres a wait to grab a parking spot.
That shouldn't stop you from getting your grub on though. The place is packed with a ton of great options that you definitely can't get at any other food hall. There is eight fast-casual restaurants inside the indoor/outdoor hall and a bar called Center Hub. So whether you wanna get some food or have a drink, you can do so at Trade. Now we know how hard it could be when you go to a new place. Especially one with a lot of different options to choose from. We wanna make this process a little less overwhelming, and sort out the better options. Use this short guide to help you determine what to choose from when the time comes. Keep in mind, these are all our personal favorite items, not necessarily the best ones.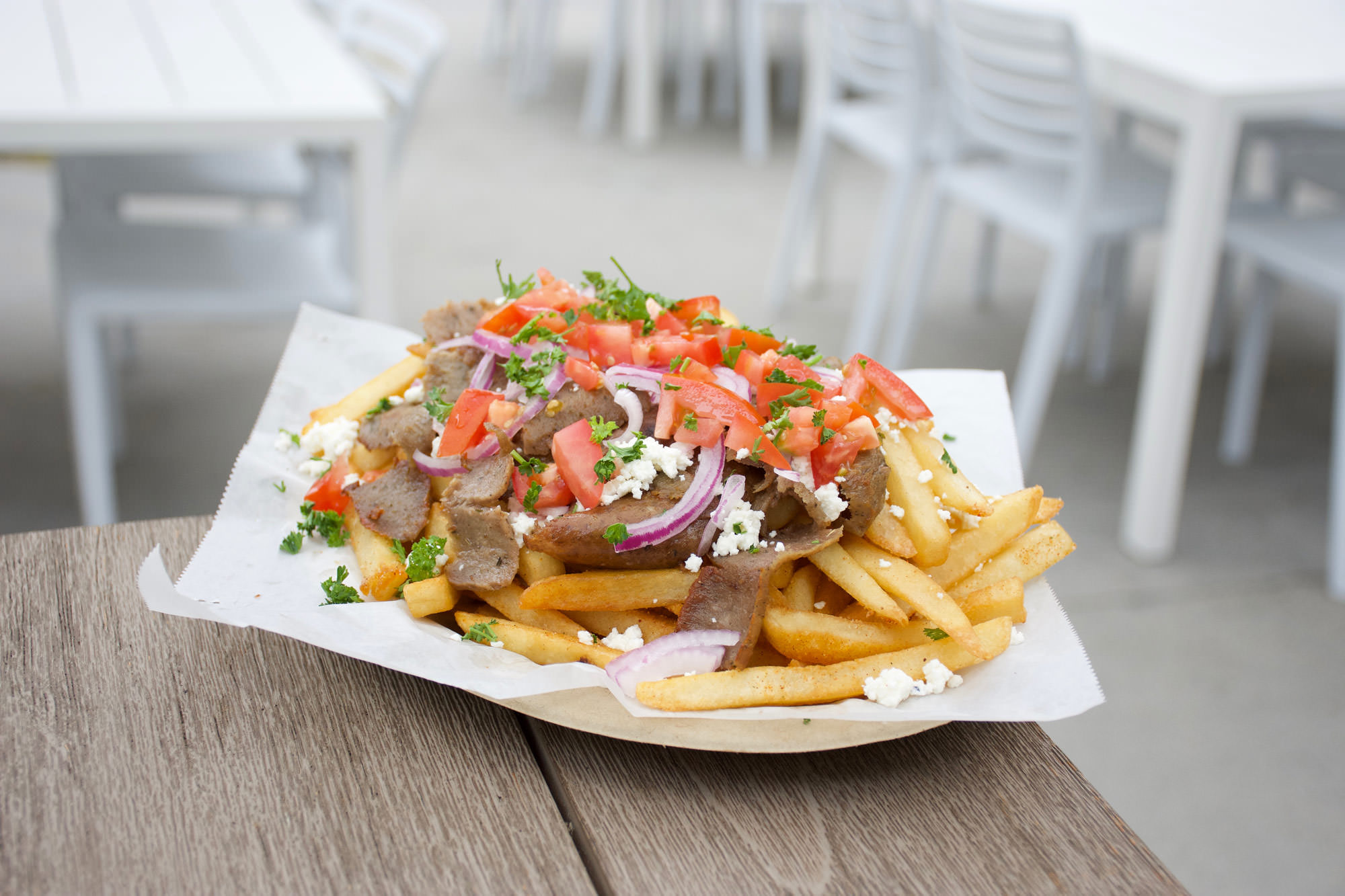 Gyro King offers a variety traditional and healthy food items on their menu. Everything from classic sandwiches to chicken or swordfish kabob's. Our favorite was the Gyro Fries — a Greek version of asada fries. A version that was well executed from the thickness of the fries, the seasoning, amount of sauce, and the overall portion that is served. There's nothing really to take away from this plate, other than good luck finishing. I had to share this plate, and still couldn't find myself to finish it. But even when I was full, I found myself picking at the fries cause thats how goos they are. Topped with gyro meat, feta cheese, and tzatziki sauce it'll be hard to choose between these and the stoner fries from Dos Chinos.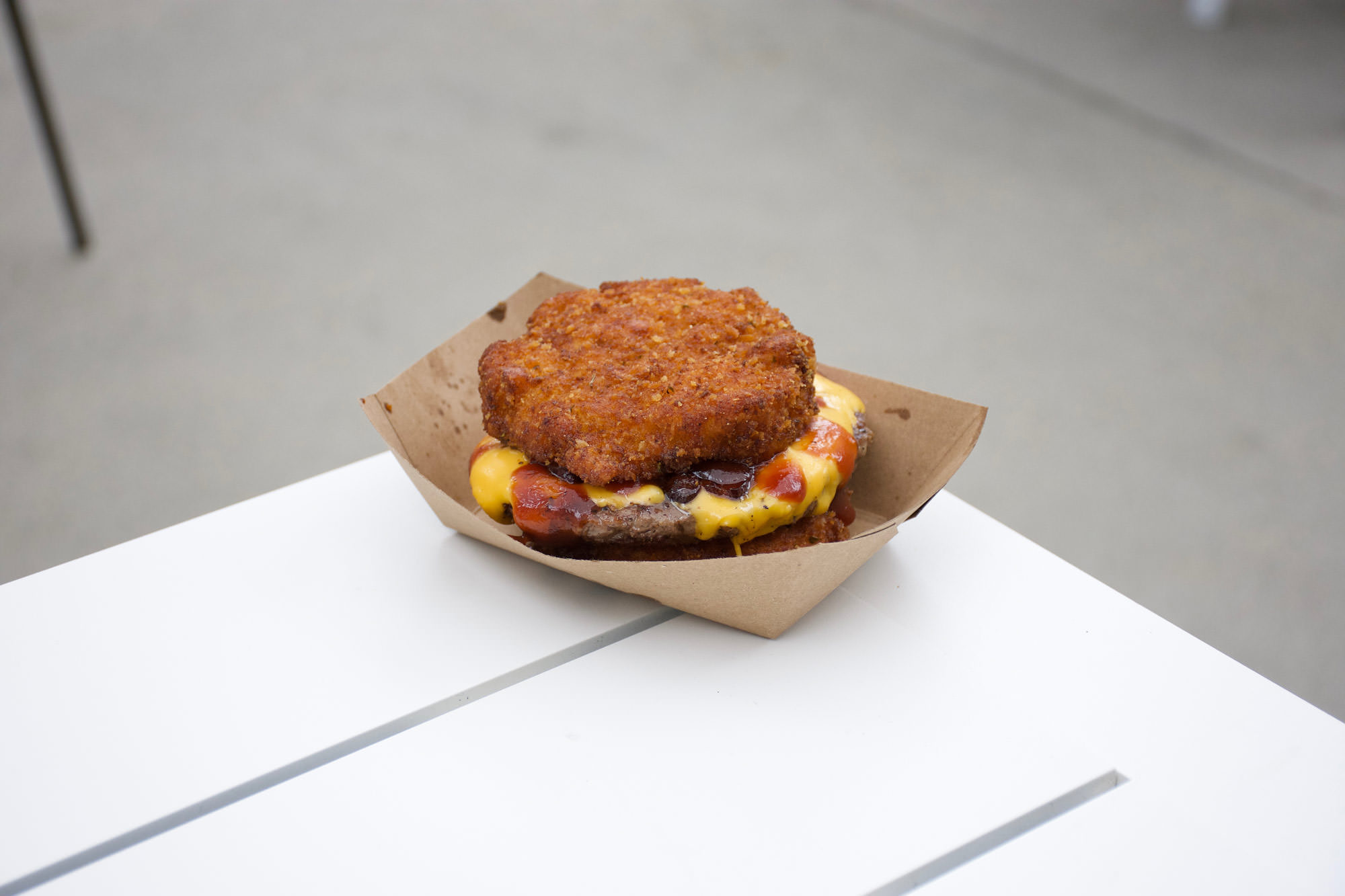 Pig Pen Delicacy is everything its name suggests it to be. It's a bacon lovers paradise boasting wild and creative dishes in true gluttonous form. Items like Pork Belly fries, Maple Bacon Jam Burger, or the Pull Pork Nachos will surely make your mouth drool. But one item stood out a little more than the others. The MacAttack burger — fried mac and cheese buns, all beef patty, and candied bacon. This was one of those that's a first moments, at least for myself. I'm not too into burgers with other foods at buns, but they nailed this one. It wasn't sloppy either, the burger and buns held up well and it was very enjoyable all the way through.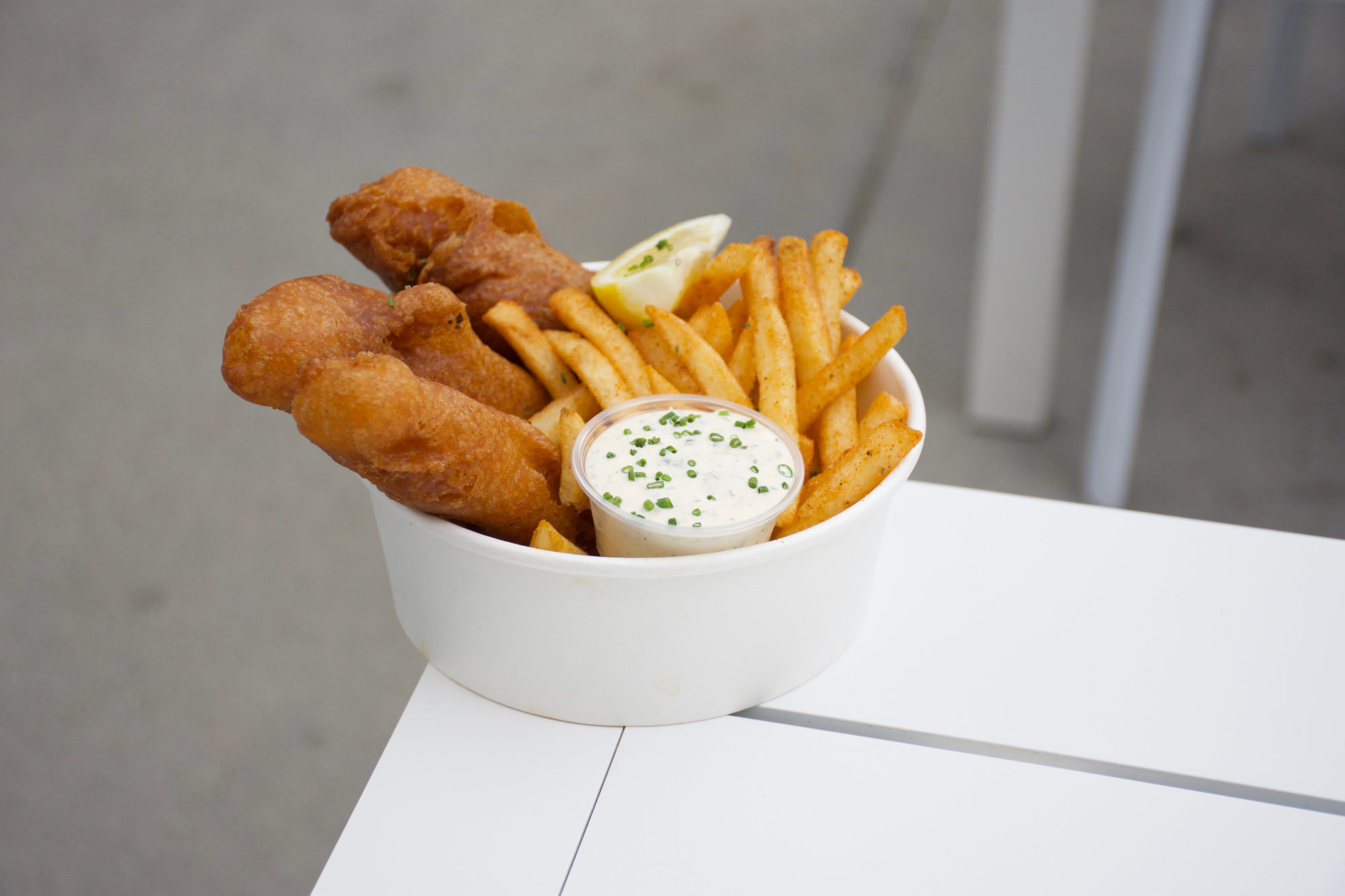 I'll be honest, I'm not big on fish & chips — only because good ones are hard to find. Portside is a fish focused concept that is dedicated to serving the freshest seafood. You can expect classic seafood items like fish & chips, calamari, and fish tacos when you visit Trade. These fish & chips stood out to me mostly because of the batter. It was simple, not too thick, didn't fall apart, and just went so well with the fresh fish. Dipped in the tartar sauce and you have a match made in heaven. If you're looking for a seafood fix on your visit to Trade, you're in luck. It's not a huge selection, but every items boasts freshness and flavor.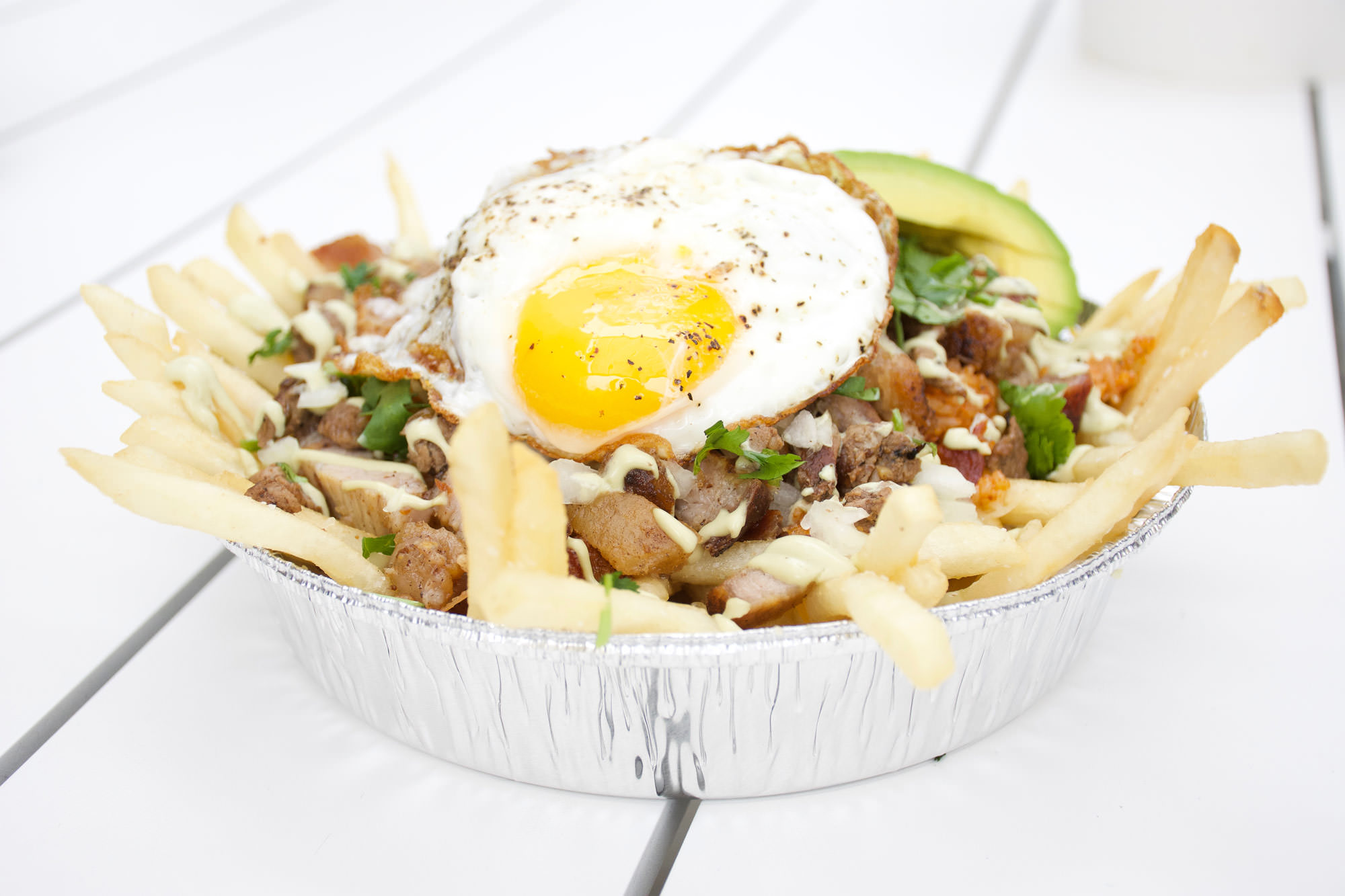 If there was one thing I've been wanting to try all year it was this — Stoner Fries from Dos Chinos. The Vietnamese Mexican fusion creates fresh and classic dishes from both cuisines. It's one of the more inventive menus you'll come across at Trade, but with familiar flavors. Tacos, Rice bowls, and Burritos are just some of the items to choose from. Now let's get to those Stoner Fries. When I would see photos of the fries, I would literally drool on Instagram. I mean — shoestring french fries, Vietnamese Chimichurri Angus beef, pork belly, chorizo fried rice, sunny side fried egg, salsa verde, cilantro, and onions. Satisfying would be an understatement, but that was one of the feelings after devouring these.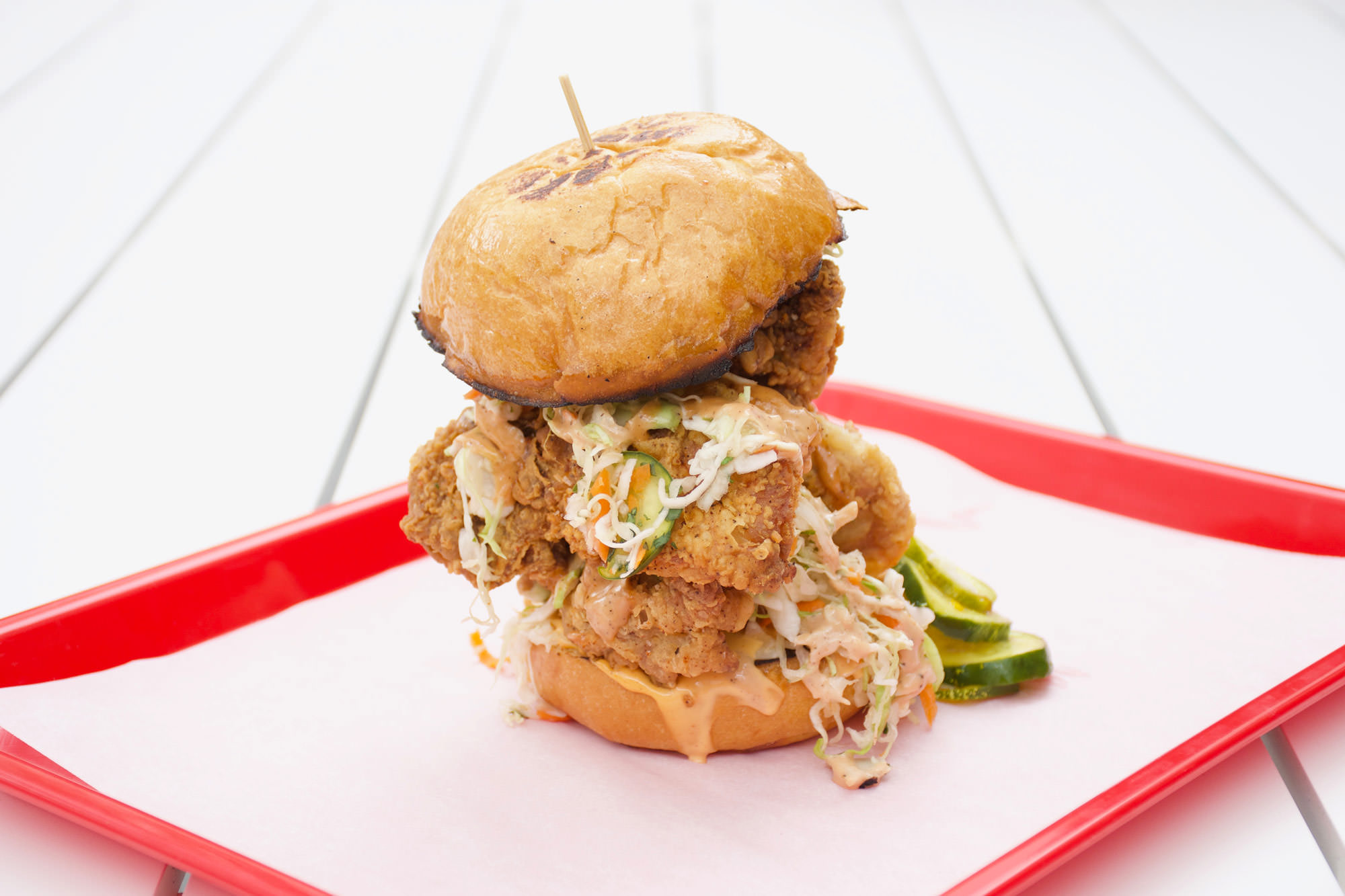 Two Birds is a simple, straight-forward concept by chef Andrew Gruel of Slap Fish. The concept is chicken two-ways: grilled or fried. If you want a fried chicken sandwich, choose 1 or 2 birds. You can also get it in a salad or simply on its own. Two Birds exclusively serves Jidori free-range chicken to ensure next level freshness. The sandwich comes in a cornmeal bun and served with a pickle slaw, and tiger sauce. I have to say, I had a small dilemma when eating this — especially with two chickens. For one, it was extremely hard to bite down on without getting a taste of everything. It got a little messy, but it was worth it. I'd definitely say it was a good sandwich, especially the slaw. My only dis-like was the cornmeal bun, it gave a more dry feel to the sandwich, but a necessary one when you have two giant chickens to rest in the middle. So if you are up for the giant task, and have a big appetite, I'd say order this — every time.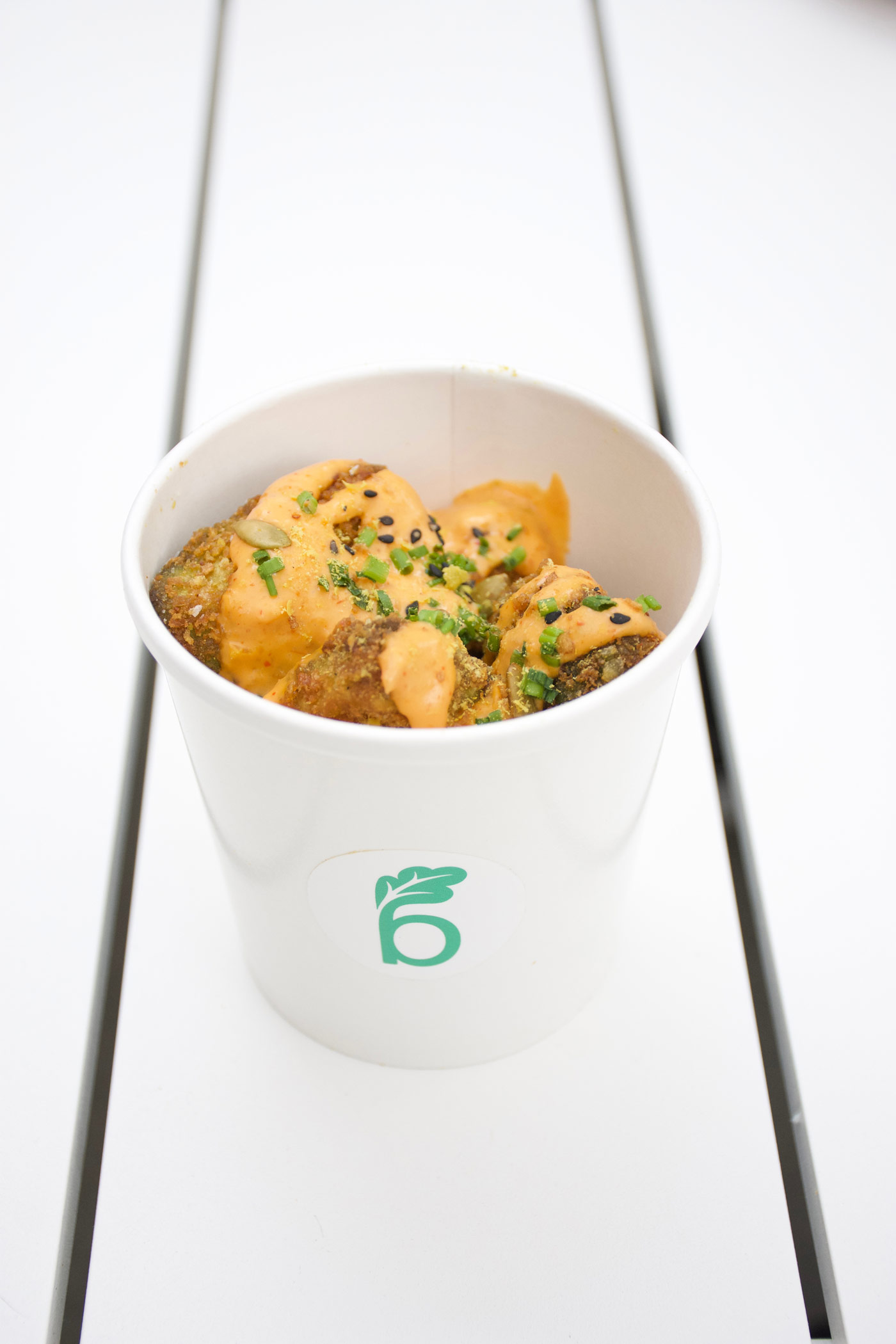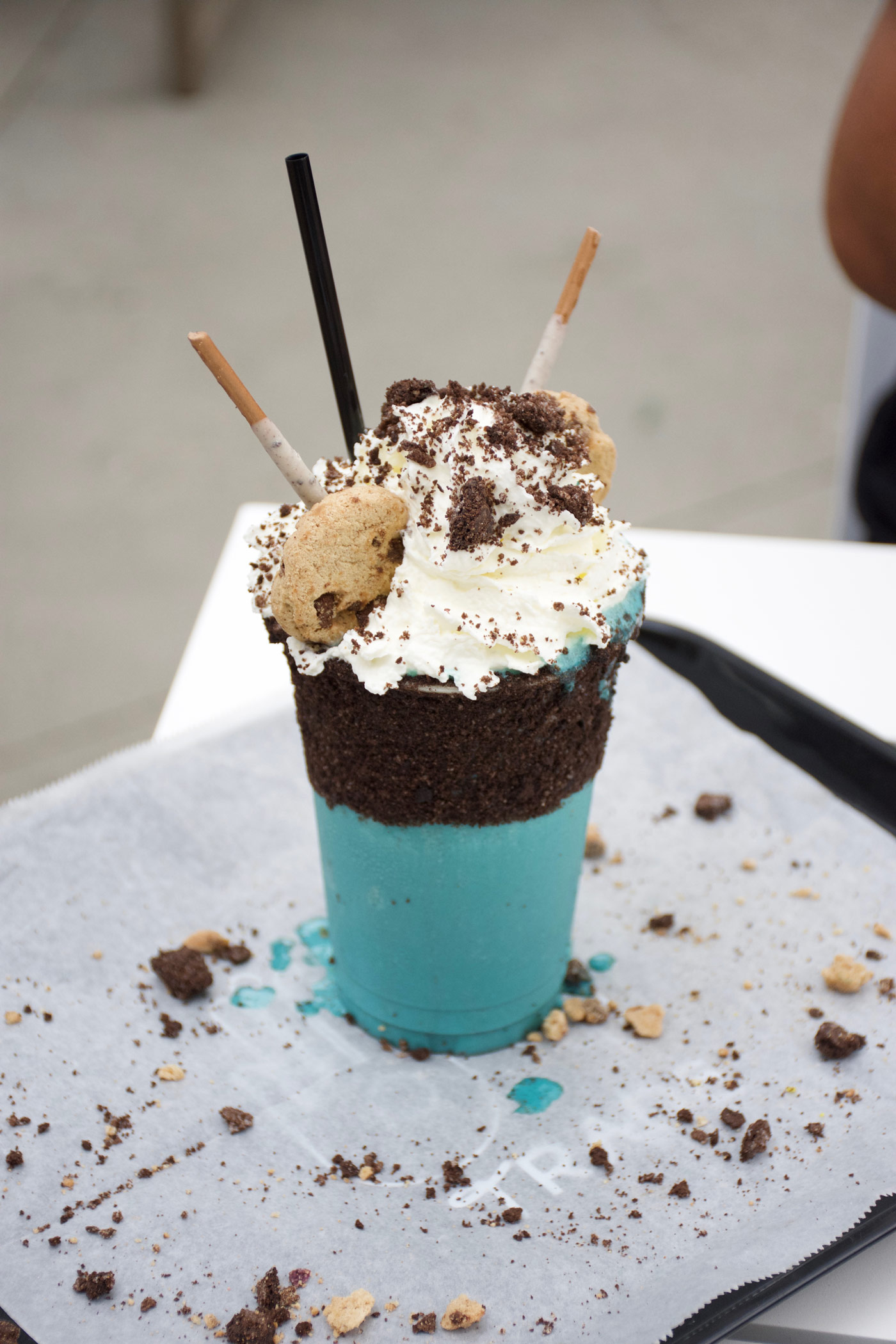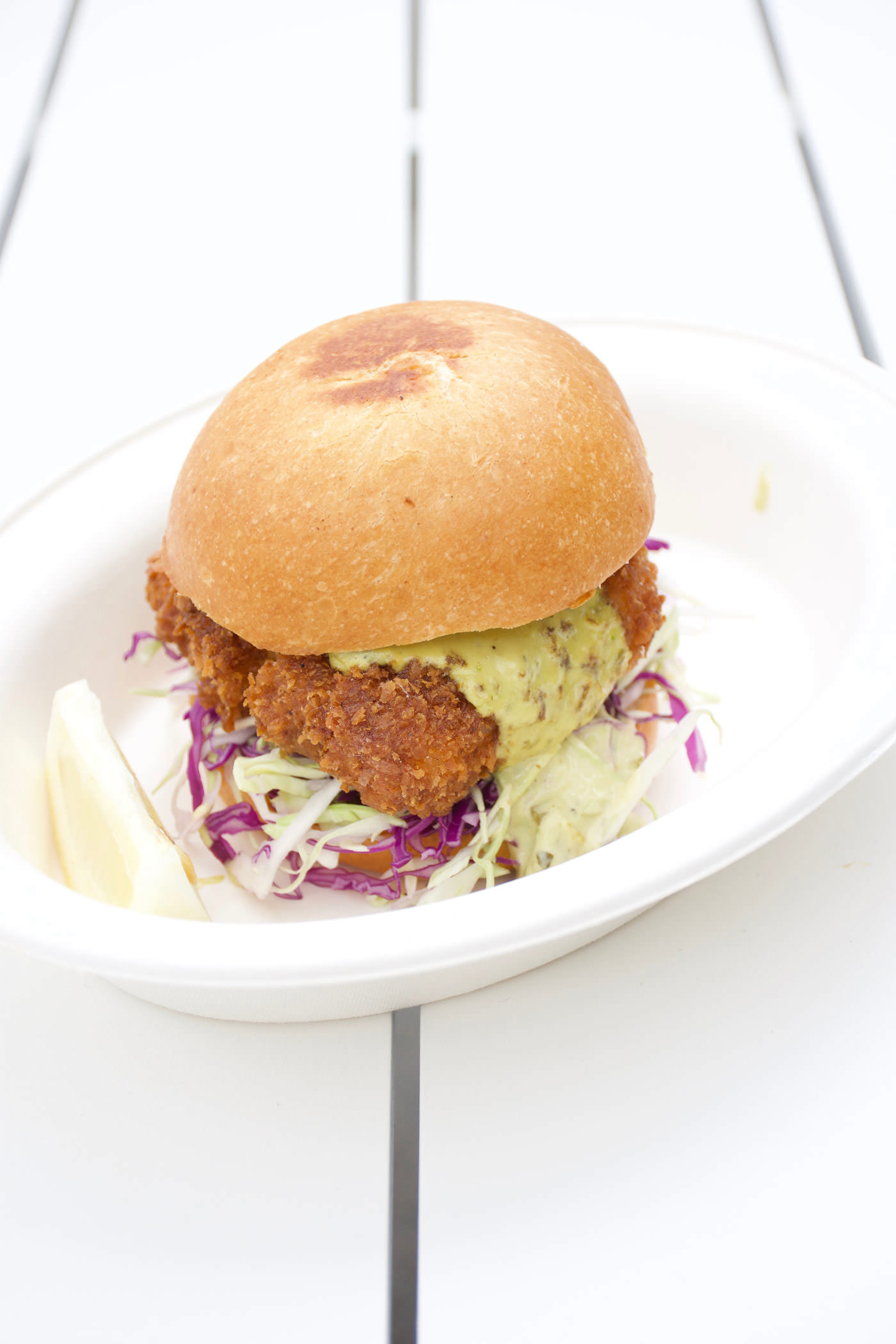 Lastly, a few menu items we can't help but mention. Butterleaf's avocado bombs, another concept by Andrew Gruel of a vegetable based menu for meat lovers. If you're looking for a dessert to feed your sweet tooth, Sweet Combforts has everything you need. Liege waffles are the highlight of this decadent dessert shop, with a variety of topping and drizzles to top it off. Or you can try this 'Cookie Monster milk shake' that is guaranteed to give you a sugar high. Finally, theres  filet-o-fish type of sandwich from Portside thats definitely worth trying. While the other seafood items may seem more appealing, this one doesn't fall short from the rest.
Comments
comments
---