photography by Ryan Miller for Craft Media Solutions.
—
Cookies and beer should be about the two best things going for the holiday's this year. Even more when you have Golden Road's "Back Home" Gingerbread Stout & their very own stout cookie recipe to go along with it. If you're still not convinced, let us put this picture in your head — it's Christmas Eve and you have family and friends over. Of course you need some food, so you make some delicious pulled pork bruschetta to go along with the bacon wrapped dates. Then you bring out the black bean sliders and stuffed mushrooms, and you have yourself a damn good time. That is pretty much what went down over at Chloe's — Golden Road's private event space.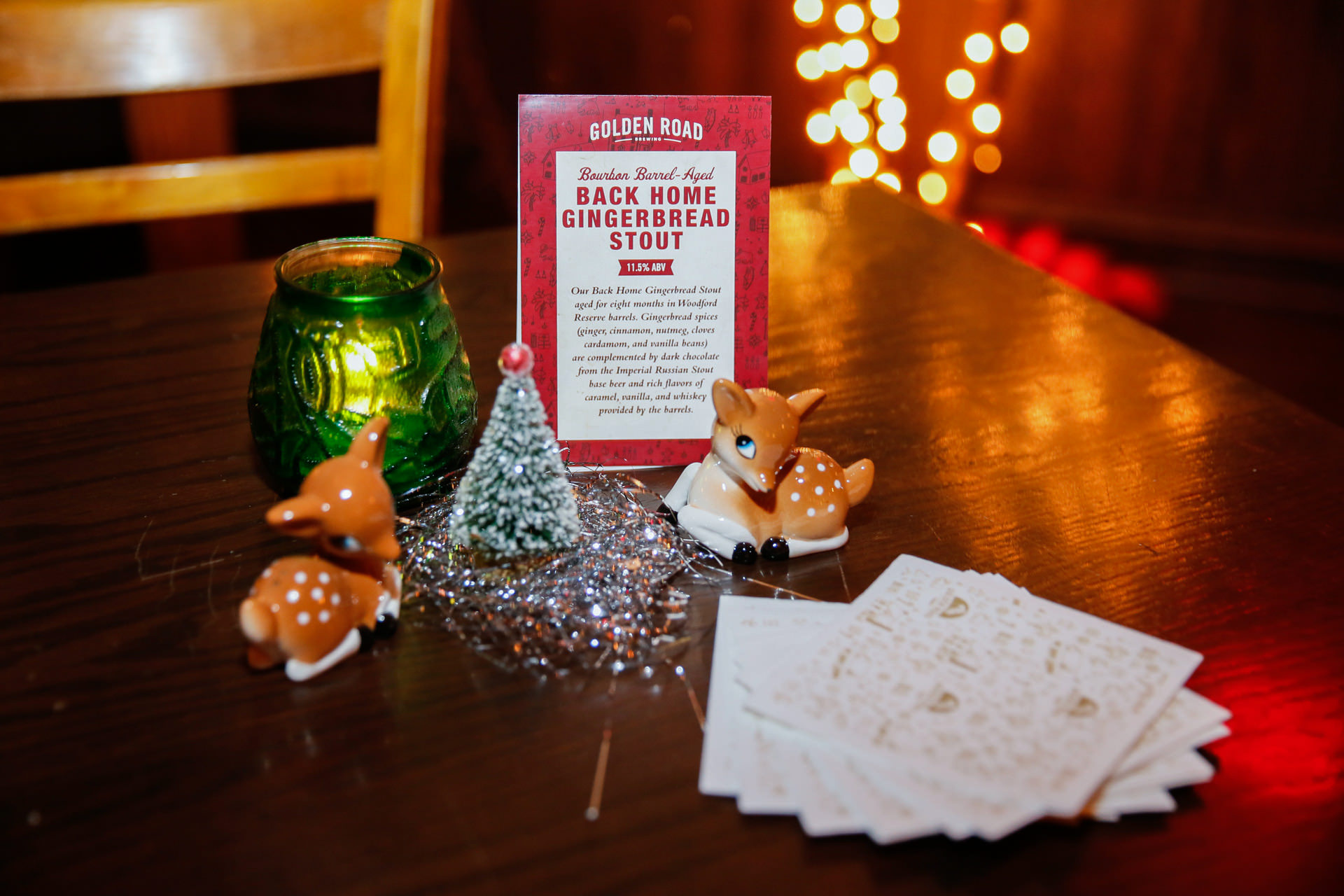 We got to talk to the head brew master about the brewing process for Golden Road's Back Home Stout both barrel-aged and non barrel-aged. It's a stout that is impressive in so many aspects, at least in my perspective. Personally, I'm not a stout kind of guys. I've had my fair share of stouts especially after going to so many beer festivals, but I can honestly say this stout has made me a believer. It was crisp and smooth, not very thick like most stouts, very well balanced in flavors, amazing notes from the head, and everything you can want in a holiday stout. It was definitely screaming Christmas.
To make matters even better Golden Road created a "Back Home" stout cookie recipe that pairs so well with the beer. Soft and crunchy, these cookies are a match made in heaven. Gather your friends, some arts and crafts (edible), icing, and enjoy a Back Home Gingerbread stout as you wait for your batch of cookies to finish baking. If theres anything you wanna do during the holiday's this year, it's this. Frost and decorate your gingerbread cookies and tag us on Instagram — we'll repost our favorite ones. Get the recipe below.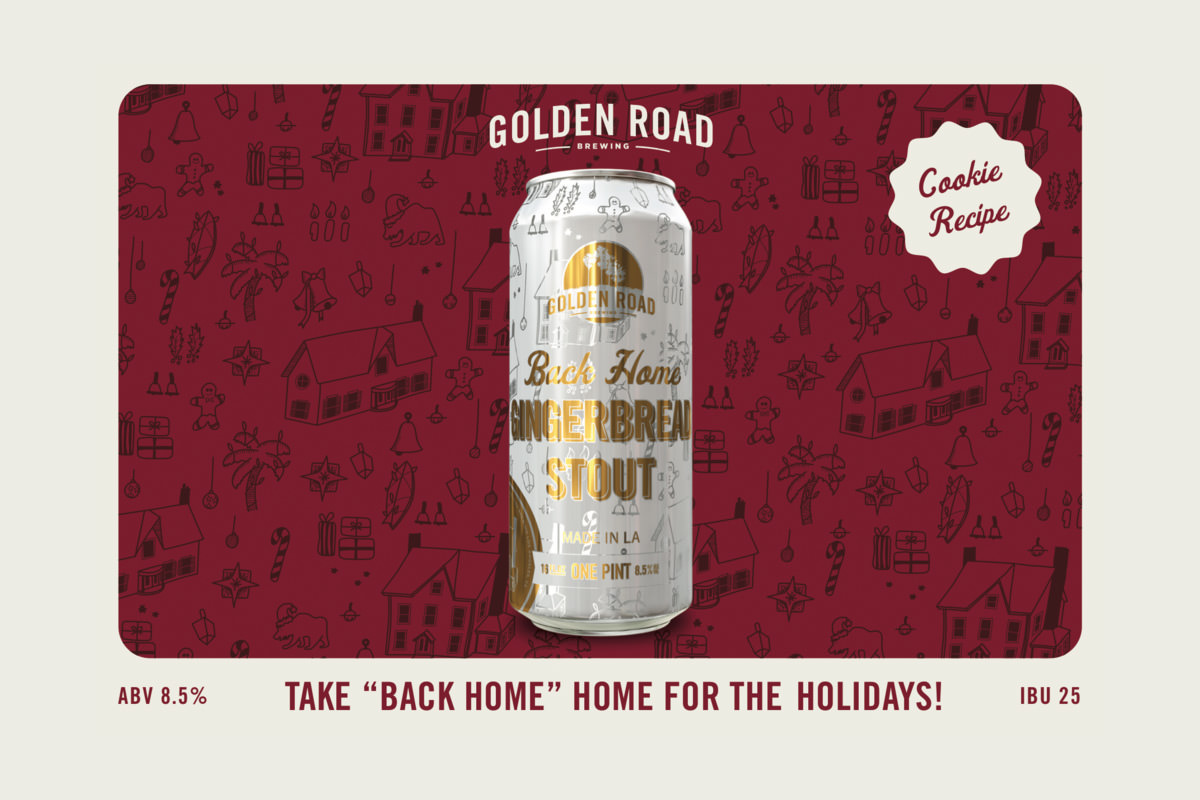 INGREDIENTS
• 6 oz. Back Home Gingerbread Stout
• 1 stick or 4 oz. butter, softened
• 1 ½ cups of flour
• ¼ cup + 1 tablespoon unsweetend cocoa powder
• 1 teaspoon ground ginger
• 1 teaspoon ground cinnamon
• ½ teaspoon nutmeg
• ½ teaspoon salt
• ½ teaspoon baking soda
• 1 teaspoon baking powder
• 1 ½ cups of chocolate chips
• ½ cup of brown sugar
• ¼ cup granulated salt
• 1 tablespoon molasses
• ½ teaspoon vanilla
• 1 egg
INSTRUCTIONS
• STEP 1
Preheat the oven 350° F and line a baking sheet with parchment paper. Lightly spray the parchment paper to avoid sticking.
• STEP 2
In a medium bowl, whisk together al the dry ingredients. Ina large bowl, cream together the butter and sugar until light and fluffy. Add the molasses, vanilla, egg, and beat well.
• STEP 3
Alternate the flour and the stout with the egg mixture until combined, then fold in the chocolate chips. Chill the dough for about an hour, or until the dough has firmed up enough to scoop out cookies.
• STEP 4
Scoop onto the prepared baking sheet and bake for 15-17 minutes or until the top springs back lightly when touched. Cool completely and dust with confectioners' sugar.
• STEP 5
Pair with a cold can of Back Home Gingerbread Stout.
Enjoy!
Comments
comments
---